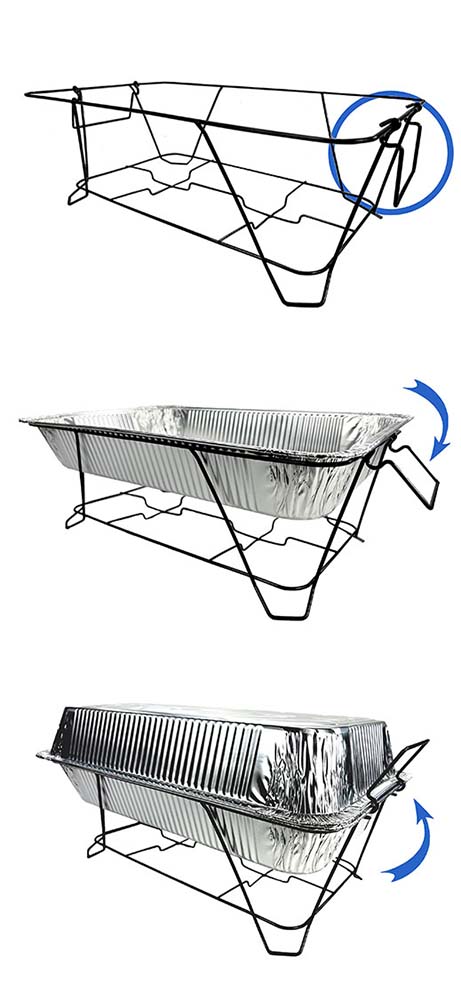 The Skorr Lid Lock takes the Skorr Chafer to the next level
In the mid-1980s, Robert Skorr came up with a successful idea.
He had worked in a restaurant during college and was put in charge of catering on Sundays. Skorr became very familiar with stainless-steel chafing stands. After seeing a "very poor rendition" of a wire chafing stand, he knew he could create a much superior version.
Combining his background in engineering, degree in marketing and familiarity with wire fabrication—his father was in that business—he invented the Skorr Chafer. Skorr markets it as "the safer chafer," due to its wide stance, better balance and large opening for placing fuel cans.
"We've produced and sold over 50 million units" of the Skorr Chafer, says Skorr.
A New Invention
About 8.5 years ago, Skorr came up with an idea that would improve his popular chafer. He had noticed the struggle to keep food safe when outdoors. To prevent food from cooling off and to keep bugs away, he noticed, "people would put another pan on top of the chafer and hold it in place with a rock."
To solve the problem, Skorr invented the Skorr Lid Lock. He designed it, tested a few prototypes before "nailing it," as Skorr says, and applied for a patent. The patent-pending Skorr Lid Lock debuted at the recent National Restaurant Association Show in Chicago.
The Skorr Lid Lock features handles on each side of the chafer. When an aluminum chafing pan is placed upside-down on top of the bottom chafing pan, the Lid Lock's handles swing up to hold the pans together. Not only does the Lid Lock keep bugs and flies away, but it also helps keep food deliciously warm and moist.
Safer Transport
The Skorr Lid Lock has an additional benefit. "One caterer told me, 'It's going to be much easier at the end of the event to carry the chafer to the sink and dump the water,'" says Skorr. "A tricky maneuver has just been made a lot easier, because the Lid Lock handles swing up above the water pan, which lowers the center of gravity, increasing stability. There's no way that's swinging out of your hands. The feeling you get is total safety and security."
To learn more about or purchase the Skorr Lid Lock, visit skorr.com.
The Skorr Lid Lock is also available at amazon.com.