Talented event planners share 10 ways they're adding memorable touches to an already beautiful canvas—the great outdoors
By Sara Perez Webber
Starry skies, dappled sunlight, fragrant flowers, gentle breezes—outdoor events come with an innate ambience. Yet even natural beauty can be enhanced. We asked event planners from across the country to share the ways they're making events in the great outdoors even more memorable.
Luxe Tents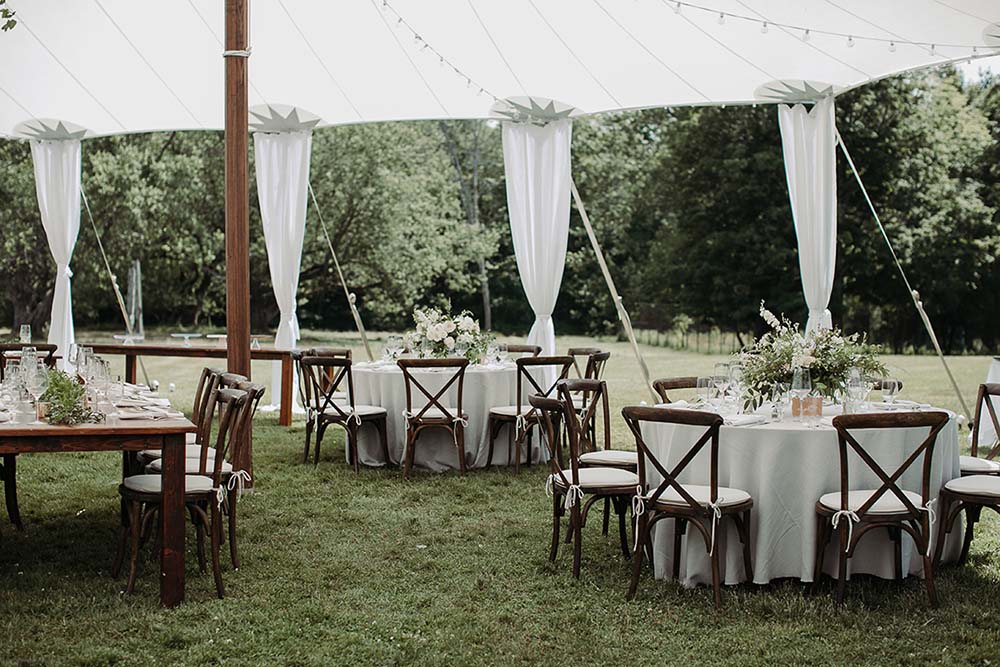 Much more than just a shelter, tents are playing a more prominent role in décor. "We are seeing a lot of high-end tents for outdoor events," says Sam Nelson, owner of EVL Events. "Our favorites are the sailcloth tents. We have had couples pair their gorgeous tents with draping, farm tables and wooden cross-back chairs to create a beautiful vineyard feel."
Hanging Installations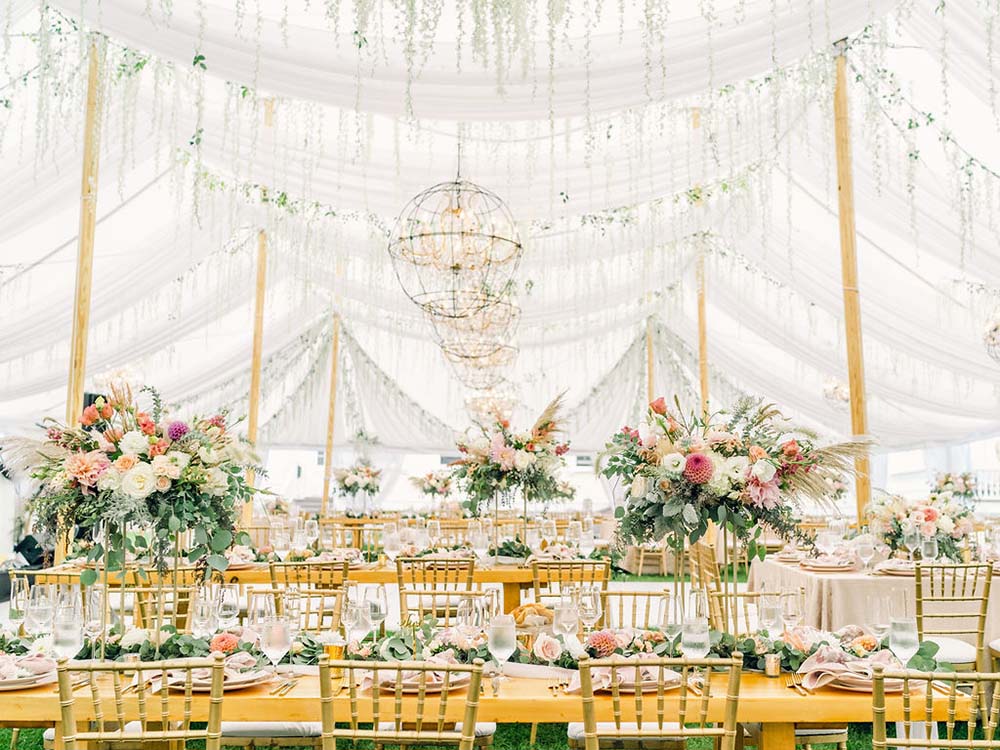 Nelson and her team at EVL Events "love incorporating hanging installations in our tents—something that isn't too overbearing but something that is eye-catching that our couple's guests will notice," she says.

At Jaclyn Watson Events, "some of our favorite trends are the use of floral canopies and the various extremes that they can be done inside tents—from hanging wisteria ceilings to custom floral pieces representing the couple," says Jaclyn Watson, owner.
Comfortable Seating

Lounge areas are also a great addition to tent spaces, notes EVL Events' Nelson: "It's not only a beautiful statement, but it also allows guests comfort during the event."

And plush chairs and couches aren't just for the reception. Planners such as Syrie Roman, founder and lead planner at Social Maven, are also outfitting ceremony spaces with individual soft seating.
Farm-to-Table Elegance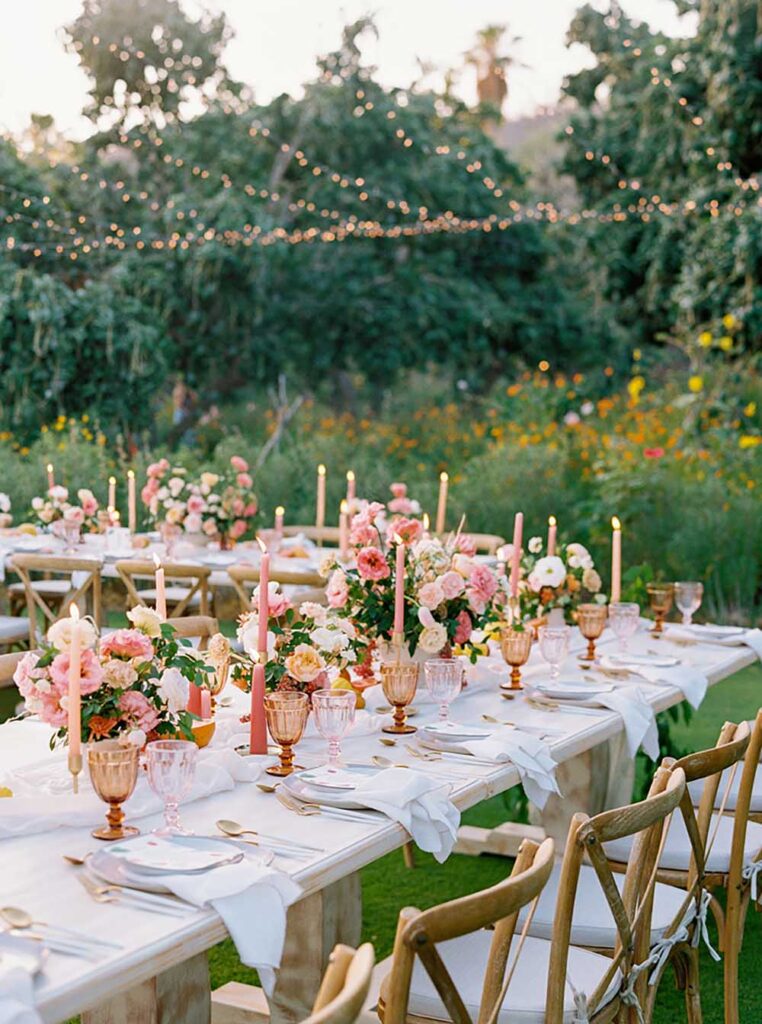 According to Amy Abbott, owner of Amy Abbott Weddings & Events, venues that already have lush florals and plants are in high demand. "The landscape and backdrop are so beautiful that it makes designing an event a dream," says Abbott, who frequently plans weddings at Flora Farms, a 25-acre organic working farm north of San Jose del Cabo, Mexico. "Think bright and colorful florals with citrus elements, colored candles and endless amounts of cylinders with candles to create an elegant ambience."
Spotlight on the Dance Floor

Guests can kick up their heels in style at many of the outdoor wedding receptions being planned by Woven + Revel. "Our couples have obviously waited a long time to celebrate, so attention to the guest experience seems to be one of the biggest motivators," says Megan Betcherman, co-owner. "We're seeing a larger focus centered around the party, aka the dance floor, whether that's a huge lighting installation, drapery to provide some movement and ambiance, or floral clouds! We see the 'wow' impact when our clients incorporate all three."
Bountiful Florals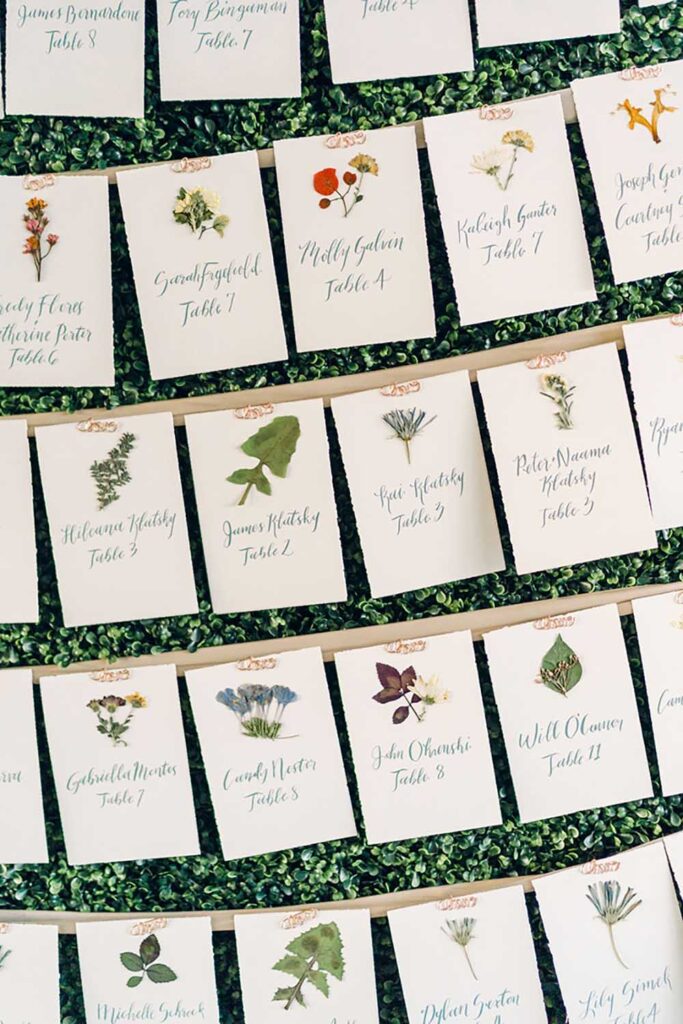 Couples are adding more floral details to their outdoor events, says Jenna Brisson, owner of Jenna Brisson Photography in Vermont. She points to one recent standout at a wedding planned by Lindsey Leichthammer Events, with flowers by Nectar & Root, where the wedding escort cards were integrated into the floral design. "Guests' names were beautifully calligraphed on escort cards, which were attached to vases with florals that they would then bring with them to their assigned table for dinner," she says. "It was simply stunning."

The team members at Jaclyn Watson Events "love creating custom escort walls that guests can be a part of," says Watson, from photo collages to name cards enhanced with pressed flowers.

An eye-catching detail that will stand out in drone footage of a wedding is a "full and lush arch with florals, with perfectly placed chairs" for the ceremony, says Abbott of Amy Abbott Weddings & Events. "It's definitely a wonderful touch."
One-of-a-Kind Details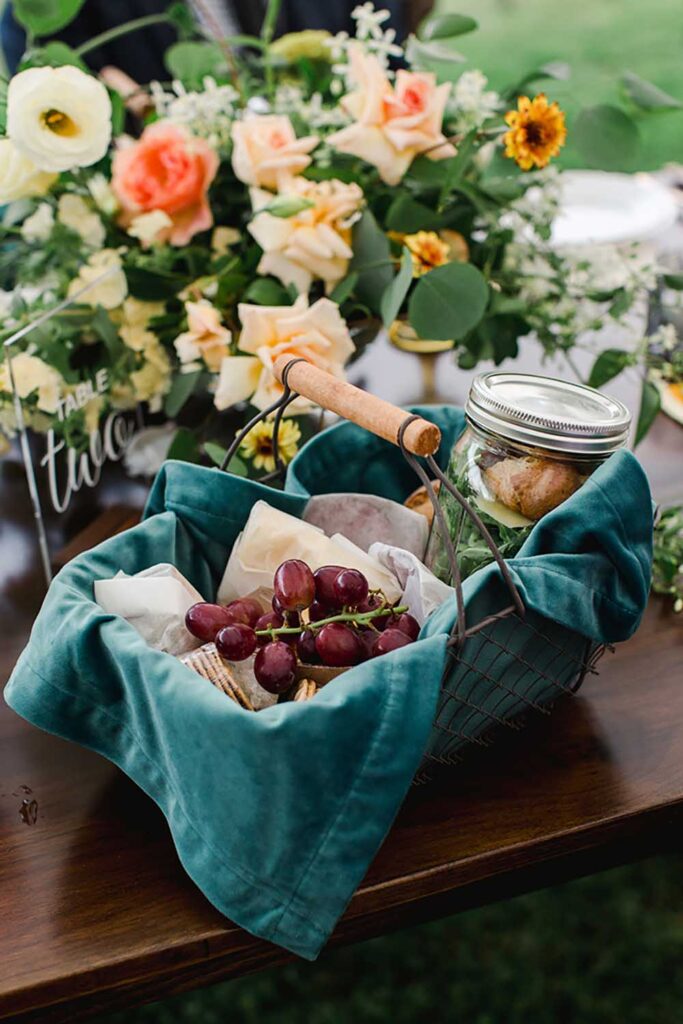 Clients of Woven + Revel want to provide their family and friends with something they haven't experienced or seen before. For example, one couple—who loved collecting candles—sent guests home with custom-scented candle favors. "They also had larger versions of these candles lit throughout the tented reception, so the scent wafted through the outdoor space," says Cait Robert, co-owner.

Social Maven's Roman is adding such unique touches to outdoor events as individual picnic baskets for cocktail hour.
Framing Natural Beauty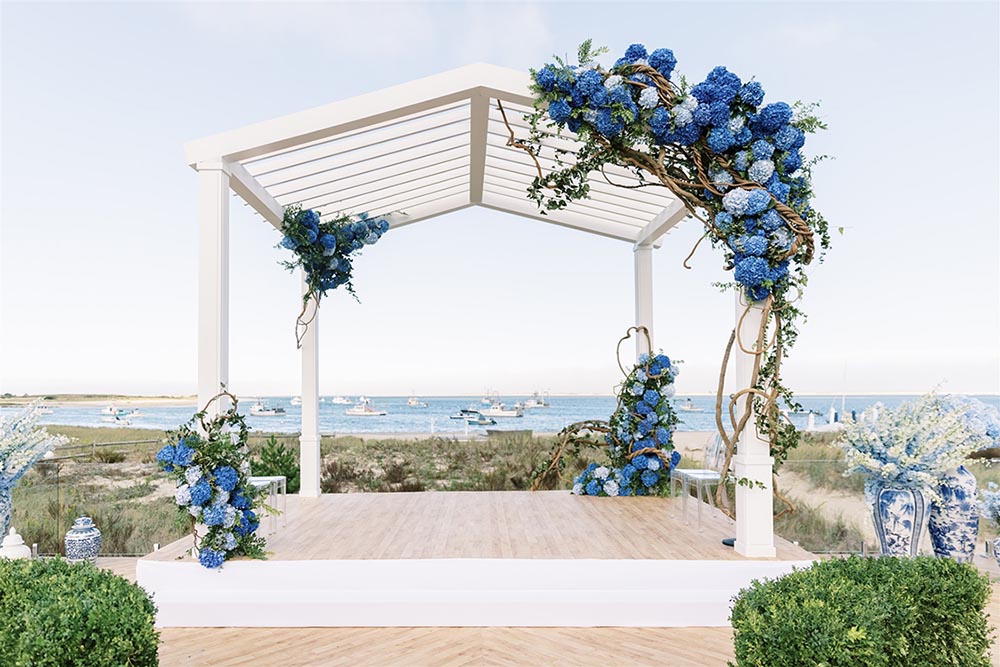 Event designers are making sure they emphasize what makes outdoor events so appealing, using décor to enhance a natural backdrop. "We are seeing an intentional embrace of the natural beauty which surrounds a given event," says Marley Finnegan, director of brand strategy and partnerships at HMR Designs.

For example, HMR Designs created an ombre floral wall that dramatically contrasted against a surrounding lush green field. The ceremony aisle featured a mirror to reflect the movement of the clouds. At another event in Cape Cod, "we centered this chicly simple ceremony structure to frame the coastal waters of Chatham, making the distant sailboats a focal element," says Finnegan. "We further accentuated the beautiful blue water and sky with lush, monochromatic hydrangea and chinoiserie detailing."
Bold Colors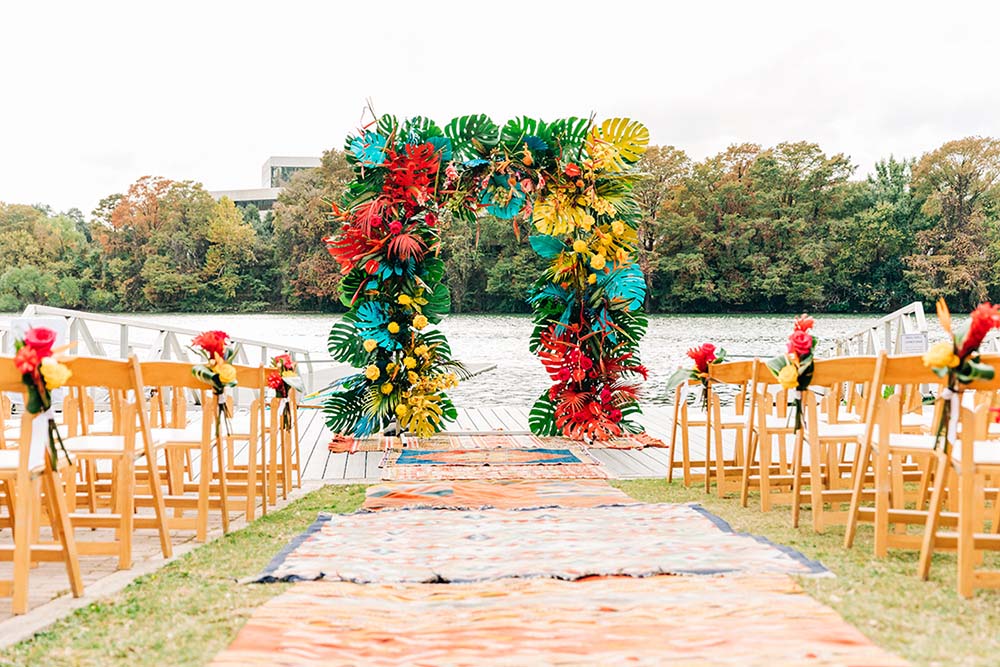 Outdoor events don't always come outfitted in earth tones and pastels. Jennifer Ashford, owner and certified wedding planner at Altar Ego Weddings, points to bright, bold, unexpected colors with mixed design styles as an emerging trend. For a bride who wanted a wedding inspired by Austin, Texas—particularly the colorful flags at the entrance of Austin City Limits—and who liked tropical plants, Ashford and her team created a vibrant tableau. "We mixed and matched bright colors, and tropics influenced her ceremony backdrop," says Ashford. "We also pulled in an Austin boho vibe with the rug aisle runner."
Tented Fairy Lights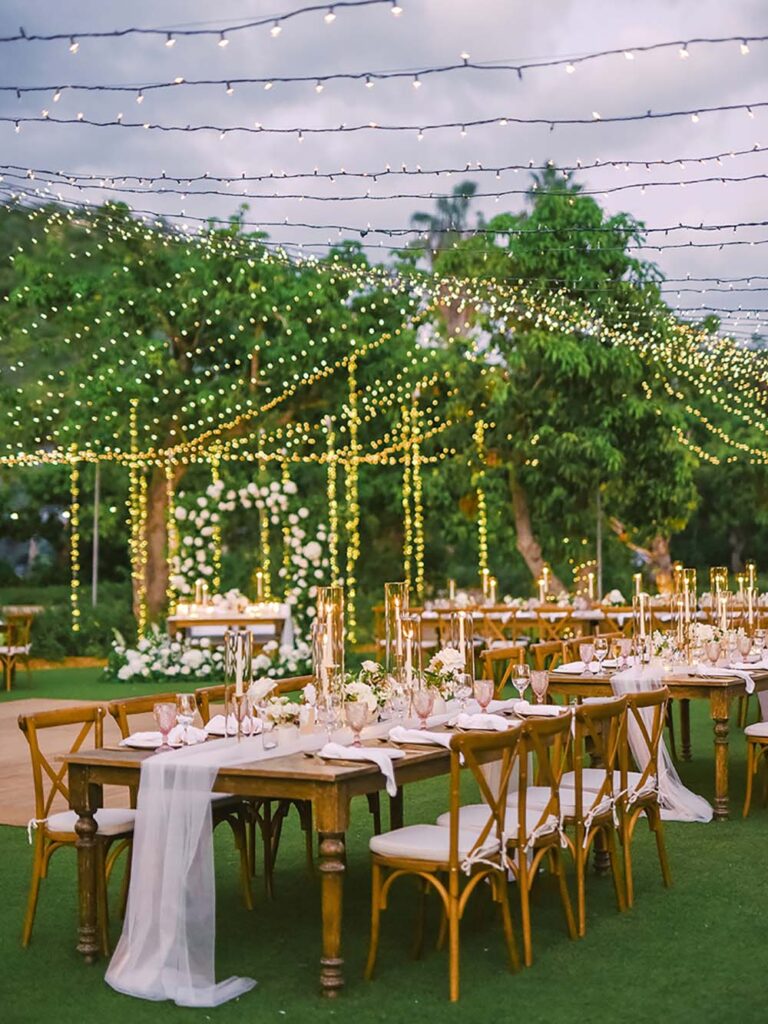 Outdoor events are often enchanting, and sparkling canopies of light—a favorite of Amy Abbott Weddings & Events—lend an extra magical touch. "Tented fairy lights add timeless beauty to an outside event and also limit the need for too many florals," says Abbott.