Weddings may be smaller now, but mini desserts are adding big flavor and excitement to receptions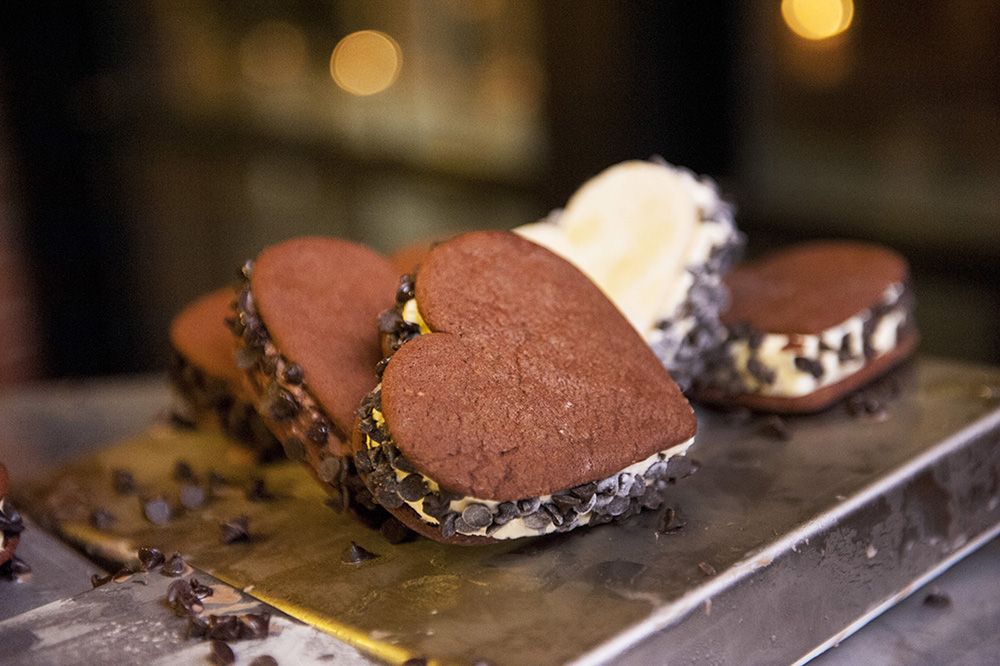 By Deanne Moskowitz
The pandemic has resulted in the postponement or cancellation of many full-sized weddings in 2020, but there is a sweet side.
Regardless of the severity of restrictions, which vary from state to state, caterers hosting micro and mini receptions everywhere are challenged to uphold safety protocols without extinguishing excitement—and often dessert is the lifesaver.
Already underway prior to the pandemic, a trend to smaller cakes and bigger sweet assortments has accelerated. Often plated or packaged to prevent contamination, individual desserts are injecting delight into events that otherwise would seem static.
Permitted to host outdoor events for only 12 guests (when contacted in mid-September), Bruce Riezenman, chef/co-owner of Park Avenue Catering in Cotati, Calif., was doing many picnic receptions, often featuring boxed desserts that travel well, such as mini cheesecakes and chocolate caramel espresso bars. Bagged chocolate chip, oatmeal and lemon cookies, and individual 4-ounce cups of vanilla ice cream and raspberry sorbet, were the finish to one alfresco event delivered in insulated, initialed tote bags.
At McHale's Events & Catering in Park Hills, Ky., where in late September everything was "single-serve or served to guests," Chuck McHale, president, pronounced desserts "bigger than ever." Along with signature drinks, they are the only segment of the meal within the couple's control, an opportunity to introduce "fun and uniqueness" into their receptions.
Closed from mid-March until the last week of June, by late summer McHale's was permitted by the states it serves (Kentucky and Ohio) to host up to 50 percent capacity in the seven venues it owns, and was averaging 138 guests per event.
At Bill Hansen Catering and Event Production in Coconut Grove, Fla., which has been setting up events in tents filled to partial capacity outside its own or other venues, Dewey LoSasso, corporate executive chef, has "seen a lot more individually passed or plated items" recently. He thinks dessert holds "a bigger place" now because it's possible to feature "an array of flavor profiles." At a wedding held on the grounds of a rented estate in Coral Gables, a plethora of individual desserts packed outsized impact, among them maple bacon donut bites with a malt Scotch glaze; Nutella and dark chocolate s'mores paninis; and colossal-sized strawberries filled with almond mousse, dipped in chocolate and accompanied by shots of champagne.
At Peppers Artful Events in Northborough, Mass., where the number-one dessert in late summer was mini sweets—among them fruit tartlets, layered mousse cups, s'mores pops, cake pops and cheesecakes—Lisa Clark, executive pastry chef, thinks that dessert is "definitely way more important" to clients now because it gives them a feeling of normalcy.
And at EventfullNYC Catering & Event Planning in Brooklyn, N.Y. (where only two weddings were canceled and the rest postponed), Melody Ozdenak, chef/owner, has been fielding fill-in mini receptions for couples or for new clients who lost their venues. She says that "everything has been individual or sometimes plated" at these mostly rooftop events or picnics, primarily for 10, 15 or 20.
Caterers are renowned for responding to challenges by revving up creativity, and the coronavirus is no exception. So pastry chefs are busy meeting the demand for delicious, photogenic wedding desserts and inventing clever formats for delivering them.
Socially Distanced Desserts
The safety protocols in place during the pandemic have largely shaped event formats, especially when it comes to the dessert course. As McHale puts it, "The biggest change…is how desserts are being delivered."
Passed, or served tableside individually or on platters, the mini desserts that dominate often are bagged in cellophane or boxed, rendering them safe on table displays, for take-home or delivery. Eventfull now packages its signature cookies to go home with guests, instead of passing them on platters as they did pre-pandemic; and since there frequently is no dancing now, Park Avenue has been sending desserts home in kraft boxes.
Even "before all this," Riezenman had noticed a move to dessert finger-foods, making it easy for guests to try something and return later to try something else. Such dessert bars give clients "the opportunity to do a lot more fun stuff," he observes.
For tableside service, Clark has reinvented the trifle, making it into individual cake layers in clear glass vessels, sometimes served in trios on a plate with a spoon. Popular flavors include basil strawberry shortcake, and green tea cake filled with chocolate fudge and toffee buttercream.
Not able to set up buffets or stations, Ozdenak often plates desserts, such as individual cupcakes, at the table. But she also likes to fill tasting spoons with bite-sized desserts (perhaps rich chocolate mousse or tiny crème brûlées), or she may give guests who are standing "a little cup of something in their hand with a spoon."
LoSasso has been doing more passed or individually plated desserts than stations. Among his most popular offerings have been grilled angel food cake over rum mojito soup with mango sorbet, and banana pancakes with maple drizzle and peanut butter foam, inspired by the availability of bananas growing in the region.
The excitement of station service has survived the pandemic, but with limitations. A variety of safety precautions have been instituted, including masked, gloved attendants. At McHale's, a six-foot space separates guests from station food; at Peppers, guests are sent to stations one table at a time. Peppers sets up acrylic barriers like sneeze guards, and Bill Hansen's senior vice president of operations, Jerry Cortese, is custom-designing displays with plexiglass shields for protection.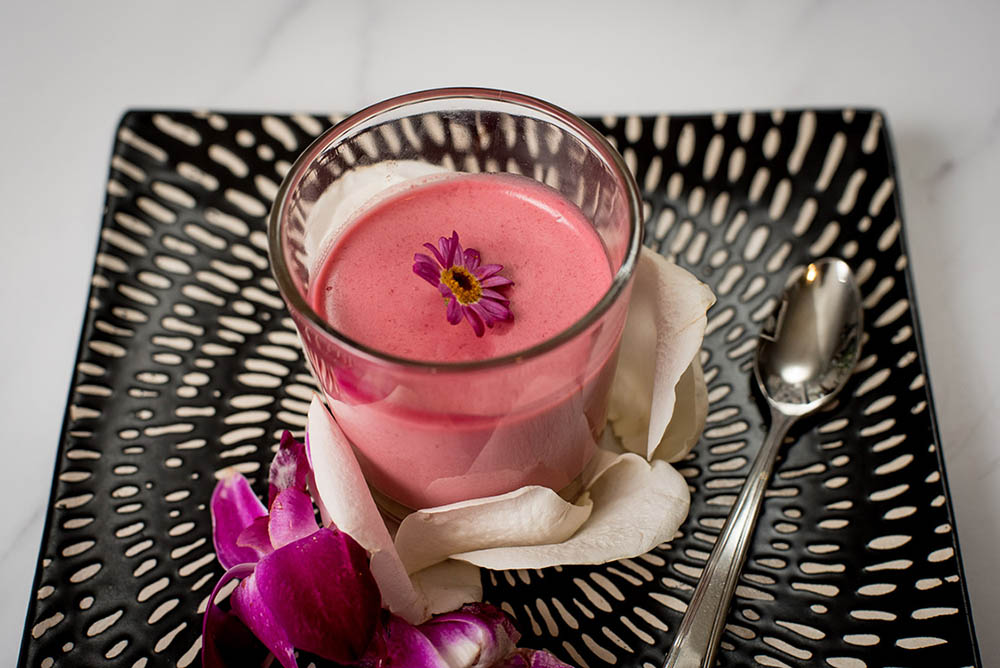 Homey Sweets
At a time when people are yearning for comfort, many wedding desserts are tiny versions of traditional favorites.
Riezenman believes that people always "circle back" to tradition for their weddings, so crème brûlée, fruit tarts and crumbles are part of "the overall scheme" at Park Avenue. Among big movers at Peppers are individual pies, sometimes on sticks, including cranberry/apple, chocolate/pecan and maple/pumpkin.
LoSasso gives pumpkin pie new punch, serving a Florida variation—calabaza pie—in a miso spoon garnished with malted milk whipped by an aeration dispenser. And he turned an abundance of blueberries from one client's Vermont farm into individual blueberry pies.
McHale calls "comfort desserts" a good way of describing what's happening now, and sometimes the preference extends to nostalgia. Lisa Carter, wedding cake designer at McHale's Catering, explains that people sometimes put together "treat bags," possibly filled with candies and snacks "you can get at your supermarket," but prepackaged and nicely decorated on a dessert table. One couple incorporated bags of Cheetos, Fritos and popcorn, she recalls.
Also hugely popular now at McHale Catering are full-sized donuts dispensed from stations with topping options; and "bundtinis," cupcake-sized bundt cakes, their centers filled with dollops of cream before being wrapped in cellophane. The donuts, in such cereal-inspired flavors as Lucky Charms and Fruity Pebbles, hail from Holtman's, a renowned Cincinnati brand, while the bundtinis come from specialist Nothing Bundt Cakes.
At Eventfull, Ozdenak has observed interest in an "amazing banana pudding" made by New York's Magnolia Bakery. The shop produces the childhood favorite with cake mixed in and sells it already contained in a bowl.
Seasonal produce and savory touches sometimes help to freshen traditional concepts. Relying on farmers to bring him whatever is available, LoSasso speaks with them daily. During avocado season, he marinated the fruit in Florida sour orange and sugar, torched it to caramelize and layered it with risotto rice pudding. To help a client who requested cannoli and loves spicy food show off his extensive wine cellar on a yacht, LoSasso filled the shells with local ricotta and dipped them in dark chocolate chile dust made by dehydrating the peppers with Venezuelan chocolate.
Ozdenak, who claims to be "pretty adventurous" when it comes to dessert flavors, offers chipotle orange mousse, as an example.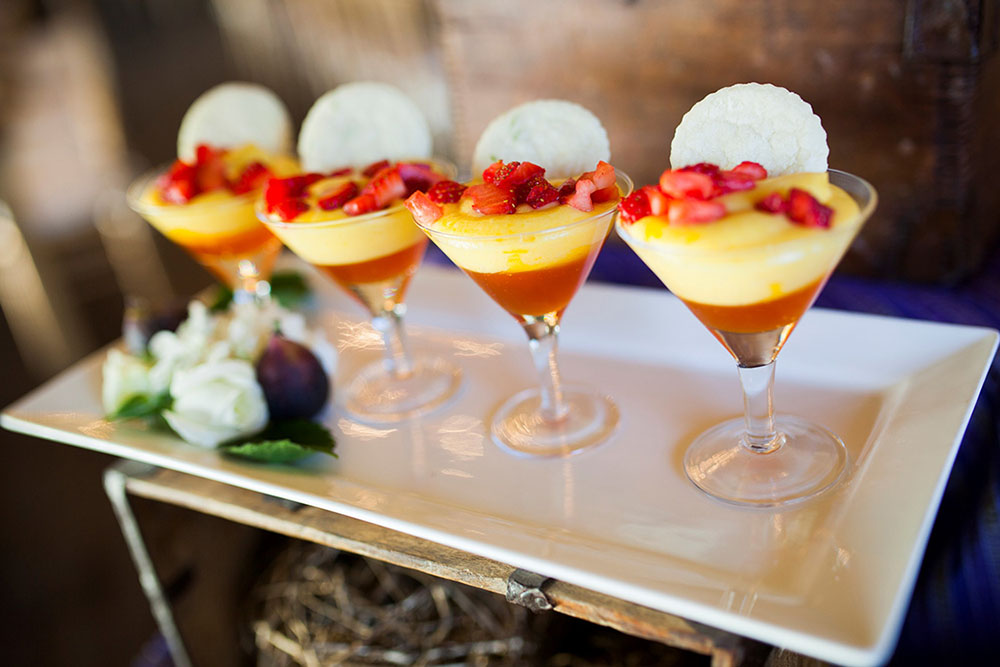 Ice Elation
A variation on the nostalgia theme, ice cream desserts are everywhere.
At Peppers, Clark believes that the third-most-popular dessert is an ice cream action station, featuring sandwiches, sundaes or gelato. Homemade salted caramel, strawberries and cream, and cappuccino are particularly popular, although many couples prefer simple flavors with "fun toppings," such as mini Gummi Bears, M&M's or Reese's Pieces. Sandwiches may be rolled in sprinkles, tiny chocolate chips or shredded coconut.
At McHale's, sundae bars are distinguished by the use of Graeter's ice cream, a local brand gone national thanks to the influence of Oprah Winfrey, according to McHale. Graeter's packs the product in six-ounce paper cups and provides topping options.
At Bill Hansen, liquid nitro stations are giving guests chills! While couples often ask for almond or soy milk instead of dairy-based ice cream, they sometimes add alcohol to the mix—for example, gin-and-tonic or margarita Gummi Bears.
Ozdenak works with an outside company to offer individual cups of gelato. And while Riezenman makes ice cream in-house, he sticks with the "boring" flavors now, since custom-making for such small groups becomes prohibitively expensive.
Cake Cutting
Once every reception's centerpiece, cakes retain their ceremonial importance but often are reduced in size or scale and attention. Cut by the couple when dinner ends (or "right away" at McHale's), the cake is removed to the kitchen for further slicing by staff and served to the tables.
Although the economics of cake-making dictate a higher cost for smaller cakes, since labor and delivery charges don't change, most caterers consulted here report a rise in the prevalence of fewer or scaled-down tiers. Carter says the trend has been to "smaller cakes anyway," because couples have so many other desserts they want to serve.
Riezenman reports clients going to single- or two-tier cakes, just sufficient for the cutting ceremony. Clark sees a move from four or five tiers to small cutting cakes reinforced with sheet cakes (aka kitchen cakes) offering different flavors.
Committed to accommodating stressed-out couples, McHale's is now permitting kitchen cakes for small guest counts, something that was only possible pre-pandemic at 300- and 400-person events, and then only in conjunction with a large cake.
Ozdenak, who thinks most couples are waiting to do a big cake for the weddings they've postponed until next year, is only making a few cakes these days, which tend to be small white cakes that feed only 10 to 20.
LoSasso says that people "still want that three-tiered cake," and he doesn't see a trend to smaller-sized cakes generally. But striving to be especially accommodating in view of COVID's economic impact on clients, he has answered calls for smaller cakes, done single and two-tier cakes, and permitted budget-conscious brides to serve cakes made by their bridesmaids. Also, he has seen strong demand for cupcake cakes and expects the trend to continue.
Seemingly in keeping with their humbler status, cakes are simpler now, a trend that LoSasso suspects may indicate clients' sensitivity to many people's current financial situation. Frosting-wise, smooth or spatula-textured buttercream beats fondant by far (although LoSasso has seen growing interest in fresh whipped cream), and fresh flowers or understated toppers predominate. Rustic-looking "naked" or "semi-naked" cakes (the former unfrosted, exposing the filling; the latter finished with a crumb coating and the remnants of icing applied and then mostly removed) are ubiquitous.
Belying their understated exteriors, cake flavors can be exciting. For one Latin wedding, LoSasso (who doesn't produce cakes in-house but works with some "great cake designers" in Miami) served a Key-lime-enhanced vanilla cake, layered with fresh guava and cream cheese, and frosted with buttercream. At a client's request for a cannoli-inspired cake, he served a vanilla cake with ricotta/chocolate chip filling touched by anisette and whipped cream frosting. And he did a banana wedding cake from a bride's mother's recipe, with cream cheese filling and frosting that was particularly indicative of the "comfort factor people are looking for." He sees strong interest in red velvet cake and, judging from the approximately 285 tastings he conducted last year, reports pronounced demand for gluten-free cakes.
The more adventurous flavors on Peppers' menu are by far the bestselling, Clark points out, with lavender with poached pears the leader for vanilla cake, and devil's food with salted caramel filling most popular among chocolates. Also popular are green tea cake (consisting of vanilla and green tea layers, with a thin ganache layer and toffee buttercream) and lemon poppy seed, with house-made lemon curd and blueberries.
At McHale's, almost every bride chooses one tier of raspberry swirl, an almond-flavored white cake marbled with raspberry preserves; and anything with cream cheese filling is a hit, Carter observes. Often, couples choose a chocolate option as a second tier, topping the cake with their personal favorite—the tier they'll eat on their first anniversary.
Couples once considered what flavors guests would like, says Riezenman, but now they're just pleasing themselves. That can be "as simple as a carrot cake" or something "a little creative."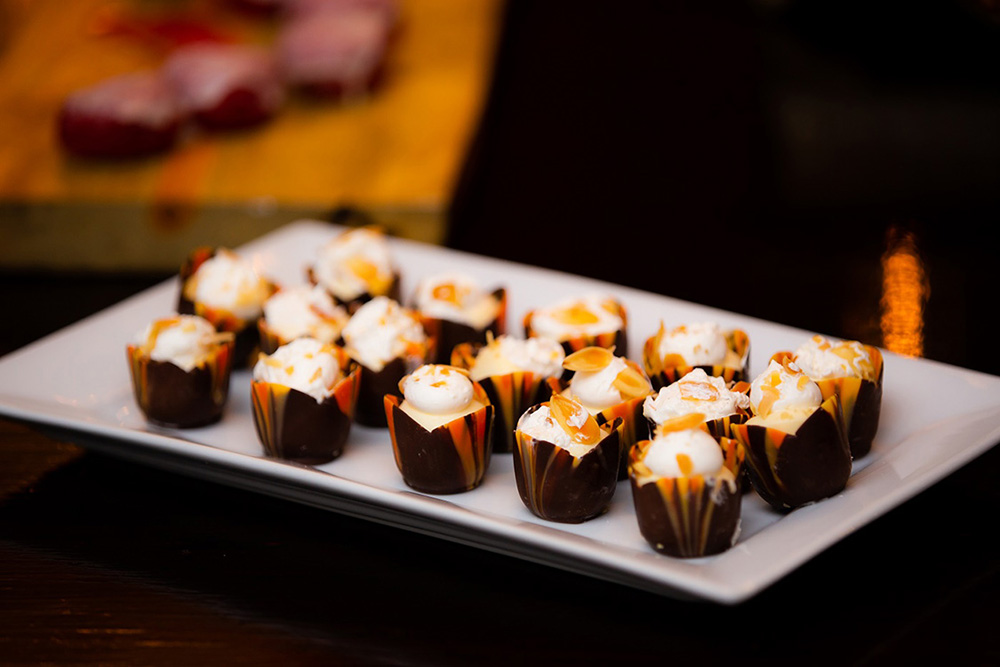 Sweet Recovery
Like everything COVID-related, it's impossible to predict with assurance what will happen to wedding desserts post-pandemic.
Riezenman, who formed a new partnership with restaurateur Ari Weiswasser of Glen Ellen Star in January, is engaging the restaurant's pastry chef to create a "whole new set of desserts" that are "resonating with people" now. Booking events for next year, he sees a continuation of the combination of small cakes and large mini-dessert assortments.
On the other hand, Carter is booking requests for big wedding cakes in 2021, assuming there are no COVID restrictions. And McHale feels certain that, "if they are allowed to do it," people "will be excited" to go back to big cakes.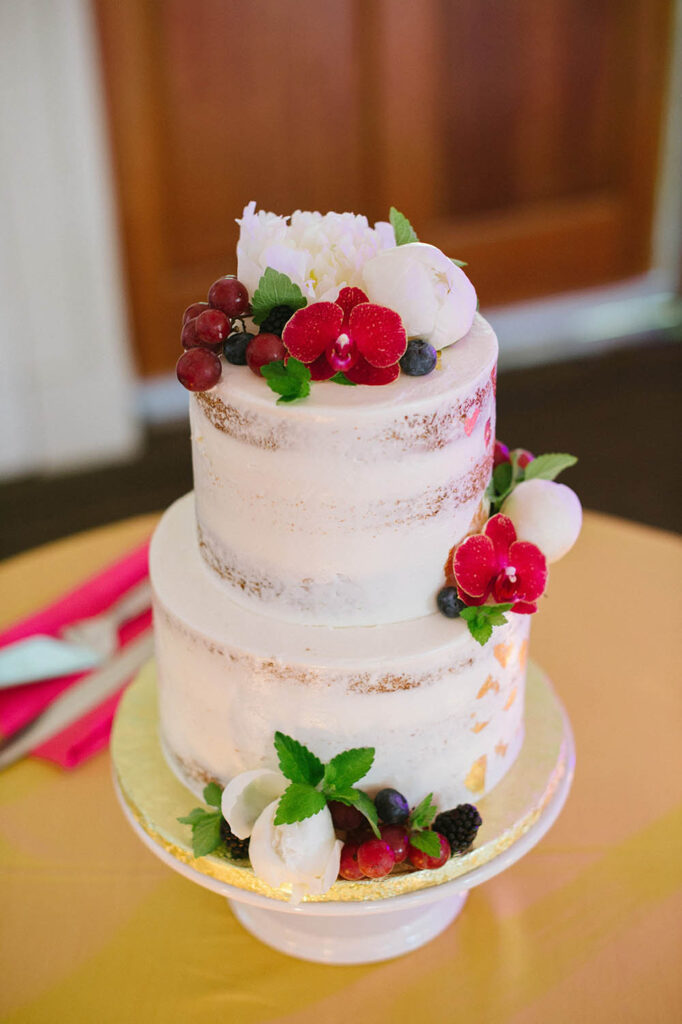 For More Information
Bill Hansen Catering and Event Production
• billhansencatering.com
EventfullNYC Catering & Event Planning
• eventfullnyc.com
McHale's Events & Catering
• mchalescatering.com
Park Avenue Catering
• parkavecater.com
Peppers Artful Events
• peppersartfulevents.com
Sweet Suggestions
American Chocolate Designs offers fun, tasty ways to enhance the presentation of your desserts. The company's array of decorated chocolate dessert wafers comes in standard as well as custom designs. Its groom garnish, for example, makes groom cupcakes stand out without the cost of customization. Similarly, many of the company's small dessert garnishes work well when added to chocolate-dipped strawberries. Simply adhere with a bit of warm chocolate for a striking display.
With the customization option, you can order wafers featuring a couple's monogram for a wedding, to personalize such sweet treats as petit fours. American Chocolate Designs uses chocolate made from cocoa beans sourced from farmers using sustainable cocoa cultivation techniques. The company's products also include transfer sheets, toffee bark and custom solid chocolate. • americanchocolatedesigns.com
Gem City Fine Foods makes it easy to safely serve delicious gluten-free desserts at a wedding. Gem City's range of products includes a Flourless Chocolate Torte, featuring decadently rich bittersweet chocolate with a hint of coffee, finished with chocolate ganache and swirled with white chocolate. The torte, which won a 2018 Bronze sofi Award from the Specialty Food Association in the gluten-free category, is available in individual 4-ounce packages, or in 6-inch and 10-inch cakes for cutting.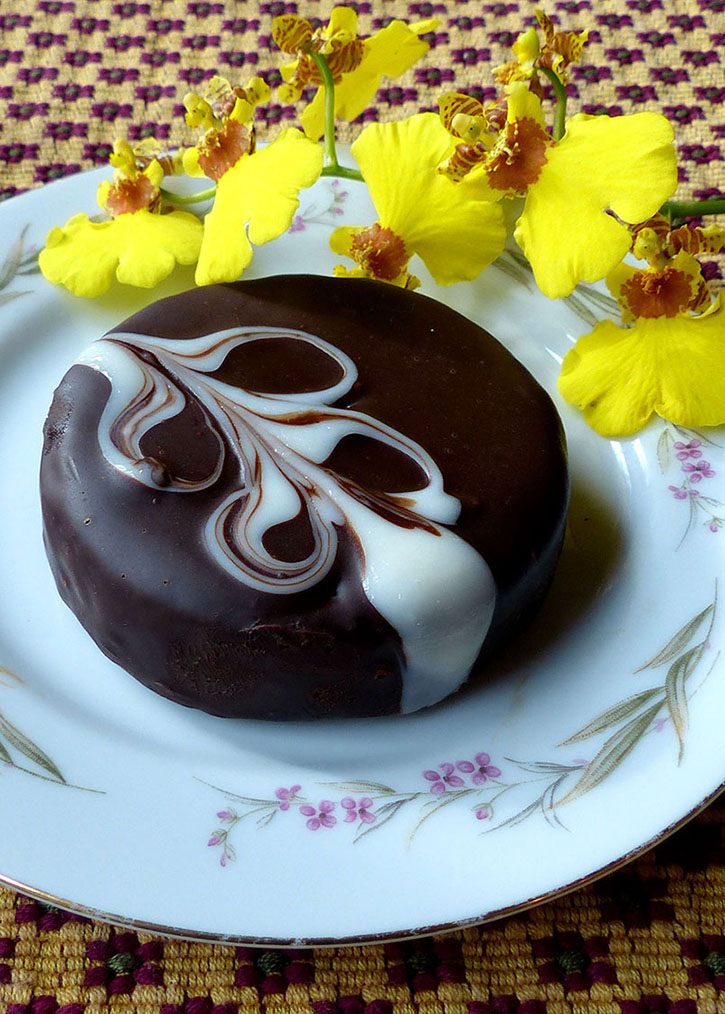 Gem City's Blueberry Lemon Loaf won the 2020 Specialty Food Association New Product Award in Baked Goods-Bakery Desserts. Fresh blueberries are mixed into the light and airy lemon tea cake. The loaf is available in 4-ounce individually wrapped servings. Shipped frozen, both desserts are certified gluten-free, nut-free, and baked and packaged in a dedicated gluten-free bakery. • gemcityfinefoods.com