Raise the bar on your holiday libations by following these expert tips and recipes
By Sara Perez Webber
Holiday events are right around the corner. Will your bar menus get guests in the spirit? If you need inspiration, follow these tips from the experts for making and serving extra-festive refreshments during fall and winter holiday events.
Welcome Guests with Bubbles
What better way to toast the holidays than with a welcoming glass of champagne or sparkling wine? At Cameron Mitchell Premier Events (CMPE) and Cameron Mitchell Restaurants, bubbly's often served with a kick. "A favorite recipe for our team is a Sgroppino," says Melissa Johnson, vice president. "This originates from Italy and is made with lemon sorbet and vodka, and topped with prosecco." Creatively serving the bubbly adds another festive touch, such as white-gloved hands passing the flutes to guests from behind a wall.
Go Big with Garnishes
Richard Monis' cocktail catering service, Craft Cartel, aims to create drinks that are not only delicious but also "Instagram-friendly"—and there's no better time to be playful with garnishes than the holidays, he says. Last holiday season, the company served a whiskey and coffee cocktail with a hot cocoa vibe, Santa's Medicine, rimmed with chocolate sauce and graham crackers, and topped by a flaming marshmallow. Green and red sprinkles could replace the graham cracker rim.
Add a Natural Touch
For a subtler garnish, look to nature. Craft Cartel often adds branded fruit peels to the side of a glass. CMPE creates ribbons and curls from cucumbers and other veggies, chars fruits and tops them with sugar or spices, and utilizes herbs as aromatic garnishes.
"Using edible flowers as a garnish is a fantastic way to elevate a holiday cocktail," advises Melissa Misgen, owner of Elite Events Catering. "We love floating clusters of brightly colored flowers in a wide-rimmed coupe champagne glass!"
Pass with Panache
Don't forget to add festive touches to passing trays. "Use a white acrylic handled tray and line it with a themed picture or design element from the event," advises CMPE's Johnson. Or create a tray from another item, such as a box, slate, upside-down lid or large alphabet letter. Whatever you use, here's a pro tip from Johnson: Test filled glasses on it to ensure they don't slide.
Roll Up the Bar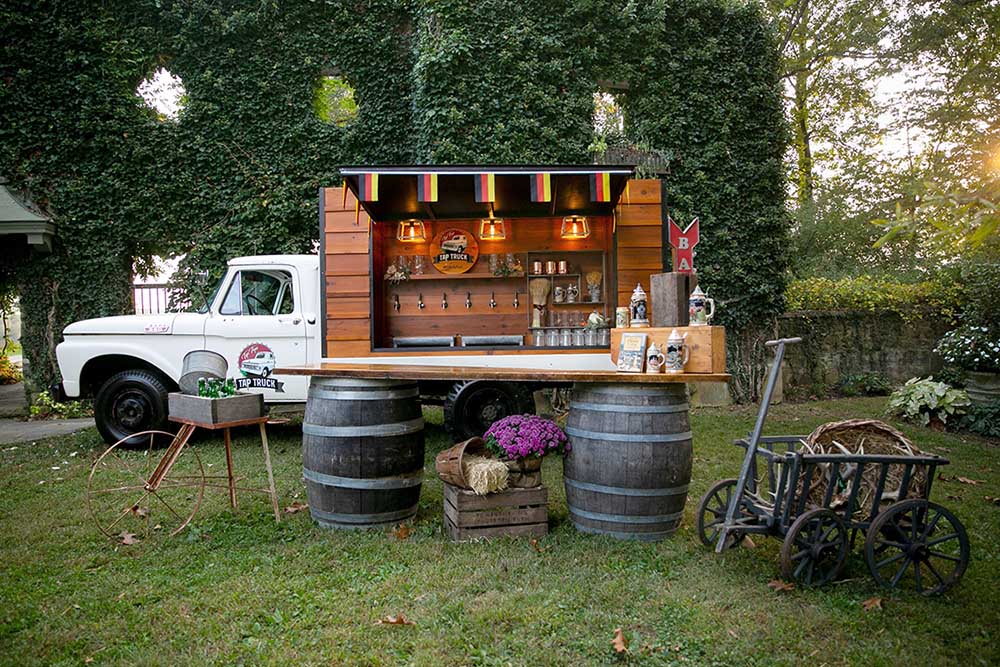 Mobile bars can add excitement to a holiday event while getting drinks into guests' hands faster. With Tip Top Tap Truck & Mobile Top Bars, for example, drinks can be poured from built-in taps—plus the company will decorate the bar or truck to fit your holiday theme. "Beer, wine, batched cocktails, sodas and coffee are a few examples of what we pour from our taps in our bars," says owner Michael Stump.
Treat Guests to Sweet Sips
Indulging in sweet treats is a holiday tradition, so why not serve up dessert-y drinks? CMPE is featuring the following this season:
Edible chocolate-chip cookie shot glasses filled with a complementary drink, like a white Russian, or with milk for a fun non-alcoholic sip
Irish hot chocolate, with a mini bottle of Baileys Irish Cream sitting upside-down in the whipped cream
Apple Pie Boozy Milkshakes (pictured right): "We make this in small 3-ounce glasses, filled with sweet and cinnamon-y apple pie milkshake, garnished with a dried apple chip and a mini apple pie tart and a colorful straw!" says Johnson.
Make Mocktails Memorable
Don't leave guests choosing to refrain from alcohol out in the cold. "Always have an intentional, well-thought-out non-alcohol option so everyone is included in the eye-appealing and delicious bar menu," advises CMPE's Johnson. An elegant option served by CMPE is Pom (pomegranate juice), lime and soda water served in a rocks glass over ice, with an edible gold glitter rim and tuft of white cotton candy on top. "Tip: Add the cotton candy in front of guests—it dissolves slowly into the drink, adding a kiss of sweetness."
Go Beyond the Cocktail
Serve up alcohol in unexpected ways, advises Keith Willard, owner of Keith Willard Events. "One cocktail trend that has gotten a lot of my clients excited is an alcoholic ice cream station," he says. Willard turns to a company called Frost 321 for the special treat, which freezes alcohol with nitrogen, then mixes it with ice creams and sorbets. "Not only is it a big show, with the fog coming off of the nitrogen, but each scoop is actually a shot of alcohol," adds Willard. "My personal favorite is bourbon chocolate ice cream, followed closely by tequila lime sorbet."
Willard also recommends alcoholic cotton candy, made by a company called Spin Spun. "Yes, it's a thing!" he says. "My favorite is Fireball with a splash of Tabasco—wow, just wow!"
Add Holiday Hues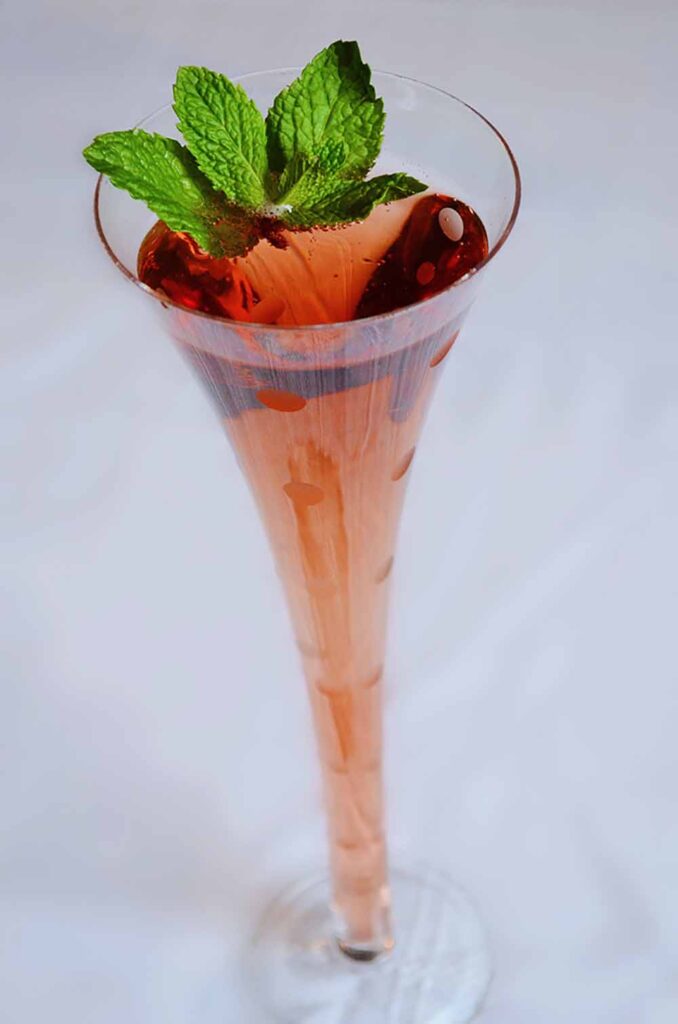 When you're planning your bar, don't forget to match the cocktails to the color palette. CMPE serves up a Merry Mojito during the holidays, with Pom making the drink red, topped by a green sprig of mint.
Bring Out the Ice, Ice, Baby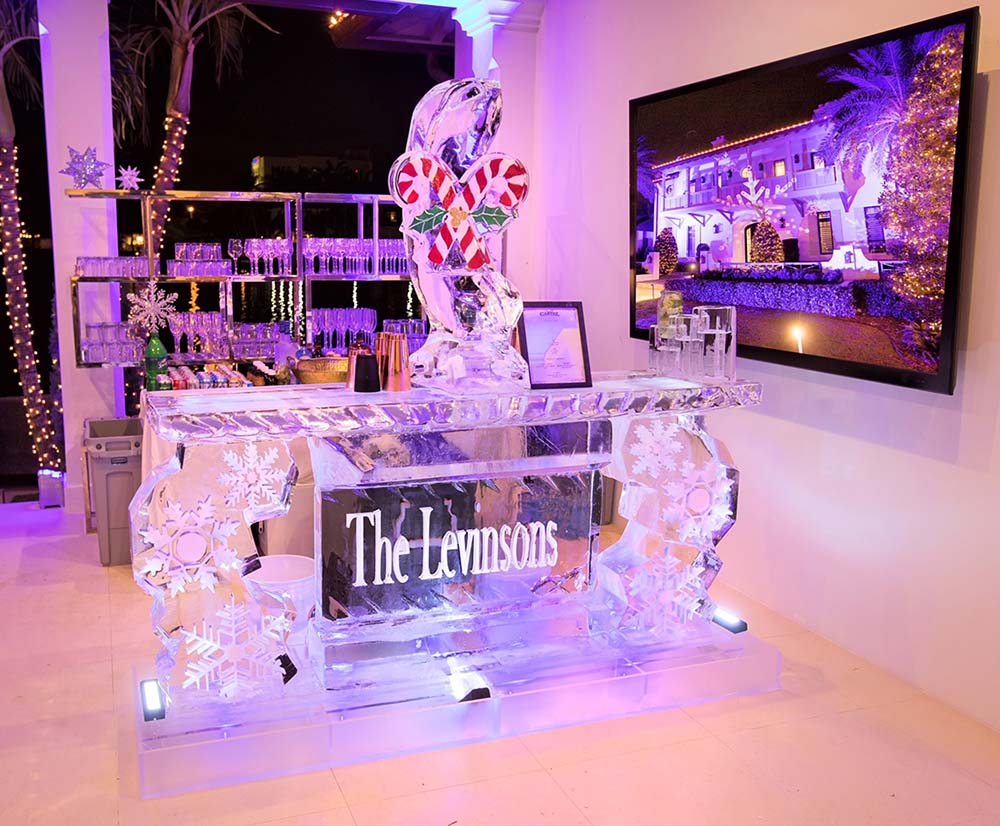 Invite Jack Frost indoors with an ice sculpture or luge, which "are making a huge comeback—they're 'cooler' than ever!" says Katie Mast, director of Rock Paper Coin. For a winter wedding, have the sculpture personalized to represent the couple or a beloved pet. "It's a great conversation-starter, décor statement piece and festive bar trend we are happy to see stay!" says Mast.
For an over-the-top, winter wonderland-themed holiday party, Monis and his mixology team from Craft Cartel commissioned a bar carved out of ice blocks—with an attached candy cane ribbon ice luge for shots. "It's probably the most elaborate bar set-up we've ever had the pleasure of working behind," says Monis, noting the only drawback—water from melting ice.
Bedeck the Bar
A black tablecloth bar doesn't cut it anymore—especially for a festive holiday event. "Unique details are a must" on the bar, says Kaley Goodall, chief creative officer of Render Events. "Whether it's a ribbed texture for the bar front, a custom vinyl decal or a sculptural silhouette, by adding thoughtful details you can't go wrong." Goodall also suggests adding visual interest to the bar with plants, florals and custom signage that complement the event's design.
Add a Vacation Vibe
Many celebrate the holidays in warm locales—like Miami, home base of Craft Cartel. "My winter clients are usually coming from a cold place, where they are escaping that dark cold weather for a warm, sunshine-filled winter day," says Monis. To help them capture the vacation vibe, he often adds tropical flavors to holiday cocktails—such as the house-made Key lime coconut orgeat in Craft Cartel's Down In Kokomo. "Other ingredients we like to work with during the holidays are blood orange, cacao, cinnamon, vanilla, pear, apple butter, thyme, salted caramel, black cherry, blackberry, chai and banana, to name a few."