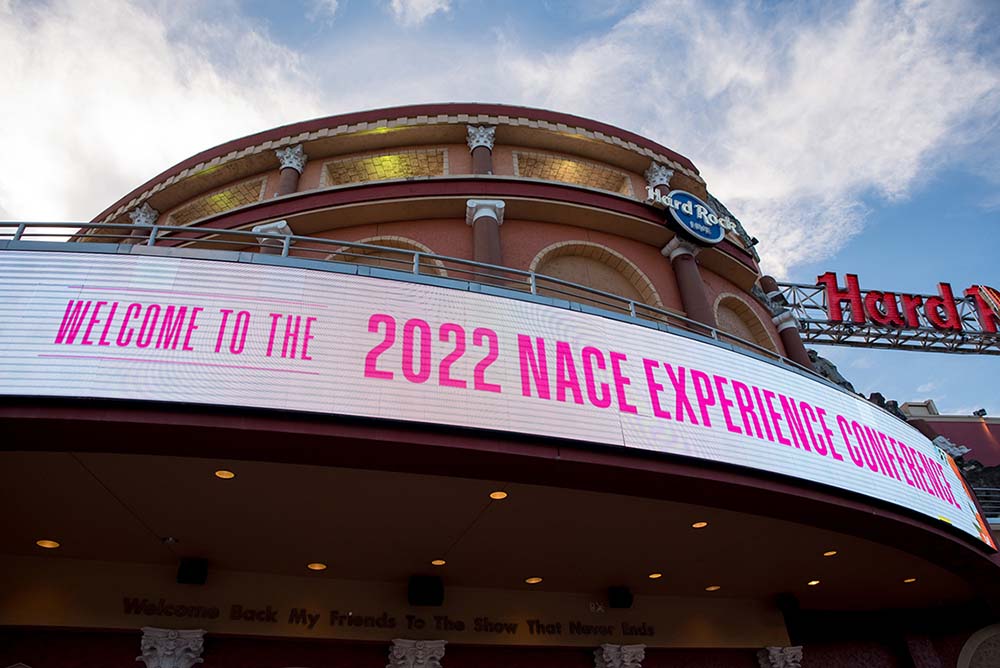 At the annual NACE Experience, the association demonstrated its strengths: education and networking
By Sara Perez Webber
In July, well over 300 attendees gathered at the Loews Sapphire Falls Resort at Universal Orlando for the 2022 NACE Experience Conference. The event provided a long-awaited chance for members of the National Association for Catering & Events (NACE) to learn and network, sharing stories about the recent tumultuous period in the industry—and how they're moving forward.
"We've had great energy at this conference," said Amber Allen, CPCE, who began her year-long term as president of NACE at Experience.
In an interview with CFE during Experience, Allen—the director of food and beverage at Hotel Valley Ho in Scottsdale, Arizona—noted that last year's conference in Las Vegas was more subdued, due to COVID protocols. "In Vegas, the floors were all locked down, and there wasn't really a good central spot for everyone to get together and network and mix-and-mingle in the after-hours, which is what our members are used to and love," she said. In Orlando, on the other hand, "everyone is taking advantage of the ability to really connect and talk again."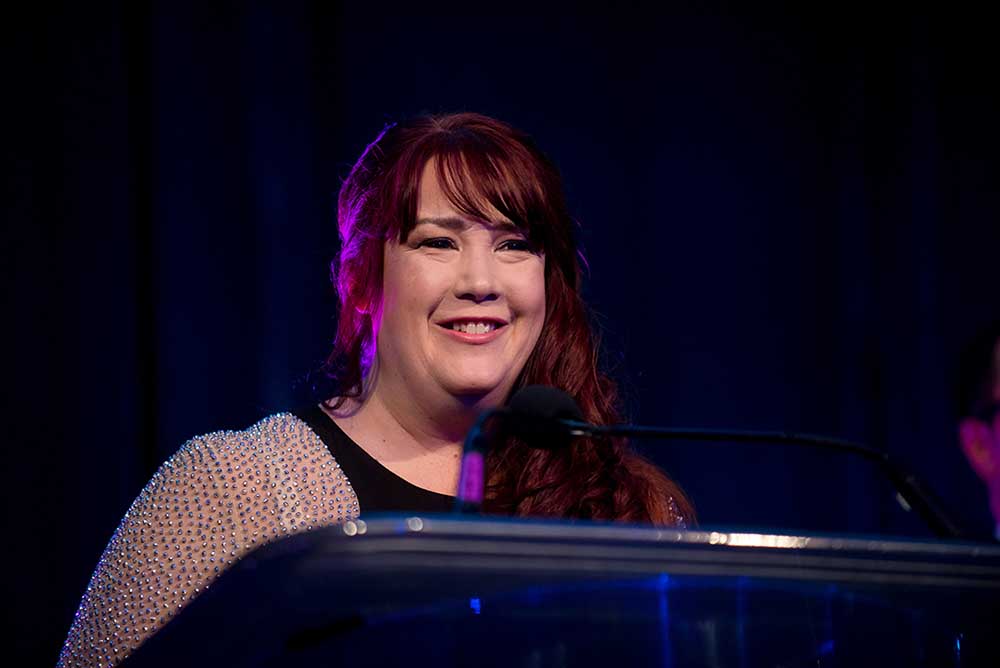 NACE member Vanny Koornwinder, CMP, associate director of events for medical center development at Stanford Medicine, agreed. "Attendees were excited to attend an in-person Experience," said Koornwinder, who has attended nearly every Experience since 2015. "There was a sense of relief to be able to do business again—although with many hurdles, including labor shortages, supply chain issues and the pandemic PTSD that creates uncertainties."
First-time Experience attendee Rajan Mistry, chief experience officer at District Events and Catering in Atlanta—who was also a speaker at the event—found the mood to be "positive and open-minded," he said. "Year 2020 was not friendly to many in our industry; however, there was a certain group of creatives that fought hard to ride out the wave. I would say that group of talent were all at Experience 2022 with energy, intensity and eagerness to get to the next level!"
Experience kicked off with an opening reception at Hard Rock Live and closed with the NACE One Awards Gala. In between the parties, the agenda included 28 educational sessions, a motivational opening session, roundtables for business networking, a general session displaying event design trends and more.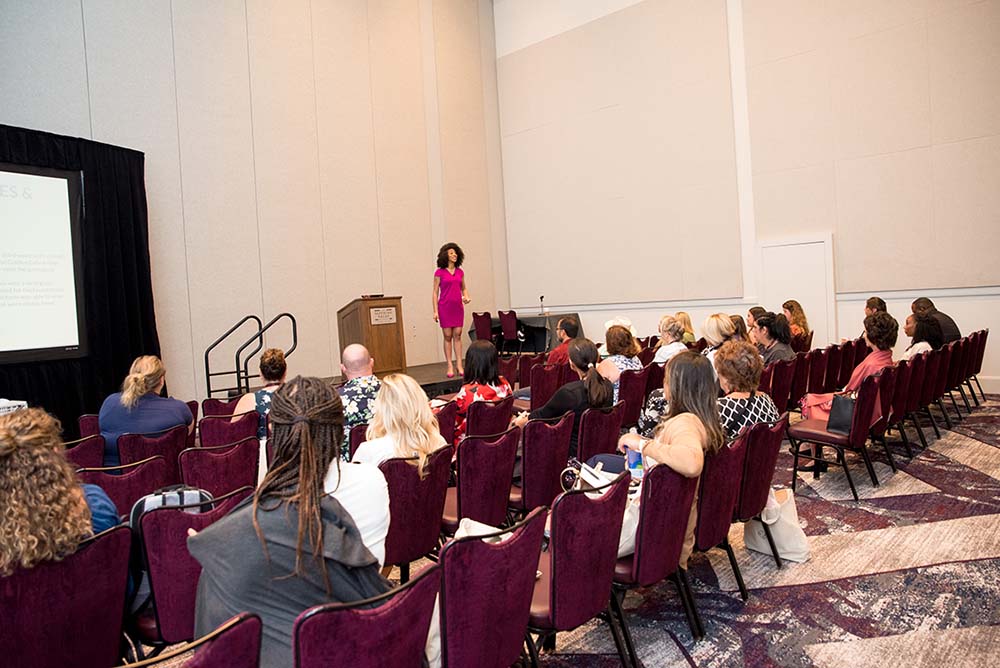 "Education is such a big part of who NACE is," said Allen when asked what goals she and the board hoped to achieve with the conference. "We really focus on that and the continuous sense of community. We want to be able to exchange ideas and pain points, and figure out solutions. Something that is happening in Phoenix may be happening in Florida as well, and someone in Florida may have the better idea on how to solve that problem. As long as we're idea-sharing and really keeping the communication going, and helping each other solve problems, we're going to continue to get stronger as an industry."
Education also played a key role in how NACE supported members during the COVID pandemic. "Online education was booming" during that period, said Allen. The online courses offered by NACE included a free fast track course to help members studying for NACE's industry certification, the CPCE (Certified Professional in Catering and Events). As a result, the number of CPCEs has substantially grown since the 2021 Las Vegas Experience. "The growth in people investing in themselves to make themselves better was huge," said Allen.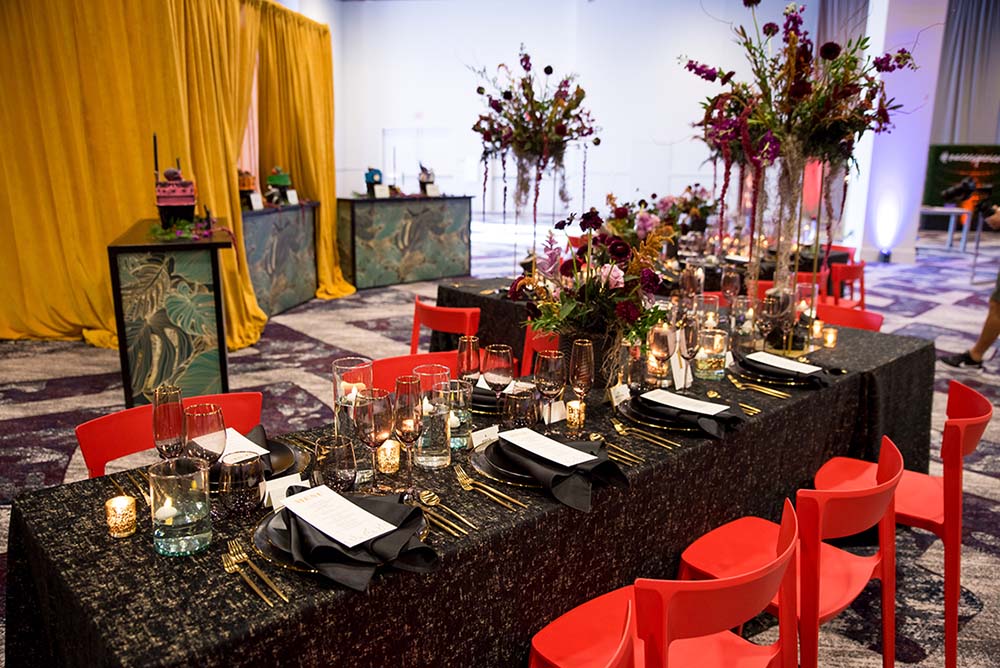 NACE's fundraising arm, the Foundation of NACE, helped to financially support chapters during the pandemic. In addition, the NACE board created a membership support program that was a "holistic package" for members, according to Lawrence Leonard, NACE's executive director, including dues reduction, career development resources such as resume writing, a job bank and help with safety protocols.
"Having worked with the leaders of the association both before and during the pandemic, I've never seen a group of volunteer leaders as laser-focused on the needs of the members as the NACE National Board," said Leonard, who took the reins as executive director three-and-a-half years ago. "The board was quick to realize that coming out of the pandemic, members might be looking for something different in terms of benefits and engagement than they were before the pandemic."
Indeed, issues facing NACE members have changed drastically since the pandemic, as business "went from zero to about 150," explained Allen. Concerns about staffing and supply chain issues are now top-of-mind.
Going forward, NACE is focused on four goals: chapter recovery, membership, business development and DEI (diversity, equity and inclusion).
NACE lost members due to the pandemic and is working to strengthen and grow its chapters. "We're talking about a potential grassroots effort of reaching out to every person that has lapsed in their membership and figure out why," said Allen. "That will help us as a board to figure out how do we move forward and how do we keep pulling in everyone."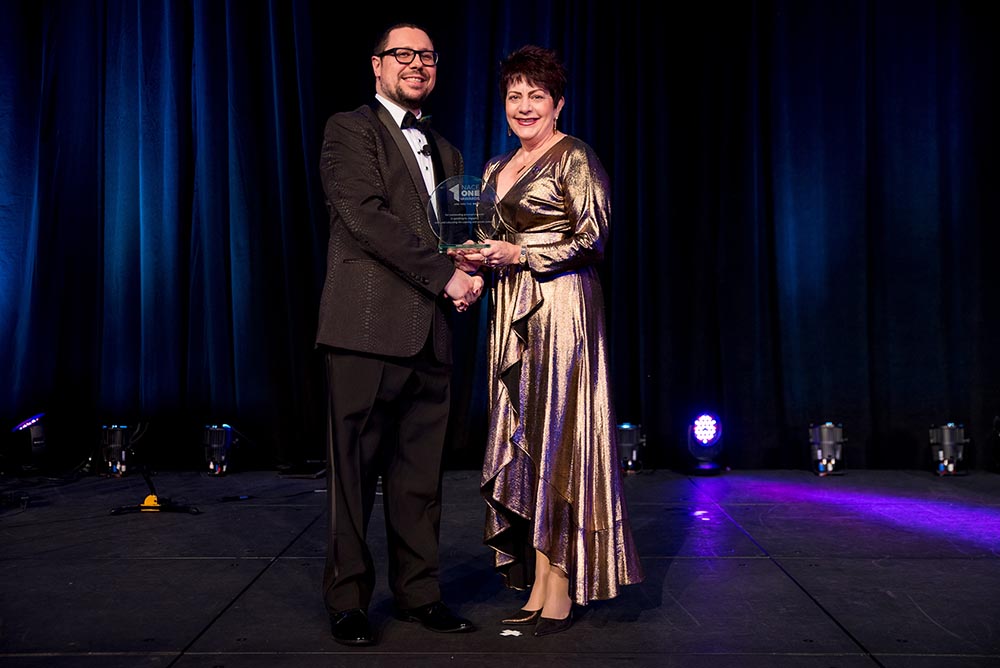 As NACE works to strengthen its business partnerships, it's also growing the number of networking groups within its membership. For example, during Experience, there were receptions for the Black Caucus, AAPI (Asian American and Pacific Islander) Caucus and members of the LGBT Meeting Professionals Association. Another networking group welcomes neurodivergent members.
"This is very important for us moving forward—continuing to create that safe space for people in our association," said Allen. "It will only help our membership grow even stronger."
Allen started out in the industry by working at a lake resort in her native Wisconsin during college. "I grew a passion for it—helping people and seeing events come together," she said. Later, while working as a catering manager at a casino property in 2009, a friend convinced her to join NACE. After serving as the co-chair for the 2015 Experience in Phoenix, she became involved on the national level.
"Every part of my career I attribute to NACE," said Allen. "Every person in NACE was so welcoming and supportive and understanding, and just wanted to elevate me to that next level. If I had a problem, I could reach out to anybody at any time, and they would help me solve it. It's like a family."
And Allen is determined to grow that family, as membership numbers have started to rebound as the industry recovers. "It's like a tidal wave coming back to us right now," she said. "We're definitely getting stronger."
The next NACE Experience Conference takes place July 23-25, 2023, in Dallas, Texas. For more information on NACE, visit nace.net.