From nostalgia-themed celebrations to multi-day affairs, experts divulge 20 of the top trends influencing weddings in the new year
By Sara Perez Webber
Pearls
A nostalgic detail poised to take center stage at weddings is the classic pearl. "If there's one big takeaway from New York Bridal Fashion Week, it's that pearls will dominate the aesthetic for 2023 celebrations," says Meghan Ely, principal at OFD Consulting, who recently co-presented the 2023 Wedding Trends session at Wedding MBA in Las Vegas. "Pearls, however, will not be simply relegated to the fashion of the day; expect to see pearl embellishments in unexpected spots. This pairs well with the Regency-core theme made popular by such pop culture phenoms as [Netflix series] Bridgerton.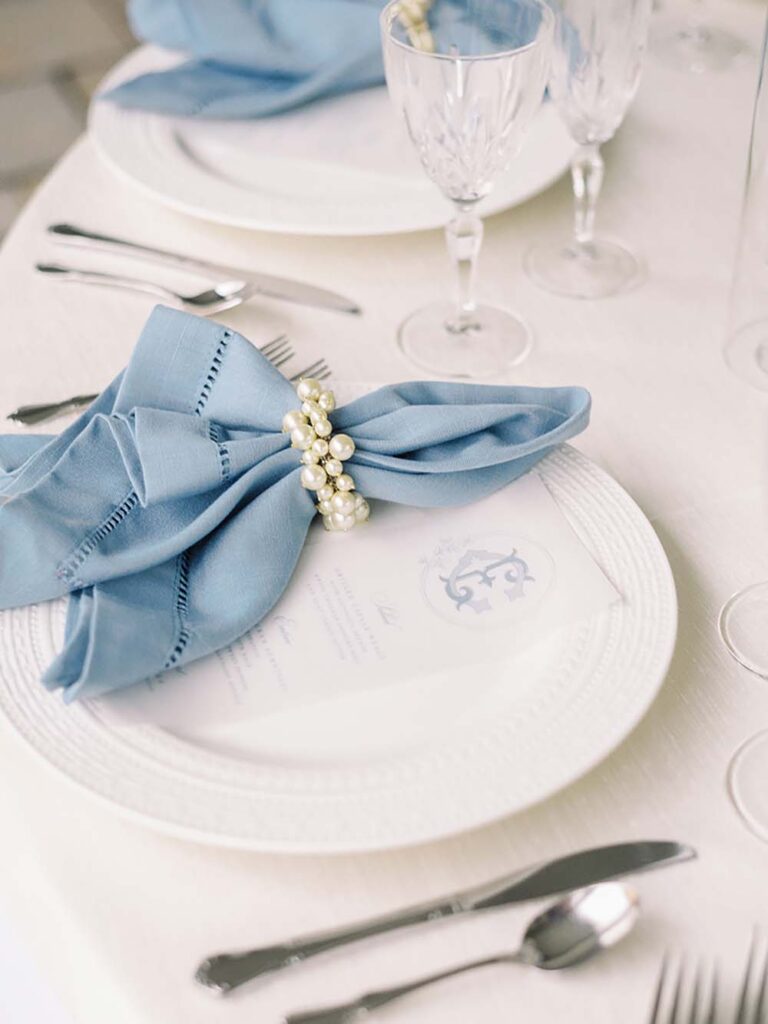 Vivid Colors
"Gone are the days of muted tones paired with metallics," says OFD Consulting's Ely. "I'm thrilled to see that couples are making bold color choices for 2023. In recent years, we've seen couples flirt with gem tones, but next year, highly saturated tones will take center stage throughout the entire celebration. This ties in with couples expressing more of an eagerness to buck tradition and really make their wedding 'theirs.'"
Nostalgia
According to OFD Consulting's Ely, nostalgia is "it" for weddings in 2023. "Expect it to touch upon every aspect of the big day—from the decor and venue choice to the menu selections," says Ely. "Bear in mind that this generation, a mix of young millennials and Gen Z, will be pulling from the '70s, '80s, and '90s—which to many of us may seem too recent to be considered nostalgic (sadly, it's not!). I don't see this trend disappearing any time soon; statistics have shown us that during times of uncertainty, nostalgia can actually provide comfort."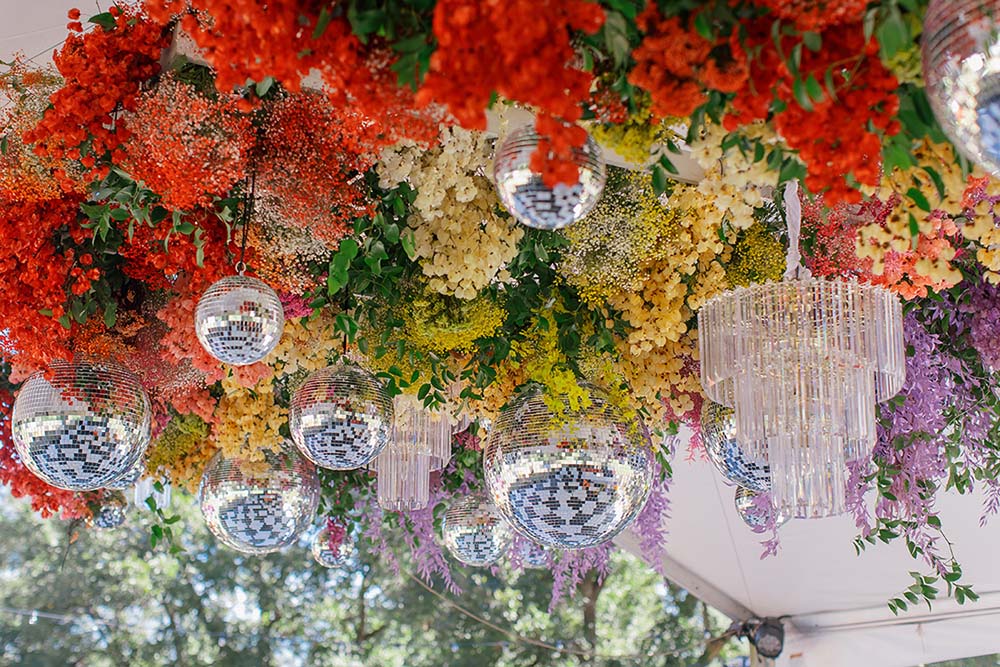 Sustainable Dining and Serving
"Couples are more conscious than ever when it comes to the impact their wedding has on the environment," says Chris Sanchez, managing partner of LUX Catering & EVENTS in Salt Lake City, Utah. "With sourcing still a challenge, couples are looking for sustainable and renewable options. Many couples are placing a big focus on a regional and locally sourced menu."
Chantal Hause, owner of Fabulous Food in Phoenix, says her clients are also looking for locally sourced menus, as well as options for guests with dietary needs (dairy-free, gluten-free, vegetarian and vegan). They prefer the food to be served on eco-friendly dishes made from natural, renewable resources.
Bold Designs
Alongside color, designs are getting bolder. "We're saying goodbye to pastels and neutrals," says LUX Catering & Events' Sanchez. "We're seeing a lot more unforgettable themes and whimsy. Think bold colors, heavy prints, over-the-top florals, Alice in Wonderland, or even Midsummer Night's Dream! Understated is moving over, and statement weddings are coming in. Dramatic, statement floral installations are becoming more prevalent in these weddings. Architectural floral installations are becoming more and more popular."
Honoring Pets
Couples' pets are increasingly included in the big day—even if they're not physically there. "Incorporating pets into the wedding day without them actually being present is a new trend popping up more and more," says Caroline Robert, photographer and owner of Caroline's Collective. "Naming signature cocktails after pets or creating caricatures of them for napkins are the most common ways I've seen. Everyone seems to be a big fan, because who wouldn't love those adorable faces?"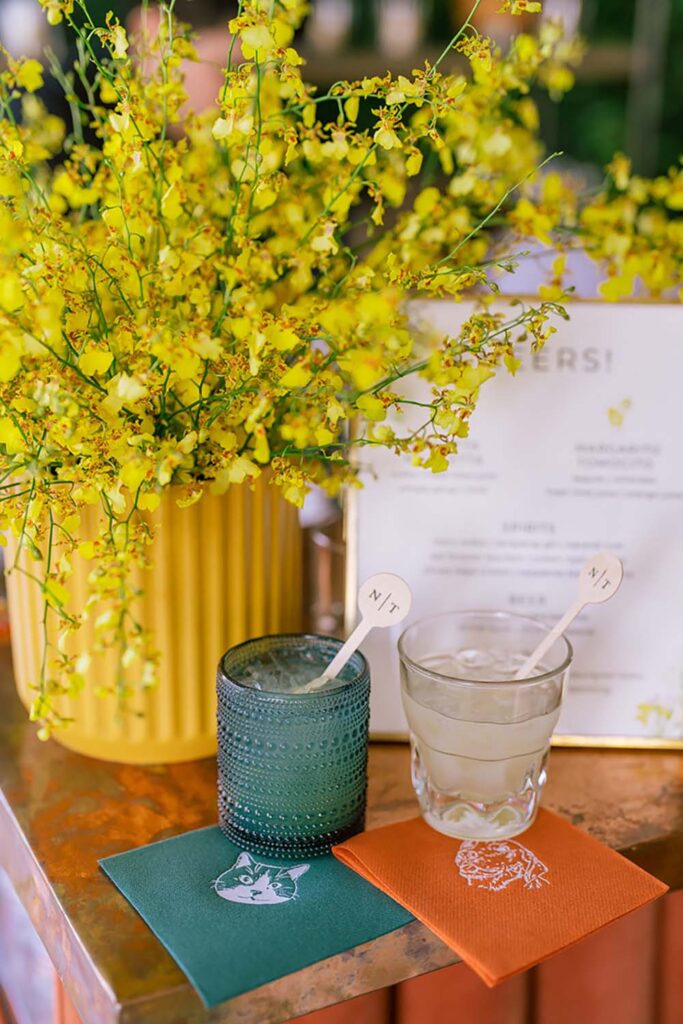 Grazing Stations
When it comes to the dinner menu, many couples are choosing to serve grazing stations, stocked with everything from comfort food to healthy food. "Menus are created around the bride and groom's favorite foods—mac 'n cheese, chicken nuggets, grilled cheese in dozens of varieties, French fries and the like," says Fabulous Food's Hause.
Constellation Culinary, the official caterer for the Pérez Art Museum Miami, is seeing a rise in grazing tables with vegan and plant-based options. The tables serve up a colorful feast, allowing for variety without having to commit to two or three dinner choices.
Multi-Day Events
Many couples are planning celebrations over several days with their guests. "We have seen a lot of big welcome party/reception dinners and then a 'recovery' party the day after the wedding," says Erica Edie, sales operations manager at Crave Catering in Austin, Texas. For example, a couple may plan an intimate rehearsal dinner and then invite all guests for dessert, drinks and dancing. The day after the wedding, they may host a pool party with BBQ and IV drips, to help guests recover from the night before.
According to LUX Catering's Sanchez, "Rather than just one night of celebrating, couples are opting for a whole weekend of togetherness. People are hosting welcome receptions, rehearsal dinners, daytime activities, the wedding, after-party and post-wedding brunches. Making more time for guests to connect and enjoy time together helps alleviate the pressure of the actual wedding day and allows for the guests to be more focused on the actual celebrations, not how little time they have together. With a weekend-long celebration, the couple doesn't have to worry about greeting every guest at their wedding, and they can focus on soaking in the memories and living in the moment!"
Butter Boards
A trending twist to the charcuterie board, butter boards are an increasingly popular option for Constellation Culinary weddings at the Pérez Art Museum Miami. Featuring softened butter spread in an aesthetically pleasing way on a cutting board, butter boards can feature any number of toppings or mix-ins, such as nuts, seeds, fruits, cured meats and more. Options served up by Constellation include a chili drizzle with honey—for a sweet and spicy kick—as well as roasted garlic, lemon zest and herbs galore.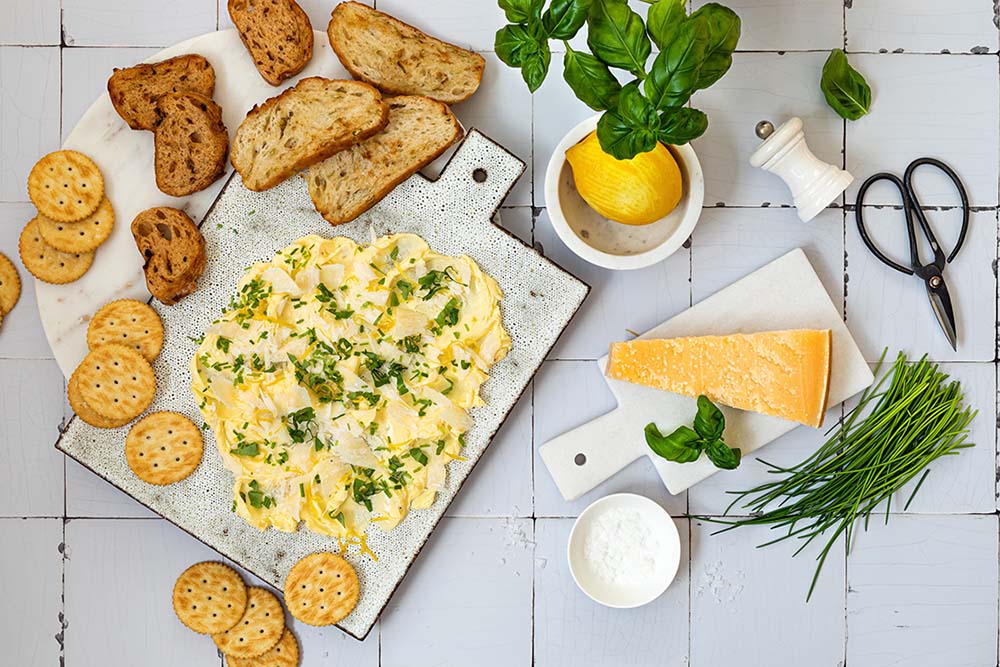 Micro Weddings
On the opposite end of the spectrum, micro weddings—intimate affairs with fewer than 50 guests—are still going strong. "We expect to see the trend continue into 2023, specifically for couples looking for a more affordable experience without sacrificing the details that are important to them," says Yajaira Torres, director of sales and marketing for the Hyatt Centric Buckhead Atlanta. The hotel has partnered with Atlanta's La Fête Picnic Co. to offer packages for micro-weddings—and for proposals and bridal showers—on its lavish 15th-floor rooftop lounge, Spaceman, tailored to the client's aesthetic preferences.
Champagne and Welcome Drink Walls
Serving a double purpose—alleviating the bar line and making a design statement—drink walls offering champagne and welcome cocktails are being "taken to the next level," says Sam Nelson, owner and principal planner at EVL Events in Ellicottville, New York. "Goodbye, boxwood champagne walls; hello, major statement pieces—individual bottles with straws, brews and bubbles walls (beer and champagne), and more!"
Charitable Favors
Couples are increasingly looking to give back when they tie the knot. "People often want to give something to their guests but donate some of their favor budget to a worthy cause," says Jamie Pritscher, founder and CEO of That's Caring. "This accomplishes both." That's Caring makes customized individually wrapped cookies—among other products—that can be given as wedding favors. For every 24 cookies purchased, a weekend bag of food is provided to a child struggling with hunger in the United States, through the company's partnership with Feeding America certified food banks.
Healthy Drinks
Good-for-you options also extend to the bar. More and more clients are requesting creative mocktails for weddings at the Pérez Art Museum Miami, to cater to guests who abstain from alcohol. Kombucha is also becoming a more popular wedding option, according to Constellation Culinary Group, with couples offering it as a healthy alternative to soda.
Experiential Favors
Now that weddings are back in full swing, couples also want to treat their guests with unforgettable experiential elements. "Cool, fun, personalized experiences ARE the new wedding favor," says Julia Hahn, owner of Whitehouse Caterers at Overhills Mansion in Catonsville, Maryland. "We expect that trend to become even more creative in 2023, with couples incorporating the things they love into their guests' experience." Examples include belly dancers, a life-sized paint-by-number picture of the couple, scavenger hunts, silent discos, butter boards, cigars hand-rolled by an expert, firepits and handcrafted cocktails, notes Hahn: "All the things they love plus all the people they love…what could be better?"
Ube-Flavored Everything
The nutritious purple yam is showing up in a variety of wedding menu items, according to Constellation Culinary Group. With its pleasing hue and healthy reputation—it's high in healthy carbs, vitamins, fiber and antioxidants—the ube is an especially popular choice for sweet treats like doughnuts and ice cream.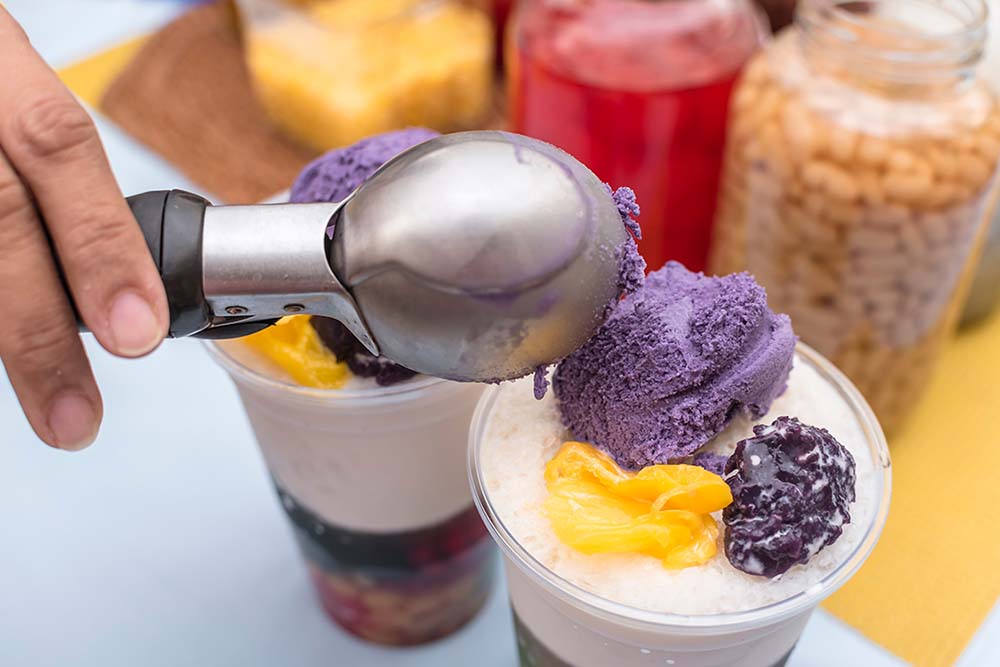 Photo Cocktails
A big hit for weddings catered by Bill Hansen Luxe—the new luxury brand extension of Bill Hansen Catering & Event Production in Miami—is the Snap & Sip Cocktail, featuring an edible printed image floating on top. "The moment the guests see the faces on the cocktail, it creates so much buzz," says Bill Hansen, CEO of Bill Hansen Hospitality Group. "The Snap & Sip cocktail has definitely been a crowd favorite and speaks to that personalization aspect that so many couples seek on their special day."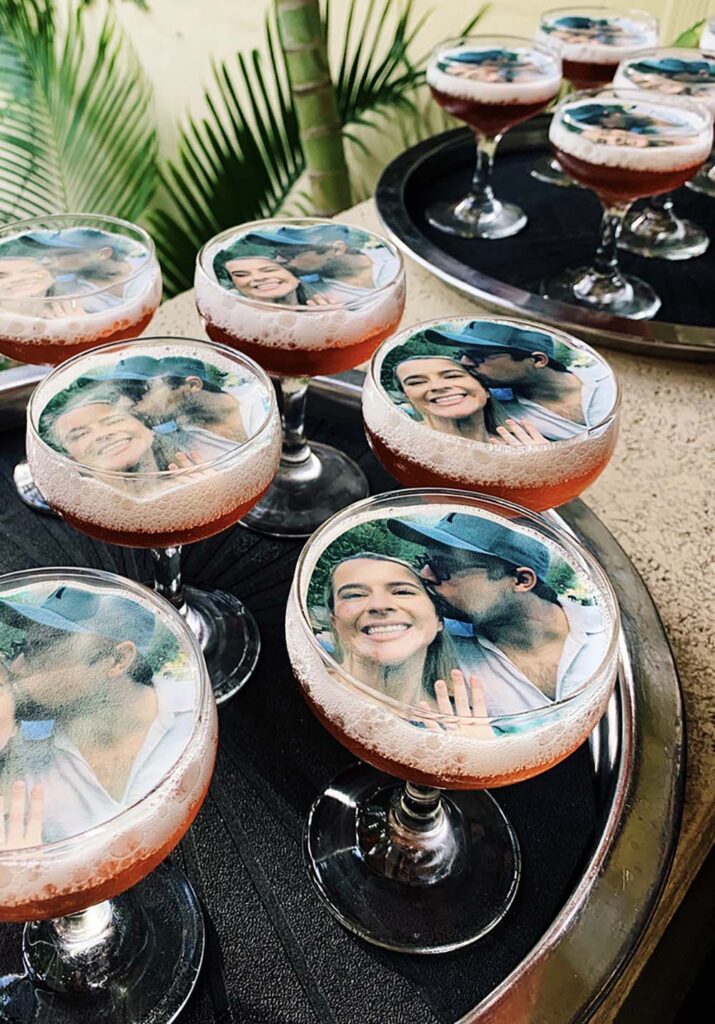 Separate Areas for Lounging
Couples are making sure their guests have areas where they can chat and relax at their receptions. "These days, couples don't feel stuck with the idea of having their entire event in one big ballroom," says OFD Consulting's Ely. "The guest experience continues to be the top priority and with that comes the reimagination of what a setup can look like on the big day. Couples are now working with their vendors to explore creating separate lounge and bar areas for those guests eager to catch up, without having to compete with the sounds from the dance floor."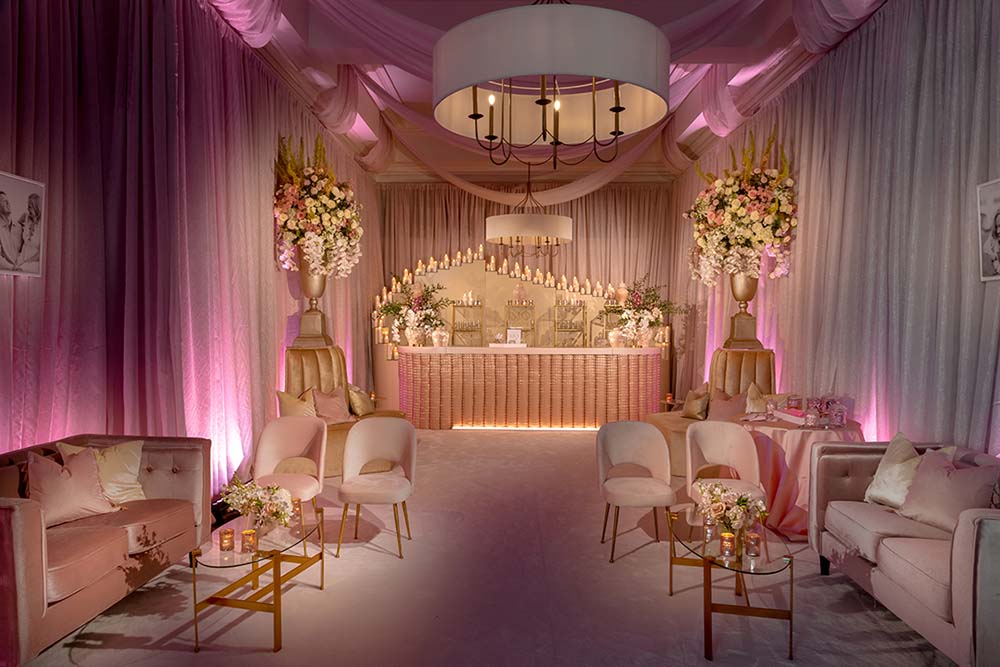 Bounce House for Adults
The team at Constellation Culinary Group at the Norton Museum of Art, has noticed a childhood favorite making its way to wedding celebrations—bounce houses. Vendors such as Island Bounce House are providing these nostalgic rentals, which provide a way for guests to unleash their inner child.
Personal Salt Cellars
Sometimes little things can have a big impact. "Personal salt cellars are going to be a big trend for 2023!" says Nora Sheils, co-founder of Rock Paper Coin and founder of Bridal Bliss. "Couples want to 'wow' their guests with an over-the-top experience and part of that is a blow-your-mind tablescape. Mini salt cellars and spoons at each place setting are a luxurious detail, yet relatively inexpensive. They look amazing in photos, your guests will feel pampered, and you will instantly elevate your event!"