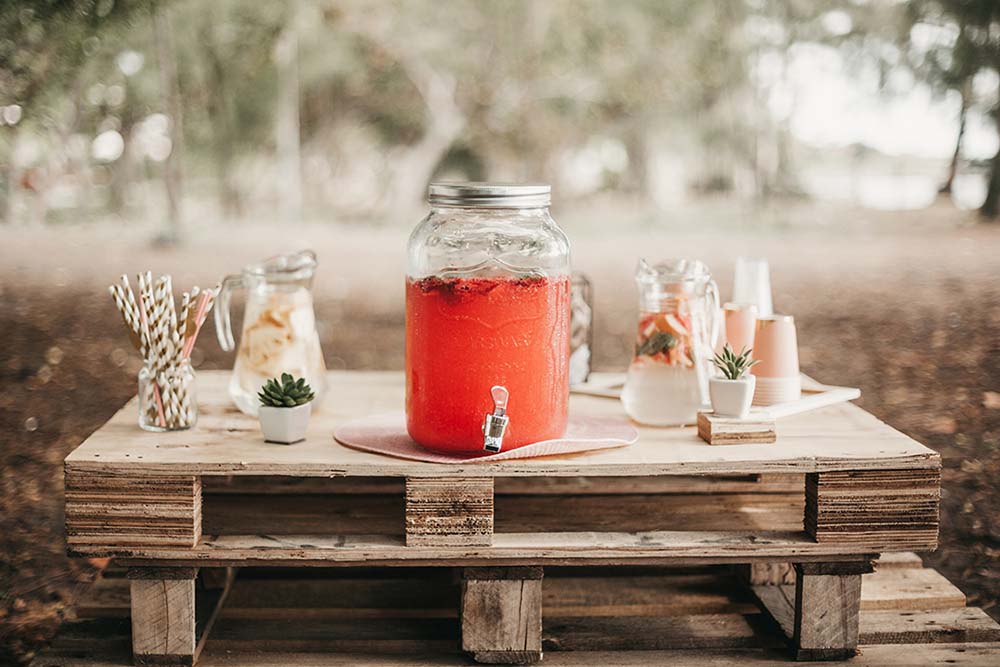 Boost revenue and repeat business with a well-run bar serving thoughtfully customized drinks
By Chris Tunstall, co-founder of A Bar Above
How many weddings have you attended where the bar line was long, and the drinks weren't that great? The answer is probably "Too many."
A basic bar is a thing of the past; a wedding is made that much more unique with a customized craft bar, including signature cocktails and memorable details that reflect the event or couple.
As a caterer, you want to offer better options than simple beer, wine and cocktails. An elevated drinks menu will not only please your wedding couples and their guests, but an upscale luxury bar with options is something you can charge more for.
Plus, when guests are thrilled with their cocktails and service, they're more likely to hire you in the future. Gaining a reputation for high-end offerings means more referrals.
A beautiful craft cocktail bar is sure to make couples feel special and their guests happy—and batching the cocktails ahead of time is the best way to make service run smoothly and quickly.
How to Scale Cocktails into Batched Quantities
If making craft cocktails one by one for 100 or more guests sounds daunting (and slow), the process of batching drinks will be your new best friend. While it takes more prep time to turn drinks into large-format offerings, it will ultimately cut down on serving time, making guests happy and bartenders less stressed.
There are three main ways to make large-scale drinks:
Elemental Batching: Combine similar ingredients—such as all liquors or all juices—ahead of time for rapid, fresh service. You'll add the other ingredients on site.
Punch Bowl Preparation: Build all ingredients together in a large-format vessel for quick service.
Pre-Batch: Similar to a punch bowl, you decant the batch into smaller, more manageable quantities (usually 750ml) to combine later or serve from smaller vessels. This is a good way to keep the final cocktail fresh as you need to replenish stock throughout the evening.
Once you know how many guests you're serving, scale the recipe by multiplying it by the number of servings needed.
Doing this will determine how much of each ingredient to buy. Make sure to get enough for all guests to have multiple drinks—it's a huge disappointment when the bar runs out of your favorite. Before batching, test and prep your ingredients in a single serving cocktail to make sure you're happy with it before pouring a whole bottle of alcohol (or four) into the punch bowl.
Tips for Freshness in Large-Format Cocktails
While prepping ahead of time is important, there are some ingredients that need to be left until the last minute to ensure freshness.
Carbonated elements fizzle fast, so add them to the batched recipe at service.
Add acid like lemon and lime juices as close to service as possible to keep your cocktails tasting fresh.
Be careful not to add too much water or ice, which will over-dilute your drinks.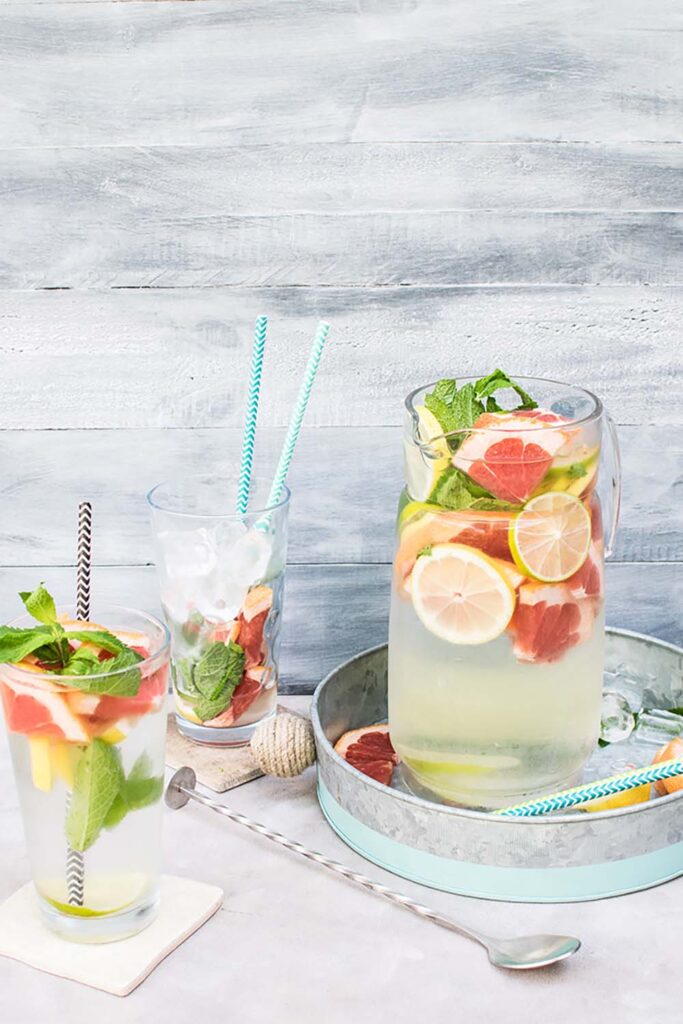 Tips for Signature Wedding Drinks
When batching, it's all too easy to forget about the small details that add the "craft" to craft cocktails. Here are some suggestions on how to stand out when serving large-format recipes:
Incorporate the wedding colors into the drinks; use natural colors from fruits and flowers, or check out Suncore foods for its line of natural dyes.
Find a cocktail that is special to the couple or serve each of their favorites as two signature cocktails.
For a unique touch, use edible flowers that mirror the bridal bouquet and/or boutonnieres.
Use fresh ingredients so the drinks are delicious. No one wants wilted mint or canned lime juice in their drinks! Squeezing 100 ounces of fresh lime juice isn't the most fun activity, but the taste is well worth it.
Likewise, use seasonal elements in the presentation, such as fresh fruit, herbs, flowers, spices, and salt and herb rims. Think rosemary for winter, and strawberries and watermelon for summer.
Provide a drink fountain for a show-stopping effect and rapid service.
A slushy machine offers rapid service and a lighthearted approach for that fun-loving couple.
Garnish with something eye-catching and fragrant for added presentation.
Offer variety! Having two or three different cocktails on top of beer and wine means that there's something for everyone. Make sure to include non-alcoholic options; you could even provide a batched mocktail with an alcohol-free spirit such as Seedlip.
ABOUT THE AUTHOR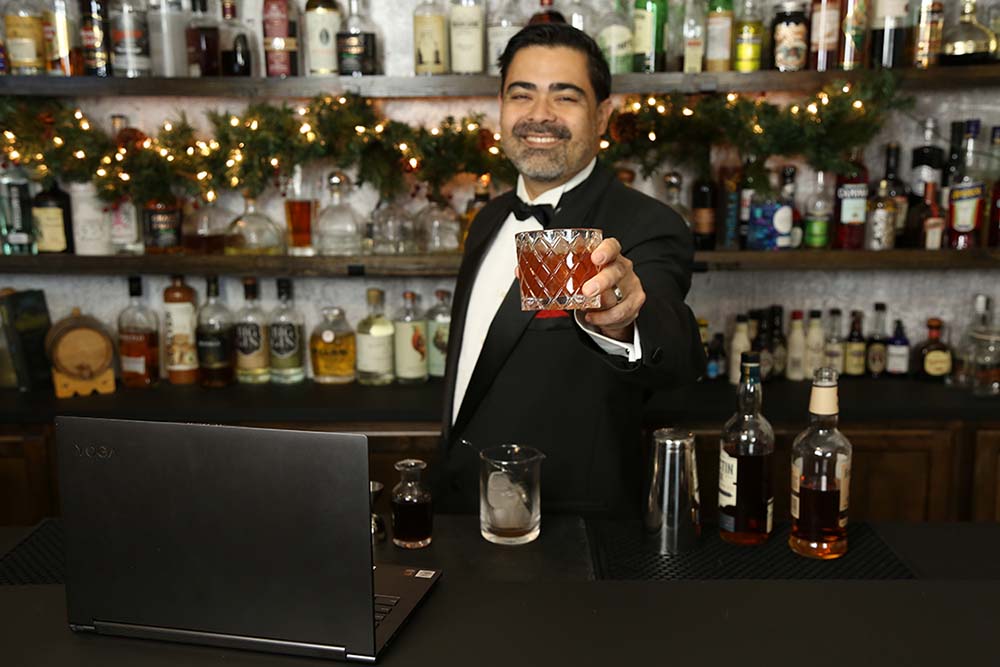 Chris Tunstall is the co-founder of A Bar Above, a barware and cocktail education company that he co-founded with his wife Julia. With over 15 years of experience behind the bar, consulting for hundreds of bars and restaurants, and speaking at industry conferences, Chris now shares his industry-proven tools and techniques with bar professionals at all stages of their careers through A Bar Above's podcast, YouTube channel, blog, online courses and shop full of high-quality bar equipment. For more information, visit abarabove.com.