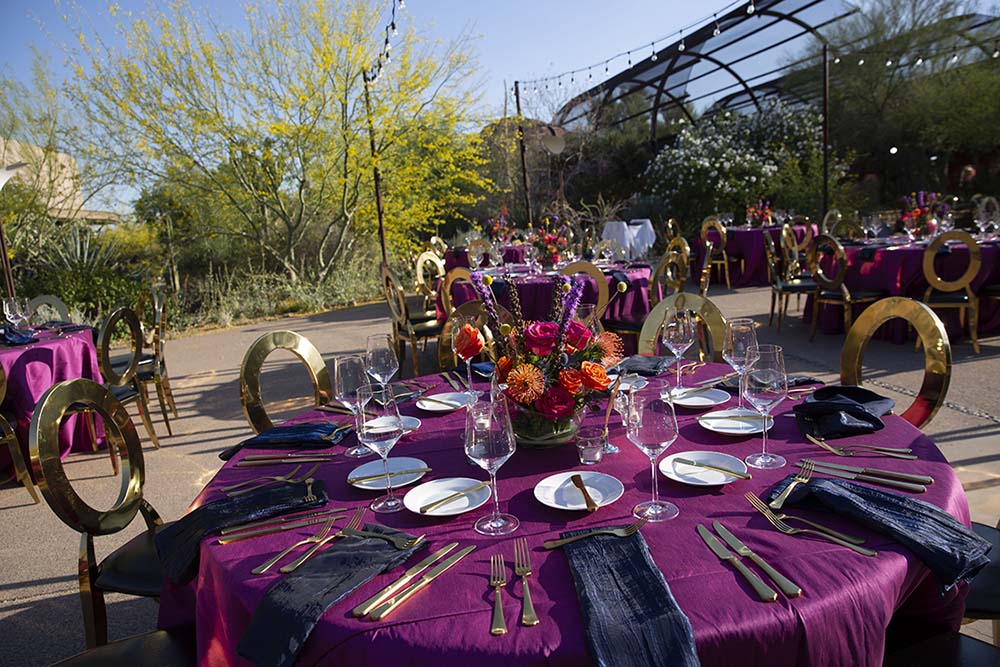 It takes a winning attitude and lots of preparation to hit a homerun with an off-premise event
By Sara Perez Webber
Successful caterers and event planners know how to execute events in the most challenging of locations but that doesn't mean it's easy.
From weather to difficult terrain to Murphy's Law – anything that can go wrong will go wrong – obstacles abound. To help you overcome them, we've gathered tips from two seasoned pros as well as product ideas to help you score big at your next off-premise event.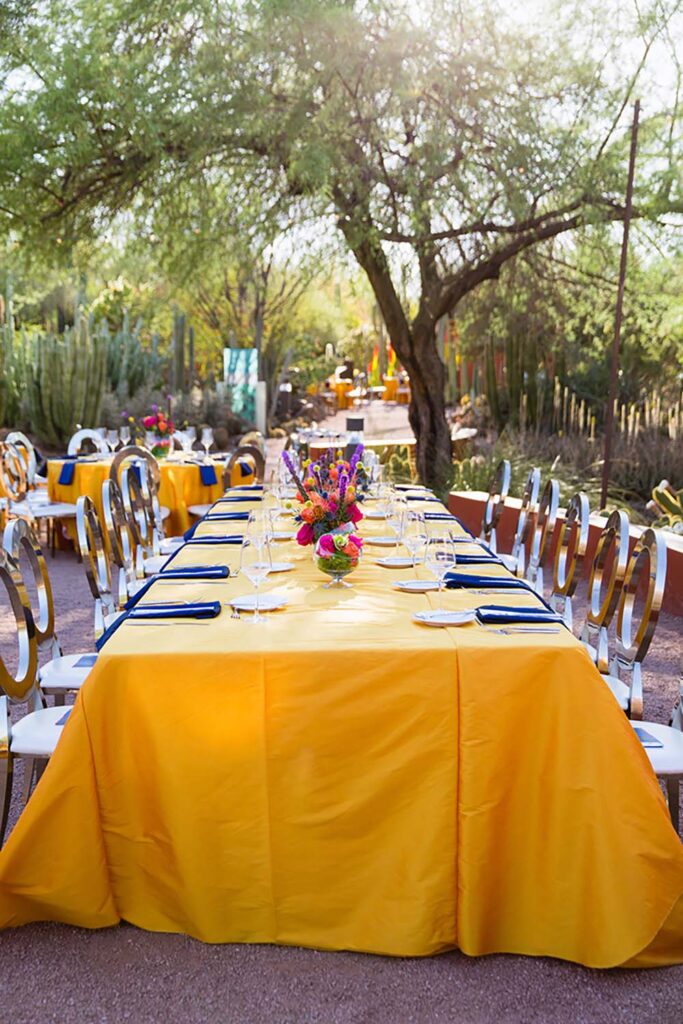 In April, Fabulous Food pulled off a 700-guest fundraising event at Phoenix's Desert Botanical Garden that spanned three acres. The "Dinner On the Desert" included five appetizer locations spread throughout the garden and accessed via desert trails.
The dinner tables also spanned five areas. Fabulous Food built three onsite kitchens to plate and service each of the locations, requiring separate crews for each. The crews were also responsible for the welcome drink service and execution, as well as pre-dinner appetizers. One of the three kitchen crews took care of the dessert station and after-party experience.
Menu highlights included Gargouillou salad with tri-colored quinoa, fine micro greens, pea tendrils and fresh vegetables; a filet of beef entrée with such accompaniments as roasted purple, green and yellow cauliflower, and purple sweet potato puree; and a butterfly pea and yuzu tart in a savory crust for dessert, with Himalayan sea salt, hibiscus puree, fresh raspberries and a blood orange chip.
Chantal Hause, co-owner of Fabulous Food, describes the event as "holding six parties at the same time – five dining and one after-party." Yet thanks to careful planning, her team pulled off the wide-ranging event without a hitch. "When you over-plan on everything you know, when the curveballs come, they are easy to manage – that way not everything that comes your way feels like a curveball.
Off-Premise Event Tips from Chantal Hause
Assess all power needs and check all power sources ahead of time. Bring in additional power as needed.
Secure a cool location to plate salads and desserts (this can be a challenge in Arizona, requiring an air-conditioned tent or indoor space).
List all equipment needed ahead of time and figure out what goes where.
Meticulous over-planning is a must. Start way ahead of time; you cannot plan too much for a tricky event.
Make sure radios are charged.
For complicated events, use your very best staff who have worked together before and understand intense service and operational expectations.
Make your seasoned on-staff operations manager part of the planning process from day one.
Hire trustworthy vendors who understand the company and the goal of the event.
Understand your limits and your boundaries as a company—do not be afraid to say "no" to certain gigs that are outside of your comfort zone. We specialize in dicey events—not everyone does that—and that is OK! Stay with what you are excellent at.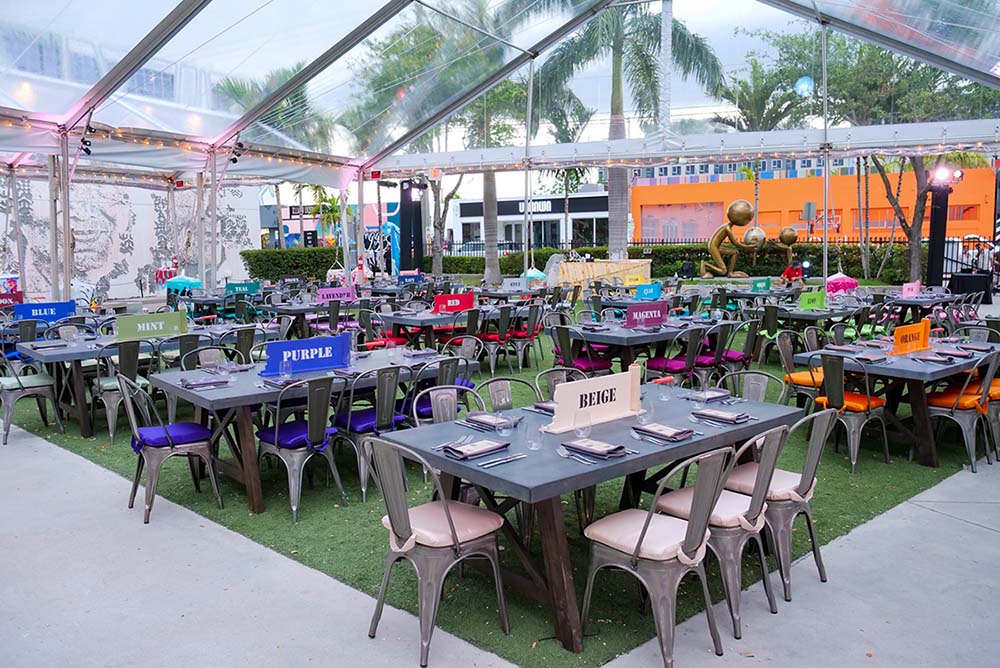 Flexibility was the name of the game for the team at Barton G. Events when they successfully executed a recent event at Wynwood Walls – an outdoor street art museum in Miami.
Planning for the three-day affair, for Maritz Travel/Central Insurance, started three years ago pre-COVID. The flow of the first full-day event – Sparks Fly at Wynwood Walls – was originally based on the location of the commissary kitchen. However, during the planning process, construction on a new building started nearby, and the kitchen had to be moved to the opposite end of the event space. Not only did Barton G. have to replan the event's execution, but more staff were required for service.
Adding to the challenges, it rained the day of the event. "We had to double the number of servers, and each dish that went out had to have an additional server accompany it with an umbrella," says Barton G. Weiss, founder and CEO of Barton G. The menu included a plated seasonal chopped salad; tiffin box entrees, including Picture Perfect Tuna, Stop Chicken Me Out, and Veggies! Veggies!; Angus beef sliders or black bean burgers with French fries; and, for dessert, food trucks serving handcrafted gelato bars and churros.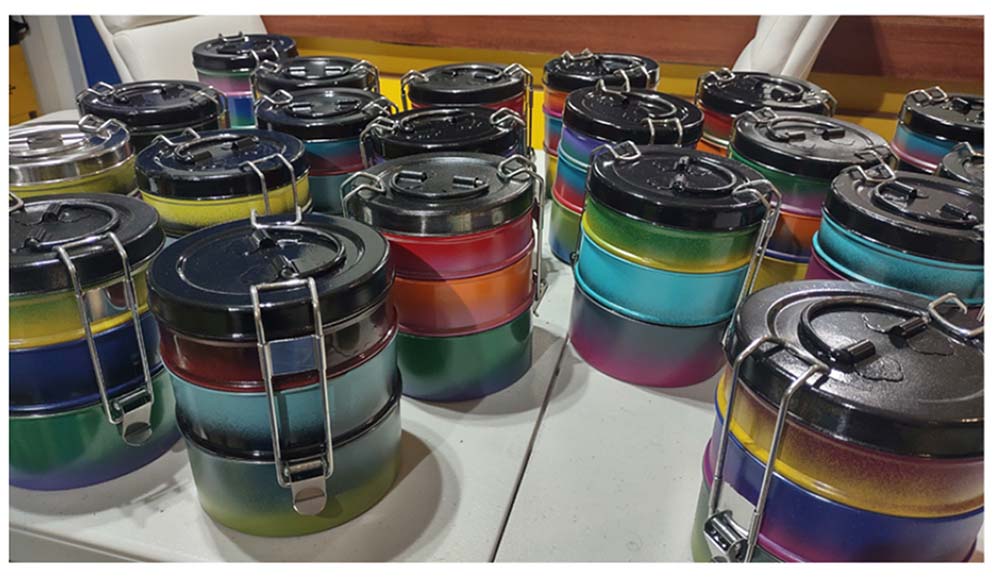 "Despite all challenges, the guest experience was sensational! The evening even concluded with guests departing to their transportation in a conga line," says Weiss. "The end result is how you blow your guests away; all the challenges that come before that are left hidden in the background. As a business that prides itself on creativity, we always welcome challenges. It keeps us on our toes when we have to troubleshoot and propels our inventiveness forward."
Off-Premise Event Tips from Barton G. Weiss
Plan ahead. If the location is tricky, we want to create a menu where the food can stay fresh longer at room temperature or that can be easily executed on-site. Decide with the client on the style of catering that works for the destination as well, and don't forget about any dietary restrictions!
Get familiar with the venue. Understand where the challenges with the location are and troubleshoot solutions, if possible. Determine where to place diners, stations, load-in/load-out and storage. Make sure proper zoning and permitting is also taken care of.
Bring in your own resources. We're lucky these days that portable refrigeration units and induction burners are more accessible and less bulky than they used to be.
Prepare a plan B. If weather might be an issue, be prepared to account for a covering or canopy. Weather can change at the drop of a hat, especially here in Miami!
Account for proper staffing. Determine if a larger team is needed to overcome challenges, or if a slim and efficient team is best for the job.