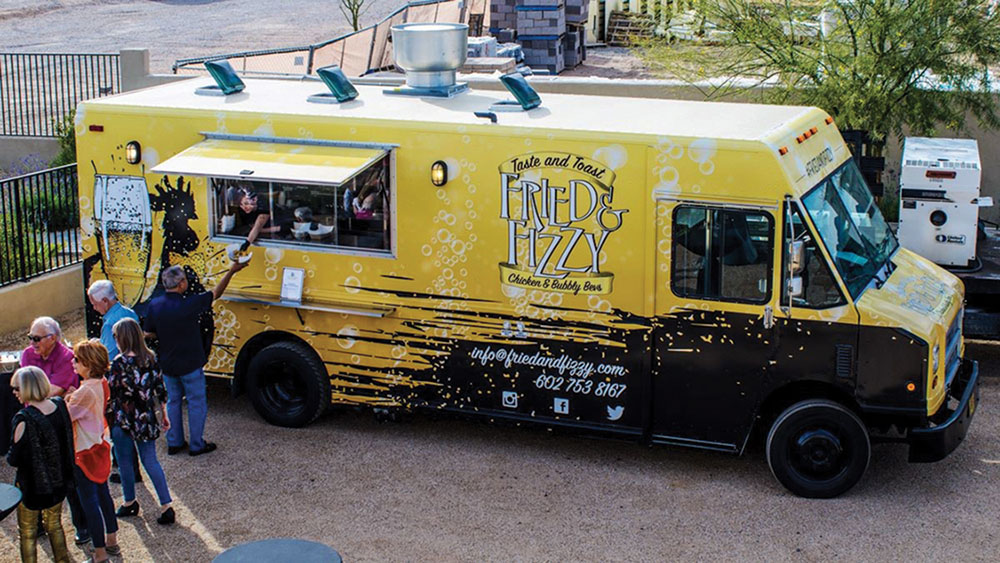 By Michael Stavros, director of business development at M Culinary Concepts
It seems that everyone these days is trying to develop a strategy for reaching the elusive "millennial" audience. While it's safe to say that the term is becoming overused, it's helpful for caterers to understand who they are trying to reach, so they can develop food offerings tailored to the particular tastes and desired experiences of these individuals.
So what makes millennial dining patterns so different? In contrast to other generations, the millennial diner has been known to appreciate smaller portion sizes, healthier cuisine options, organically farmed produce, responsibly raised proteins and—perhaps most importantly—quick service.
To that end, the "food hall" concept has grown rapidly in popularity in recent years, as consumers have flocked to these centrally located venues that highlight a variety of chef-driven cuisines in a shared space. This concept can be easily implemented through food trucks as well, which surprisingly are still riding a wave of popularity that doesn't seem to be cresting any time soon. At M Culinary Concepts, we recently launched a brand-new food truck concept, Fried & Fizzy, in partnership with Rose+Moser+Allyn. Fried & Fizzy is a delicious culinary concept featuring the savory combination of buttermilk-fried chicken and crisp bubbly champagne. We considered the benefits and drawbacks of the venture, and came up with a few tips to share with other caterers considering going down the food truck road.
Benefits of the Food Truck Model
Caterers should consider embracing food trucks because there is no denying that they are an increasingly popular choice for modern events. By partnering with an independent food truck or simply starting one yourself, caterers have the option to:
Provide a more traditional style of meal for the beginning and middle of an event, along with late-night food options.
Supplement your traditional catered event with food trucks serving desserts or appetizers.
Curate a wagon of food trucks and fill in gaps with traditional catering and/or provide the beverage options for the event.
Drawbacks of the Food Truck Model
There are also some drawbacks to keep in mind. For one, speed of service for large events; food trucks are not always ideally designed or equipped to serve hundreds of people in a short amount of time, when it is the sole food source for guests. Physical access can also be a drawback, as it's not always easy to get the truck into a tight event space. Lastly, the same thing that makes the trucks attractive can also make them unattractive to some, with their limited and specific menu format.
Tips for Getting Started
If you are a caterer looking to dip your toes in the food truck business, here are a few tips to consider:
Keep it simple. Remember that a food truck has a limited footprint, both inside and out
Focus your menu. Excel at just a few things; don't try to be all things to all people.
Look locally, then regionally, for a truck. Perhaps you'll find one that has some equipment, to save you money on the build-out.
Be creative. Come up with a fun name, unique concept and attractive graphics. Remember, this is your storefront, so make sure you wrap the truck so that it is fun and easy to read.
The Takeaway
It is important for any foodservice provider, restaurant or catering organization to evolve with the changing appetites of our clients. We are in the service industry, and it is our job to make people happy and give them what they desire. Catering to the millennial generation has had a far-reaching impact on our industry, contributing to the growth of organic farming, responsible ranching and local community-sourcing. Food trucks appeal to generational appetites that favor ethnic variety, quality ingredients, quick service and relatively low price points. Food trucks can be a fun and profitable business venture…if done the smart way.