How two off-premise catering companies found success specializing in an entertainment niche—photo shoots and film productions
By Sara Perez Webber
Better Being
betterbeingnyc.com
When you see celebrities such as Oprah Winfrey, Bruce Springsteen and Lady Gaga on magazine covers in the supermarket check-out line, you may be looking at the end result of a process that included Better Being, a New York-based catering company. Better Being has become the go-to caterer for many high-end photographers in the city, who call on them to keep everyone on a photo shoot happy and well-fed.
Chef MK Washko—who co-owns Better Being with her wife, Shari Drewett—didn't set out to be a caterer to photographers when she launched the company in 1994. But early on a photographer friend called to see if Washko was available to cater a shoot. "Having no clue what that meant, she said, 'Sure!'" says Drewett.
"Actually, Shari said 'sure,'" adds Washko.
"Luckily I answered the phone," admits Drewett. "They loved it and asked her to cater every day the following week."
The initial challenge, says Washko, is she hardly had any equipment on hand—just a 24-inch stove and a compact refrigerator. It all worked out, however, and—as Drewett puts it—"A business was born."
Better Being is catering to about 20 people at most photo shoots, "but some of the sports companies can get very large—in the 70- to 80-person range, breakfast and lunch, usually," notes Drewett. Since the shoots often last several days, Better Being changes the menu daily, taking care to satisfy many different palates and requirements, "from carnivores to vegans to allergies to special requests called 'riders,'" notes Washko (Drewett adds that they're "affectionately known" as "diva lists"). In addition, while farm-to-table cuisine used to be "a luxury clients were willing to pay for," now it's standard: "They're willing to pay for it, but they expect nothing less," says Washko.
"Our food is the same whether we're catering for a superstar or the lighting guy," adds Washko. "Having said that, working with celebs definitely keeps things interesting."
The company has catered for such legendary photographers as Annie Leibovitz, including one unforgettable shoot with Tina Fey and a camel ("I was literally petting a camel on Washington Street in the West Village," says Drewett). They once convinced Oprah to try a banana tofu stew ("She loved it and came back for seconds!" notes Drewett).
On another memorable day, "we made tea sandwiches for Martha Stewart, which she declared 'prit-HE!'," says Washko.
"We still use that to describe things, as in, 'those hand pies are prit-HE,'" says Drewett.
Adds Washko: "We mean that respectfully, of course."
While their days may be filled with more entertaining celebrity encounters than most, their catering challenges are pretty universal—transporting food and equipment throughout New York City, often to several boroughs in one day; properly packing and labeling everything; ensuring the right vehicle is going to the right location; and setting everything up on time—or risk costing their clients money.
Over the years, Better Being has branched out to include take-out from their location in Hell's Kitchen and even a restaurant. Their attractive website, built using Wix.com, builds name recognition, as does their eye-catching Instagram page (@betterbeingnyc). But the most important marketing tool is word-of-mouth referrals, stresses Washko.
"With no advertising budget, we need everyone running to the producer, saying, 'We love this caterer! I want them on my next shoot!'" she says.
And while Better Being has an interesting specialty, their advice could apply to catering companies of all stripes. "No one does exactly what you do, so just do it well, and be consistent," says Drewett.
Adds Washko: "And hire great help."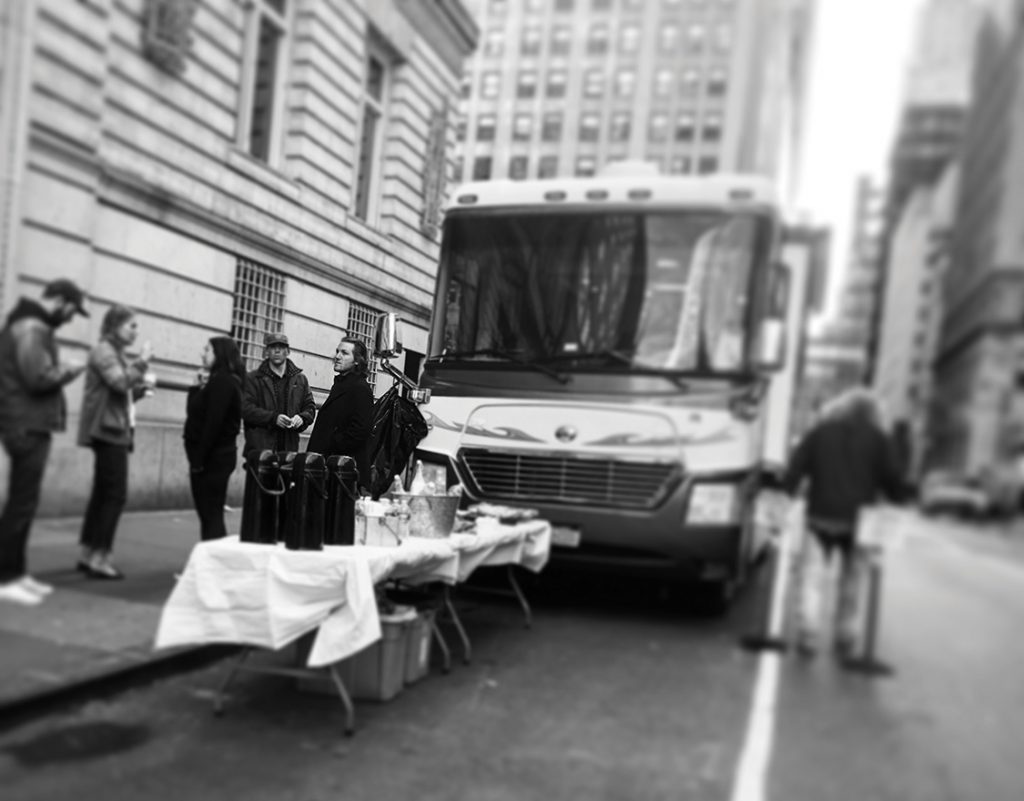 Hanna Brothers
hannabrothers.com
In the early 1990s, Joe Hanna was operating a restaurant in Jupiter, Fla., when a TV show started shooting nearby. The caterer hired to feed the cast and crew was asked one day to also prepare the "second meal"—actually the third meal of the day for a production company, or dinner. Without enough supplies on his truck, the caterer asked Hanna if his restaurant could help. He did, and that decision eventually led to the founding of Hanna Brothers Motion Picture & Event Catering in 1997.
Jim Hanna had joined his brother in the business by that time (hence the name). "We bought some older equipment, and he and I did every project, start to finish," says Jim. "We would take any profits we made and reinvest, upgrading equipment, trying to build infrastructure."
The single-minded focus paid off. Hanna Brothers has catered for more than 200 productions during its 20-plus years in business, and now operates two facilities—its original location in Slidell, La., and its second in Fayetteville, Ga., opened in 2014 to work with Georgia's booming film industry. The productions Hanna Brothers has worked on include the last two installments in the Twilight movie series, Breaking Dawn, shot in Baton Rouge, La.; seven seasons of the TV series Burn Notice, filmed in Miami; four seasons of the HBO series Treme, filmed in New Orleans; and, currently, the TV series Queen Sugar, which airs on the Oprah Winfrey Network and is also filmed in the New Orleans area.
It also catered for the 2003 Civil War movie Gods and Generals. "That was memorable just because of the sheer volume," says Jim. "A large portion was filmed on a gentleman's farm in Virginia, and there was a reenactors unit. Sometimes the reenactors unit was 1,200 to 1,500 people that we were feeding for three meals a day."
While catering for a production, the typical day is about 14 hours, says Jim, starting very early in the morning to be ready for a crew call at 7 a.m. Hanna Brothers will serve an extensive breakfast buffet, then serve food a la carte off the truck until lunch time. Six hours after crew call, lunch is served, during which Hanna Brothers will again offer an extensive buffet, including a full salad bar with 20 to 30 toppings, bread selection, two or three vegetable options, three or four starches, three or four protein options, two or three desserts, and drinks. After lunch, the staff is placing orders and shopping for the following day.
"We're taking care of the same crew day in and day out for weeks on end, so you have to give them a wide variety of food," says Jim. "It's about doing a lot of things really well, and it's also about taking feedback from your crew—whether in the form of verbal feedback, or what's eaten and not eaten on a buffet line." Logistics can be tricky, notes Jim, whether it's a truck that needs to be parked on a hill, or setting up a buffet line in a Manhattan skyscraper. The location of the shoot needs to be considered ("If I do a project in California, I know I'm not going to sell any sweet tea, but in Georgia, that's going to be what everyone drinks," says Jim)—as well as the ages of the actors ("If I'm doing a movie with a lot of kids in it, we'll serve chicken fingers and mac-and-cheese," he says).
As for the stars of the shows, their requests and needs vary as well. "Some talent wants to be treated just like the rest of the crew, some talent will send specific requirements to the chef, and some talent will come up and cook with you," says Jim.
One of the allures of this type of catering is the down time. "A short movie lasts about four weeks, and a long one about three months, but between projects you get some time off," he says. On the other hand, Jim notes, "Sometimes it's feast, and sometimes it's famine, and you really have to be able to weather the famine parts, which is hard to do when you have employees and families involved."
For that reason, Hanna Brothers has branched out. It operates the movie studio-style commissary Hanna Brothers Studio Café in the Pinewood Atlanta Studios, a massive complex with 18 sound stages on 700 acres. In addition to film catering, Hanna Brothers offers special event catering; assists with disaster relief catering across the Southeast; and operates Hanna Brothers To Go, delivering healthy snacks and light meals to corporate clients in the Atlanta area.
So what advice would Jim give to someone looking to emulate Hanna Brothers' success? "Don't put all your eggs in one basket, because specializing is great and the film industry has been good to me, but by not having all my eggs in one basket, it's allowed my stress level to go down exponentially," he says. "Then, it's all about relationships. Get out there, work for someone else, and find out if this is what you really want to do. If it is, don't settle for anything else."