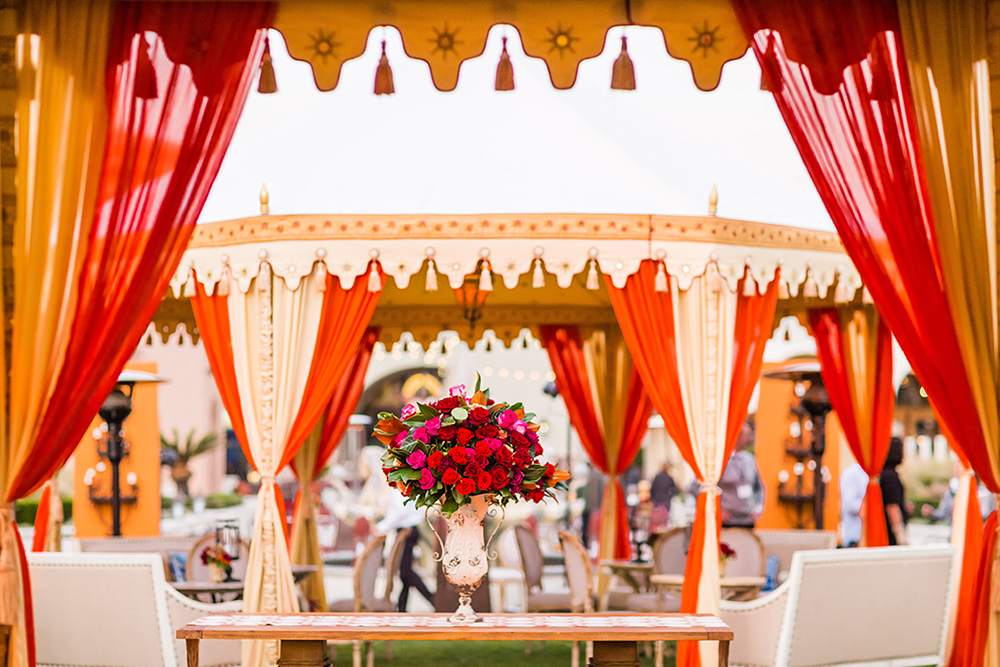 How event planners are making sure upcoming events in the great outdoors are worth the wait
By Sara Perez Webber
For many, the outdoor events of this summer will be the first time they're reconnecting with friends and family in over a year. "They're going to be so happy they're getting together, why not experiment?" asks Edward Perotti, owner of Edward Perotti Events & Experiences, who's created events for the likes of Ariana Grande and Nick Jonas.
Perotti sees the upcoming months as a "golden opportunity" for those in the event business to rev up creativity and reimagine how they're doing things. "We need to find ways to make people feel comfortable, safe, connected and reengaged," he says.

To get the party started, we asked Perotti and other event planners how they're making sure weddings and other upcoming outdoor events prove to be worth the wait.
Creative Seating

The great outdoors provides an inspirational canvas for seating set-ups. "When you use a space that doesn't have an existing inventory of chairs, you can get as creative as you want," says Janice Carnevale, owner of Bellwether Events. Carnevale suggests vintage pews for a wedding ceremony, soft seating clusters for a cocktail reception and plush booths for dinner seating.

Small and intimate lounge settings create a warm and relaxed tone for guests, says Jaclyn Watson, owner of Jaclyn Watson Events: "Lounge vignettes are great for any style of wedding and really allow the couple to create a space that is truly them, which in turn creates a wonderful guest experience."

To help guests stay safely distanced, Perotti is working on a prototype of a personalized wooden basket, which opens up into a small table and holds everything a couple needs for a picnic. At an outdoor wedding, Perotti would pair them with large seating pillows—an arrangement he's successfully used previously, when he set up tables for eight close to the ground, with all guests seated on pillows. "People were in suits and cocktail dresses, but they loved it!" he says.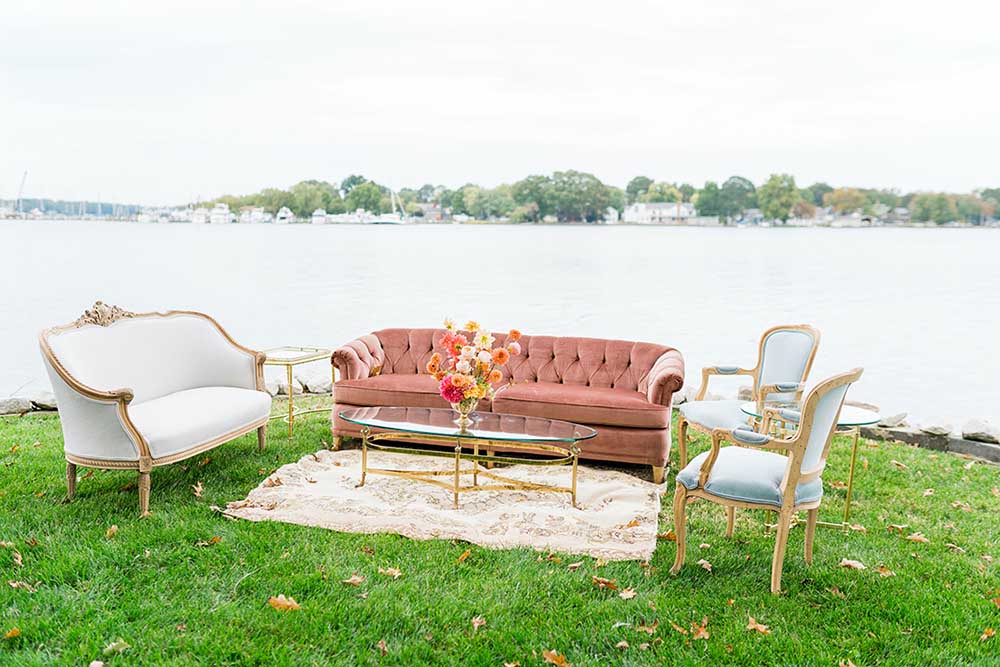 Luxe Dining

Eddie Zaratsian, owner of Eddie Zaratsian Lifestyle and Design, enjoys "creating an upscale dining environment with drapery, lighting, and a wealth of textures and colors," he says. "The canopy style is gorgeous for a reception or even a daytime brunch, with soft linens creating a natural shield from the sun as well. Hanging chandeliers add an unexpected touch, and they double as the perfect light source for taking the outdoor event from day to night."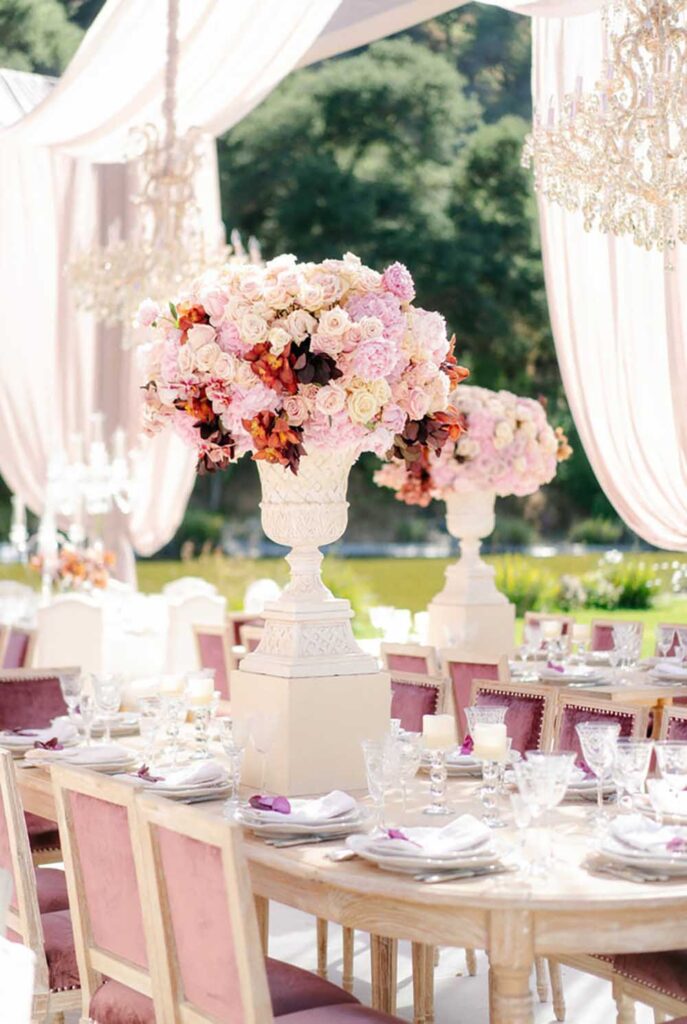 Personalized Details

With smaller guest lists, "hosts are really bringing it when it comes to the tablescape and the personalization," says Carnevale. "This attention to detail and creative focus is what elevates an event from nice to truly memorable."

For example, Keith Willard, owner/planner at Keith Willard Events, recently wove a couple's love of travel into an unforgettable décor feature at their outdoor wedding. Willard created a canopy of brightly colored ribbons, inspired by the vibrant fabrics adorning sacred sites the couple visited in Indonesia, to float over guests at the ceremony. Then the ribbons—on which guests had written their well-wishes to the couple—were tied to birch trees leading the way to dinner. Willard then had the ribbons braided into a piece of keepsake art for the bride and groom.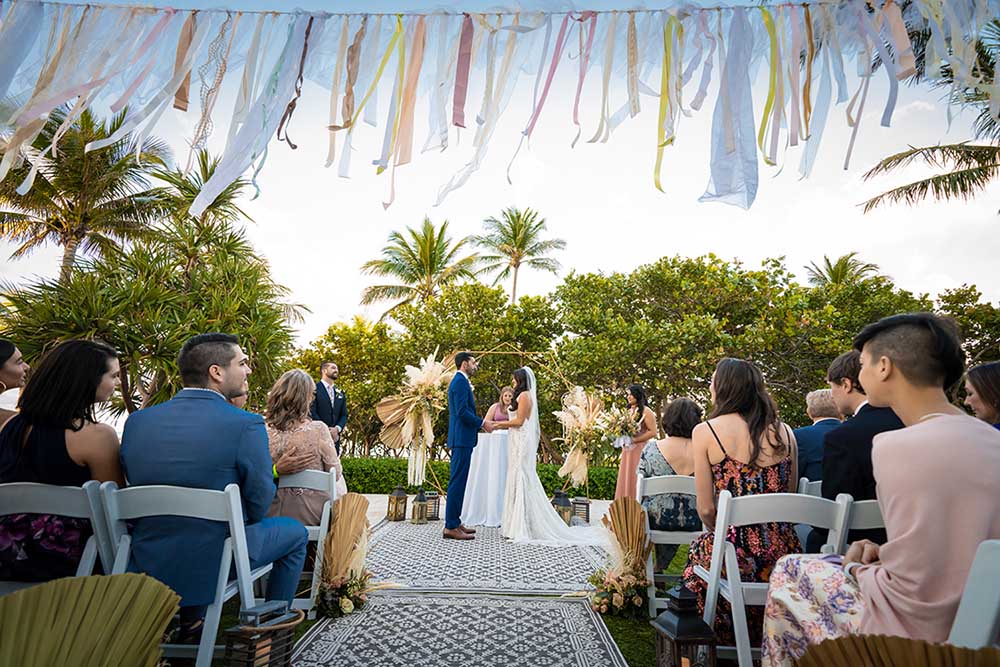 Bold Colors & Patterns

As outdoor events resume this summer, Perotti is focusing on key, memorable décor details instead of "things that will be beautiful but that nobody remembers." Bold colors and patterns for linens "makes it about an emotion," he says. "It's about really looking at the people you're inviting and trying to give them a moment to remember."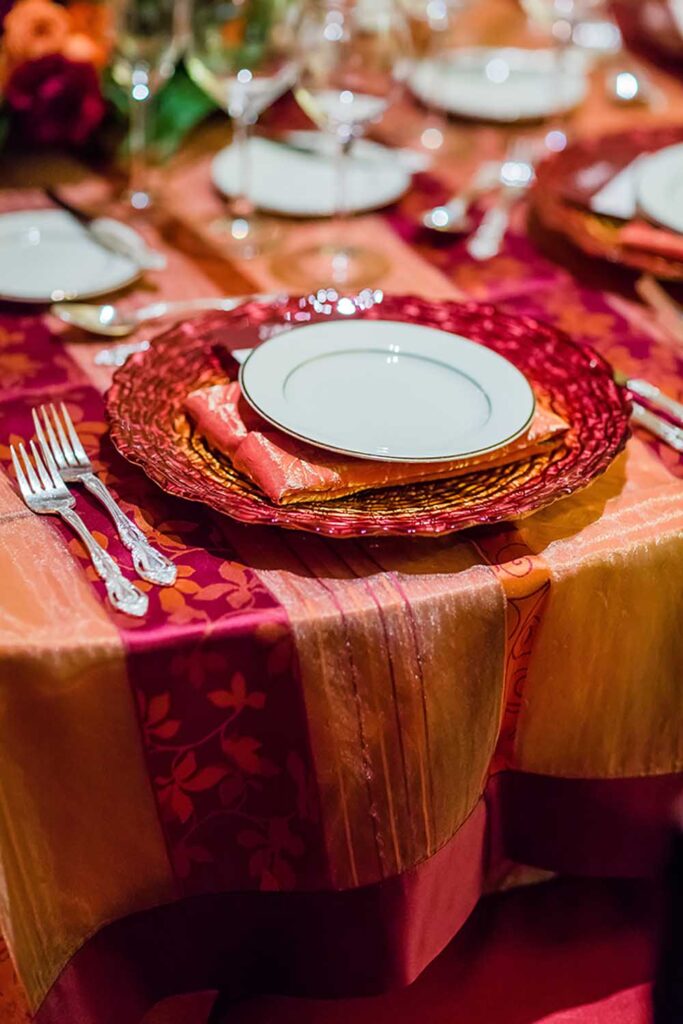 Furry Friends

Outdoor events provide the perfect setting for bringing in four-legged friends. "Couples are adamantly against cookie-cutter events (as am I) and have their hearts set on something memorable that guests will tell all their friends about," says Nora Sheils, co-founder of Rock Paper Coin and founder of Bridal Bliss. "One way to do that is to bring in animals or a petting zoo of sorts to an outdoor celebration. Trust me…no one will soon forget a puppy-petting station or llamas dressed in formal attire!"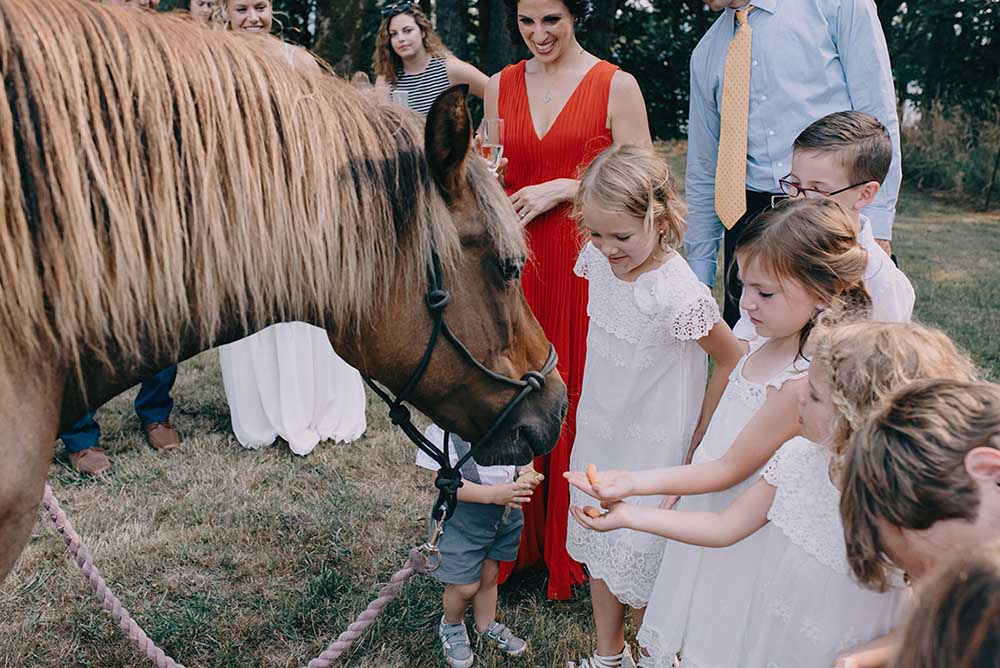 Escort Boards
"Gone are the days of the traditional tented escort card" to direct guests to their seats, says Watson. Outdoor escort boards are a way to "go big" and add a dramatic décor element that will catch guests' attention upon arrival, she adds. Last summer Watson's company created an escort board featuring heart-shaped sunglasses with custom wedding tags featuring the guests' names and seating assignments. "Guests were able to use the sunglasses for cocktail hour and had a fun favor they got to keep," she says.

A "swoon-worthy escort display" can serve double-duty, says Sheils: "Once guests have pulled their assignment, the wall can be utilized for a cake or photo booth backdrop!"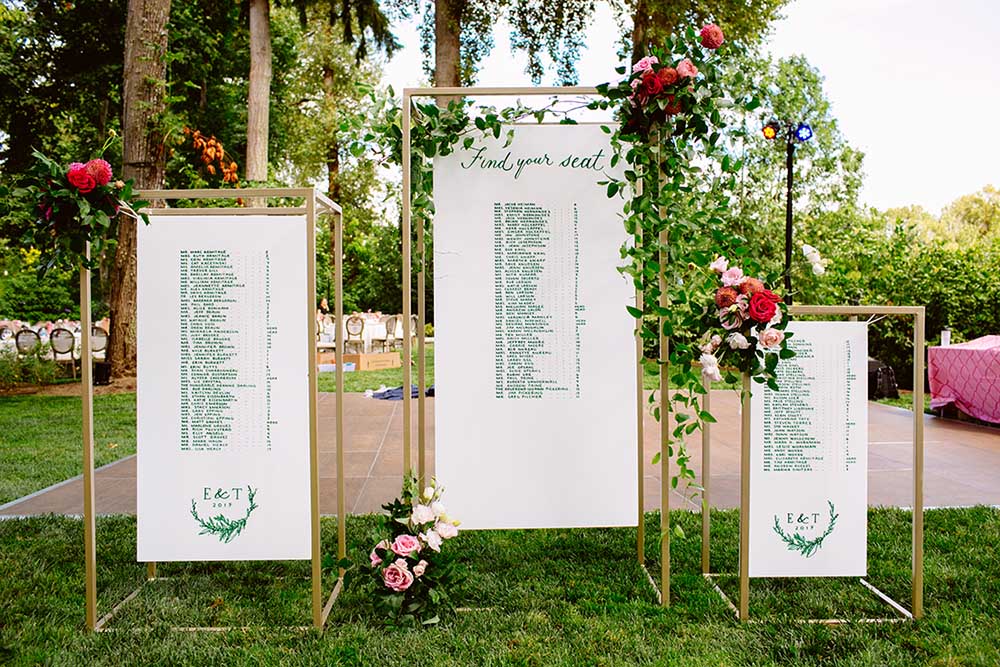 Clever Displays

"Outdoor event venues with no standard furniture or inventory of tables allow you to be creative with how you display food and drinks," notes Bellwether Events' Carnevale. "Using vintage bookcases or bar carts can leave more of an impression on your guests than a simple table with linen."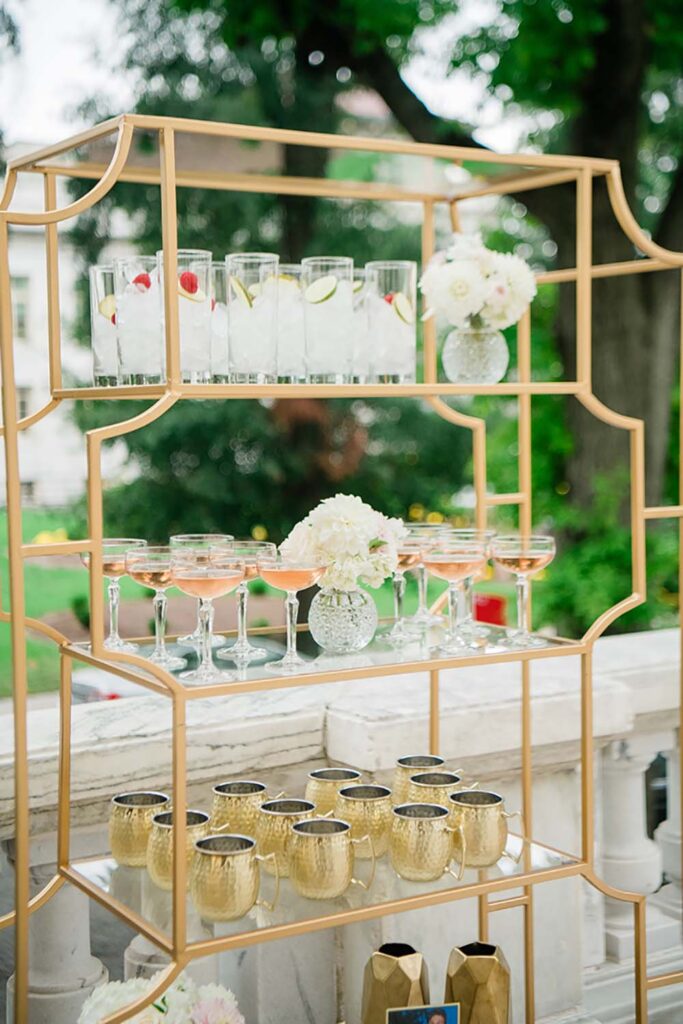 Visionary Venus

Think outside the box when it comes to the venue for your outdoor event, advises Perotti. "Outside doesn't always mean a beach or a park," he says. For a high-profile event in Maui, for example, Perotti chose a local farm instead of a hotel. "It was literal farm-to-table, and it was simple," he says. "I could spread people out, and they could walk around this beautiful farm and see strawberries growing." If the venue has limited capacity—or if more space is needed in order for guests to safely distance—Perotti suggests breaking down the guest list into two or three smaller events.
Lush Florals

Zaratsian suggests making florals the focal point of an outdoor event. "I can't stress enough how luxurious it looks to fill your outdoor wedding or event with an overgrowth of lush garden roses, greenery and other complementary blooms," he says. "A wonderful way to execute this in any outdoor space is to have your florist craft some intricate arrangements and quite literally 'plant' them around the event area."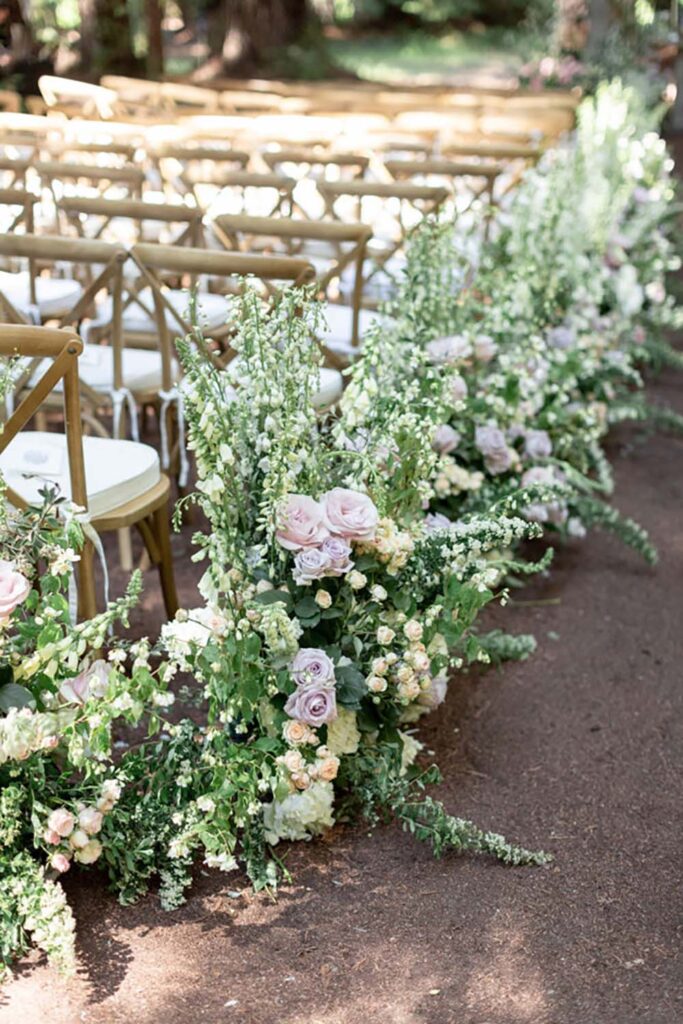 Bridging Dishes

The last year has provided "the launching pad to be truly inclusive," says Perotti, adding that events moving forward should have a hybrid component built in. "There are going to be people even up to next year who aren't going to want to fly." Perotti suggests bringing in a large smart TV with a webcam, so guests at the party can talk to people who couldn't make it in person. Along with a "party in a box," he advises, send remote guests instructions on where to position their cameras or laptops so it looks like they're dining at the table with the event guests. "The more creative you can be with bringing people together in any way shape or form, the better," says Perotti.
For More Information
Bellwether Events | bellwetherevents.com
Bridal Bliss | bridalbliss.com
Eddie Zaratsian Lifestyle and Design | eddiezaratsian.com
Edward Perotti Events & Experiences | edwardaperotti.com
Jaclyn Watson Events | jaclynwatsonevents.com
Keith Willard Events | keithwillardevents.com
Rock Paper Coin | rockpapercoin.com