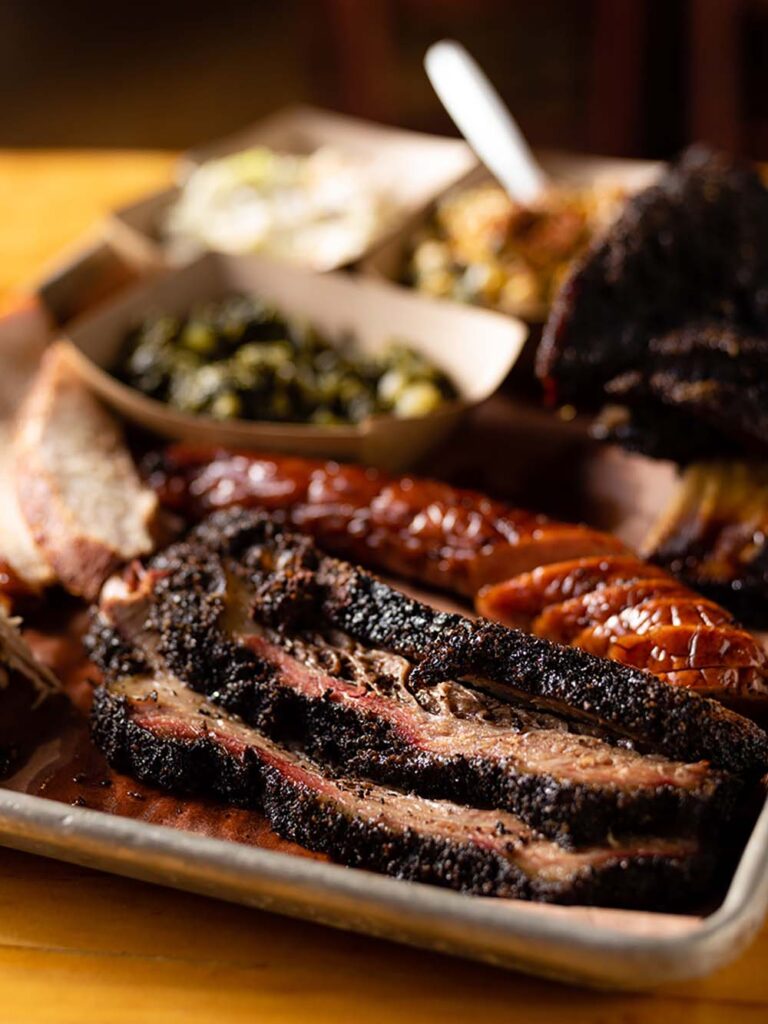 Across the country, demand for barbecue—no matter the style—remains hot, hot, hot
By Sara Perez Webber
Spring has sprung, and that means outdoor events are ramping up in many parts of the country. So, after a tumultuous couple of years, are clients still craving the down-home comfort of a plate of barbecue? We asked pitmasters and caterers from across the country, who tell us that America's love affair with barbecue is still going strong.
Bringle's Smoking Oasis

bringlessmokingoasis.com
Pitmaster Carey Bringle made his mark on Nashville when he opened Peg Leg Porker in 2013. "Peg Leg Porker is straight-up, real Tennessee barbecue—just pork and chicken," says Bringle, who named the restaurant after himself and his greatest win—a triumph over cancer at the age of 17. "When I grew up in Tennessee, nobody was serving brisket. They told me, 'That's steak. Go to Texas for that.' I wanted to do a tribute to what I grew up loving."
That he's done. Peg Leg Porker has been named one of the top barbecue joints in the country by numerous media outlets. Bringle himself has been featured in dozens of national television shows, has twice been asked to cook at the prestigious James Beard House, and last year wrote a primer on barbecue for those who want to learn more—BBQ For Dummies, published by John Wiley & Sons.
Still, says Bringle, customers often asked, "Why don't you do brisket?" So, he took on the challenge, opening up Bringle's Smoking Oasis in Nashville in December. "It's Texas-style, so our focus is brisket, smoked pastrami, beef ribs, and some sausages and smoked turkey," he says. "It's got its own identity and its own menu."
Some 90 percent of the seating at Smoking Oasis is outdoors, and Bringle says there's more takeout business than expected. "But we don't take call-ins," he says. "It's meant to be a Texas experience, so you go through the cafeteria line and have someone cutting your meats to order."
Also greater than expected is the demand for catering. "We weren't planning on doing a lot of catering from the new location, but we're getting a lot of requests for it, so we will probably run that through Peg Leg Porker," says Bringle. "So, the Oasis has allowed us to expand the Peg Leg Porker catering menu."
Peg Leg Porker had a thriving catering business before the pandemic, with customer favorites including pulled pork, smoked chicken, ribs, mac and cheese, baked beans and slaw. While the catering business "came to a crashing halt" due to COVID, demand is ramping back up again, says Bringle.
"We see people wanting it for nicer events," he says. "People treat barbecue with more respect than they used to."
That includes professionals. "Chefs started respecting barbecue more once they saw the process and how long it takes," says Bringle. "That helps drive the reputation of barbecue and shows people that it's one of the most labor-intensive types of cooking that you can do."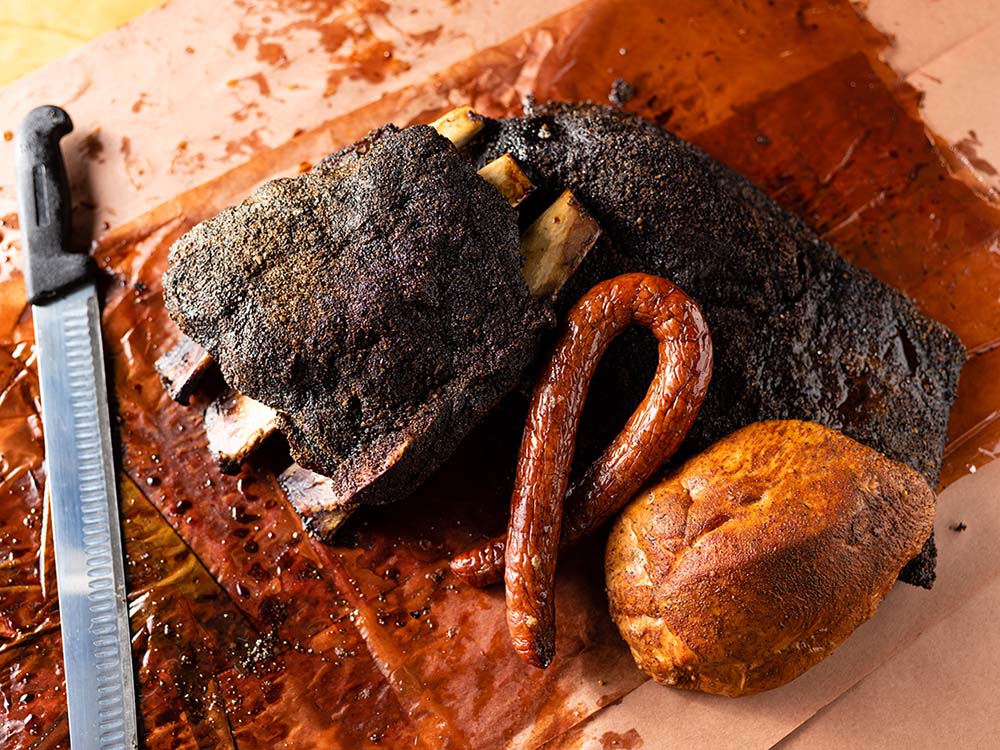 Tasty Catering

tastycatering.com
Chicago-based Tasty Catering CEO Kornel Grygo admits that barbecue in his neck of the woods isn't the same as in places like Texas and Tennessee. "Here in the Midwest, 'BBQ' equals grilling out!" says Grygo. "I always found that fascinating that in different regions, the word 'barbecue' really does stand for something different. In the Midwest, it means burgers, brats, hot dogs and chicken, and elsewhere it may be referencing burnt ends, tri-tips or pulled pork."
Tasty Catering does so much barbecue business during its "picnic season" that before the pandemic it created a yearly infographic so employees could see how much they accomplished. In the 2019 picnic season, for example, Tasty Catering served 74,160 burgers, 48,236 chicken breasts and 15,540 hot dogs to 67,504 guests—3,951 of them in one day.
"Barbecue catering has been huge for employee appreciation summer cookouts, family day picnics, graduation parties and family reunions," says Grygo. "In more recent years, we have seen a lot more clients order barbecue for their backyard wedding celebrations."
While the COVID pandemic impacted demand, Tasty Catering worked with companies to continue the barbecue tradition while heeding safety measures. Last summer, for example, Tasty Catering provided more than 500 employees of FONA International with a to-go drive-through picnic.
Particularly popular are Tasty Catering's pig roasts. "One of the key pieces to our successful pig roast catering is that we come in early to start our roasters and grills, beginning the long, slow-cook process at the perfect time," says Grygo. "Each pig is transported fresh from central/southern Illinois, and when we receive it, it is immediately marinated before beginning the cooking process."
Cheeseburgers, hot dogs and chicken are also customer favorites, along with Tasty Catering's most popular sides—Sweet Potato Salad and Zesty Pasta Salad. Tasty Catering will work with clients to develop festive themes for the picnics—such as Circus and Star Wars—and offers many menu choices for guests with dietary restrictions.
Grygo believes that barbecue has an enduring popularity partly thanks to nostalgia, bringing up memories "of your dad manning the grill or attending a family company picnic as a kid," he says. "These used to be huge, and I think we may see a return to them as employers see the need to know all their employees—family and all."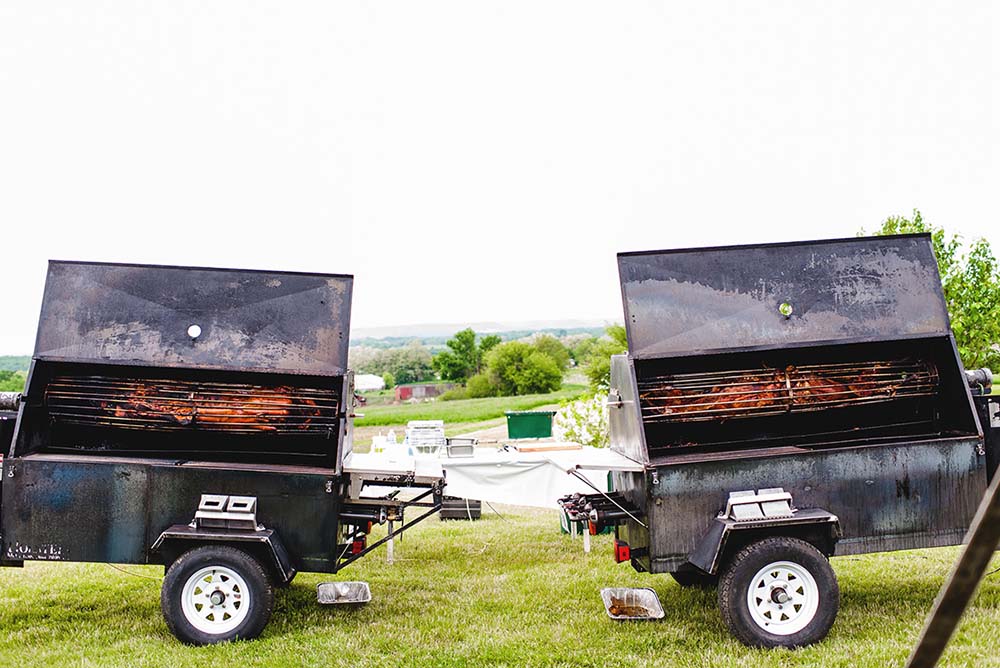 Buckboard Catering and Events / Buckboard's BBQ & Brew

buckboardsd.com | buckboardsbbq.com
The Santa Maria-style barbecue menu at Buckboard Catering and Events—based in El Cajon, California, and founded in 1986—was so popular that the owners opened a restaurant devoted to it exclusively. Buckboard's BBQ & Brew opened up in 2019.
"We focus on tri-tip and do not do brisket," says JP Parkhurst, vice president of business development. The Santa Maria method of barbecuing—a tradition rooted in the Santa Maria Valley on California's central coast—dates to the mid-19th century. It centers around beef tri-tip, seasoned with black pepper, salt and garlic, and then grilled over coals of coast live oak wood with a hand crank that lifts and lowers the iron grill to the desired distance from the heat.
"Our difference is that we also smoke the meat—real smoke," says Parkhurst. "It gives it an amazing flavor and juiciness."
Buckboard caters events ranging from small backyard parties to large corporate picnics for up to 3,000 guests. Since the pandemic, however, an interesting shift has occurred.
"The recent change has been the enormous increase in wedding catering," says Parkhurst. "It seems since the pandemic that weddings have simplified some and switched to a more relaxed menu, where everyone is out for great food and a great time. The weddings have also increased substantially to make up for the time lost due to the lockdowns."
Bestsellers on the Buckboard menu include baby back ribs, beef back ribs and, of course, the Santa Maria tri-tip. "Our mac and cheese, and cornbread with maple butter are also popular," says Parkhurst. "For dessert it is always the home-made bread pudding!"
Barbecue makes up about 60 percent of Buckboard's catering sales—and Parkhurst doesn't see that slowing down anytime soon. "I think barbecue remains popular because food is about the love put into it," he says. "When you barbecue it takes an enormous amount of time for the perfect result. When you combine that with close friends and family, it makes an experience around the table that is irreplaceable."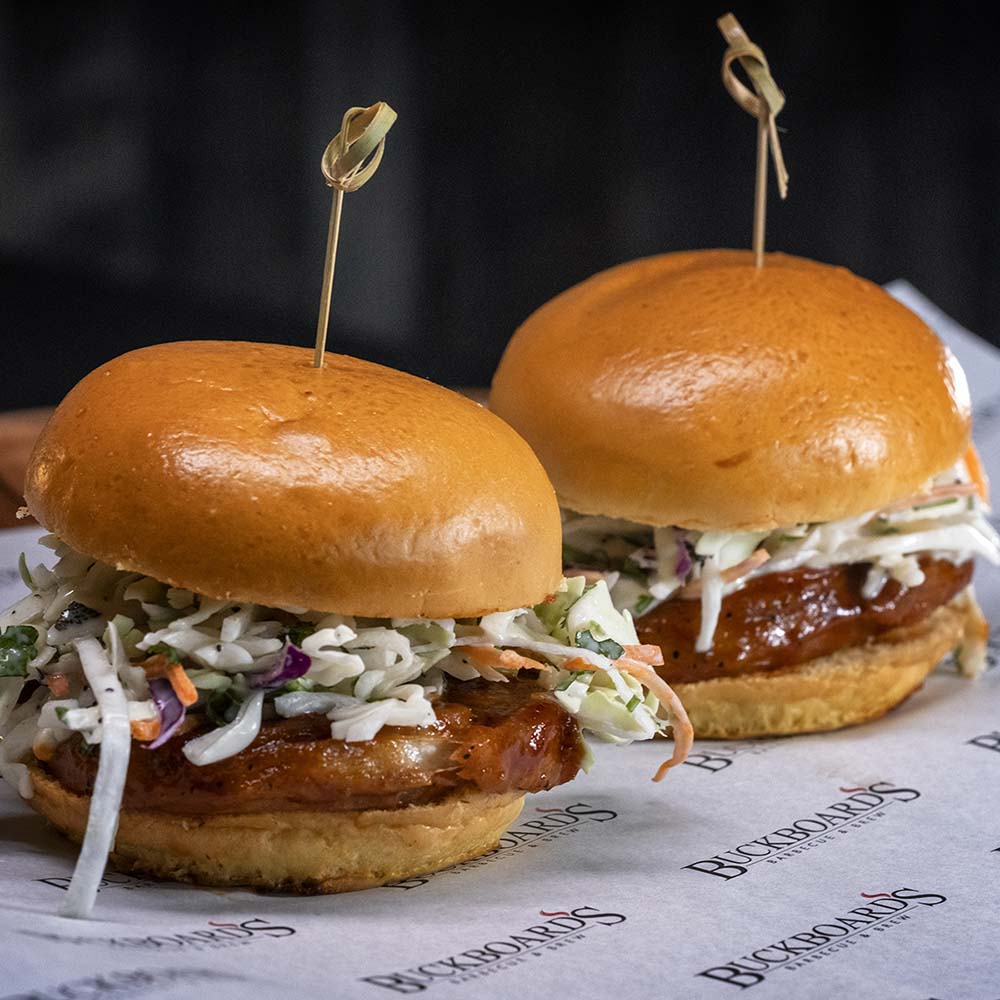 Davila's BBQ

davilasbbq.com
When Adrian Davila's grandfather Raul Davila opened Davila's BBQ in Seguin, Texas, in 1959, the business was a way he could support his family, who lived in the back two rooms of the restaurant, an abandoned schoolhouse. "It was just about putting food on the table," says Adrian. "It meant getting up every day and lighting that fire. To have that determination and vigor to get up in the morning and light that fire and keep it going, it's an arduous labor of love."
More than 60 years later, the fire's still burning. Nationally recognized as one of the top barbecue restaurants in Texas, Davila's serves up South Texas barbecue, influenced by the Davila family's Mexican-American heritage and the vaquero, or cowboy, lifestyle. Adrian penned a cookbook about it in 2018, Cowboy Barbecue: Fire & Smoke from the Original Texas Vaqueros (see recipe on p. 31).
Davila's smokes its meat with local mesquite wood and adds cayenne pepper to its rub. "We add that to everything—just a little kick to know you're dealing with Texas barbecue," says Pitmaster Adrian, who's often featured on national television, including on numerous Food Network shows. The Latin influence also shows up in Davila's barbecue sauce, which has strong accents of cumin and oregano.
Edward Davila, Adrian's father, launched Davila's catering arm in 1973, and it grew to represent at least 30 percent of the business model. Things shifted due to the pandemic, however. Social catering dropped off and still hasn't returned, says Adrian.
On the other hand, corporate catering is stronger than ever. Davila's is focusing on box lunches for corporate clients, such as Caterpillar Motors, which hires Davila's to provide lunch for hundreds of employees. The Davila's food truck often goes to catered events.
Brisket is Davila's top-seller overall, while fajitas are the top choice when it comes to catering. "Right now, chile con carne is big; we use ancho chiles for that," says Adrian.
"Barbecue continues to just skyrocket in popularity and relevance because it brings people together," says Adrian. "It's always shared. It's a unifier."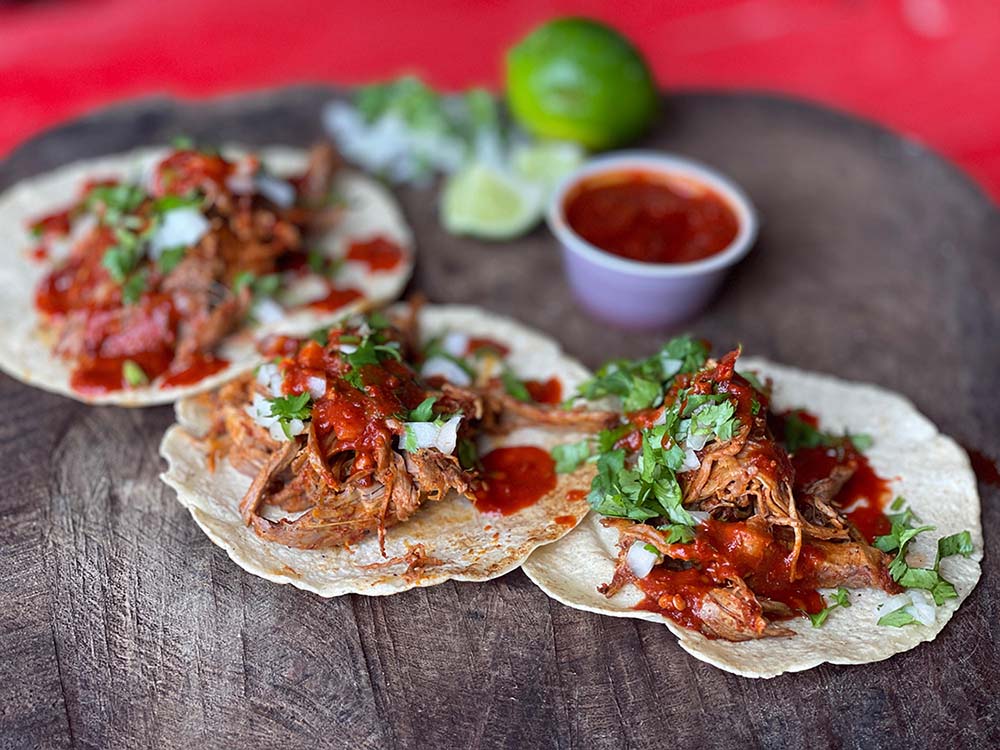 BBQ For Dummies Cheat Sheet
Excerpt from BBQ For Dummies by Carey Bringle (John Wiley & Sons, Inc., 2021)
Barbecue can mean very different things in different regions of the United States. Before you head out on your next road trip, check out what to expect in the region you're visiting.
BBQ styles in America
Barbecue has many different definitions, but in the United States, it means cooking low and slow over or with wood. What type of meat you cook and what type of sauce you put on that meat after it's cooked—or just before it finishes cooking—varies depending on the region. Each region is known for its own style:

Alabama: Pork and chicken with Alabama white sauce
Eastern Carolina: Chopped whole hog with vinegar sauce
Western Carolina: Chopped, sliced or pulled pork shoulder with vinegar sauce
South Carolina: Whole hog with mustard sauce
Georgia: Chopped pork and chicken usually with a sweet sauce
Kansas City: All meats with a thick, tangy sauce
St. Louis: Pork and chicken with a sweet, thick sauce
West Tennessee: Pulled pork and chicken and dry ribs with a tomato-based sauce
East Texas: Chopped beef or pork simmered in sauce
Central Texas: Brisket and beef ribs, usually seasoned with just salt and pepper, no sauce