By Becky Brooks
Reach more potential customers by incorporating video into your marketing strategy.
If you're like many caterers out there, you probably rely heavily on word of mouth when it comes to marketing your own business: A bride-to-be remembers the delicious food she had at a friend's wedding, asks who the caterer was, and—voila!—you've got a new client. But if you're interested in aggressively growing your business, it's time to start beefing up your marketing strategy (no pun intended). And video is one of the best ways to drive more traffic, leads and conversions.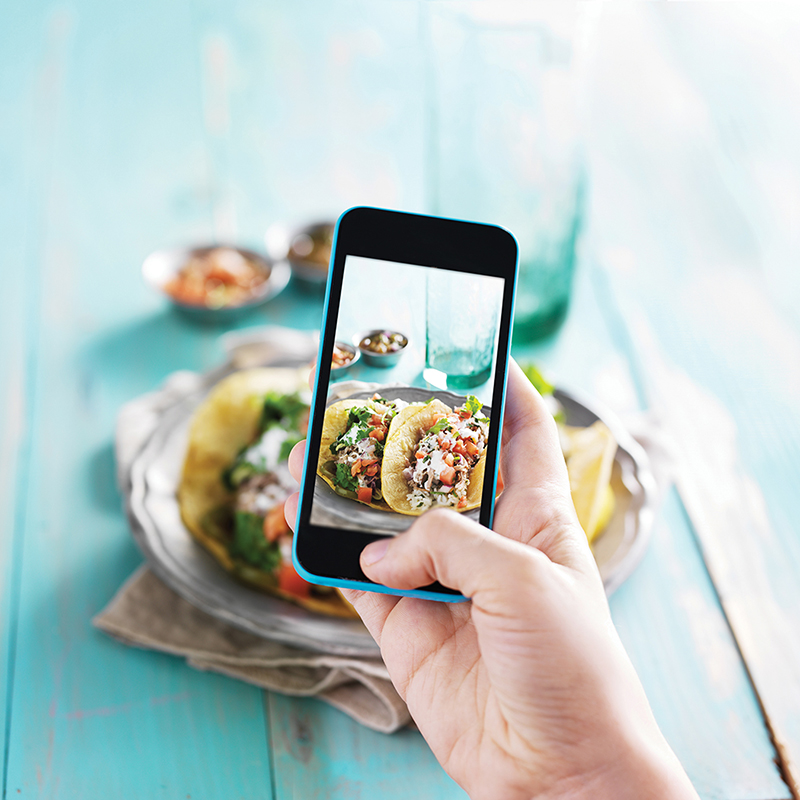 Why video?
When it comes to marketing your catering business, it's important to make things as easy for potential customers as possible. A recent Animoto survey found that 63 percent of consumers think companies that use video know how to reach their customers, and one in four consumers actually lose interest in a company if it doesn't use video. Consumers want to be marketed to with video, and if you're not incorporating it into your marketing strategy, you're missing out on valuable leads.
Video can also help get your business in front of more eyeballs. Not only does video lead to higher placement in search results, but it's also the medium that gets the furthest reach on many social platforms. Data from Socialbakers reveals that native Facebook videos get more reach than any other type of post, including photos, links and status updates. Additionally, more and more small businesses are jumping on the social video bandwagon. On a recent earnings call, Facebook COO Sheryl Sandberg reported that 1.5 million small businesses shared video on Facebook in September 2015.
Marketing your business with video
Once you understand why video works, the next step is understanding how to use it. Following are three tips for using video to boost your business.
1. Share your story in an introductory video: A video about you and your company that serves to introduce yourself is a great way to let potential customers get familiar with you, your team and your work. Many of the events you're catering, such as weddings, are likely very personal, important events in your customers' lives. Sharing your own personal story through video can help make an emotional connection while visually demonstrating your offering, to help potential customers trust they're making the right decision by inviting you to be a part of their special day.
You can post an introductory video on your home-page, the "About Us" section of your website, on YouTube and in the "About" section of your Facebook page.
2. Cater your videos to your different target audiences: If you cater for a variety of types of events, create different videos showcasing your work for each. When you're getting started, ask yourself three questions:
• What type of events bring in the bulk of your profits?
• Do you have photos and videos that illustrate your work at these types of events?
• What is important to the customers who hire you for these types of events?
Once you've answered these questions, you can begin creating videos catered to each of these audiences. For instance, show some examples of how the food looks on display at some of the events you've previously catered to give customers an accurate picture of what your food might look like at their event.
You can publish these videos on your website, as well as in places you advertise for these specific types of events.
3. Showcase happy customers: In the Animoto survey, 56 percent of those surveyed say they find customer testimonials helpful in making purchase decisions. A video showcasing your happy customers can help build trust. When new customers hear from others that you've worked with successfully in the past, it will help them feel confident in their decision to work with them as well.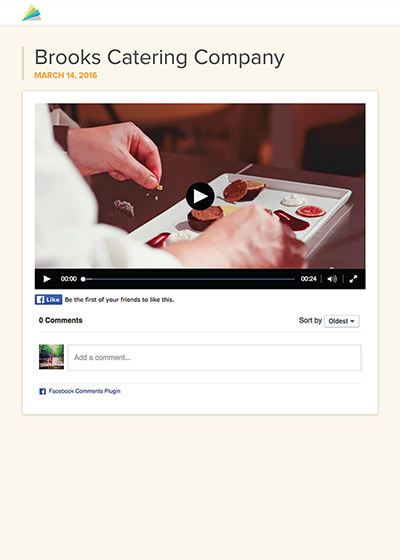 Getting started with video
For many caterers, the idea of incorporating video into their marketing strategy can feel overwhelming. However, video isn't as expensive or time-consuming as you may think. Today, DIY tools make it easy to create videos on your own. You can easily compile photos and video clips shot by your customers, or by yourself on a consumer camera or even your phone, to create a professional-looking marketing video.
Not only are consumers craving video, but if you start marketing with video, you'll stand out from your competitors. So get started today and see what video can do for your business. l
About Becky Brooks
Becky Brooks is the head of the Customer Owner department at Animoto. She has been at Animoto nearly since the site launched in 2007, and has loved seeing the product and brand grow into what it is today. She loves that Animoto has empowered millions of businesses, photographers, educators and consumers to tell their stories using the power of video. For more information, visit animoto.com.