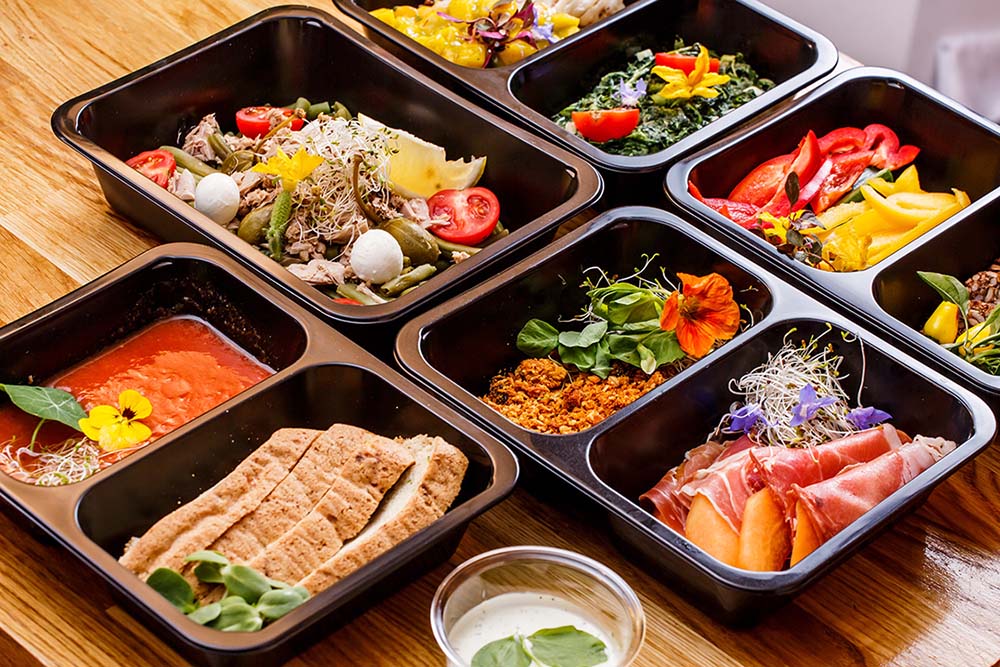 How COVID spurred a reimagining of grab-and-go
By Connie Jeske Crane
Like many caterers before the COVID-19 pandemic hit, Anne Lloyd—who owns Nolavore Catering and Commissary Kitchen in New Orleans—was mostly focused on traditional event catering. To be sure, Lloyd always stocked some grab-and-go items. In the heart of the city, Nolavore, which is flanked by historic homes and leafy banana trees, garnered raves for its house-made granola, cheese straws, spiced pecans and banana bread—yes, made from those very trees.
Yet when Lloyd started the business in 2010, she expected grab-and-go "was going to be a big part of the business. And it really wasn't."
Cue the pandemic. With events cancelled in 2020, Lloyd saw "probably a 90 percent drop in sales with catering." Seeking to replace lost revenue, she bet on expanding grab-and-go, with family meals as the cornerstone.
Not only did the format catch on, grab-and-go only gathered steam as New Orleans reopened this year. "Now that people are back to going to work, running around, I think the need for prepared foods is a resurgent need at this point," says Lloyd.
Across North America, caterers related similar success with grab-and-go. Did pandemic cooking fatigue open a door? Is this the time for caterers to invest in grab-and-go?
It's compelling, for sure. Even pre-pandemic, research was tracking two key groups—millennials and Gen Z—and their love of quality convenience meals. A 2014 Consumer Trends Report noted: "Whereas 19 percent of average consumers select grab-and-go food items, nearly 30 percent of millennials purchase these items." Huge investments in grab-and-go by major grocery retailers and restaurants further underline how hot this concept is.
In fact, competition has turned grab-and-go from an afterthought into a seriously innovative space. As Cvent reported in 2020, "ready-to-eat convenience has traditionally been synonymous with lackluster sandwiches, sad Cobb salads and unhealthy options. That's all going to change in the year ahead, as grab-and-go reinvents itself."
The four caterers interviewed for this article, who pivoted to grab-and-go during the pandemic, demonstrate how creative—and successful—this format can be.
Nolavore Catering and Commissary Kitchen
Anne Lloyd, owner
New Orleans
nolavore.net
Food concept: Frozen entrees and extras
At Nolavore, the grab-and-go concept rests on family-size frozen entrees. Customers typically place orders online and pickup in store. Choices include Gulf Shrimp Etouffée, and Chicken and Andouille Gumbo, plus vegetarian, vegan and dairy-free options. Rounding things out are sides, salads, desserts and pantry staples.
To differentiate herself from the competition, Lloyd stresses quality local ingredients. "We do a lot of shrimp and sweet potato dishes," she says. "We use sausage from a local sausage-making company."
Lloyd, who previously owned a Caribbean restaurant, also likes to play with international flavors. Variety proves key with grab-and-go, she notes: "Sometimes families will get two different things, and then if maybe the kids aren't going to eat white bean and kale and chorizo stew, then they'll eat mac and cheese."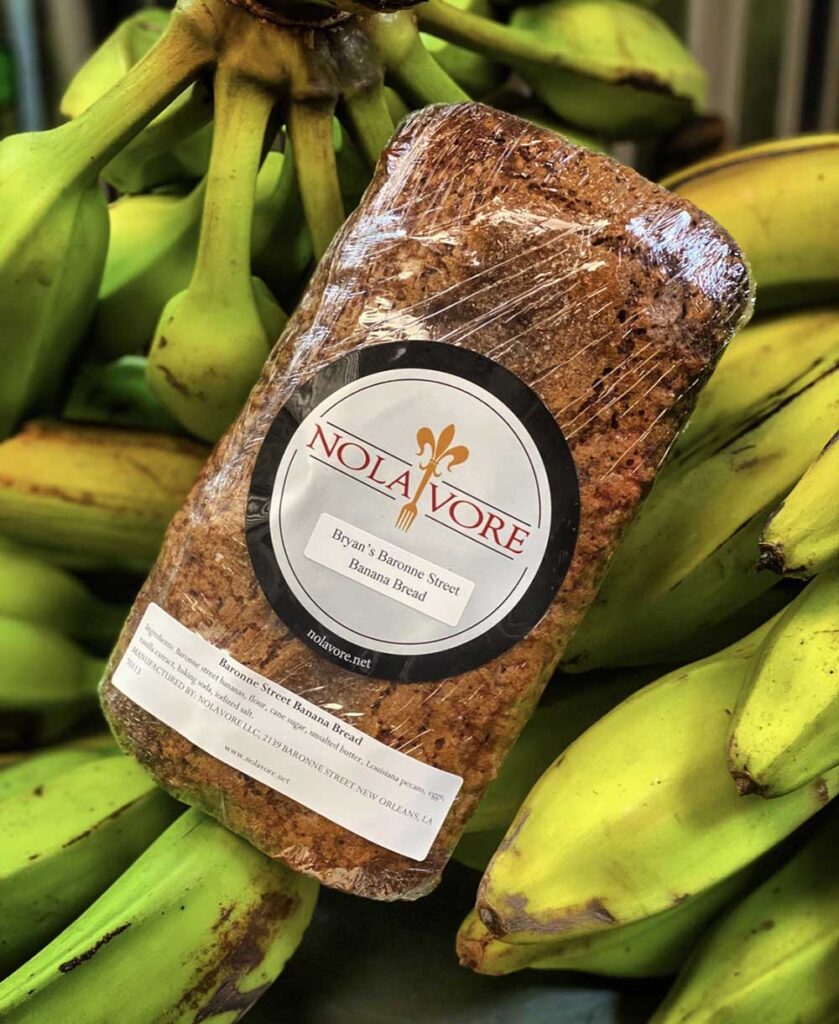 Typical grab-and-go customer
Locals, mainly time-stretched double-income families and some seniors.
Practical advice
With frozen entrées, Lloyd recommends adequate freezer space, recyclable aluminum foil containers that move from freezer to oven, and well-tested reheating instructions.
She also devotes time to marketing, actively posting on social media, emailing contacts and posting flyers. To further engage locals, she hosts a weekly pop-up market in Nolavore's parking lot.
Looking ahead
Lloyd is adding more grab-and-go items and a boxed lunch menu, as well as a "drive-thru coffee bar" for her parking lot: "Now that people are heading back to work, they can stop and get a coffee and even something for lunch or a frozen item to take home for dinner."
Corbin Catering & Foods
Corbin Tomaszeski, founder and sole proprietor
Toronto
corbincateringandfoods.com
Food concept: Order-ahead packages of freshly made food from a rotating menu
While he usually caters corporate and private social gatherings, Tomaszeski developed a grab-and-go offering during COVID. He kicked off by offering a menu of family-size dishes that "brought a sense of comfort to people at a time when things were very unsettled." But as the lockdown stretched on, he varied his menu, offering lots of fresh choices.
At the same time, Tomaszeski also learned to keep those customer favorites on the list. "People want what they want," he says, noting year-round demand for his Braised Beef Bourguignon, and Pile High Beef and Ricotta Lasagna. Alongside a selection of popular soups in returnable glass Mason jars, Tomaszeski has seasonal offerings like a summertime Watermelon Feta Cheese Salad and Weekend at the Cottage Box.
All food is freshly made and pre-ordered by the customer; orders placed by 3 p.m. can be received the next day via curbside pickup or contact-free delivery.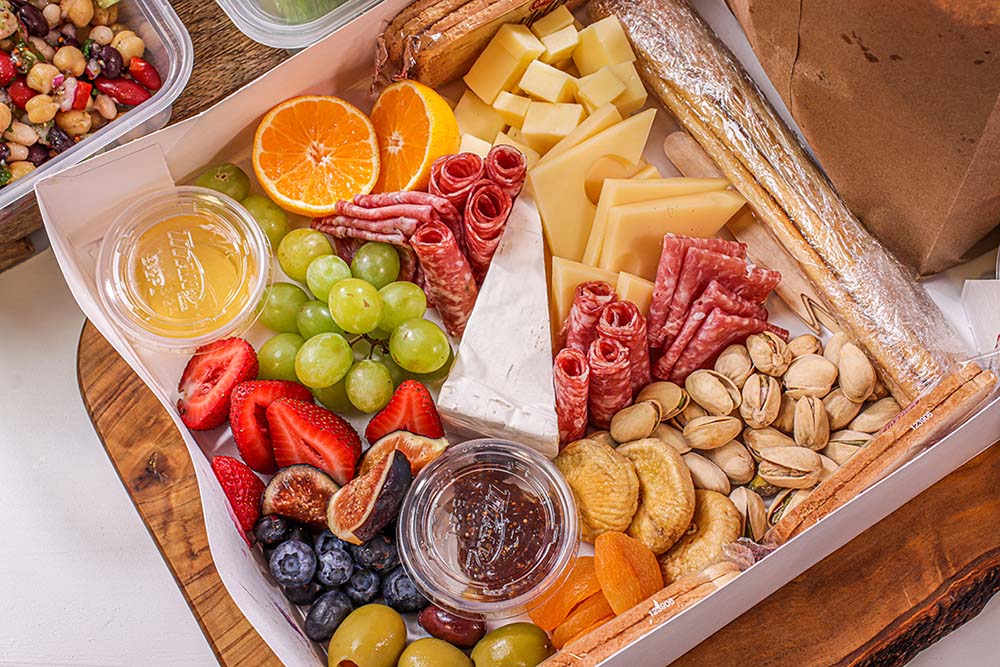 Typical grab-and-go customer
Local pandemic-weary households intent on spending locally. In Toronto, Tomaszeski says, during the pandemic "there was a huge outpouring of support for small business."
Practical advice
Tomaszeski advises putting effort into consistent branding with grab-and-go to convey professionalism. He ensured that all labels, stickers and messaging echoed his established Corbin Catering online presence.
He also values the strong relational aspect of grab-and-go. During pickup and deliveries, Tomaszeski says, "you get to know your customers as people, and there's a relationship that's established." Even with online orders, while it's time-consuming, Tomaszeski works on connection. "Every single package gets a postcard with a handwritten note. If you have somebody that just spent $150 online on a food order, you want to send them a note to say thank you!"
Looking ahead
Tomaszeski plans to keep grab-and-go. He says the new customers he built trust with during the pandemic are now calling him with larger pieces of business—requests to cater showers, weddings and backyard gatherings. Grab-and-go has become a robust revenue stream for Tomaszeski—which, he says, "I probably wouldn't have had, had it not been for COVID."
Beatrix Market Loop
Kevin Trojanowski, partner
Chicago
beatrixrestaurants.com/beatrix-market/loop
Food concept: Virtual market and customizable lunchboxes
Beatrix Market is a grab-and-go-centric business. It is centered around a salad bar and hot bar, so our business model is the guests come in and they get to build their own experience," says Trojanowski.
Due to COVID restrictions, Beatrix Market "created what we called the 'virtual market,' which was basically smaller portion sizes of a lot of our hot bar favorites and then a build-your-own salad bar online as well," he says. While guests continued building their own experience, rather than filling their plates, they made their choices online. Beatrix then redeployed delivery staff from other parts of the company to deliver packages for the Market, says Trojanowski.
On the corporate catering side, he says, thanks to the pandemic, clients "kept telling us that they really didn't have the need for sandwich trays but they needed individual lunchboxes for, say, 10 or 15 people." This prompted Beatrix to create individualized grab-and-go lunchboxes—in customizable salad, sandwich, soup and salad, and pizza formats. "That really took off during the pandemic," says Trojanowski.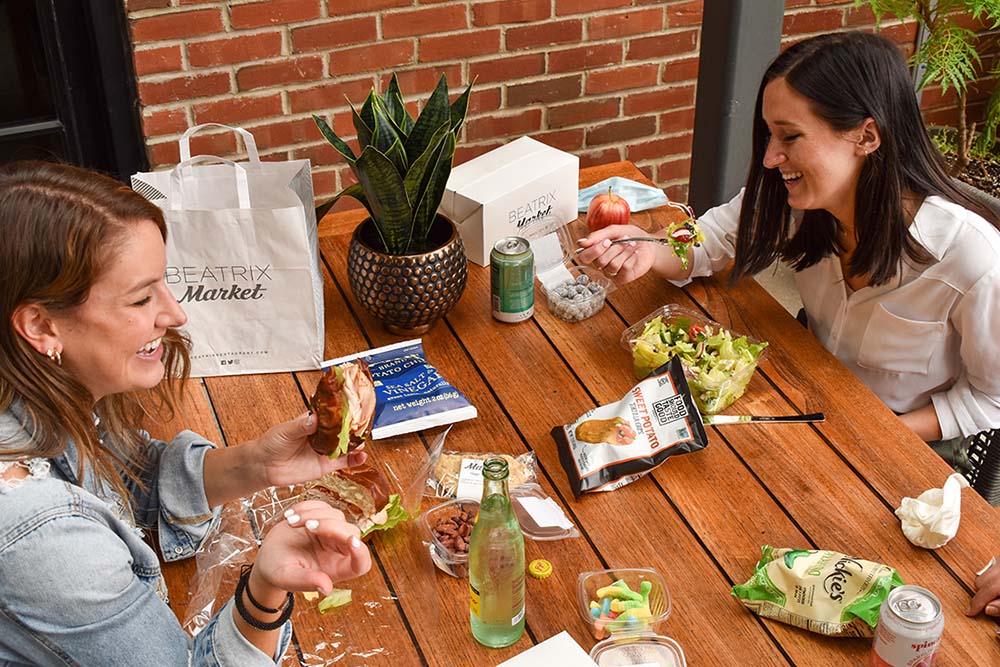 Typical grab-and-go customer
With downtown professionals gone, the COVID-era virtual market targeted working-from-home singles and couples within Beatrix's downtown delivery radius.
Practical advice
Stackability is something you don't think about in packaging but it is very important," says Trojanowski. When grab-and-go boxes stack nicely, he explains, it keeps everything from shifting in delivery.
Food visibility is also key. Besides clear-topped reheatable packaging, and branded and windowed lunchboxes, Beatrix invested in photography of grab-and-go items. "We did photo shoots in-house and placed them all online," Trojanowski says, noting the company adopted a solution called Tock for menus and online ordering.
Looking ahead
While the in-person market experience is returning, "we definitely plan to continue with the individualized catering, the lunchboxes," says Trojanowski. "I'm not exaggerating when I say we probably send out over 100 lunchboxes a day now."
Kitchen Woori Korean Grab & Go/Catering Service
Mary Eunji Kim, general manager
San Francisco
kitchenwoori.com
Food concept: Healthy, made-from-scratch traditional Korean food
Established in 2015, Kitchen Woori opened its catering arm just before the pandemic. "We started serving grab-and-go style not just for the catering side but also for individuals," says Kim. Besides bringing in revenue, grab-and-go can also play a marketing role. "Some people are interested in Korean food, but they don't know what it is, so they are afraid of ordering big [catering] portions of food," she explains. "So before that they can just try grab-and-go."
Kim describes Kitchen Woori's concept as healthy, traditional Korean food prepared daily from scratch. It's available via online order for pickup or delivery via delivery partners. "Normally it has rice or another type of carb, three side dishes called 'banchan' in Korea and one main protein," she says. Typical mains include pork cutlet, beef bulgogi and tofu, while banchan run the gamut from pickled radish and stir-fried fish cake to homemade kimchi.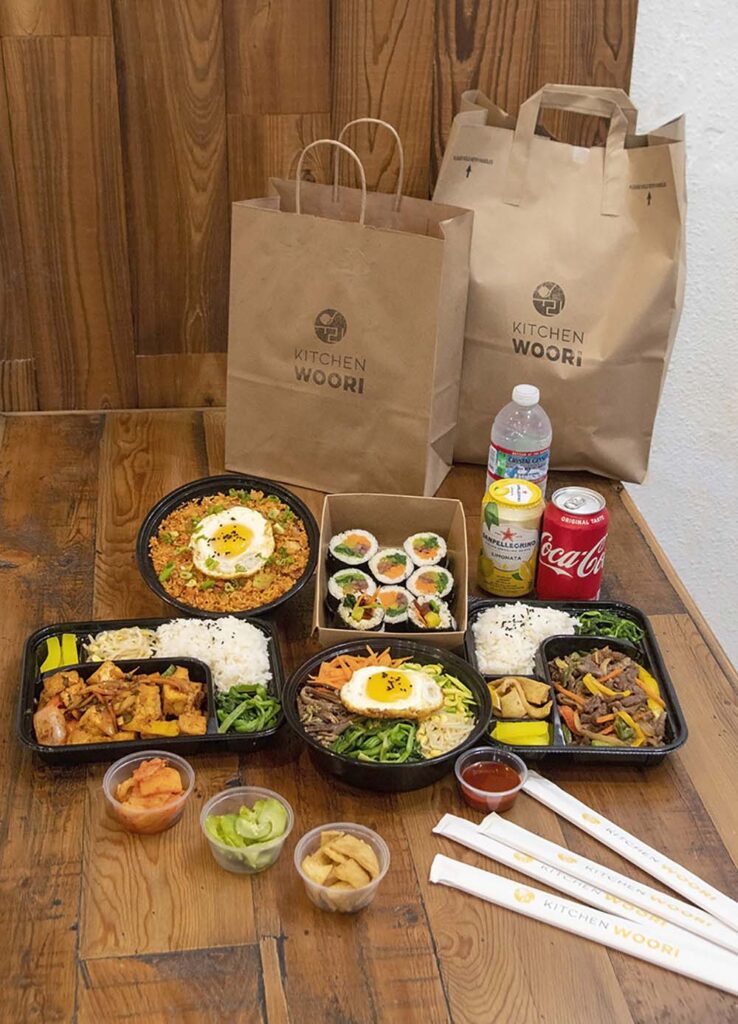 Typical grab-and-go customer
Young (aged 20 to 40), urban and willing to pay more for better quality food. Keen regulars order multiple times a week.
Practical advice
To keep customers coming back, Kim stresses food variety and rotation; tossing in some banchan freebies doesn't hurt either, she adds. Banchan can be varied daily and seasonally. "There are a lot, like a thousand kinds of different traditional side dishes," she adds.
With grab-and-go, Kim says it's also incredibly important to get packaging right. Kitchen Woori needed to source multi-portion containers that had the sustainability required by the San Francisco market, although Kim notes it was challenging to find compostable containers.
Looking ahead
As things reopen, "we are expecting to get more catering requests," says Kim. Yet, due to customers' lingering COVID concerns, the format has a twist: "It's going to be the boxed meal style or individually packed catering meal."