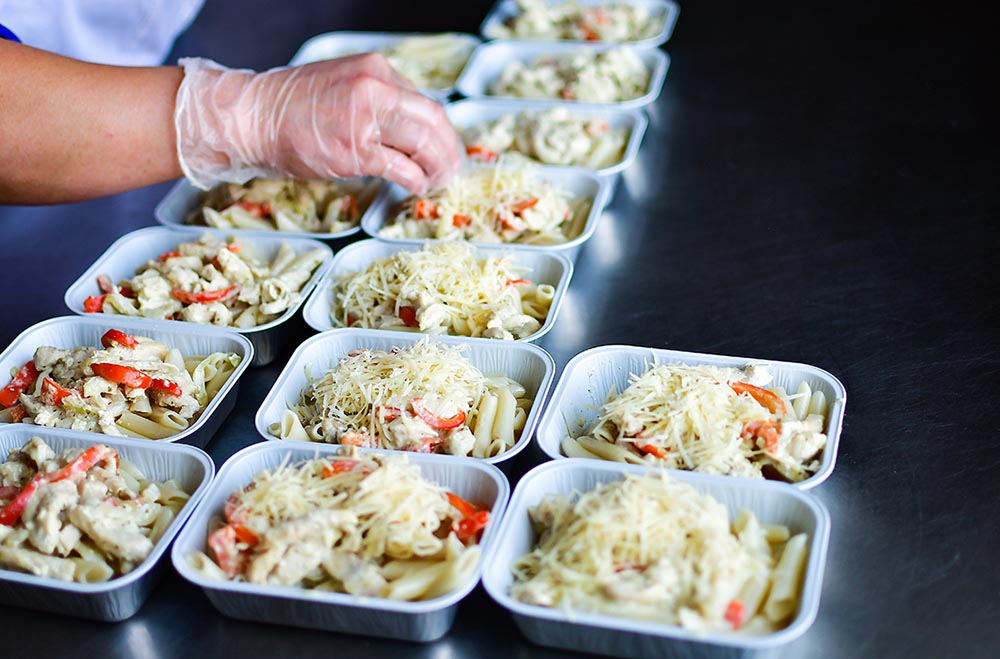 How three caterers grew their prepared meal delivery business
By Sara Perez Webber
There's no doubt about it—people will pay for convenience. The global meal kit delivery services market is expected to grow from $10.26 billion in 2020 to almost $20 billion by 2027, according to Grand View Research.
The pandemic accelerated the trend, with more people eating and cooking at home—while trying to stay healthy with nutritious meal options. At a time when many caterers are seeking out additional revenue streams, CFE interviewed three catering company owners who've successfully found a market for their prepared meals.
Peak Performance Catering
• www.peakperformancecatering.net
Chef Alyson Zildjian, owner of Zildjian Catering & Consulting in Sarasota, Fla., discovered a niche in prepared food delivery and devoted a segment of her business to filling it.
Home to Nathan Benderson Park, a premier rowing venue, Sarasota attracts rowers from all over the world for competitions and training. Years ago, Zildjian Catering—known for its fresh Mediterranean-style food—started working with the Sarasota Scullers crew team, delivering food to the regatta site and to buses when the team traveled. "I had several parents approach me who had experienced the quality of our food," says Zildjian. "They said, 'We want them to have better food, and we don't want them to have fast food on the road.'"
From there, word spread to athletes coming to Sarasota to compete—mostly rowing crews, but also basketball and soccer teams. Zildjian forged relationships with sales directors at hotels without restaurants, who'd recommend her company when hosting visiting teams. Zildjian Catering would bring meals to the hotels. "It was a win-win—they didn't have to put their team in a van, they could eat together in the conference room, debrief for the day, then go back to their rooms and rest," she says.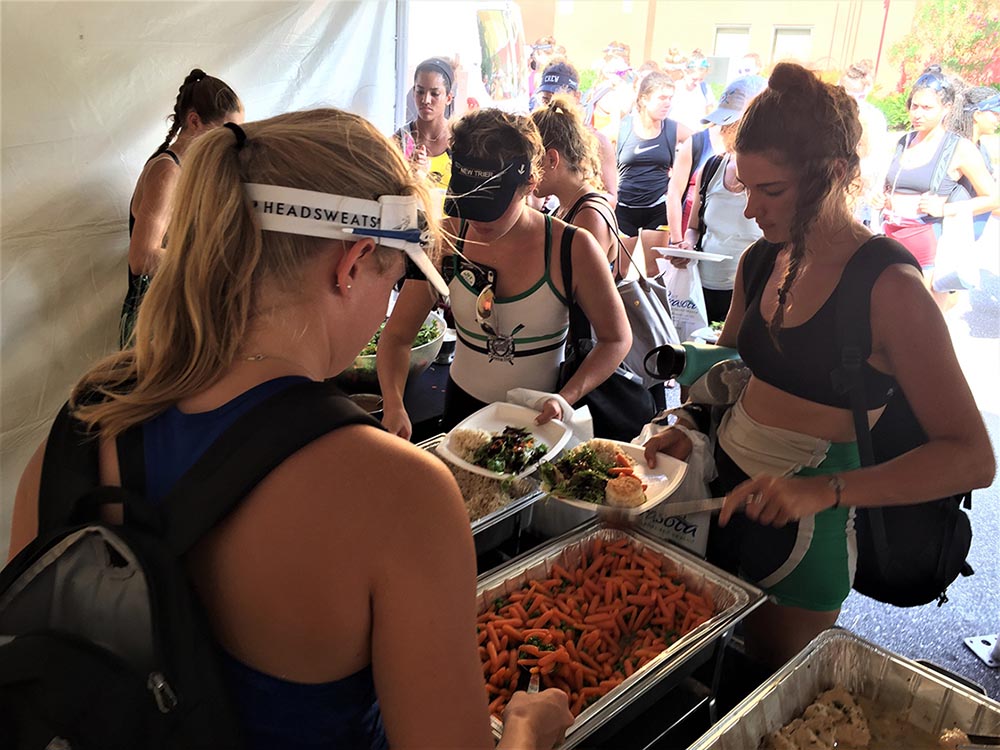 Zildjian—a Johnson & Wales University grad who founded her catering company in 2009—created the Peak Performance Catering division in 2017. "We had been feeding athletes since 2014," she says. "It was really successful, so we decided to brand it for marketing purposes."
Working with dieticians, Zildjian creates menus for athletes that are nutritious and easily digestible, balancing carbs, proteins and fats. She works with the coaches to learn about any team members' dietary restrictions and adjusts accordingly. Utilizing organic and local ingredients as much as possible, Peak Performance's menu includes such entrees as grilled salmon fillet with citrus glaze, and meatballs with grass-fed beef and turkey. Boxed lunches feature whole wheat wraps or subs, with fillings from hummus to nitrate-free smoked ham, with such sides as energy granola bites or Caribbean-style cole slaw.
Peak Performance's client list has included international rowing teams and professional women's basketball teams, as well as many top collegiate rowing teams who train in Sarasota during the winter. During competitions, "I have coaches texting me throughout the weekend, 'We came in first, thanks so much!'" says Zildjian. "I truly believe it's partly because of the food that they are eating. It's not weighing them down."
While Peak Performance makes up about 30 to 40 percent of Zildjian's business most years—and up to 75 percent during the busy competition season—it came to a halt with the advent of the COVID-19 pandemic last year. Traditional catering business also dried up, so Zildjian immediately pivoted to a third division of her company—Fresh Food To Go, offering chef-prepared, heat-and-serve meals that are ordered online for curbside pickup or delivery.
Traditional catering orders are picking back up again, says Zildjian, though the size of events is smaller. Teams started coming back to Sarasota in February, and at press time Peak Performance was gearing up to provide meals to competitors in the NCAA Women's Rowing Championships at Nathan Benderson Park at the end of May.
Before COVID, Zildjian trademarked the Peak Performance Catering brand. "My dream is to help create another revenue stream for other caterers," she says. With both Peak Performance and Fresh Food To Go, "we really try to educate our clients, and help them understand that the food they eat makes a difference in the way they feel," she says. "That's where my passion is to make a difference."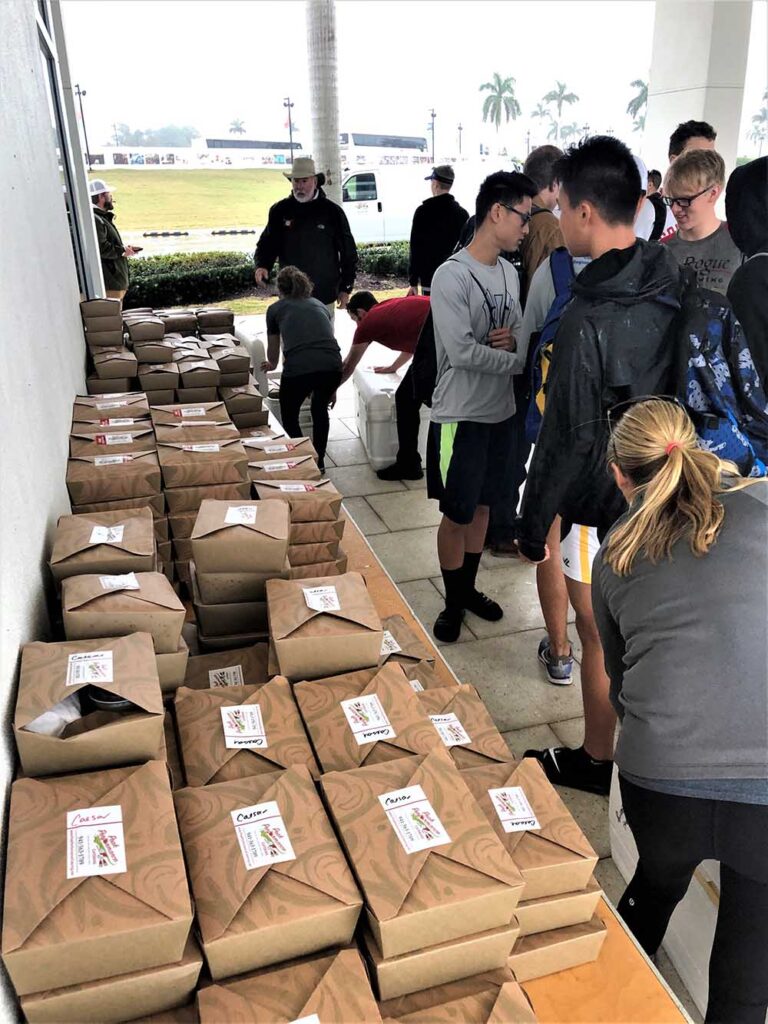 Simply Plated
In Ashley Otler's healthcare career, she focuses on prevention—educating people about healthy eating. After she embarked on her own fitness journey and chronicled her progression on social media, "people were asking for my help," she says.
So Otler—who holds an MBA as well as a bachelor's degree in public health education—went all in. She opened the Simply Plated meal delivery service in 2018 in New Albany, Ohio, serving the greater Columbus area and working out of a shared commissary kitchen.
Simply Plated offers a weekly menu of healthy meals, each listed with detailed nutritional information, including icons that denote gluten-free, dairy-free, soy-free and vegan/vegetarian-friendly. The menu is posted on the Simply Plated website on Monday, customers order their meals for the week by Thursday, and meals are dropped off Sunday or Monday.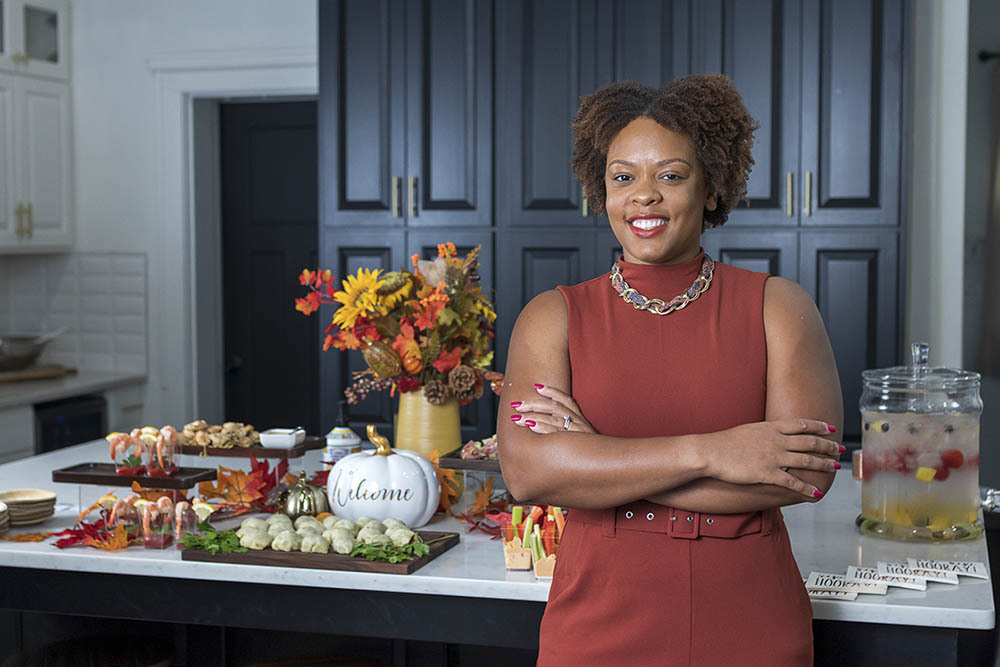 Most clients are individuals rather than couples or families, says Otler, who order the meal they don't have time to prepare. "A lot of customers order breakfast and lunch, then make dinner for their family," she says. Especially popular menu options include sweet potato protein waffles, healthy hibachi bowls, and shrimp or chicken stir-fry, which "everyone orders every time we have it on the menu."
Simply Plated has also seen an uptick in elderly customers. "Family members are ordering meals for mom and dad because they want them to eat healthier," says Otler. "They have it delivered to their loved ones. We saw a lot of that during quarantine."
The effects of the COVID-19 pandemic brought other changes as well. In late 2019, Simply Plated had grown to include corporate and special event catering. When the pandemic hit catering hard, the company shifted its focus back to prepared meal delivery—making its deliveries contact-free and expanding to family-style meals by offering larger portions.
Since we were already in that space, it was easy for us to pivot," says Otler. "We did holiday menus for families that we prepared, that they could come pick up or have delivered." The company also catered individually packaged meals for drive-by birthday parties and baby showers.
Now, says Otler, "we've seen an increase in individually packaged meals for corporate clients as well," adding that they "rave" about Simply Plated's boxed lunches.
Our turkey club is the most popular," she says. "We use turkey bacon and people love that." The Caprese sandwich—mozzarella with basil, pesto, balsamic and tomatoes—is another boxed lunch favorite, especially among vegetarians.
Some corporate catering clients have become meal delivery clients and vice versa. "We do see a lot of overlap," says Otler. "We have some great meal delivery customers. It's healthier, and they're advocates for us. A lot of them say, 'We get pizza at the office every week. We'd love to have this option at work.'"
In fact, Simply Plated has outgrown its shared kitchen. Otler is looking for a commercial kitchen space that's large enough to also house an event studio, which would serve as a venue for small-scale events.
A larger commercial kitchen facility would provide us with the space and flexibility to grow our clientele," says Otler. "My plan with expanding our footprint is to grow our corporate catering clientele, as well as hire on additional team members, which would help us in catering larger scale events."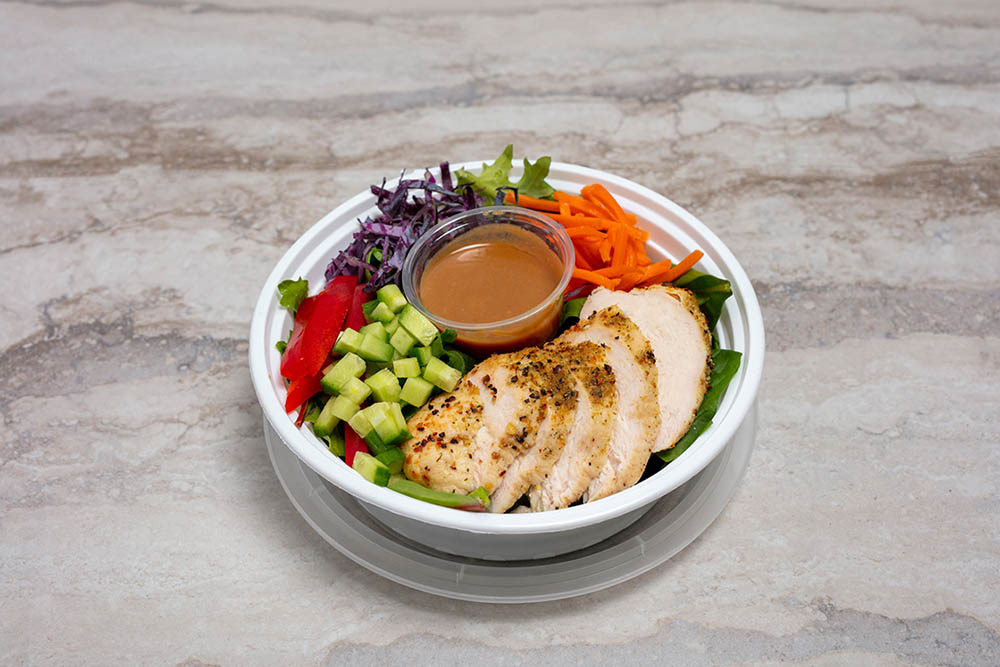 Revco Catering
Within seven days in March 2020, Boston-based Revco Catering, a mainly corporate catering company founded in 2015, transformed into a prepared meal delivery business.
The change was prompted, of course, by the COVID-19 pandemic and the resulting shutdown. "On Friday, March 13, we had events being called off when we were on our way to the event," says Mike Spiegel, owner. "Over the next 60 days, 100 percent of business on the books was gone."
While brainstorming about what to do next, Spiegel and his partners discussed their personal experiences ordering from prepared-meal services. "All the ones we tried had been underwhelming," he says. Even if people were working from home, they still had to eat, the partners reasoned.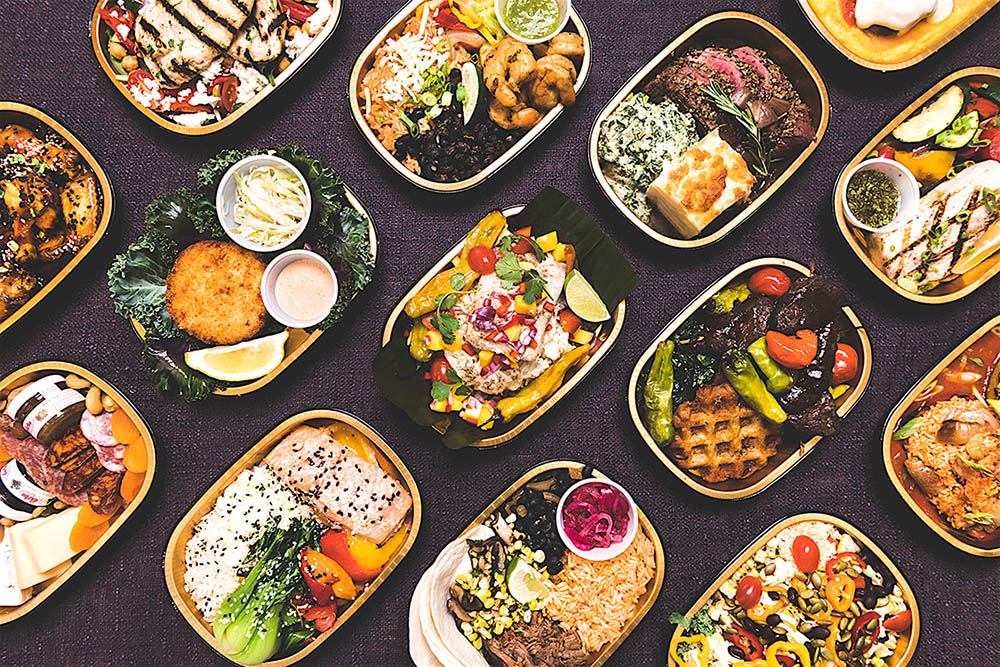 By the third week of March, Revco had its first prepared-meal delivery menu ready. With no subscription or minimum order necessary, and easy online ordering, the service caught on well beyond metro Boston. After the company sent a driver to deliver an order to Saco, Maine—98 miles away—they knew they had to figure out a better way to get their meals out.
Revco started working with UPS in mid-April. Every Tuesday, Thursday and Friday, the company now ships heat-and-eat meals throughout the Northeast, or "every zip code from New Jersey to Maine," as Spiegel puts it.
By design, the fully prepared meals can be heated in a microwave or oven. Menus are updated biweekly, with options for dietary requirements, such as gluten- and dairy-free. Top sellers include grilled turkey tips, short rib mac-and-cheese, and that perennial New England favorite—lobster rolls.
Offering family-sized as well as individual meals, Revco's client base ranges from families with kids to singles and empty-nesters. It also does a brisk business in gift packages; customers can send a New England Lobster Roll Picnic for four to an employee or friend, for example.
Revco has also expanded into virtual catering, which now makes up about three-quarters of the company's revenue. The service makes it easy for companies to coordinate gourmet food delivery anywhere in the U.S. to as many as 1,000 virtual event attendees simultaneously. Revco builds a customized ordering portal for event guests, who can let Revco know of any food allergies or preferences while choosing from a set menu.
Revco's virtual catering business continues to grow, winning rave reviews from clients, says Spiegel. "They don't expect it to be as good as it is," he says. "I don't think they expect it to be as easy as it is. What they really like is they can provide the same dining experience to their guests literally wherever they are, whether it's rural Montana or downtown Chicago."