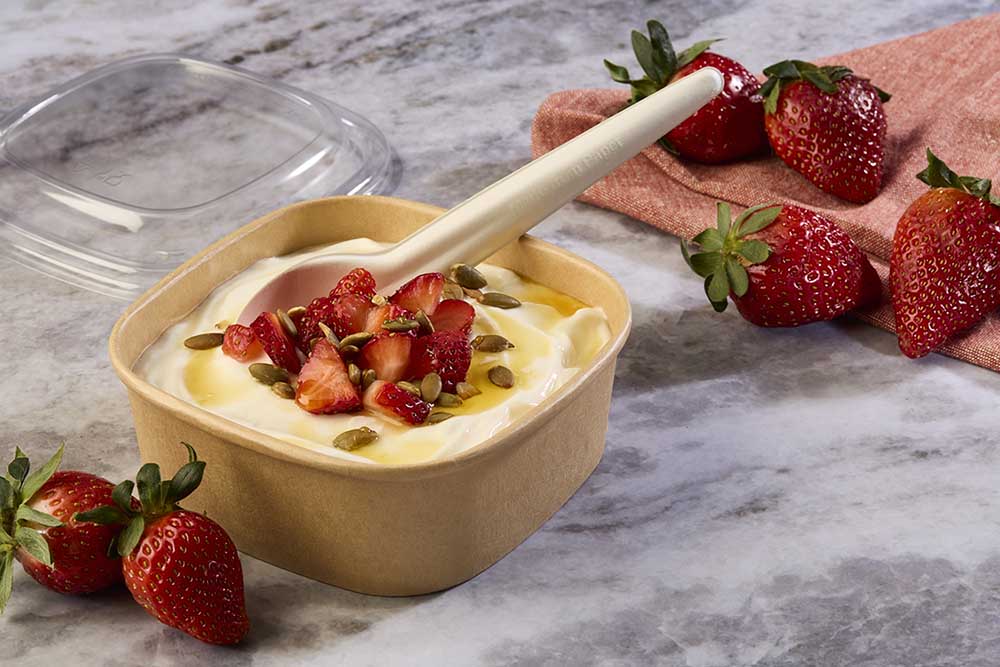 Green your business by sourcing packaging, cutlery and serving ware with sustainable attributes
If you're looking to increase the use of ecofriendly products in your business, you're not alone. "Sustainability is top of mind across the foodservice industry, and there has been a notable and escalating desire for environmentally friendly solutions," says Stephny Halstead, vice president, marketing and new product development for Sabert Corporation.
A manufacturer of food packaging products, Sabert launched 268 products last year—81% of which were considered sustainable. "With growing consumer concern about sustainability and increasing legislative activity, many businesses are investing in sustainable initiatives and programs," notes Halstead. "Food packaging can play a critical role in helping our customers achieve their sustainability goals."
Following is a roundup of foodservice products with sustainable features.
Euro Distribution
eurodistribution.us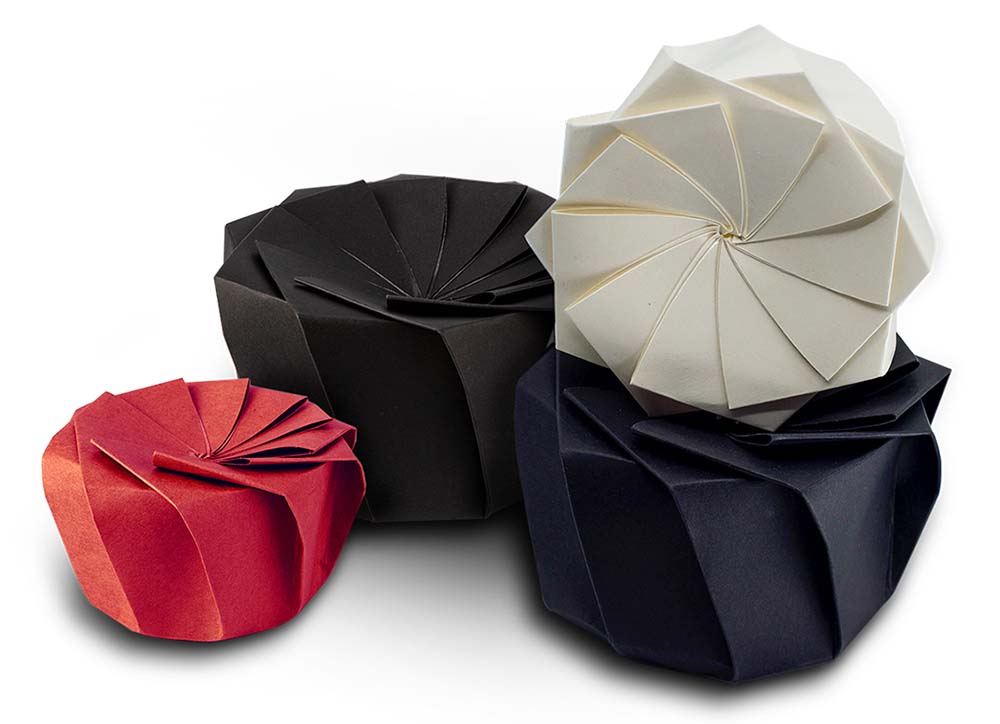 Creatively present salads, desserts, quiches and more in the Lotus Flower Box from Euro Distribution. Made of 100% paper with a food-grade liner—so it's 100% biodegradable and recyclable, as well as microwave-safe—the box is delivered flat with fold markings, in the ancient style of origami. Available in red, white and black, the Lotus Flower Box has gained a following among high-end Asian restaurants, hotels, and caterers looking to memorably serve appetizers and desserts. Colors and logos can be customized with minimum orders of 5,000.
Sabert Corporation
sabert.com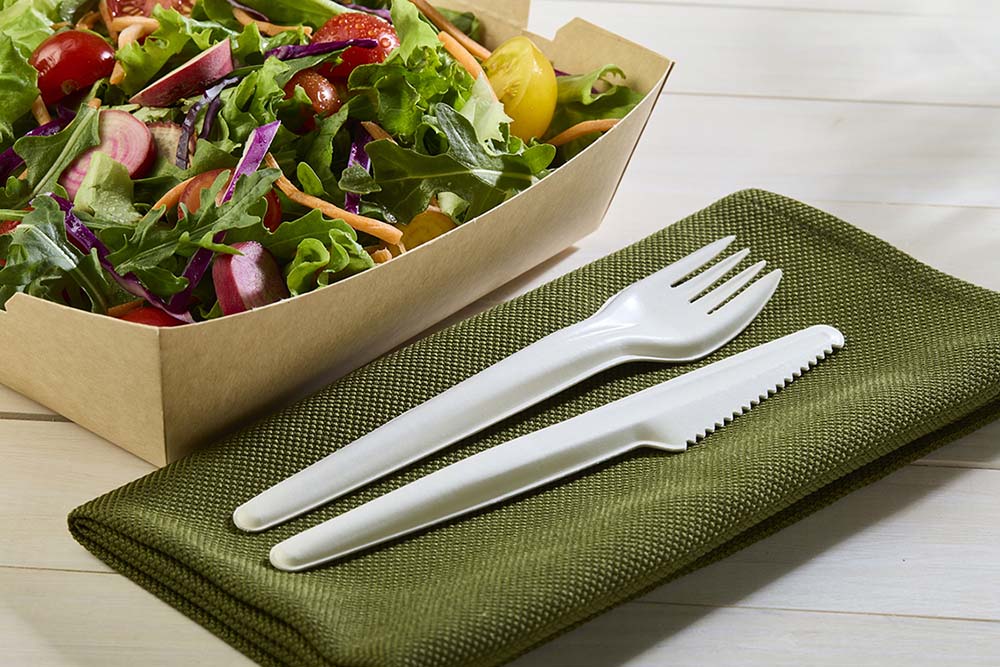 Sabert Corporation recently launched Pulp Plus and Pulp Max proprietary molded fiber blends without the intentional use of PFAS for use in food packaging for takeout, delivery and grab-n-go meals (pictured left). "It is crucial to address concerns over the use of PFAS in food packaging, given the scientific reports of potential adverse effects, which is why Sabert has committed to eliminating all intentionally added PFAS from our full product portfolio by the end of 2023," said Sabert's Halstead. Pulp Plus and Pulp Max comply with BPI guidelines for compostability and are FDA-approved safe for food contact. Another new product from Sabert, EcoEdge Paper Cutlery (pictured above) is a recyclable, compostable and PFAS-free disposable cutlery line.
All Chefs Supplies
allchefsupplies.com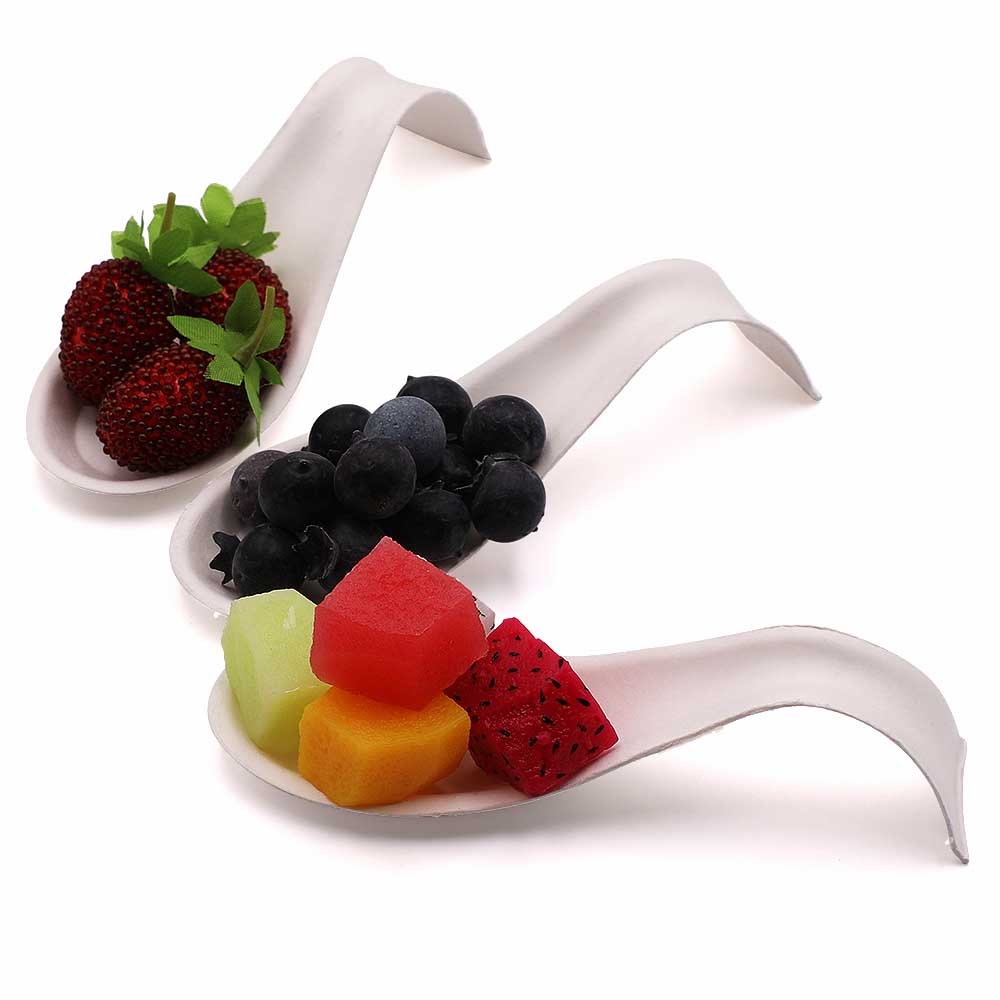 The new eco-friendly collection from All Chefs Supplies is made from biodegradable sugarcane fibers, or bagasse. "We chose biodegradable sugarcane because it's the trifecta of eco-friendly products: renewable, biodegradable and compostable," says All Chefs Supplies' Zsolt Bayor. "It breaks down in weeks, not decades, and does zero damage to the environment." The collection includes seven single-serve items, each measuring approximately 2 to 4 inches: Square Mini Dish, Tear Drop Mini Dish, Spoon Mini Dish (pictured above), Lemon Mini Dish, Tear Mini Dish, Egg Mini Dish and Leaf Mini Dish (pictured below). The products tolerate temperatures of up to 200°F; are grease- and water-resistant, and freezer-safe; and have insulation properties, without any taste or odor. Bayor says there's already strong demand for the line and more products will debut soon.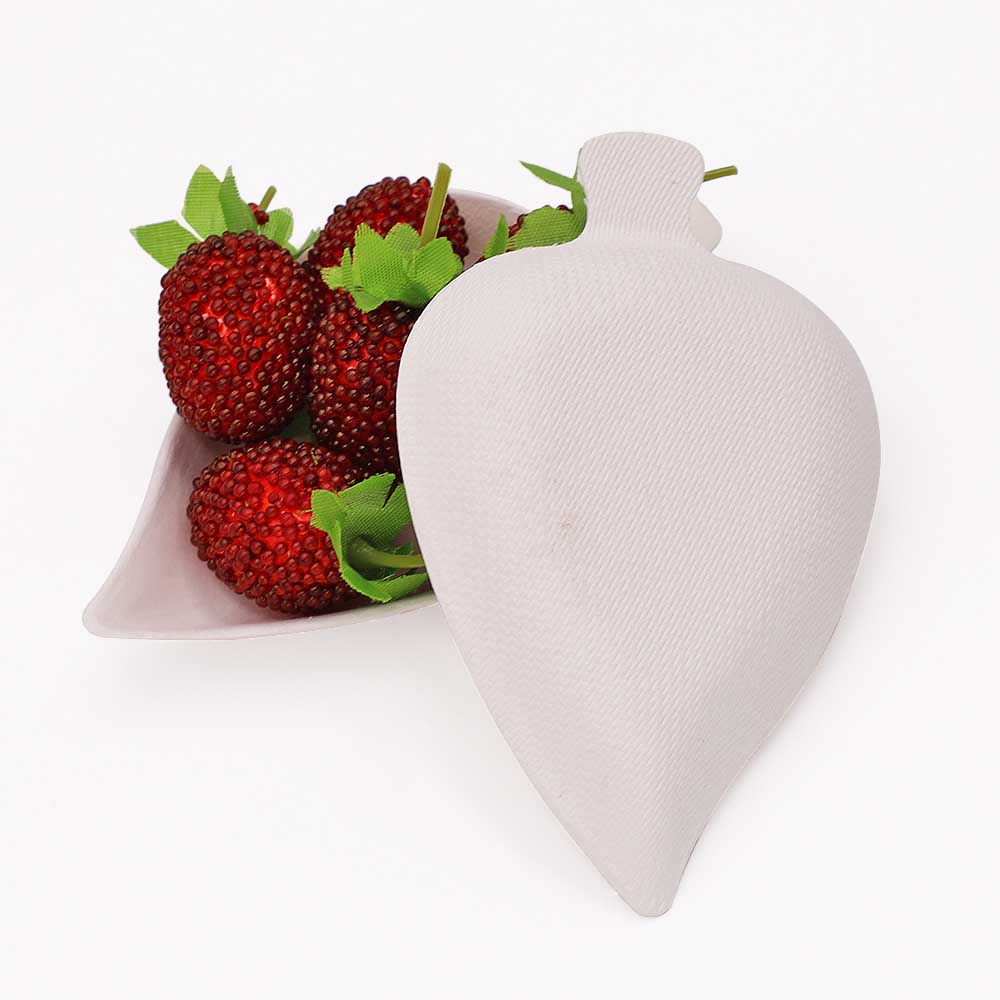 Catering Crate
cateringcrate.com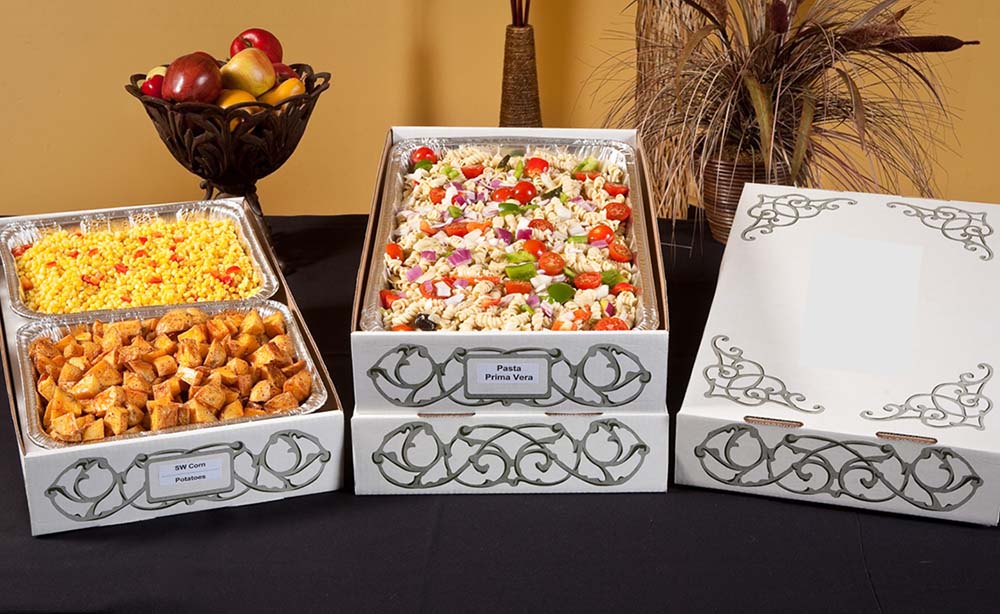 John and Amy Hatcher, owners of Café Pacific Catering in Auburn, Washington, developed the Catering Crate because they wanted to "gift wrap" their food for their clients. The attractive, insulated container is made up of heavy-gauge cardboard, so it's recyclable and compostable. A hotel-pan size disposable carrier for drop-off catering, the Catering Crate keeps food hot or cold for over 3 hours—no fuel source required. Insulating pads are available in eco-friendly cardboard (as well as Styrofoam). The Catering Crate comes in full and half-pan sizes, and accommodates 2-inch to 6-inch-deep pans.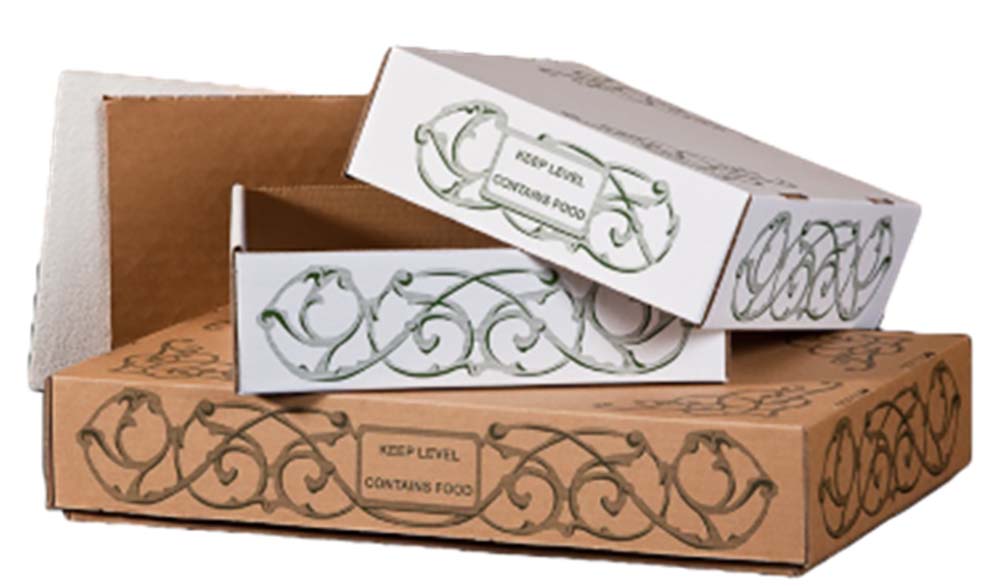 It's ideal for customers like Monica Newby of Ocean 5 in Gig Harbor, Washington, who said: "The Pacific Northwest company I work with is very environment and sustainability minded, so all of our disposable products must be recyclable/compostable. Since Catering Crates are cardboard, they work perfectly with the mission of our company. Plus, the Crates present our food professionally and keep it hot, too."
Roc Paper Straws
rocpaperstraws.com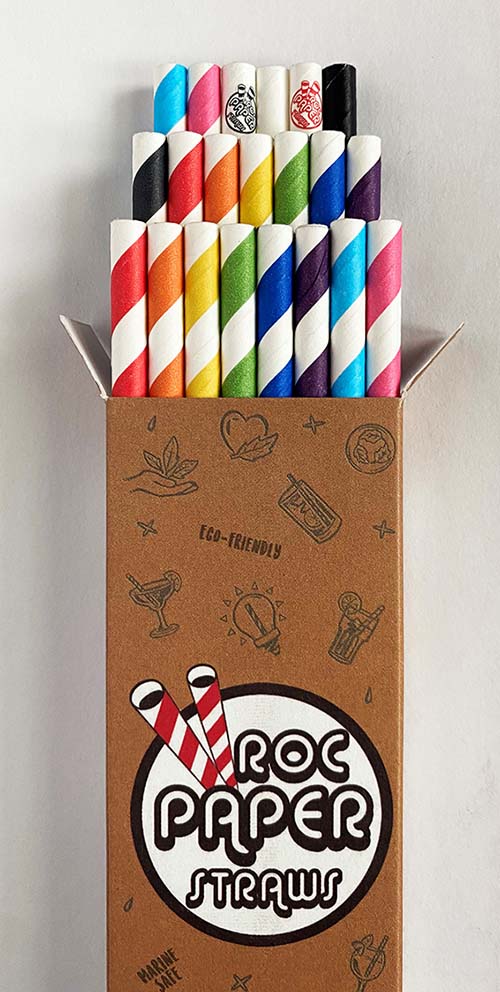 A family-run company based in Rochester, New York, Roc Paper Straws manufactures paper drinking straws that are compostable, biodegradable, non-toxic, gluten-free and marine-safe. Plus, they're strong and last for hours. Roc Paper Straws are available in a variety of colors as well as in novelty patterns, ranging from pizza slices and shamrocks to messages such as "We Do" and "Happy New Year."
Foodstiks
foodstiks.com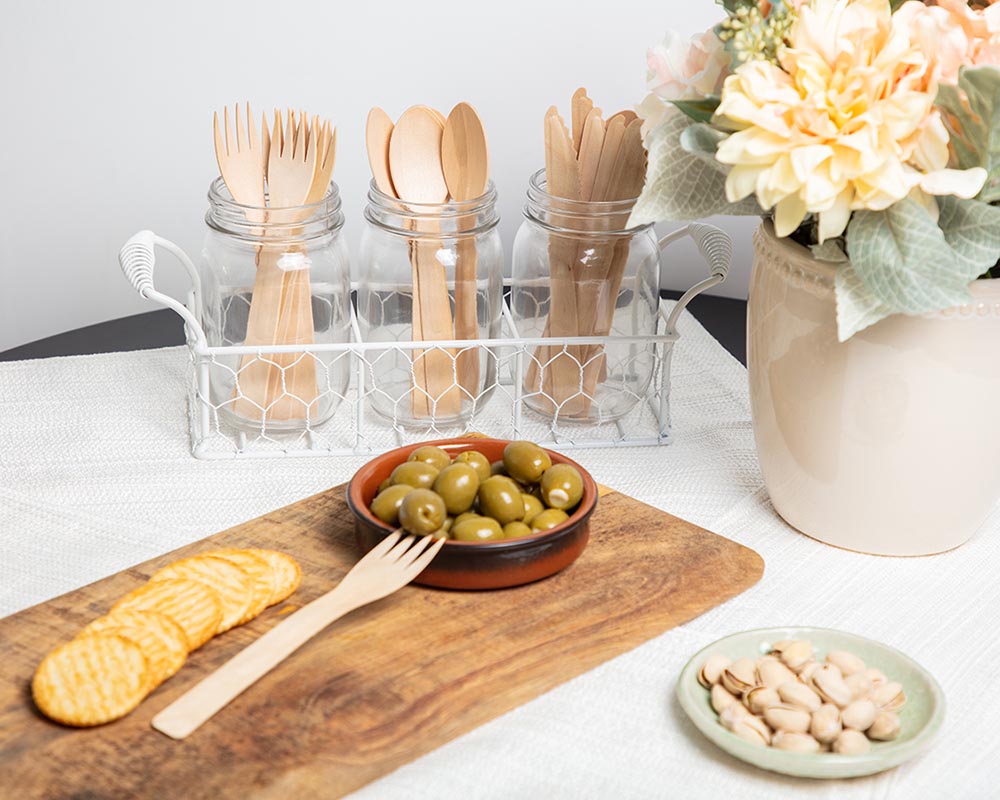 Foodstiks developed its Premium line of compostable wood cutlery after customers requested utensils that work well with salads, noodle dishes and cheese fries. Made of 100% natural birch wood, the Premium line features forks with longer and sharper tines, spoons with larger heads and reinforced handles on all three utensils. Heat-resistant and extremely durable, the cutlery will be accepted by any composting facility and naturally decompose if inadvertently left at the beach or park. Foodstiks also offers a new cutlery dispenser capable of holding up to 200 pieces, distributing one unit at a time.
Better Earth
becompostable.com
Better Earth recently launched Rectangular Fiber Containers, a sustainable alternative to traditional plastic options. The PFAS-free containers, available in four sizes, are fully compostable, and transport hot and cold food with ease. They're oil- and water-resistant, as well as leak- and spill-proof. Custom four-color printing is available.