The concessions served at live events are winning fans of their own
By Sara Perez Webber
Game-day food has come a long way from peanuts and Cracker Jack.
Today's concession caterers are pleasing fans of every sport—as well as attendees of other live events—by making sure culinary offerings add to the excitement and are part of the attraction.
"A huge part of any live experience is fantastic food!" says Jennifer Bargisen, Sodexo Live! vice president of culinary. "Often, we see fans build their agenda for the day around what they've been inspired by on social media or what they want to share themselves. That means finding hidden secret menu items, trending burgers or off-the-beaten-path hospitality locations that are unique to the venue. As such, we also see fans arriving earlier to events to spend time perusing the food and beverage options and trying a little bit of everything before the action of the event is underway."
Hometown Heroes
Fans are seeking unique offerings that reflect the city they're in, adds Bargisen. Examples of popular Sodexo Live! menu items that fit the bill at NFL and MLB stadiums include:
The "CalZone" at Seattle Mariners' T-Mobile Park: Named after Mariners catcher Cal Raleigh, the CalZone gained popularity in the playoffs in 2022 and is now available all season long. Seattle chef Ethan Stowell is T-Mobile Park's consultant chef, in partnership with Sodexo Live!, and the CalZone is a creation from his popular restaurant Ballard Pizza Company.
Three Cheese Mac & Cheese topped with Roast Beef Debris at Caesars Superdome: Served up at the home of the New Orleans Saints, this dish from Chef Lenny Martinsen features the local specialty of roast beef debris—shredded roast beef that's been moistened with pan drippings.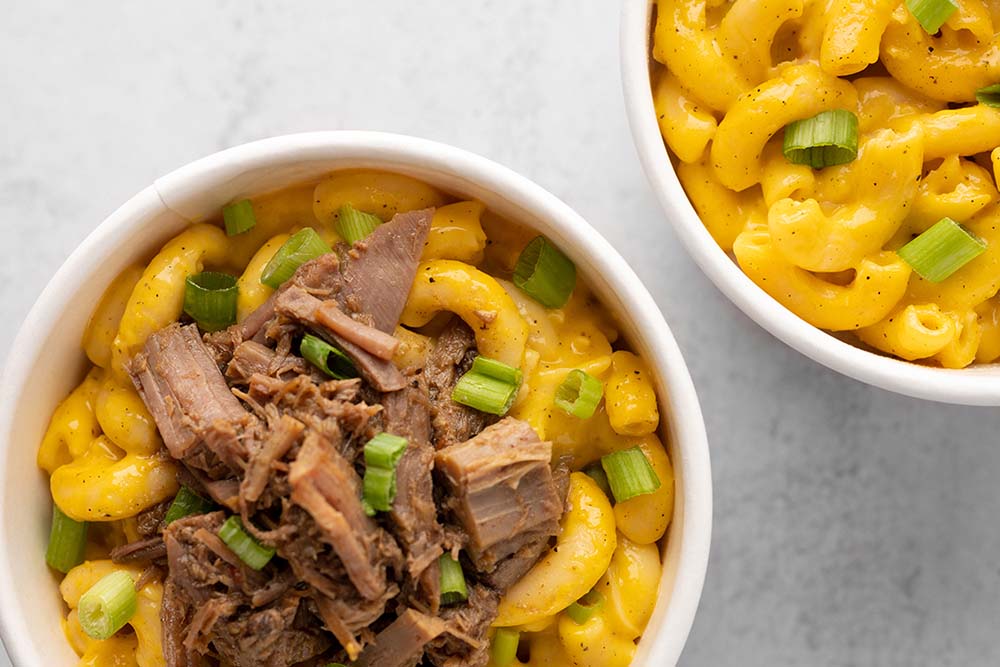 Kitchen Sink Wings at Lucas Oil Stadium: Fans love these wings made from a recipe from Indianapolis Colts defensive tackle Grover Stewart in partnership with the Sodexo Live! culinary team.
Fan Favorites
According to Nick Klug, corporate executive chef of Atlanta-based Proof of the Pudding, the biggest trend in concessions are grab-and-go stations, where the priority is speed of service. "This is where we feature our burgers, dogs, sausages, sandwiches, salads and wraps—the basic concessions items that a majority of the guests are looking for," says Klug.
Indigenous food and branded concepts are the other big trend, adds Klug, which Proof of the Pudding puts into action at the golf tournaments it caters from coast to coast. "We create concessions menus to have a theme at certain locations throughout the course that are designed to look and feel like there is a brick-and-mortar version of this restaurant in the community," says Klug.
Fan favorites at Proof of the Pudding-catered tournaments have included:
Elote Dog at Dell Technologies Match Play (2023) in Austin, Texas: An all-beef hot dog served on a Martin's Potato Roll with roasted corn, chipotle aioli, cotija, smoked paprika and jalapeño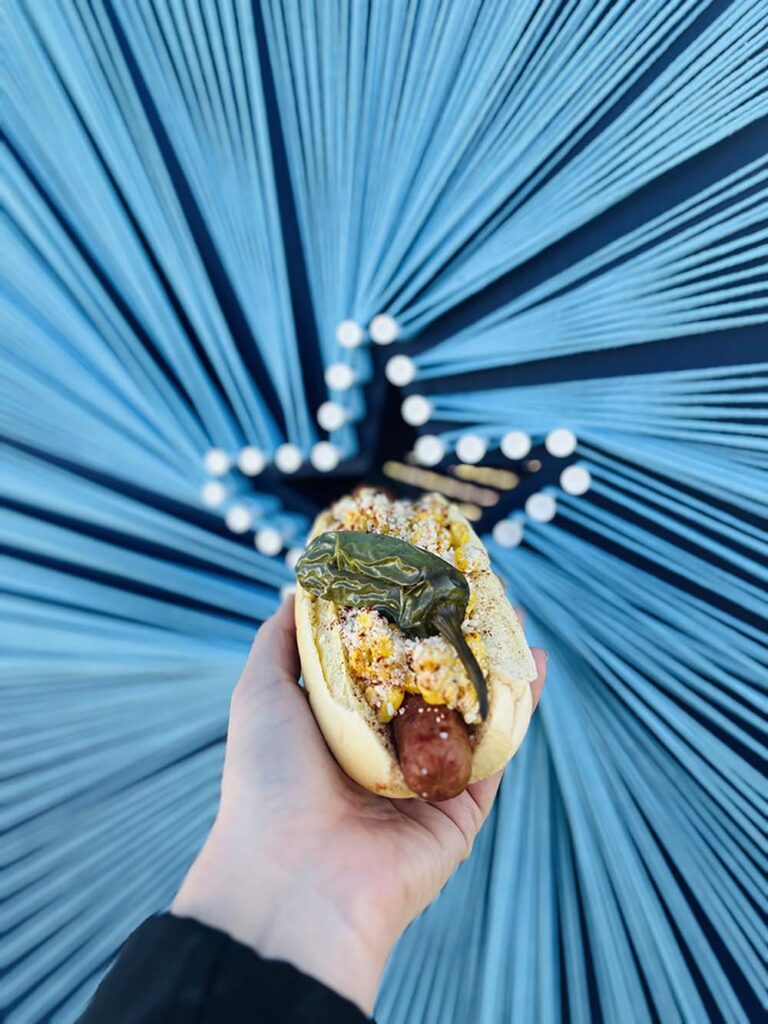 Brisket Bulgogi Fried Buns at The American Express (2022) in Palm Desert, California: Smoked bulgogi brisket on a fried bun with cucumber kimchi, radish and sriracha aioli
Chicken Tinga Tacos at The American Express (2022) in Palm Desert, California: Chipotle-braised chicken on flour tortillas with pickled red onions, guacamole, cotija and cilantro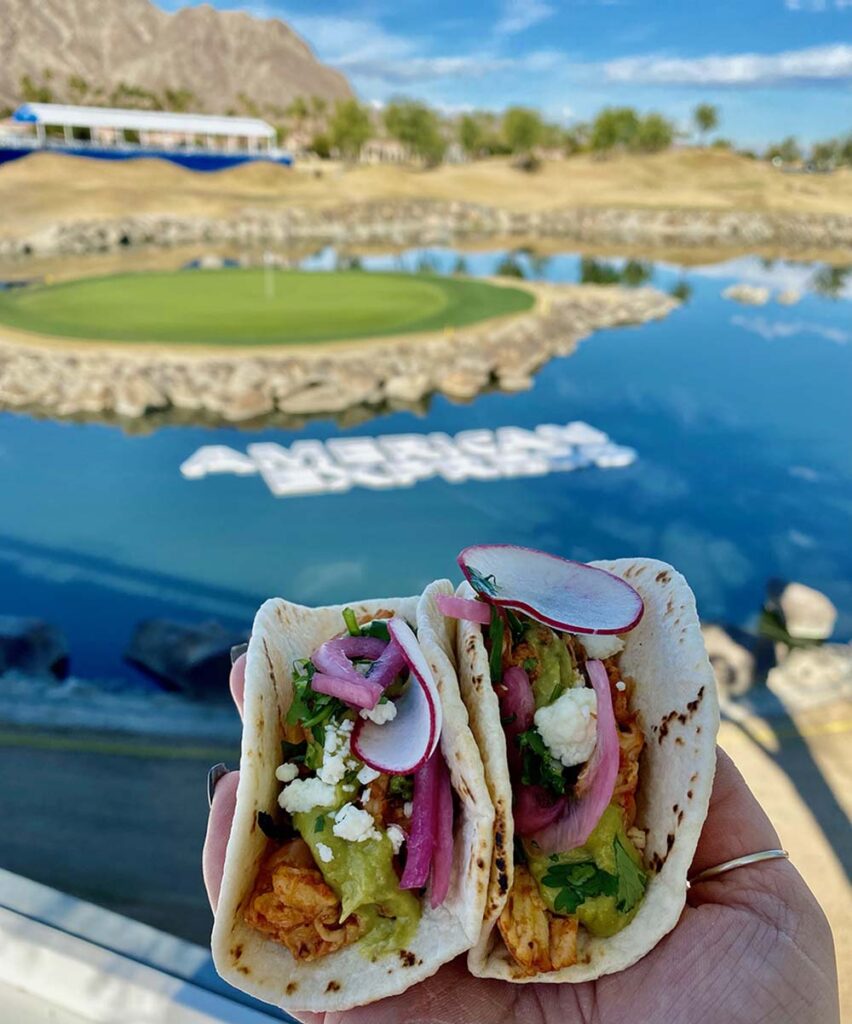 Mac and Cheese Grilled Cheese at FedEx St. Jude Championship (2022) in Memphis, Tennessee: American and smoked Gouda mac with baconon Texas toast
Over-the-Top Offerings
Even classic concession fare has had a makeover. OVG Hospitality serves up a Giant Pretzel, for example, that comes in its own pizza box. The 1.5-pound pretzel, built for sharing, is served with whole-grain mustard and warm cheese sauce. The company can't keep them in stock at the Moody Center at the University of Texas at Austin. The pretzels are also served in the suites at State Farm Center and Memorial Stadium at the University of Illinois Urbana-Champaign—alongside Bavarian sausages.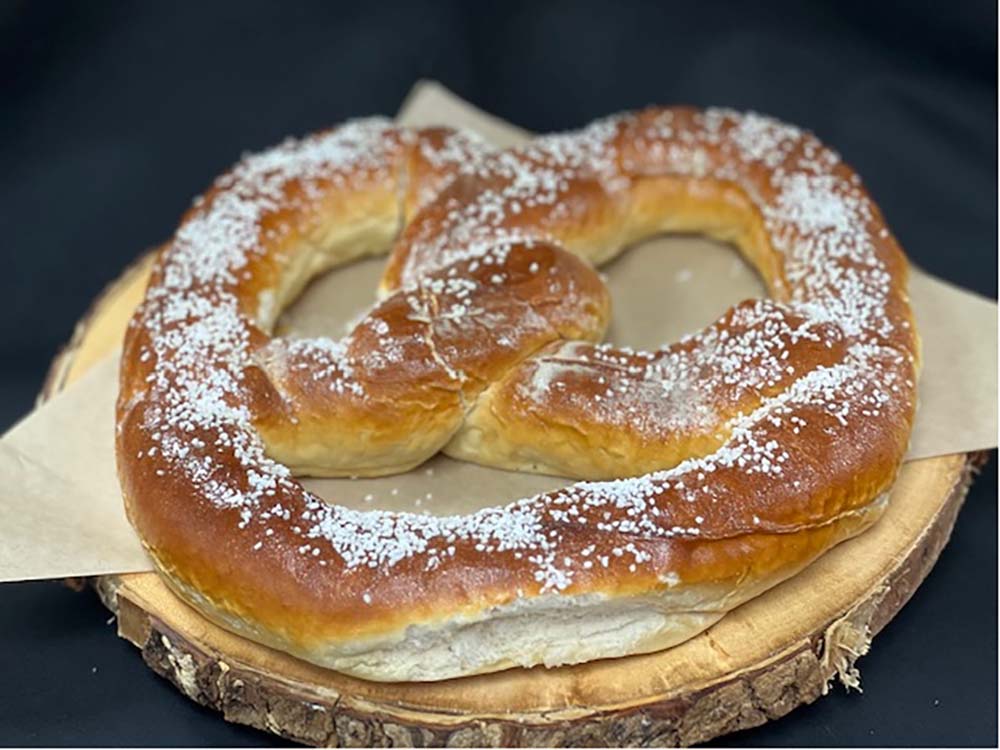 "Here at the Moody Center, we've really embraced the 'Texas-sized' offerings by showcasing massive, full-pound warm pretzels and colossal crunch wraps," says David Williams, executive chef at Moody Center at University of Texas at Austin. "We have found that the demand is high for social-media-worthy food offerings. It's exciting to see our guests post to their socials some of our over-the-top offerings."
Additional stadium concessions trends reported by OVG Hospitality are:
• Shareable Portions: Pop-able, shareable, bite-sized options served in
bulk packs
• Mezcal: Cocktails featuring the smoky flavor of mezcal
• Batch Cocktails: Utilized at such venues as CFG Bank Arena in Baltimore and Moody Center to increase speed of service and consistency
• Plant Strong: An increase in plant-based menu items for consumers looking to reduce meat intake
Another trend being served up by OVG Hospitality is melted portables. At Enmarket Arena in Savannah, Georgia, for example, guests will find a Patty Melt, Pimento & Barbacoa Melt, and Grilled Cheese Melt, all served with Loaded Smash Potatoes—baby Yukon gold potatoes roasted in butter and garlic seasoning, then topped with beer cheese, bacon and scallions.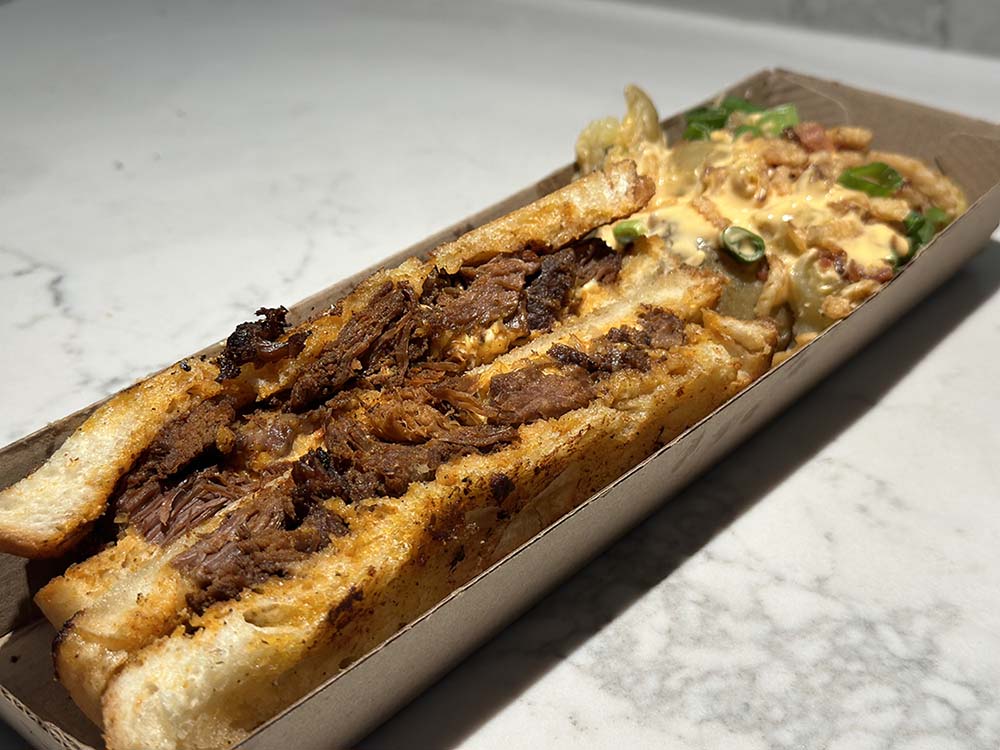 "Stadium and arena food no longer needs to be items cooked earlier and held hot for sale later," says OVG General Manager Nathan Chambers. "At Enmarket Arena, we make items to order that you would find in some of the best restaurants in Savannah. Melted is the best example of what food is like at the venue—it's large enough to share but I'm just not sure you are going to want to."
Speedy Cocktails
Not only can fans eat more exciting fare at stadiums and arenas these days, they can sip more sophisticated drinks—and get served faster than ever. At stadiums across the country, the automated TendedBar dispenses up to 35 drinks in 5 minutes from one four-screen bar. Fans can order freshly made cocktails, draft beer, wine and sangria after creating a TendedBar account by scanning a QR code and registering with a selfie, government-issued ID and credit card. The TendedBar station utilizes facial recognition technology to serve each customer.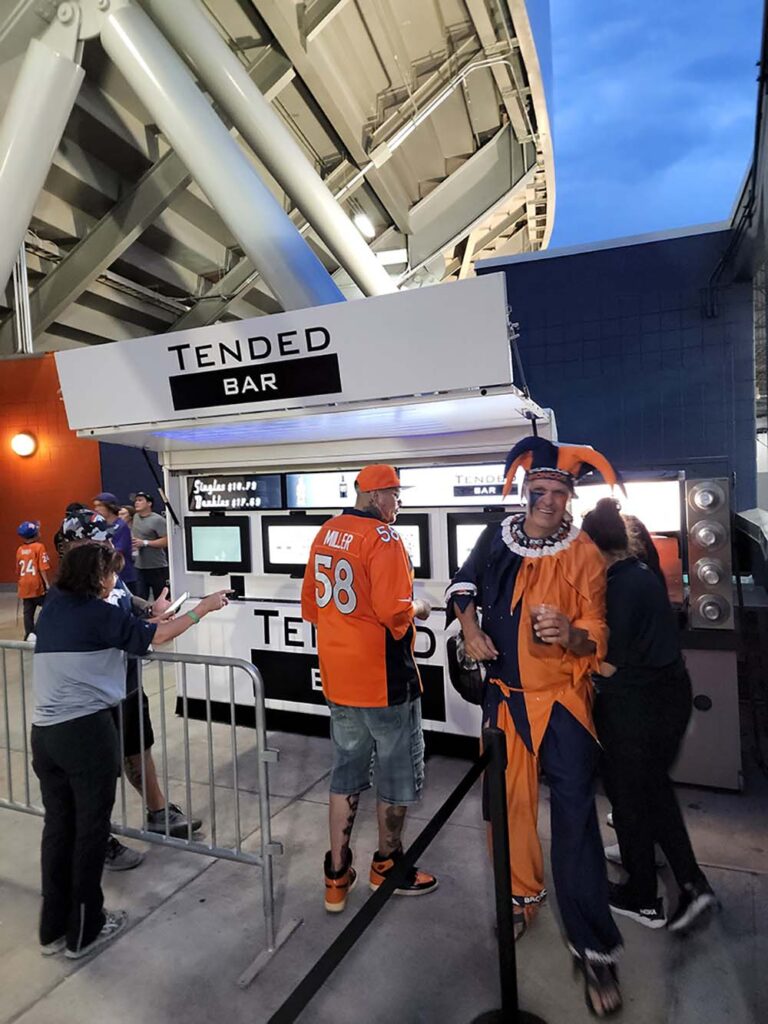 TendedBar is active at such stadiums as Empower Field in Denver; AT&T Center in San Antonio, Texas; Spectrum Center and Bank of America Stadium in Charlotte, North Carolina; and TIAA Bank Field in Jacksonville, Florida. "TendedBar was developed with a primary focus on the needs of both the concessionaire and the patron in high-volume venues," says Justin Honeysuckle, CEO. "Our main goal was to ensure speed and ease of use while still providing a high-quality, customizable cocktail experience that can be easily accessed at the touch of a button."
As it grows, TendedBar is expanding into travel and hospitality venues. Its first will be at Orlando International Airport in the premium lounge at the Brightline train station, opening this summer, followed by launches at the five additional Brightline stations in Florida.
For More Information
OVG Hospitality oakviewgroup.com
Proof of the Pudding proofpudding.com
Sodexo Live! sodexo.com
TendedBar tendedbar.com