Demand for Mediterranean cuisine is on the rise, as consumers grow to appreciate its fresh flavors and healthy reputation
By Sara Perez Webber
While the countries surrounding the Mediterranean—from southern Europe to northern Africa to southwest Asia—vary in culture, customs and cuisine, the traditional diets eaten in those countries share many of the same principles. They also share a reputation for being healthy and flavorful, which is helping to boost demand for Mediterranean foods for restaurants and caterers alike.
"I primarily define Mediterranean cuisine as the authentic, time-honored, traditional recipes of the countries surrounding the Mediterranean basin," says Amy Riolo, chef, Mediterranean Diet advocate and author of Mediterranean Lifestyle for Dummies. "If we follow a healthy lifestyle, and eat the genuine, good-for-you dishes from those regions with an occasional splurge, we will be doing our minds, bodies and spirits a great favor."
Underscoring its healthy reputation, the Mediterranean Diet was named the best overall diet by U.S. News & World Report in 2022 for the fifth straight year. According to the nonprofit Oldways, which created the Mediterranean Diet Pyramid, the diet emphasizes eating fruits, veggies, whole grains, beans, nuts, legumes, olive oil, and flavorful herbs and spices, with fish and seafood added a couple of times a week. Dairy, eggs and poultry should be consumed in moderate portions, with infrequent servings of red meats and sweets.
And not only is Mediterranean cuisine surrounded by a healthy halo, notes Riolo, "it tastes great!"
For these reasons, more Mediterranean restaurants are opening, and Mediterranean ingredients are becoming more widely available and utilized.
"People are becoming more and more concerned about the fuel they consume," says Julie Wade, senior director of marketing for Taziki's Mediterranean Café, which recently opened its 100th location in Jeffersonville, Indiana, and was named the number-one Mediterranean franchise brand by Entrepreneur. "Taziki's is a great way to eat lean proteins, fresh produce and healthy fats that are a part of the Mediterranean Diet." Among the most popular Taziki's menu items are gyros, with fillings such as grilled chicken, grilled lamb and grilled veggies; seafood; and fresh salads.
Freshness drives demand
Each Taziki's location does a substantial amount of catering, notes Wade. "Since the pandemic, there has been a distinct uptick in the number of boxed lunches sold, but buffets are still the most-purchased catering," she says.
Taziki's made-to-order meals use fresh produce, hand-carved meats and sauces made in-house daily. "That freshness is apparent and drives much of the demand in today's market," says Wade. While Taziki's began as a single location in Birmingham, Alabama, in 1998 and now has locations in 17 states, the company continues to grow, with eight restaurants under construction and another 12 in various stages of development.
The growing number of vegans, vegetarians and flexitarians seems to be amplifying interest in Mediterranean cuisine. At Mediterranean Catering in Wynnewood, Pennsylvania, for example, the most popular menu items are hummus, roasted eggplant, tabouleh, and a roasted vegetable platter with red and green peppers, eggplant, zucchini, yellow squash, carrots, asparagus and cherry tomatoes.
The company—which emphasizes Italian and Greek food, along with Middle Eastern side dishes—is the number-one catering partner with ezCater in the greater Philadelphia area, with a business mix of 90% corporate and 10% social. "Unquestionably, Mediterranean cuisine is growing" in popularity, says Mike Forcina, managing partner, attributing its rise to "being a different flavor, along with being a healthy and fresh alternative."
Vegans "will definitely find flavorful foods in the Mediterranean tradition," says Riolo. However, she adds, "it's important to note that most people are not vegans or vegetarians in the Mediterranean region. Many people, however, observe religious fasts or dietary restrictions, which prohibit meat for a significant portion of the year."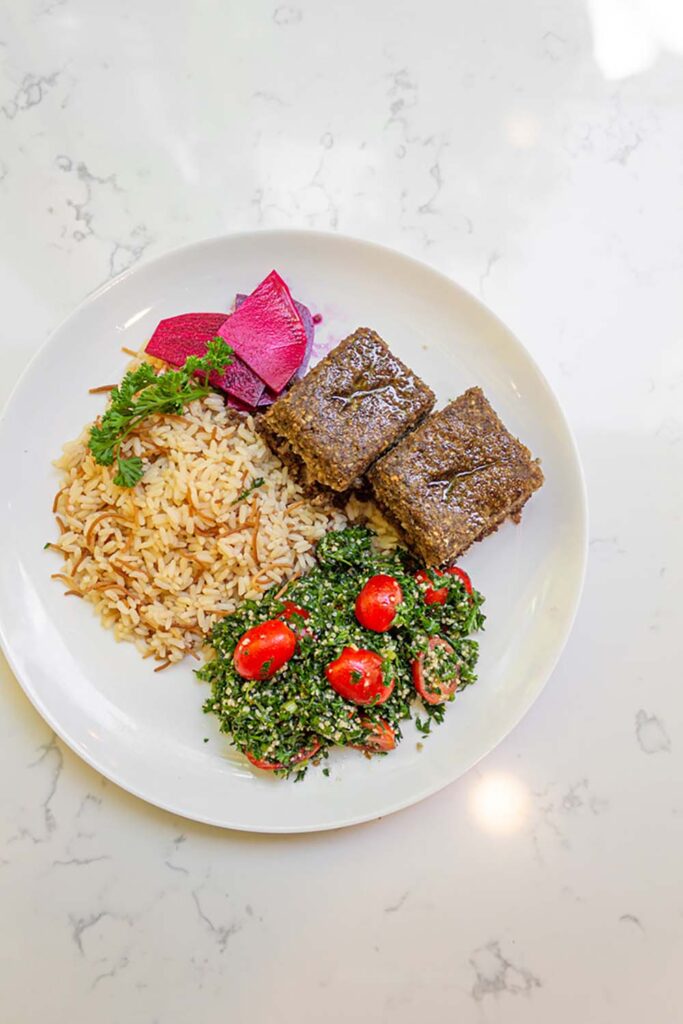 Riolo notes that it's never been a part of Mediterranean culture to eat meat or animal products at every meal. "That is more of an American invention," she says. "Menus were always based around seasonal produce first, and meat would be added in here and there, on occasion, but it wasn't the main star of the meal. Whether you eat meat or not, consuming nine to 12 servings of produce per day, especially if it's in season, is better for your body and our environment."
The growing interest in Mediterranean cuisine means "Mediterranean products are more readily available in mainstream markets, and Mediterranean-themed restaurants and markets continue to grow," says Riolo. "People who don't have roots in the region often don't have experience cooking the food, so like other 'foreign' cuisines, they tend to be sought-after in restaurants."
That's what Dory Chamoun has found with the restaurant he opened in 2019 in Medford, New Jersey: Dory's Mediterranean Grill. "Patrons come to us and express gratitude that we are here because our menu offers something different," says Chamoun, who owns Dory's with his wife Christine. "We are the only Mediterranean grill in our town and surrounding area offering authentic Lebanese cuisine."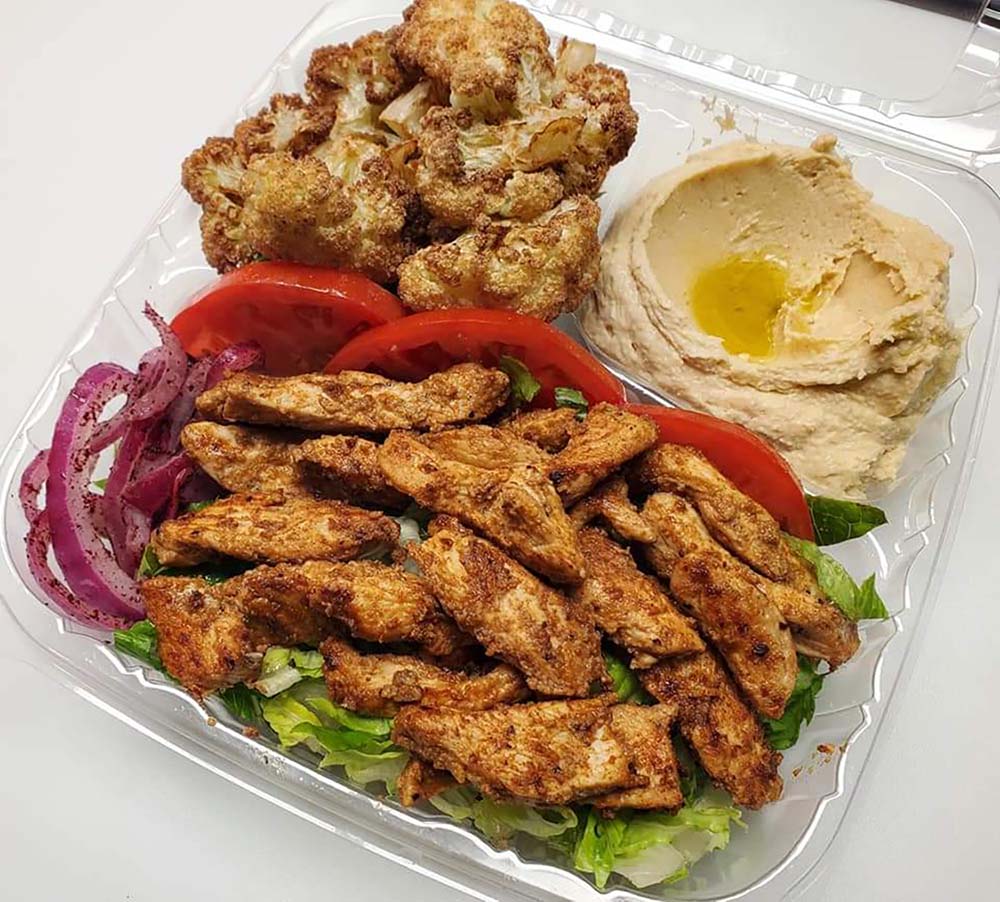 Authentic flavor experiences
Freshness is emphasized at Dory's, with the most popular menu items including falafel, shawarma (in chicken, beef and vegan varieties), and salads including Lebanese, fattoush and Greek. "We marinade in small batches, we do not purchase anything pre-made, and many of our items—such as wild pickles, pickled turnips and tahini—are shipped from Lebanon, so the flavor experience is truly authentic," says Chamoun.
In fact, customers can buy some of those authentic staples—such as haloumi cheese, barazek (pistachio and sesame cookies), and za'atar and sumac shakers—on the Dory's website. "Our philosophy is to go 'beyond the grill' in providing ideas and suggestions, customizing orders, and offering menu and shop items that are all a unique—and fun!—flavor experience," says Chamoun.
At her new restaurant in Chicago, Imee's Mediterranean Kitchen, owner Nicole Nassif is emphasizing educating customers about the authentic Lebanese dishes served and the culture behind them. For example, menu QR codes will link to videos explaining the dishes and how to eat them, while on Imee's website, customers will be able to learn more about Lebanon.
Eating at Imee's "should feel like you're going into your mom's kitchen," says Nassif, who based the restaurant on recipes from her mother and both grandmothers. Imee's means "my mom's" in Lebanese Arabic (pronounced with a short "i"). "We grind our own meat, make our own yogurt, do all our pickling—it's everything my mom and grandmas taught me."
Nassif, a 30-year restaurant veteran, launched Imee's because she felt there was hole in the market for Middle Eastern food—but that cuisines such as Lebanese are on the upswing. "It's going to get there for Middle Eastern food," she says. "The diner of today is much different than 20 years ago. People today are more likely to try something new."
After opening its doors in July, Imee's was named one of Chicago's 10 hottest restaurants in August in Chicago magazine's monthly listing. Open exclusively on weekdays from 11 a.m. to 4 p.m., Imee's mostly serves takeout; it launched its catering operation the second week of September and already had bookings for the following week.
So far, yogurt chicken wraps with their "light, clean, fresh flavor" are Imee's most popular menu item, says Nassif. Once they're introduced to it, customers also love the kibee, made with beef, onions, cracked wheat and pine nuts. "That makes me very happy, because it's probably the most authentic dish on the menu," she says.
Authenticity is key when it comes to fully appreciating and benefitting from a Mediterranean diet, notes Riolo, pointing to its track record: "After all, this is a lifestyle and cuisine that has had millennia of lasting power!"