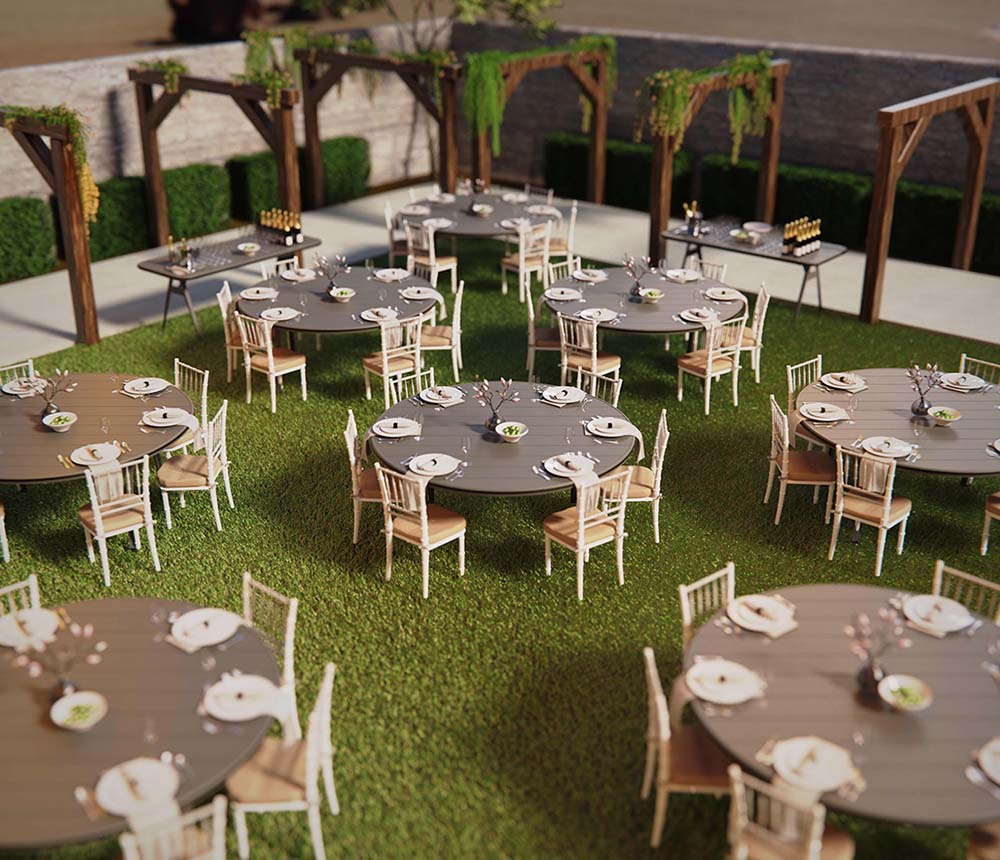 The busy summer event season is here. If you're like most caterers, you're looking for ways to do more with less—while impressing clients and their guests with your seamless events.
Southern Aluminum's linenless event furniture can help you succeed on all fronts—saving you time and money, and giving your events a clean, modern look that guests will love.
In sync with today's minimalist design trends, Southern Aluminum's linenless furniture also provides practical benefits. Linens can be time-consuming and expensive to maintain. They require longer employee setup hours, add laundry costs to a budget, and must be replaced continually. With Southern Aluminum's ROI calculator, you can see for yourself how much money your business could save with linenless tables.
A Sustainable Solution
In addition to lowering labor and upkeep costs, linenless tables help you meet your sustainable goals. Aluminum is one of the most recycled materials on the planet. It's also lightweight and incredibly durable. By incorporating this green material in all its product designs, Southern Aluminum naturally offers one of the most sustainable product lines available. What's more, without the need to wash linens, you'll lower your water consumption.
Made in the USA
The industry's leading linenless table manufacturer for 45 years, Southern Aluminum crafts all its aluminum furniture in Magnolia, Arkansas, and ships it nationally. Southern Aluminum's wide range of furniture includes meeting and banquet tables, event cocktail tables, mobile bar and beverage systems, industry-first outdoor event tables and much more.
Southern Aluminum began as an outdoor furniture manufacturer when founder Charlie Taylor began crafting picnic tables as a retirement hobby. The company found its way into the hospitality industry in the early 2000s by designing products for meeting and event spaces.
Today, Southern Aluminum's clients include top hotel brands, who praise the functionality of its linenless furniture.
Southern Aluminum's customers remain loyal for another reason—the company nurtures its relationships, even designing furniture based on customers' needs and feedback. That commitment to putting people first extends to its employees. Believing that reliable and well-crafted product is only as good as the people who craft it, Southern Aluminum's core value is to put people first.
Product Innovation
Southern Aluminum's most recent product launches align with the demand for foodservice events. Newly launched lines include:
• EVO Nesting Tables
EVO is designed to activate a myriad of meeting and event purposes—from buffet and action stations to beverage and retail display. Featuring easy-glide casters and a thoughtfully designed ganging device, EVO maximizes operational efficiencies when transporting to the next event or nesting them for convenient storage.
• Mobile Bar Systems
The MADISON and AVENUE are handcrafted with the end user in mind by bringing to life purposeful functionality and operational efficiencies. Powered through customer collaboration and hospitality expert insights, this new product is poised to effectively activate beverage and cocktail stations, no matter the event size.
• Taylor Collection
A perfect solution for flexible outdoor venue spaces, the Taylor Collection features a folding leg and slat-style tabletop design constructed of high-grade aluminum and a durable UV-protected powder coat finish. It's available in banquet rounds and rectangles.
• XCube Outdoor
Purpose-built to set and strike with ease, XCube Outdoor features interchangeable folding bases and is ideal for cocktail hours, buffet setups and more.
"I have been using Southern Aluminum tables since 2008, and I love all the tables, buffet nesting tables, and their bar tables and back bars. What I love about the tables and buffet nesting is the design and durability. It's easy to use and very functional, and the carts are designed with safety in mind. I will absolutely recommend ALL Southern Aluminum products to any property."
—Raja Amirthalingam, director of event planning and operations, JW Marriott Dallas Arts District
Discover more about enhancing your events with linenless furniture from Southern Aluminum at southernaluminum.com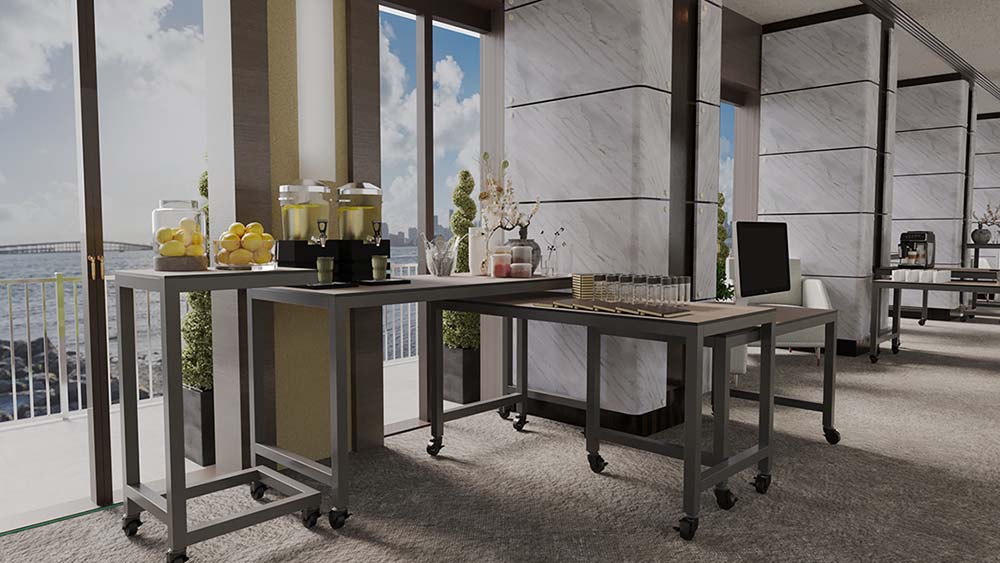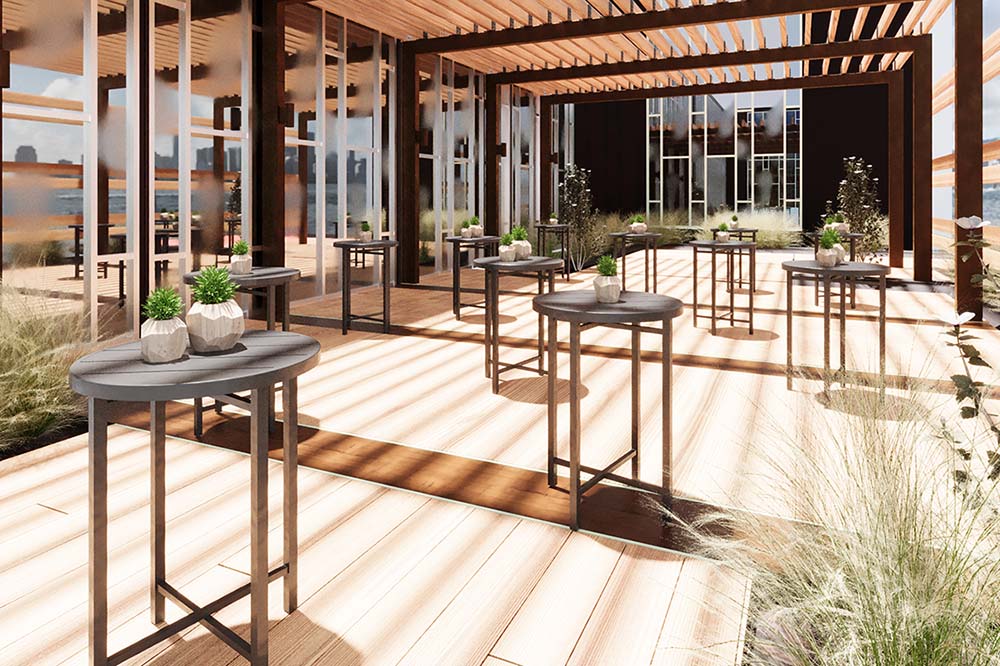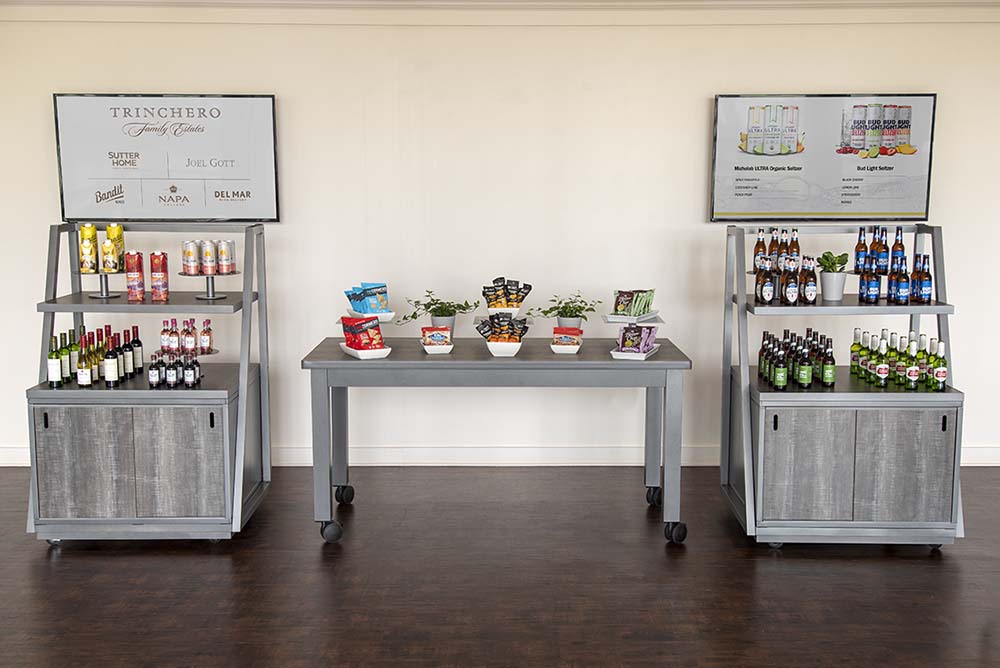 Southern Aluminum's product lines include the Taylor Outdoor Collection; EVO Nesting Tables; Xcube Outdoor tables; and the ELEVATE mobile shelving and cabinet system.