Owings Mills, Md. • classiccatering.com
The Classic Catering People provides catering for about 500 events each holiday season. The company, outside of Baltimore, has been serving the area for more than 40 years, with a philosophy of honoring food traditions while embracing new tastes and techniques. Executive Chef Alan Maw designs seasonally appropriate menus for these holiday events; he shared four of his holiday recipes with Catering Magazine.
Appetizer
Yukon Gold Truffled Potato Rosti with Quail Egg
YIELD: 48 hors d'oeuvre-sized portions
INGREDIENTS
2 pounds baking potatoes, peeled and coarsely shredded on a box grater
1 medium onion, coarsely shredded on a box grater
2 large eggs, beaten
2 teaspoons kosher salt
½ teaspoon black pepper
Vegetable oil, for frying
4 dozen quail eggs
½ ounce fresh black truffle
METHOD
In a colander set over a large bowl, toss the potatoes with the onion and squeeze dry. Let the potatoes and onion drain for 2 to 3 minutes, then pour off the liquid in the bowl, leaving the starchy paste at the bottom. Add the potatoes and onion, along with the eggs, salt and pepper; mix well.
In a large skillet, heat a 1/8-inch layer of oil until shimmering. Spoon ½-ounce mounds of the batter into the skillet about 2 inches apart and flatten slightly with a spatula. Fry over moderately high heat, turning once, until golden and crisp, 5 to 7 minutes. Transfer to paper towels to drain, then transfer to a platter. Repeat to make the remaining batter, adding more oil to the skillet as needed.
Fry quail eggs in vegetable oil, careful not to break the yolks. Place fried eggs onto potato rosti, and top with fresh black truffle to serve.'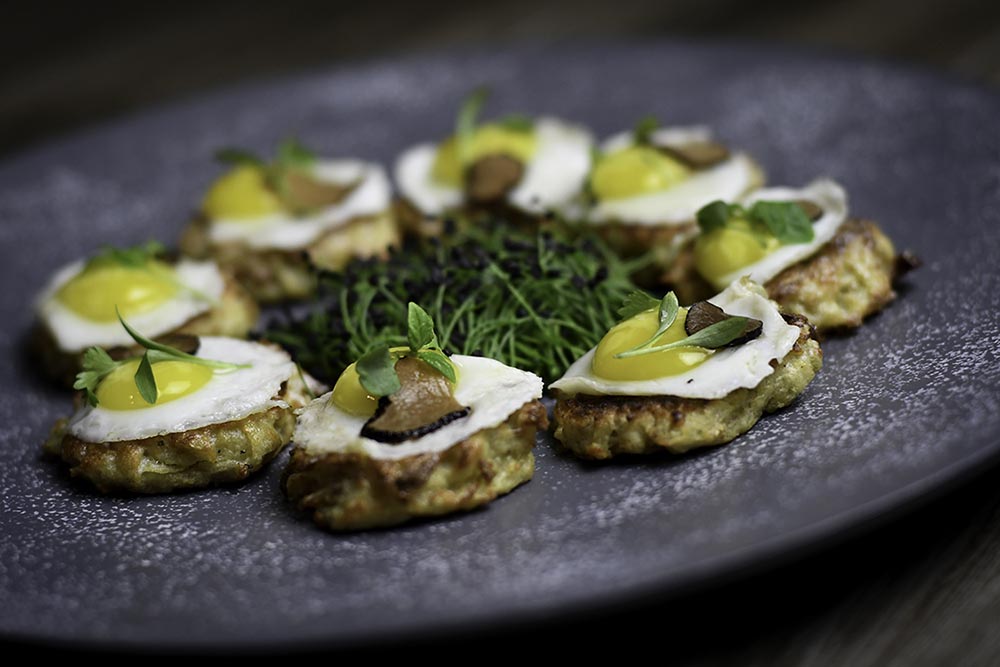 Main Course
Pork Tenderloin Wrapped in Serrano Ham, with Herb Spaetzle and Red Currant and Persimmon Compote
YIELD: 5 servings
Serrano-Wrapped Pork Tenderloin:
INGREDIENTS
2 pounds pork tenderloin
2 ounces of thinly sliced serrano ham
Salt and pepper
METHOD
Preheat oven to 400°F. Lay out serrano ham on parchment, slightly overlapping. Place pork on ham, and sprinkle with salt and pepper.
Lifting parchment, roll up. Pan-sear and then bake for 12-15 minutes or until meat thermometer reads 145°F for medium well. Let rest 10 minutes before slicing.
Currant and Persimmon Compote:
INGREDIENTS
1 ¼ cups sugar
1 ¼ cups water
3 cups picked, washed red currants
2 tablespoons lemon juice
¼ cup dried persimmon
METHOD
To clean the currants, strip them from their stems, cover with lots of cold water, and skim the bits that float to the surface. Drain.
Combine the sugar and water in a wide sauce pot and bring to a simmer, cooking until the sugar is dissolved. Add the currants, return to a simmer, and cook 1 minute. Drain the currants, saving the juice, and return the juice to the pot. Add the lemon juice.
Boil the juice until a droplet feels sticky when pinched between your fingers, or until it reaches about 225°F. Add the berries, and return the mixture to a boil. Ladle the compote into sterilized half-pint jars, top with lids and bands, and either refrigerate or freeze. If you'd like to preserve it, process the jars 10 minutes in a boiling water bath.
Herb Spaetzle:
INGREDIENTS
2 ¼ cups all-purpose flour
1 teaspoon salt
¼ teaspoon ground white pepper
4 large eggs
Minced assorted fresh herbs (parsley and chives)
4 tablespoons (½ stick) butter, divided
2 tablespoons extra-virgin olive oil, divided
METHOD
Blend flour, salt and pepper in large bowl. Whisk in eggs blended with herbs and milk, forming soft batter.
Bring large pot of salted water to boil. Oil large bowl. Working with ⅓ cup batter at a time and using a rubber spatula, press batter directly into boiling water through ¼-inch holes on steam pan or strainer. Stir spaetzle to separate, and boil 2 minutes. Using fine sieve, scoop spaetzle from pot, drain well, and transfer to buttered bowl. (Can be prepared 3 hours ahead. Let stand at room temperature.)
Melt 2 tablespoons butter with 1 tablespoon oil in heavy large skillet over medium heat. Add remaining 2 tablespoons butter, 1 tablespoon oil and spaetzle. Sauté until spaetzle begins to brown, stirring often, about 10 minutes. Season with salt and pepper.
Holiday Menu Tip
from Chef Alan Maw
For a break from turkey and stuffing, try another hearty holiday meal. This dish combines a variety of flavors—currant and persimmon with pork and serrano ham, deliciously accompanied by herb spaetzle.
Dessert
Plum Pear Flaugnarde
YIELD: 8-10 servings
INGREDIENTS
4 or 5 ripe red plums, halved and pitted
2 tablespoons unsalted butter
2 large eggs
⅓ cup granulated sugar
½ cup heavy cream
1 vanilla bean, halved
Confectioner's sugar, to garnish
2 pears
2 cups red wine
¼ cup sugar
METHOD
Preheat oven to 400°F. Butter the bottom and sides of a 9-inch round pie or tart pan. Place plum halves cut side up, evenly over bottom of buttered pan.
In a medium bowl, whisk together the eggs, nutmeg and sugar until light and frothy. Add the heavy cream, seeds of the vanilla bean and flour, and whisk until smooth. Pour the batter into the pan around the plums.
Top the batter with the halved, spent vanilla beans. Bake the flaugnarde in the middle rack of the oven for about 30 minutes, or until the edges are golden brown and puffed up.
Poach pears in red wine and sugar.
Remove flaugnarde from the oven, and cool slightly. Top with poached pears and brûléed sugar.
Holiday Menu Tip
from Chef Alan Maw
Plums are in season typically from summer to fall, and pears are at their best from fall to winter. These stone fruits complement each other well and blend the seasons together for a delicious dessert combination.
Drink
New York Sour
YIELD: 1 cocktail
INGREDIENTS
2 ounces rye or bourbon whiskey
1 ounce fresh lemon juice
1 ounce simple syrup
½ ounce fruity red wine (such as shiraz or malbec)
METHOD
Combine 2 ounces rye or bourbon whiskey, 1 ounce fresh lemon juice and 1 ounce simple syrup in a cocktail shaker. Fill with ice, cover, and shake until outside of shaker is frosty, about 30 seconds. Strain into a rocks glass filled with fresh ice.
Gently pour ½ ounce fruity red wine over the back of a spoon held just above the drink's surface so wine floats on top.
Holiday Menu Tip
from Chef Alan Maw
The New York Sour makes for the perfect holiday cocktail, combining the warmth of rye whiskey with the fruity tones of the claret; the floating red wine gives it the perfect burgundy hue for celebrating the season.