Help guests ring in the season with these cocktail and mocktail recipes
Pom Fizz Mocktail
YIELD: 1 cocktail
INGREDIENTS
2 ounces pomegranate juice
1 ounce fresh lemon juice
½ ounce orange juice
½ ounce cinnamon simple syrup
1 ounce sparkling cider
Pomegranate seeds for garnish
METHOD
Combine the three juices and simple syrup. Stir, pour over ice, and top with sparkling cider.
Smoked Cranberry Old-Fashioned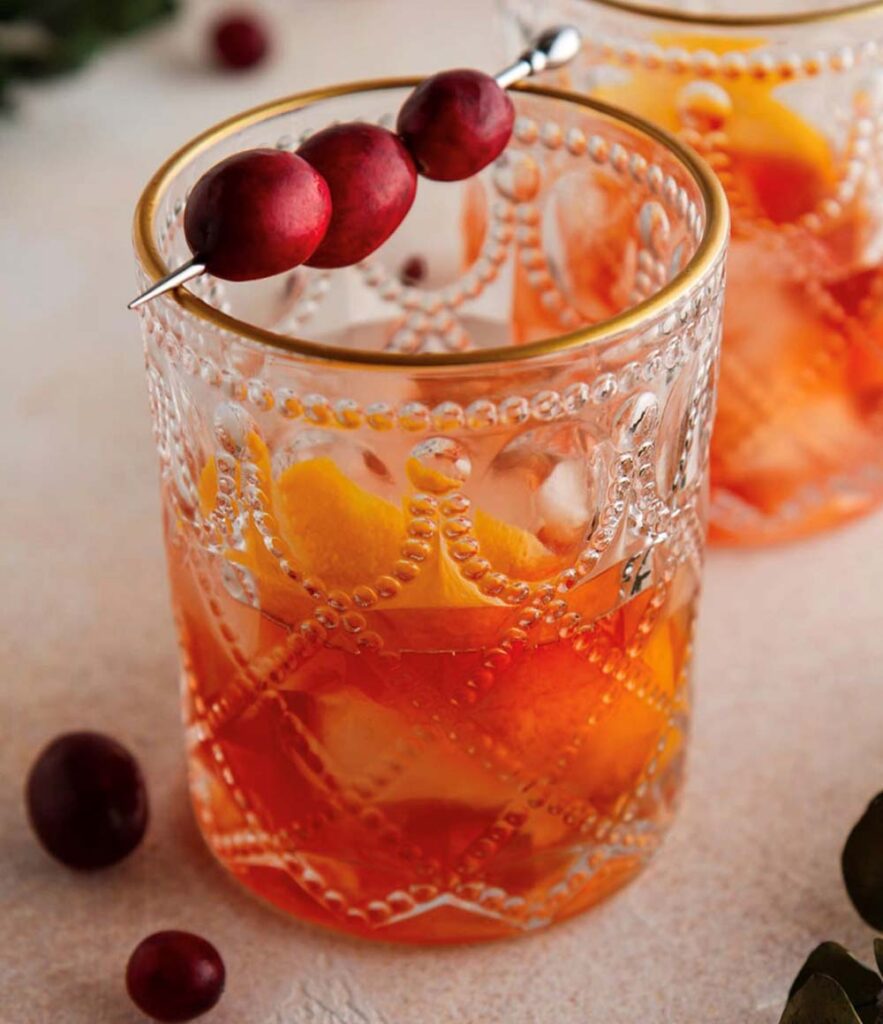 YIELD: 1 cocktail
INGREDIENTS
For cranberry simple syrup:
1 twelve-ounce bag of cranberries
1½ cups water
1 cup sugar
For cocktail:
½ ounce cranberry simple syrup
2 ounces of your favorite bourbon
2-3 dashes Angostura bitters
1 ounce cranberry juice
Ice
METHOD
For cranberry simple syrup: Combine water, sugar and cranberries in a medium saucepan, and bring to a simmer over medium heat. Simmer for 15 minutes, or until sugar is fully dissolved and cranberries have popped and softened.
Pour the mixture through a fine mesh strainer. Transfer the syrup into a glass container and allow to cool before using.
For cocktail: Combine the cranberry simple syrup, cranberry juice, bourbon, bitters and ice in a glass, and stir to combine. Garnish with rosemary and orange peel as desired.
Place a smoker over the top of your cocktail and fill it with pecan wood chips. With a smoker torch, burn the wood to fill the glass with smoke. Wait 20 seconds, remove smoker, serve, and enjoy!
Espresso Old-Fashioned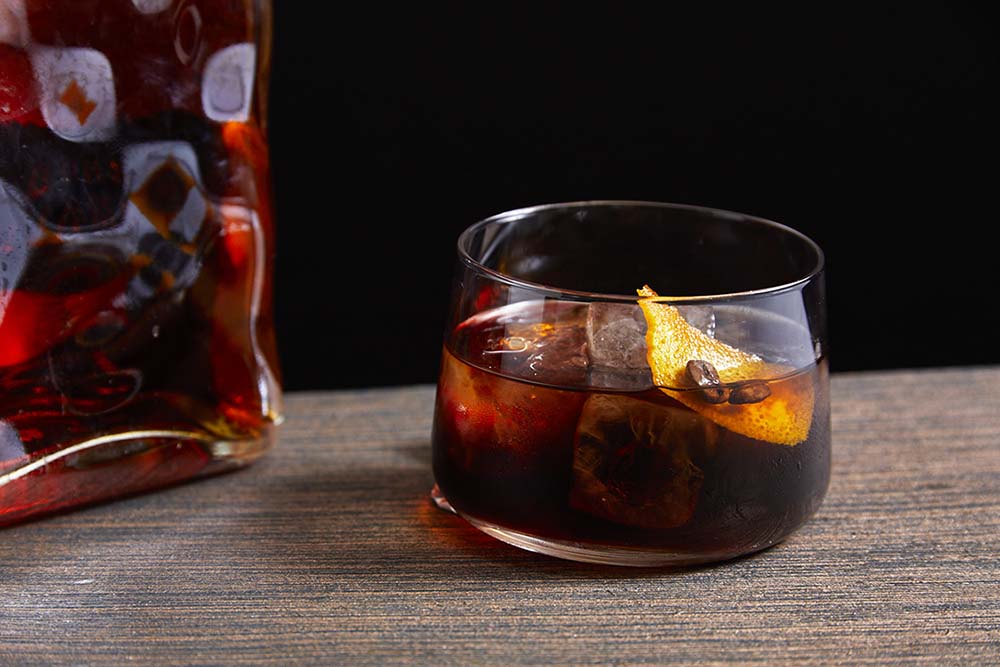 YIELD: 1 cocktail
INGREDIENTS
2 ounces rye whiskey
1 ounce Mr. Black Coffee Liqueur
1 ounce orange simple syrup
½ ounce espresso
Dash of orange bitters
Orange peel and coffee bean for garnish
METHOD
Combine ingredients in shaker, then pour over ice.
White Chocolate Peppermint Martini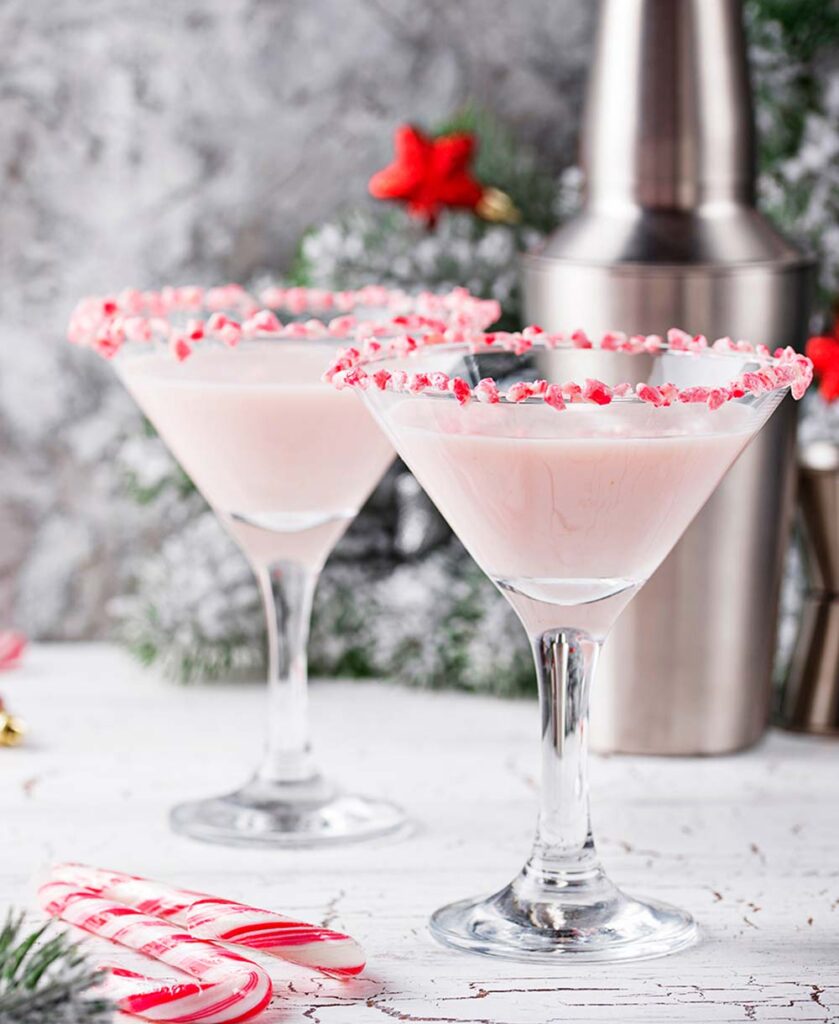 creationsincuisinecatering.com
YIELD: 1 cocktail
INGREDIENTS
1 ½ ounces white chocolate liqueur (Godiva)
1 ½ ounces vanilla vodka
1 ounce creme de cacao (clear/white)
1 ounce half-and-half
½ ounce peppermint schnapps
White chocolate syrup and crushed peppermints to garnish
METHOD
1. Begin by preparing your martini glass. Rim the edge of the glass with white chocolate syrup, then dip it into crushed peppermint candies or crushed candy canes. Set glass aside.
2. Add the white chocolate liqueur, vanilla vodka, creme de cacao, half-and-half, and peppermint schnapps to a cocktail shaker with ice. Shake, then strain into your prepared martini glass.