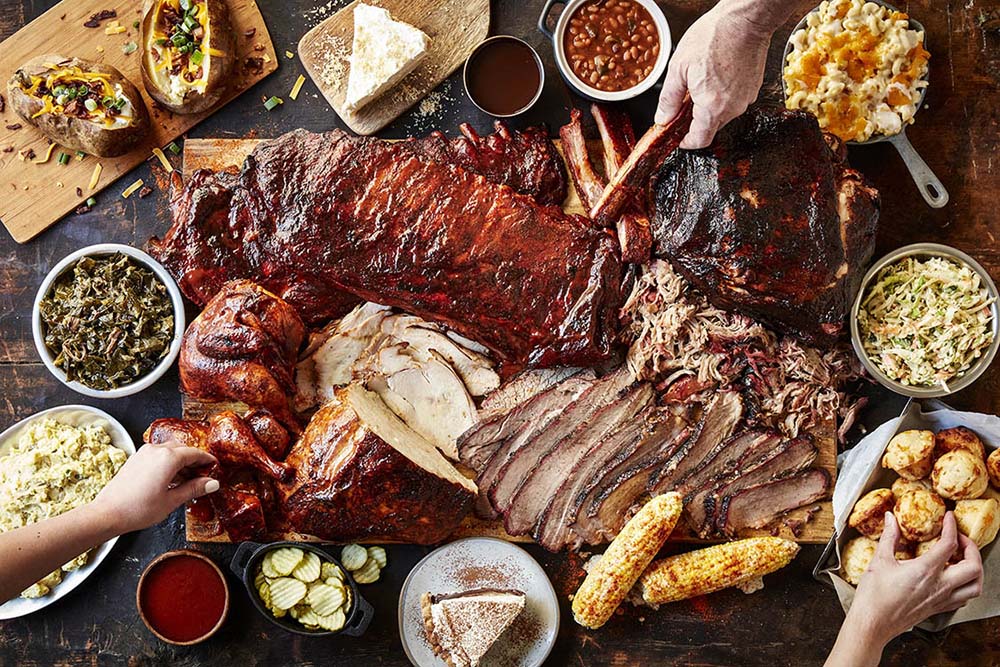 Tempt customers with these four sizzling barbecue trends
By Connie Jeske Crane
Low and slow cooking, lips and fingers sticky with fiery-sweet sauces, and a warm, communal vibe around the table. In America, there is a deep connection with and appreciation for barbecue, rooted in traditions that stretch back centuries.
For foodservice professionals, too, there's a lot to love. The barbecue format is perennially popular. And that appeal only ramped up during the pandemic, as households and businesses alike opted for more outdoor gatherings.
Those are good reasons to keep barbecue in your repertoire. But let's pile on one more. While comfortingly familiar, today the barbecue concept is also buzzing with innovation and delicious trends to explore.
So, what's on the grill? And what ideas can you tap to tempt your catering customers? We took our questions to several barbecue-loving operators across North America, who shared with us some sizzling trends for 2023.
Bold new flavors
One of the biggest trends food industry watchers are seeing is an outsized appetite for novelty—a shift that extends to barbecue. As American food journalist and barbecue guru Steven Raichlin notes in his annual 2023 trend list, "American grill masters continue to expand our horizons." The planet-roaming influences Raichlin cites include Filipino and Israeli barbecue traditions, Italian porchetta and West African barbecue, where seasonings include a "fiery blend of chili peppers, ginger and ground peanuts."
On the ground, we found plenty of examples of foodservice professionals stepping up to meet demand for innovation. In Los Angeles, Stuart Eubanks, chef/owner of Who's Hungry Caribbean & Catering, has a menu packed with spicy flavors. On the catering side, where corporate business is a mainstay, popular offerings include jerk chicken, tamarind chicken and oxtails (which are first smoked then simmered), plus sides like rice and peas, fried yucca with mojo, sweet plantains and stewed greens.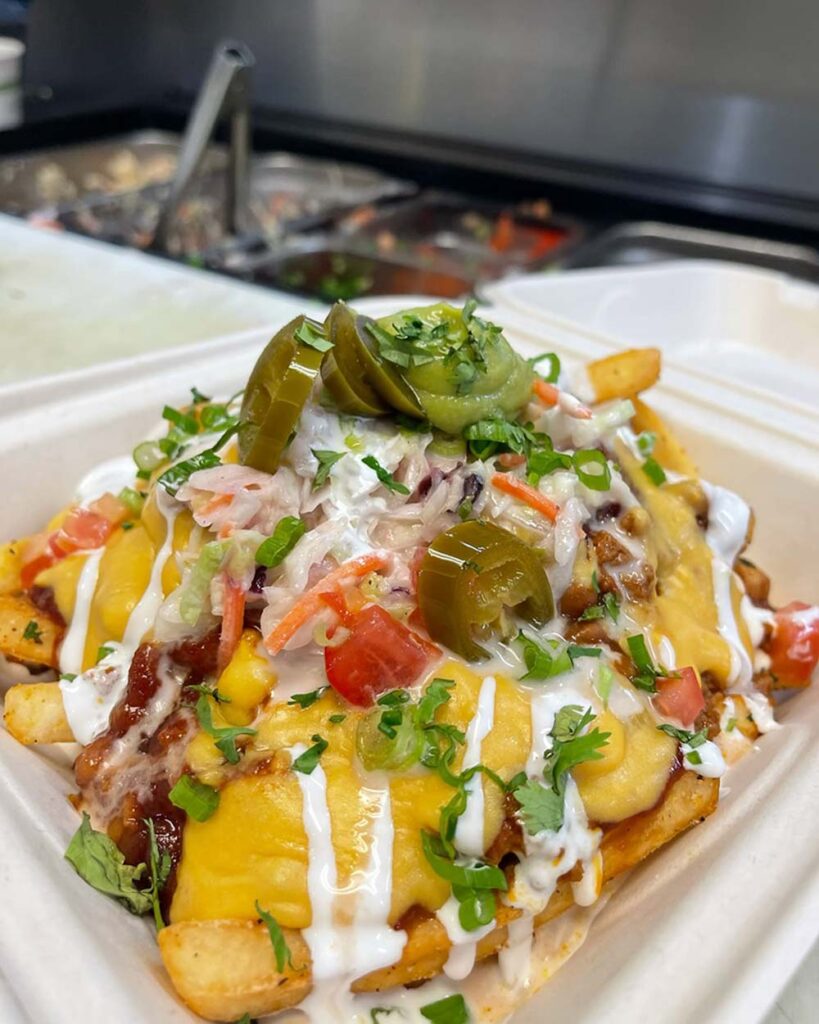 Left to right: Vegan Mob's Fully Loaded Mob Fries; Spicy Portobello Mushroom Bowl from Who's Hungry; Cali Doubles from Who's Hungry
Eubanks—who was trained at Le Cordon Bleu College of Culinary Arts in Los Angeles and has worked in establishments like The Bazaar by José Andrés—is known for coaxing complex flavors from the grill. "I just kind of take bits and pieces of a lot of things to make my own seasonings. I read a lot of cookbooks," he says. "Trinidadian is probably my favorite because I feel like it encompasses so many cultures."
Eubanks, too, has witnessed a rise in adventurousness. "People are trying to find different flavors, things they haven't had before," he says. "And they'll take a look at the menu and just start picking things they haven't tried before." Eubanks attributes this shift in part to social media, noting, "People will keep on looking for something that somebody posted on Instagram."
North of the border, in Ontario, Canada, PigOut Catering is a multi-franchise concept encompassing a portable roasting system (designed by founders Anne and Alan Dickson) and catering, notably including whole roasted pigs. Chris McLaughlin, owner of the franchise in the Greater Toronto Area, sees a similar trend—clients seeking unique flavors. "What we focus in on is delivering whatever style the client wants," says McLaughlin. "If they want a brown sugar rub, no problem. 'Let's research it. You tell me what you're looking for. And let's put that together.'"
Top row, left to right: PigOut Catering's pulled pork; slow-smoking at Jim 'N Nick's; brisket from Jim 'N Nick's. Bottom photo: Cheese biscuits from Jim 'N Nick's
Besides McLaughlin and his wife Kristine, fellow franchisees Linda and Nelson Diaz, and Stacey and Daniel Falls work together to serve the Southern Ontario region. In addition to traditional barbecue flavors, standard menu options include Greek-inspired chicken souvlaki, rotisserie chicken marinated in Jamaican jerk seasonings, Italian porchetta and whole roasted lamb with homemade chimichurri.
Particularly for events like weddings, customers are choosing adventurous sides. "Whether it be maple icewine baked beans or an Asian coleslaw, or a quinoa and lemon salad, they still want that upgrade and change on the flavor profile," says McLaughlin. "People don't just want, you know, a regular Caesar salad on their table."
This shift even pops up in traditional barbecue strongholds. "Guests are wanting to stray a bit from what you'd call 'ordinary barbecue fare,'" says Trent Wright, director of off-premise services for Jim 'N Nick's Bar-B-Q, a barbecue chain operating across Alabama and other Southern states.
Recent additions to the Jim 'N Nick's menus include new sauces. "We have a smoked chicken wing that we do and toss it in our Morgan County white sauce, which is mayonnaise and honey-based that originated up in Morgan County in north Alabama," says Wright. "That has become a real popular item because it's a little bit different." There's also a new combo meal, offering two or three proteins: "People want to try different proteins and not just stick to one."
Authenticity
With so much barbecue on offer, caterers can successfully distinguish themselves by conveying authenticity and passion for their craft. Elements that seem to resonate include:
Original recipes: In Chicago, industry veteran Tyris Bell recently opened his own restaurant, Bell Heir's BBQ. His lineup of fresh-from-the-smoker dishes includes brisket, rib tips and a Houston-style barbecue turkey leg smothered in mac 'n' cheese. The recipes are a powerful draw here—in part, cherished family recipes, plus ones inspired by Bell's travels. "I went to Texas and Memphis, just trying out different barbecue sauces and different styles," says Bell.
Slow-food techniques: At Jim 'N Nick's, known for its state-of-the-art hickory rotisserie smokers, Wright says there's pride in not taking shortcuts. "It's always been 'scratch made.' You know, we do not have any freezers or microwaves in any of our restaurants, which we pride ourselves on—that everything's made from scratch daily."
Communal excitement: From rotisserie spits to smokers, attendees today tend to be captivated by outdoor cooking formats. At a recent beachside event, Eubanks lugged along his Caribbean-style barrel grill plus specialty woods like avocado and grilled the chicken and whole snapper in front of guests. "We did everything out where everybody could watch. People just like seeing the show!"
Grassroots involvement: PigOut is a lively supporter of the local Ontario food scene—incorporating local produce and meats on its menus, doing popups at local events, and maintaining membership in local food organizations, such as Ontario Pork.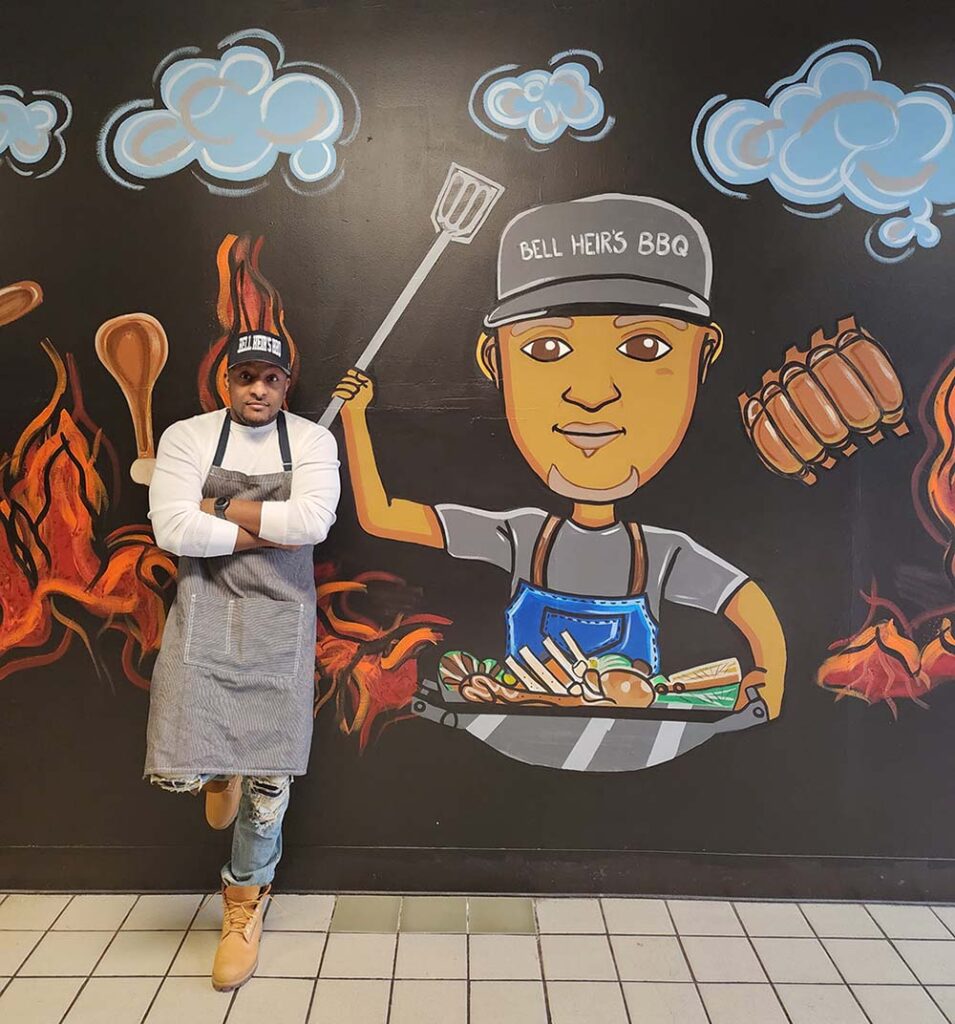 Tyris Bell at Bell Heir's BBQ (left); Houston-style BBQ turkey leg smothered in mac 'n' cheese from Bell Heir's
Inclusivity
While barbecue may have felt off-limits to some before, another huge trend of late is much more sophisticated barbecue fare for vegans, vegetarians and guests with special dietary needs.
In Oakland, California, Toriano Gordon of Vegan Mob BBQ & Soulfood has received high praise from Food & Wine magazine, and an endorsement from actor Danny Glover for his plant-based versions of quintessential barbecue favorites. His menu includes vegan brisket, ribs, rib tips and sausage links, plus tacos and sides such as baked beans and a Japanese-inspired fried rice.
Gordon's food starts with meat substitutes such as Beyond Meat and Next Meat, to which he layers in house-made sauces, slow-cooking techniques like smoking and grilling, and fusion sensibility. "I'm from San Francisco," says Gordon. "It's hard for me not to put fusion on the menu." Besides a restaurant and food truck, Gordon recently added catering. Now handling weddings, parties and corporate events, he is pleased with the growth, noting, "It's almost become a whole other business."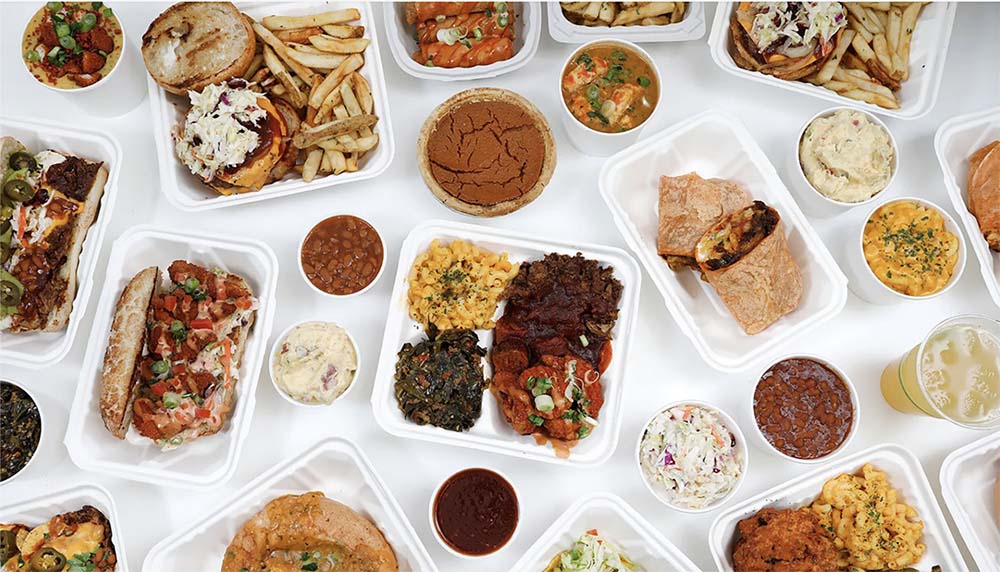 Left: Specialties from Vegan Mob. Right: Vegan Mob's family pack with Mobba'Q Spaghetti, Tasha's Slaw and cheese fries
At Who's Hungry, Eubanks caters to vegans intentionally with grilled choices such as jerk tofu and spicy portobello mushrooms.
PigOut menus feature gluten-free, dairy-free and vegan options, with grilled dishes such as pulled jackfruit, vegetable pasta and roasted stuffed peppers.
At Jim 'N Nick's, Wright says, "We have a lot of requests for vegetarian options, which we're able to do on the catering side." Besides a black bean burger, Jim 'N Nick's also carries a good range of gluten-free options.
Branded merchandise
Finally, with more customers barbecuing at home post-pandemic, many caterers find that investing in branded items (spice rubs, sauces, T-shirts, caps and equipment rentals) is another great way to improve their bottom line.
Via its Niagara location, PigOut rents out pig roasters (propane or charcoal) to some customers, complete with a seasoned pig.
And at Jim 'N Nick's, Wright says, "The retail business is strong, and we hope to add additional items for sale." Currently, the company sells signature sauces, rubs and biscuit mix. "That's probably the highlight of our retail businesses, that cheese biscuit mix," Wright adds. "It's fun for families, that they can make the cheese biscuits at home. And they're darn good!"
For More Information
Bell Heir's BBQ
bellheirsbbq.com
Who's Hungry Caribbean & Catering
whoshungrycatering.com
Vegan Mob
veganmob.biz
PigOut Catering
pigout.ca
Jim 'N Nick's Bar-B-Q
jimnnicks.com