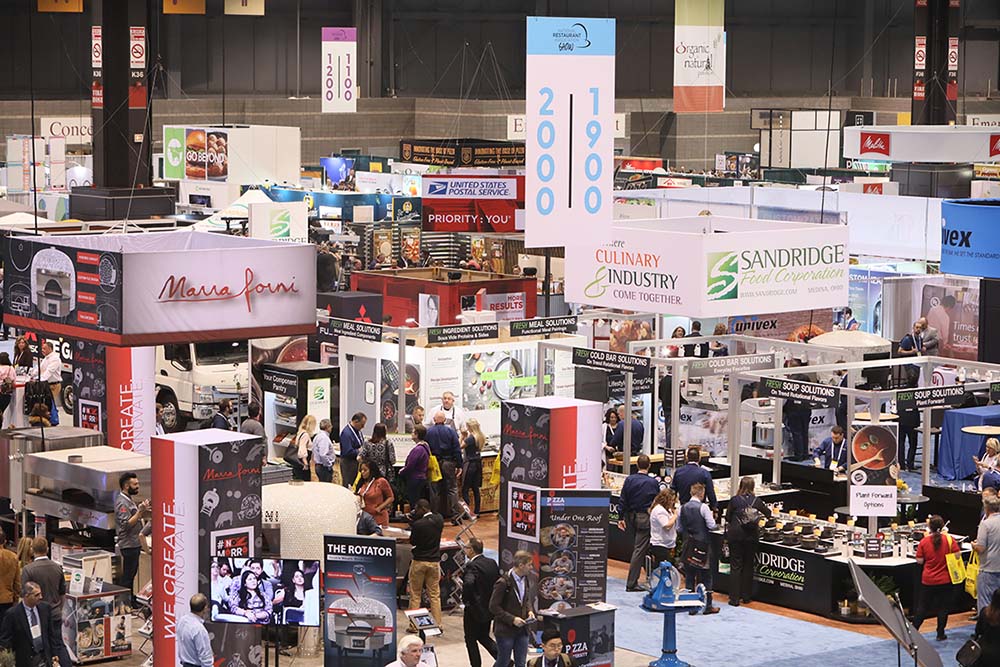 Discover ideas and inspiration at the National Restaurant Association Show, taking place May 21-24, 2022, in Chicago
The age-old saying "people eat with their eyes" holds new meaning in today's post-COVID culture. Not only are you tasked with creating eye-catching displays that spark joy and satisfaction, but you now must also portray your food stations as safe and sanitary. There is a new standard of approachability in catering foodservice, and it can be challenging to continuously innovate ways to make sanitary remarkable and appetizing.
At the National Restaurant Association Show, you'll find a year's worth of ideas on how to design food stations that catch the eye of customers, make people feel safe and delight the taste buds.
National Restaurant Association Show Overview
The National Restaurant Association Show, happening May 21-24, 2022, at McCormick Place in Chicago, Illinois, is the source for retail foodservice inspiration.
The National Restaurant Association Restaurant, Hotel-Motel Show is the largest annual gathering of foodservice professionals in the Western Hemisphere. The Show brings together the people, ideas, products, solutions and information that make up the entire domestic and international industry spectrum.
For more than 100 years, the National Restaurant Association Show has been the most trusted resource for the entire foodservice industry.
Whether attendees are looking for new ways to individually portion and display food, creatively incorporate the latest plant-based food into meals and more, they'll find it with seven education tracks and hundreds of suppliers on the Show floor.
Attendees can discover new ways to deliver exceptional guest experiences on the immersive Show floor, where they'll see, smell, and taste the best new food and beverage items.
By joining a global community of foodservice professionals in Chicago, attendees will find all the inspiration (and products) they need to make sure their restaurant is part of the next evolution of foodservice—in just a few days.
Key Highlights

Show Floor: With 97 catering-focused exhibitors confirmed thus far, attendees will get a first look at new-to-market equipment, products, food and display.
Catering Supplies: 52 Exhibitors
Computerized Sales & Catering: 8 Exhibitors
Food Delivery & Catering Equipment: 37 Exhibitors
Keynote Speaker: Presented by American Express, Alexis Ohanian—venture capitalist, founder of Seven Seven Six, co-founder and former executive chairman of Reddit, and best-selling author—will headline the 2022 event as the keynote speaker. With his vast knowledge and experiences in today's new business realities, Ohanian will shed light on how embracing disruption can amplify growth, personally and professionally.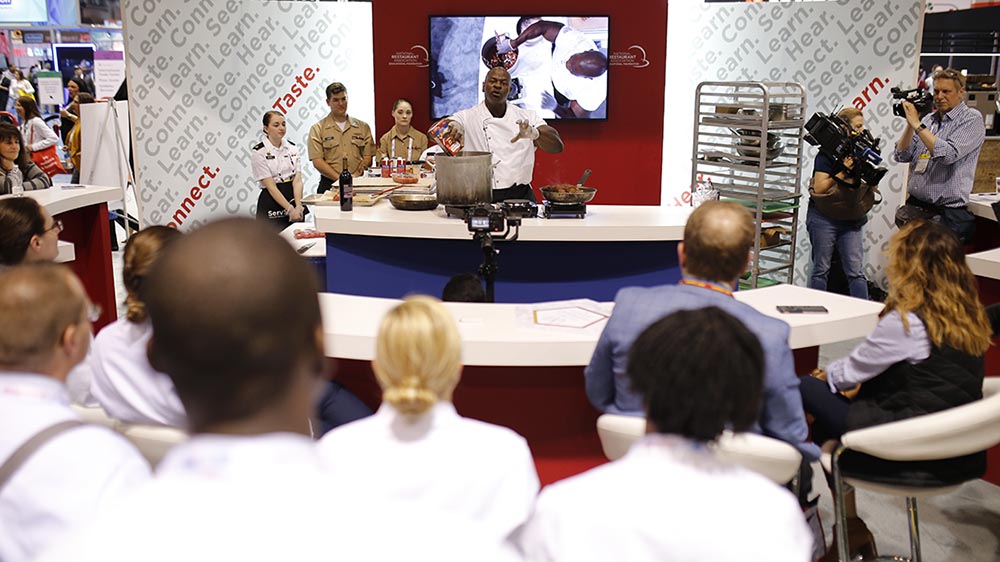 Featured Session with Technomic: Presented by Uber Eats, "Restaurants in the Hot Seat" will take place Monday, May 23, at 1 p.m., and will examine the future of restaurants and how consumers' behaviors will continue to evolve.
Led by Technomic and guests from top foodservice operations, the session will address these topics in a new and fast-paced debate.
Operators will also share how they're putting valuable Technomic industry and consumer insights into practice, along with actions needed to tackle today's and tomorrow's challenges in order to win big in business.
Education: The Show's expert-led education program will feature timely sessions and deep-dive workshops to help build the future of the industry, with focuses on ghost kitchens and virtual brands, restaurant technology, culinary insights, operations solutions, new consumer trends, wellness, workforce recruitment and development, and more.

Seven education tracks will include: Culinary Insights, Operations Solutions, The New Consumer, Technology Strategies, Trends in Adult Beverages, Wellness, Workforce Recruitment and Development.
FABI Awards: The Food and Beverage (FABI) Awards program recognizes food and beverage products that are breaking new ground in taste, creativity, packaging and profit potential. This year's FABI winners were announced on March 16.

Attendees will have the opportunity to taste several years of FABI award-winning products. Along with the 2022 winners, the awardees from 2020 and 2021 will exhibit at this year's event.
TECH Pavilion: See the leading products, tools and processes from more than 110 exhibitors that can help to make businesses more modern, efficient and profitable.
These will include technology products and solutions for the foodservice and hospitality industry, such as software; services; equipment, e.g., kiosks, touch screens and printers; computer/internet services; and app companies.
Celebrated Chefs: Learn from celebrated chefs during demonstrations that bring the culinary trends you've been hearing about to life.

Lanie Bayless (Spirits Director, Frontera Grill and Frontera Hospitality)
Rick Bayless (Award-winning chef and author)
Lamar Moore (Executive Chef, Eleven, Eleven)
Cassie Sakai (Wine Director, Gibson's Restaurant Group)
Andrew Zimmern (Award-winning chef, TV personality, author and teacher)
Ryan Manning (Chef and owner, MX Taco Restaurants)
Kitchen Innovations Showroom: Gather unique approaches to automation, efficiency, sustainability and waste solutions at the Kitchen Innovations Showroom—the largest in Show history.
This year's recipients reflect the trends and topics most important to foodservice operators today, while generating industry growth through a focus on automation, efficiency, safety improvements, sustainability and more.
Awardees from 2020, 2021 and 2022 will all be on display, making this the largest Kitchen Innovations Showroom in the Show's history.
Beverage Room: Visit the Beverage Room to learn first-hand from top mixologists and master new ingredients and products to keep beverage programs on the cutting edge.

The Culinary Experience: Explore specialty areas like The Culinary Experience to get ahead of about-to-be-huge flavor trends. Celebrated chefs will demo techniques, recipes, taste combos, and more to impact and inform new menu ideas. Hop over to the Startup Alley to meet startup companies that are helping move the industry forward with fresh ideas in foodservice. For more information, visit nationalrestaurantshow.com/exhibitors/startup.
To learn more about the National Restaurant Show, visit nationalrestaurantshow.com.