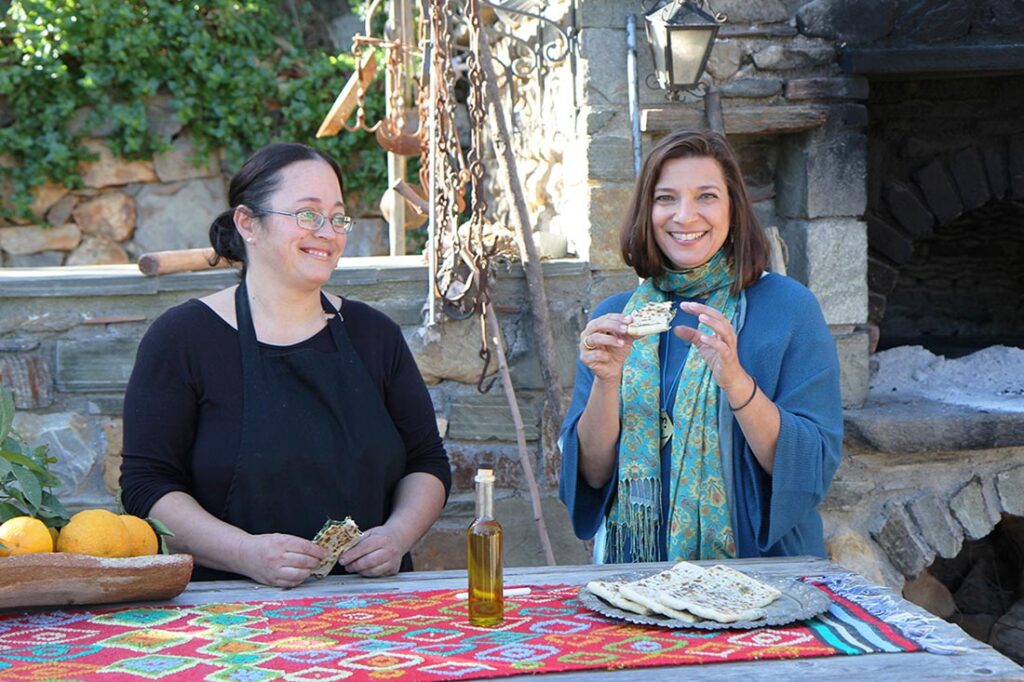 Cooking show host Diane Kochilas educates an international audience on Greek food's history, variety and health benefits
By Sara Perez Webber
With roots on the Greek island of Ikaria, Diane Kochilas knows first-hand the health benefits of a Greek diet.
Ikaria is one of five global Blue Zones—identified by author Dan Buettner as a region where people live longer, healthier lives than elsewhere. Kochilas lives part-time on Ikaria, where she's run the Glorious Greek Cooking School every summer since 2003. A prolific cookbook author, with more than 18 titles to her name, she's also the host of My Greek Table with Diane Kochilas, a television series which premiered its third season on PBS in May.
This season, Kochilas takes viewers on a journey to the coastal areas of Greece. "I wanted to do Greece by water, so I focused on islands, from the well-known such as Santorini to the lesser-known, and some coastal areas like Messinia and the Athenian Riviera," says Kochilas, who divides her time between Greece and the U.S. "The best way to see Greece is from the water, and the most beautiful places, at least to me, are those where the sea is near. The food is really interesting, too, precisely because so much of it has been so well preserved for centuries."
As Mediterranean and plant-based diets grow in popularity—and strong immune systems boosted by healthy ingredients are more important than ever—Catering Magazine asked Kochilas for her insight on Greek cuisine, from favorite ingredients to its distinct characteristics.
CM: When did you know you wanted to be a chef, and what inspired you to devote your career to Greek cuisine?
KOCHILAS: My father, who is from the island of Ikaria, was a chef, so it's in my DNA. Greek families and food is an age-old love affair. I actually consider myself more of a professional home cook than a "chef." I believe that the title of chef should be reserved for those who dedicate themselves to the restaurant world. While I've certainly spent time in that world, I discovered fairly early on that it wasn't for me. I came to the kitchen via writing about food and taught myself to cook along the way.
CM: How have you seen Greek cuisine grow in popularity during your career?
KOCHILAS: It's grown tremendously and expanded into every area of dining and foodservice. From the classic Greek diner and street food like the gyro, to upscale restaurants, and, now, fast casual, the cuisine has truly taken off. In more recent years, Greek yogurt has led the way for wider recognition of the health benefits of Greek cuisine, too.
CM: What are the characteristics of Greek food that differentiate it from other Mediterranean cuisines, and are there many regional variations within the country?
KOCHILAS: Hands down, the vast numbers of plant-forward and plant-based dishes that are part of the Greek tradition distinguish it from other cuisines in the Mediterranean. When most people think of Greece they think of the beautiful blue and whitewashed islands and the spectacular Aegean Sea, but in addition to the thousands of islands, Greece actually has a varied landscape with mountainous areas and fertile land. Traditions were preserved because so much of the country was remote for a long time, so untouched by outside influences. This varied landscape produces many regional variations across the country, including luscious eggplant dishes in Thessaloniki and Lesvos; succulent braised greens from Corfu, Crete, Rhodes and other places; savory pies galore, filled with everything from leeks to zucchini, to name but a few.
CM: Even though you've lived part-time in Greece for many years, do you still discover new things about Greek cuisine as you travel throughout the country for your show?
KOCHILAS: Every day! There is so much history here and so much regional minutiae and so many young people doing really innovative things that every day brings something I've never seen before. I love that aspect of this country.
CM: You focus a lot on the health benefits of a Mediterranean-Greek diet, and have even worked with universities such as Yale and Harvard to incorporate healthy Greek dishes into their menus. Are you seeing people especially gravitate toward Greek food now, when there's an added emphasis on maintaining good health in the COVID-19 era?
KOCHILAS: I'd say that there is definitely an uptick in interest in anything that can boost our immune systems naturally, especially in the U.S., where underlying health issues that are directly related to diet, like obesity and hypertension, have played a role in the pandemic and mortality rates from COVID-19. The Mediterranean Diet, and specifically the Greek Diet, which is so rich in plants and therapeutic herbs, is a great place to start if you want to change your life and diet. And, it's delicious, craveable and very sating, thanks to the generous use of olive oil.
CM: As travel has been curtailed due to COVID-19, have you seen an uptick in people interested in your online cooking classes?
KOCHILAS: Yes! And I am very grateful for that. I actually polled my fans from social media and my active database of followers, and have put together a series of new classes based on what people expressed interest in. A lot of it is plant-based Greek-Mediterranean.
CM: What are your favorite Greek ingredients to cook with, and what's your favorite Greek dish?
KOCHILAS: Olive oil, sea salt, petimezi (grape molasses), dried Greek oregano…they're all indispensable to me. I have about a thousand favorite dishes! It's impossible to name just one, but if I had to say one of my go-to dishes right now, I'd have to say it is watermelon-feta salad for the summer, classic Greek salad with great tomatoes and real Greek feta, and simple grilled fish with amazing Greek extra-virgin olive oil.
CM: While the events of 2020 have impacted many people's plans, at least in the near future, what do you plan to focus on in the year ahead and beyond?
KOCHILAS: Enjoying every day and not stressing out too much about anything. My Ikarian roots have taught me to not want more than I need. That's an important life lesson in these turbulent times!
For more information, visit dianekochilas.com.