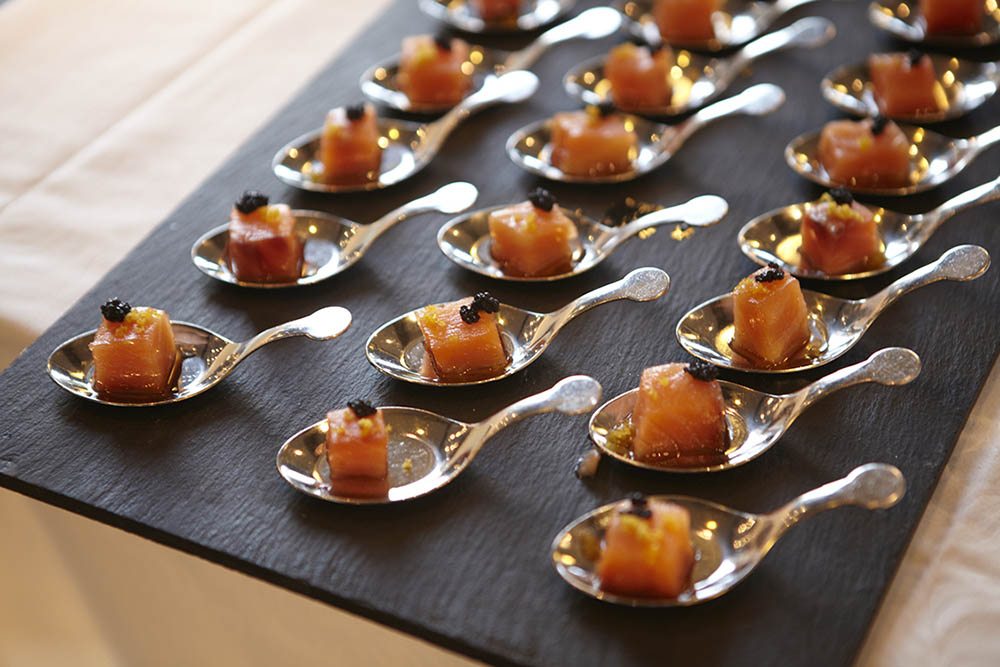 Caterers are changing the way they serve appetizers and hors d'oeuvres to ensure safer events
By Sara Perez Webber
The food served at the beginning of an event often sets the tone for the entire affair—even when it comes to safety considerations. Catering, Foodservice & Events asked four caterers how they're changing their appetizer and hors d'oeuvre offerings to ensure they're being served safely in a COVID-cautious world.
Proof of the Pudding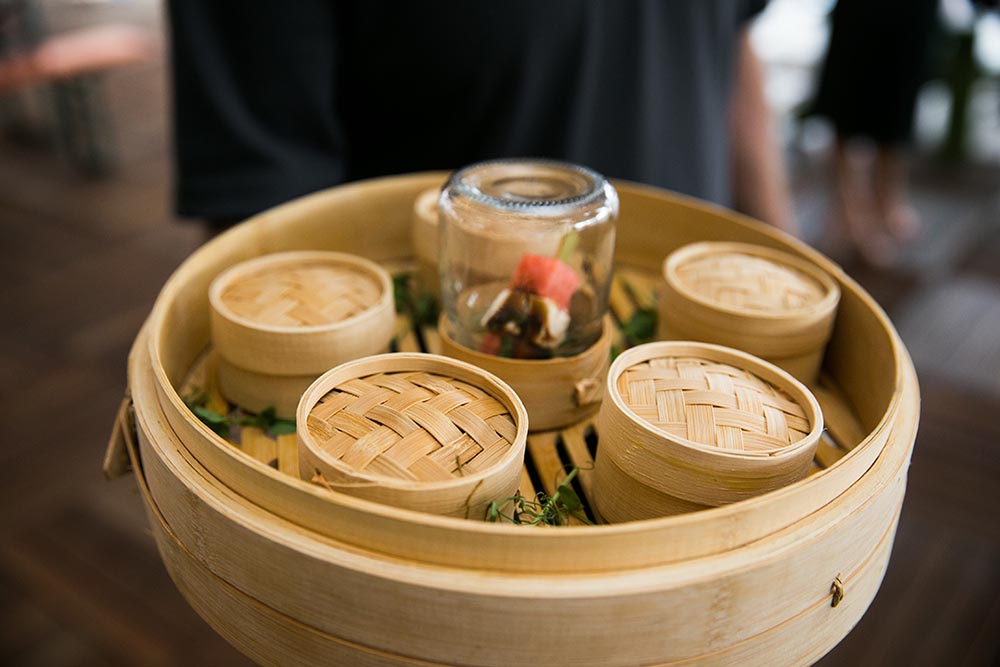 "It's all about the vessels" when it comes to serving appetizers in the COVID era, says Dina Biondo Iglesias, vice president of sales and marketing at Proof of the Pudding in Atlanta.
For example, Proof's popular pork belly bite—heirloom tomato and smoked pork belly skewer served over a roasted tomato vinaigrette with Thai basil—is passed in a clear, covered vessel. The company's also been utilizing small bamboo steamer baskets to keep appetizers covered, hot and safe. For appetizers served at stations, chefs assemble a small plate from behind a safety shield.
Individual Buddha bowls, served in covered plastic containers, "have been a huge hit," says Iglesias. The garden Buddha bowl, for example, features arugula, kale, romaine, frisee, red cabbage, cucumber, grape tomatoes, asparagus, spiced pepitos, watermelon radish and carrots with Asian vinaigrette.
Any of Proof's appetizers from its full-service menu can be boxed for the company's "take and bake" style meals, which are delivered or picked up by guests and then heated up at home. The most popular, according to Iglesias, have been individually portioned cheese and charcuterie boxes.
Blue Elephant Events & Catering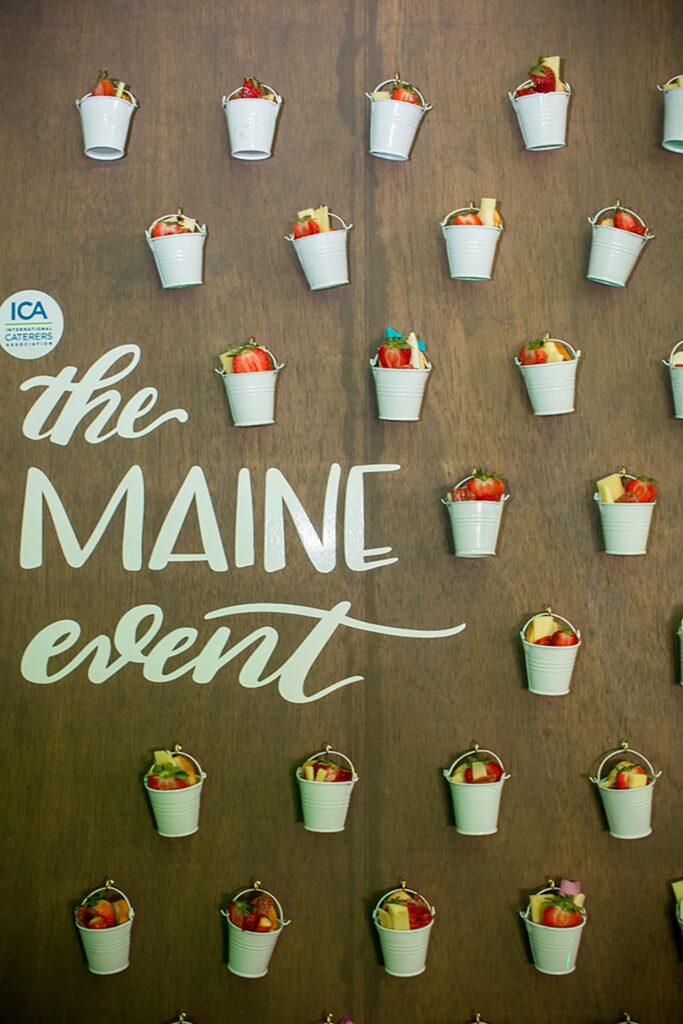 Appetizers and hors d'oeuvres "that the server can safely hand to the guest with no touching" are popular at the small events being catered now by Blue Elephant in Saco, Maine, according to Reuben Bell, president and owner.
Some are small bites that were on the menu before the pandemic, while others were recently revamped to be more COVID-friendly. Popular choices are served on skewers, such as chicken satay, bacon-wrapped scallops and bacon-wrapped sirloin; and in mini martini glasses, such as lobster salad. One server holds the tray of appetizers, while another passes the item to a clean plate held by a guest.
One innovative set-up features crudité served in little metal pails, hanging from hooks on a vertical board. A server hands a pail to each guest. Post-COVID, Blue Elephant has also changed the way it serves charcuterie, with individual servings arranged in cones and served on slate trays.
"The charcuterie cones have been hugely popular," says Bell. "More guests go for these than they do for a traditional charcuterie spread where they help themselves."
Katherine's Catering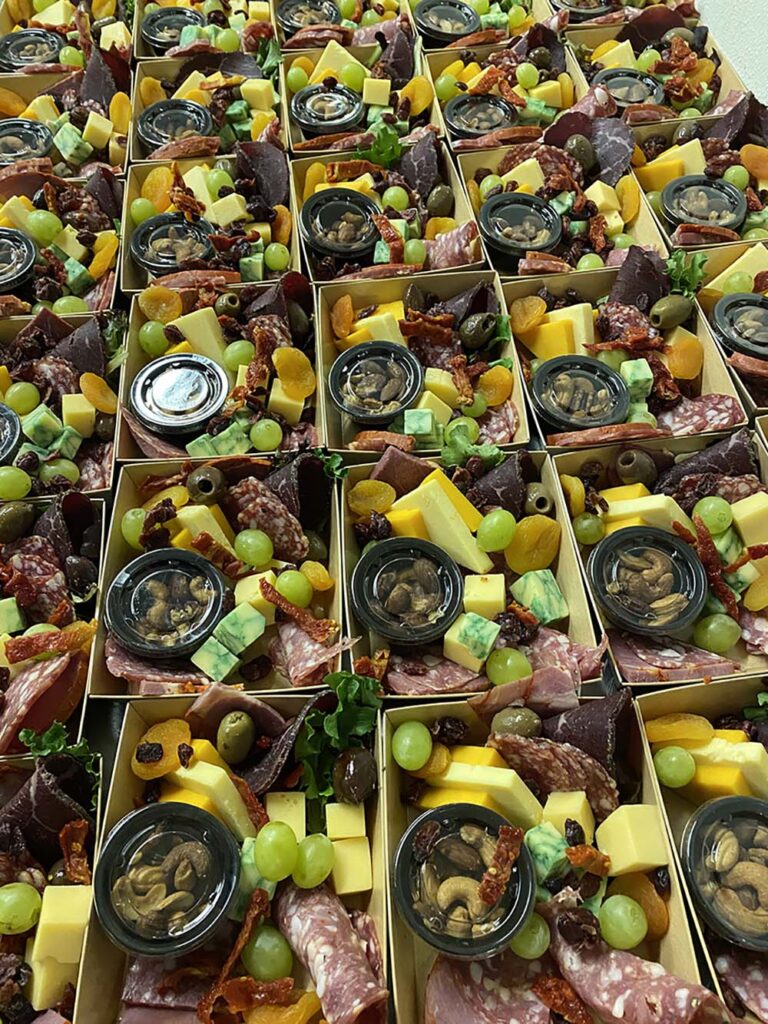 Katherine's in Ann Arbor, Mich., has been tweaking its appetizer menu in recent months to be portable. The "Cabin-Fever Appetizers" on the Katherine's To Go menu, available for curbside pickup as well as delivery for larger orders, are packaged cold, with heating instructions for quick preparation (if needed). The hand-crafted charcuterie option—with such items as chorizo, prosciutto, French triple crème brie, fig spread and grapes, served with crackers and grilled baguette slices—"is always popular," says Katherine Farrell, president and owner, adding that the spinach artichoke dip "is the BEST (we add some gorgonzola cheese and lots of lemon juice)."
While Katherine's traditionally offered seasonal appetizer packages for 20 guests, due to COVID gathering restrictions in Michigan, the offerings in its Winter Celebration Menu (offered November through February) are built for eight. The most popular choice is the mustard encrusted beef tenderloin, with field greens, pickled red onion, plum tomato slices, cornichons, mustard aioli and brioche. Another customer favorite is the vegan buffalo cauliflower dip, made with cashews, chickpeas, lemon, garlic, onion and hot sauce, offered with homemade corn tortilla chips and baguette slices.
When creating delivery menus such Katherine's Christmas Eve/Day Menu Package, Farrell makes sure the appetizers complement the dinner menu; are simple to heat and easy to enjoy; and provide family appeal. The "Festive Appetizer Package" in the Christmas menu, for example, included bacon-wrapped dates, Tuscan meatballs and a shrimp cocktail platter, beautifully presented on disposable trays. Children and adults alike especially enjoy the dates and meatballs, says Farrell, adding: "My youngest grandchild, age 3, managed to eat four meatballs!"
Roots Catering
According to Craig Barbour, executive chef and owner of Charlotte, N.C.-based Roots Catering, cocktail hours are being shortened or left out of events altogether as people seek to have safer gatherings. When clients request a lower number of appetizers than would have been normal pre-COVID, "we usually recommend individual charcuterie or grazing table trays, so guests can get something substantial before eating dinner," says Barbour. Individual servings of buffalo chicken dip with crostini are another popular, filling option, he says.
For its robust drop-off business, Roots is training delivery staff members to finish the appetizers once they arrive at the destination. "We are suggesting things that can stay really hot for a long time, like our Carolina bison meatballs with a bourbon cherry glaze," says Barbour. Dips work well for drop-off, too. Barbour says Roots' Maryland-style crab dip, kale and artichoke dip, and apple baked brie dip are all top sellers.
Clients can request real platters and serving dishes for drop-off. In that case, Roots will leave large, empty bins to be filled and picked up later. About half of Roots' drop-off customers request the fully disposable option. Between drop-off business and the COVID-friendly serving methods it's using for in-person events—appetizers served in disposable vessels such as tasting spoons as mini plates, for example—"our disposables budget is just ridiculous right now," says Barbour.