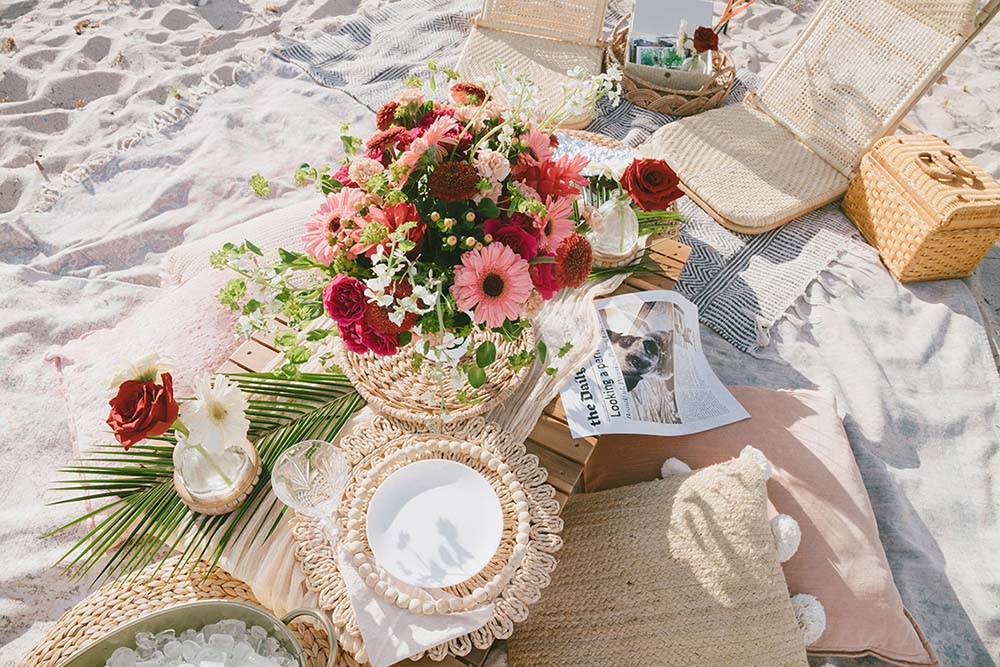 Planners are taking picnics up a notch, creating picture-perfect settings for small gatherings
By Sara Perez Webber
In the thankfully-behind-us days of the COVID pandemic, the popularity of picnics soared. Picnics, after all, provided a way for people to socialize and enjoy a meal outdoors, without having to worry about indoor dining restrictions.
"The pop-up picnic business is booming in the age of coronavirus," declared Today.com in November 2020.
Fast-forward a couple years and it's clear that picnics haven't peaked. "The demand never settled," says Jay Negron, owner and planner at The Picnic Boys in St. Petersburg, Florida.
Negron started The Picnic Boys with his partner Ryan Winters as a side hustle to their day jobs in June 2021. Today business is booming—so much so that Winters now focuses on The Picnic Boys full-time. "We started out thinking we were only going to book enough picnics to pay a utility bill or two," says Negron. "One or two picnics a week has now turned to a consistent minimum of five to seven picnics a week."
So why are people so partial to picnics? To find out, CFE asked Negron and other picnic planners why these sweet, small affairs have taken off.
1. They're Simple.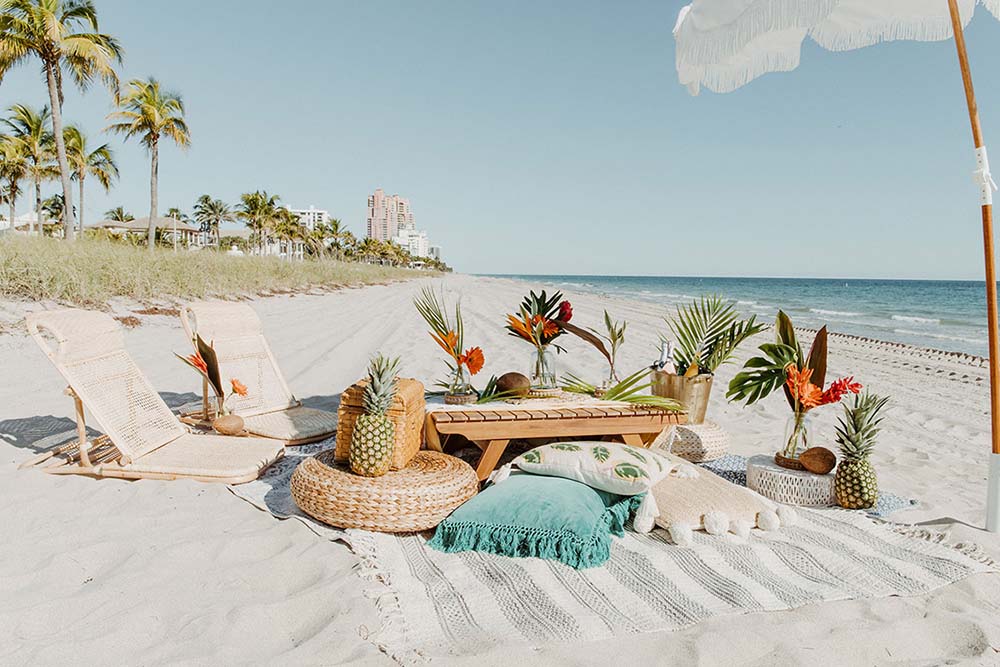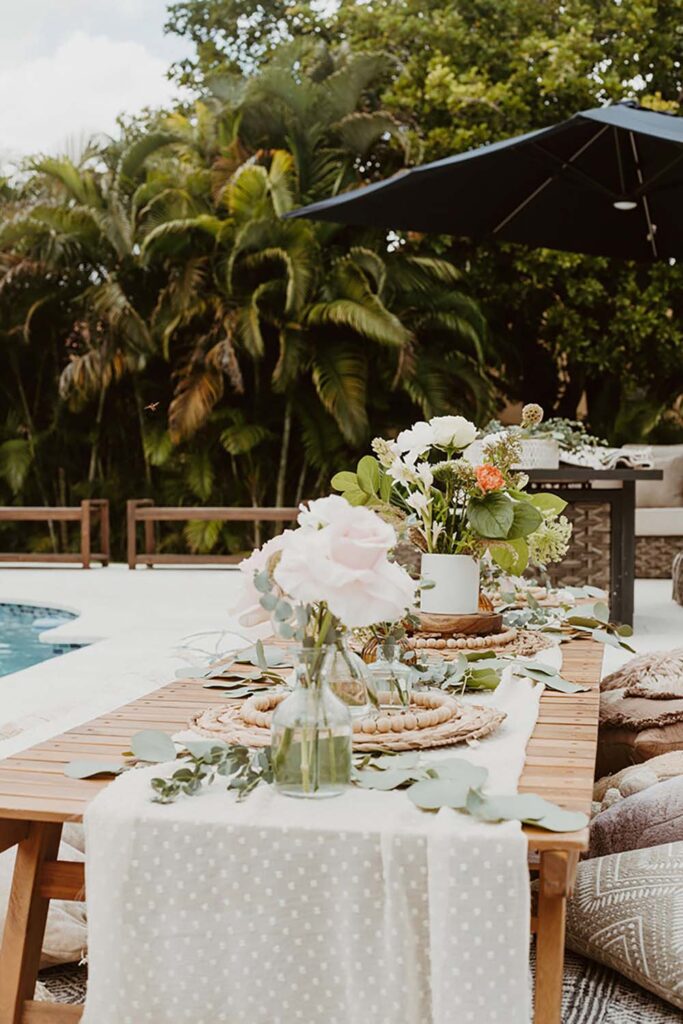 Hearkening back to less hectic times, a picnic "brings people back to simplicity," says Ashley Casoria, who co-owns The Little Gatherings in Fort Lauderdale, Florida, with her sister Lauren Cerrito. "Picnics are something that have been around for centuries; no one is reinventing the wheel here. It allows people a few hours to just unwind and do something they usually wouldn't get to do at a bustling restaurant or event."
The Little Gatherings (TLG) got its start when Casoria was planning a birthday celebration for Cerrito in October 2020. To avoid COVID restaurant restrictions, she opted for a picnic. "The idea was simple—meet at the beach in the open air, so everyone could come," says Casoria, who designed the picnic using a mix of items she owned and borrowed—showcasing wares from other small business owners struggling through the pandemic. "The table was a folded-out lawn chair. It was amazing, and the second the Instagram photos started getting posted, we were flooded with requests from friends and family asking us who we used for the setup."
The sisters decided to launch TLG the next day. "We focused it on the idea that smaller groups could come together to still celebrate life's big moments," says Cerrito. Within one month of creating an Instagram account, "we were booking picnics like crazy," she adds.
Most TLG clients choose the beach for their picnic, followed by small parks and private residences—with back-up locations on standby in case of inclement weather. "Bachelorette parties are currently leading the pack on what we book most of, which we love," says Cerrito. "We also do a ton of date nights and baby/bridal showers."
TLG's curated picnics include all the event rentals needed for a stylish affair, including floor-style snack tables; cushions and pillows for seating; rugs, tapestries and throws for under the tables; florals; bistro lighting for night events; and tableware—plus setup and breakdown. Clients are welcome to bring their own food and drink, though TLG provides flat or sparkling water, tea or lemonade with all setups. If the client wants to add on light bites, TLG will coordinate with a few charcuterie vendors they've partnered with. Casoria and Cerrito will also adjust the vibe of the picnic according to the client's wishes, mixing it with the sisters' signature aesthetic.
"We are both very boho/neutral in our personal design taste, so we carry that into our picnics and small event setups," says Casoria. "We are quick to incorporate new things to see if we like them at our setups, but our base neutral-toned feel has been with us since the first setup we did."
2. They're Instagram-Friendly.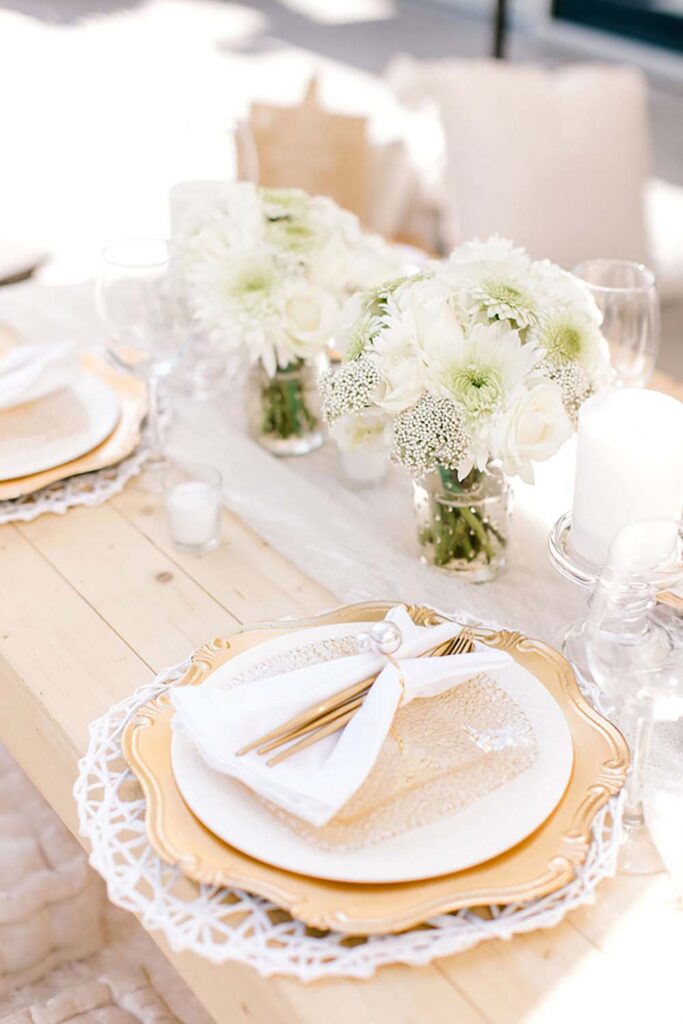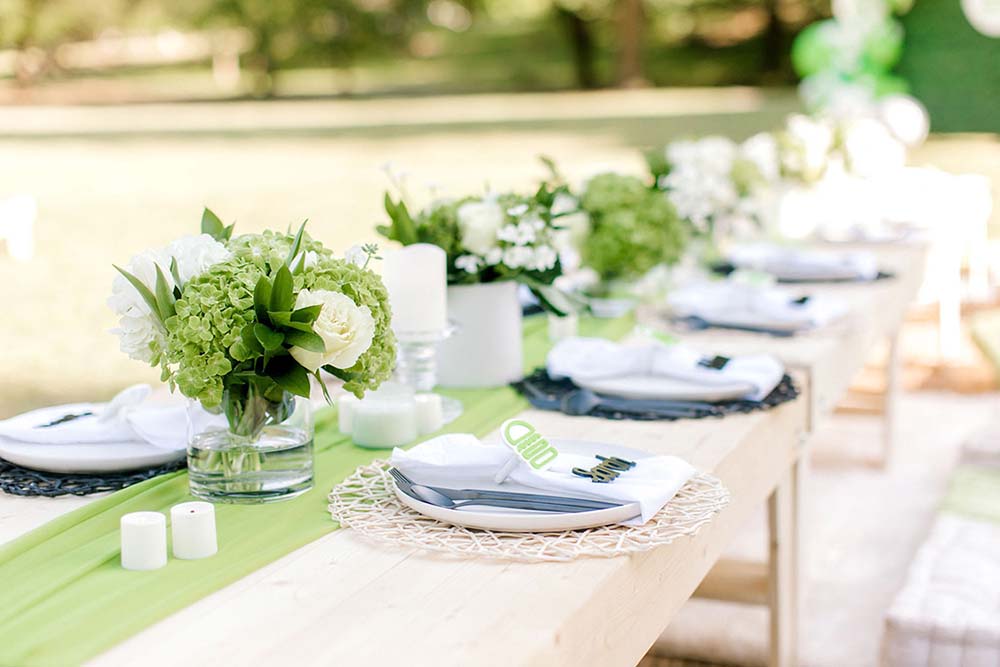 "For clients that care about aesthetics and how their pictures look on social media, they will always lean toward doing a luxury picnic," says Sugeidy Scott, owner and founder of La Fête Picnic Company in Atlanta. "You can certainly host a picnic with a blanket and bring a basket with deli items. However, elevated luxury picnics have the added luxury of custom tables, flowers and cutlery."
For the picnics she creates, Scott blends her personal aesthetic—dainty and whimsical—with the client's wishes. "I get their input on colors, flowers or a theme preference," she says. "Some clients like boho, modern or a monochromatic aesthetic. The best outcomes are when I'm given a general idea, and I'm free to use my creativity to create a custom picnic."
After launching La Fête in spring 2021—inspired by her daughter Sky, for whom she loves planning themed birthday parties—Scott has built a thriving business, catering mostly to birthday, anniversary and engagement celebrations with picnic packages for up to 14 guests.
Atlanta's Piedmont Park is the most popular picnic location for La Fête, which has also hosted picnics inside clients' homes or on their patios and porches. Two-hour packages include luxe picnic tables with rugs, cushions and throws; Bohemian umbrellas with fringe; tableware; candles; florals; a framed letter board with custom message; sparkling water and ice; and full setup and breakdown.
"I've also had corporate clients book my planning services for store openings and social media engagements with local influencers," adds Scott.
For example, last fall La Fête partnered on an event with Wit's End Llama Consortium, a company providing highly trained llamas for hire. "Our clients loved that they could interact with the llamas and take pictures while enjoying a boho picnic," says Scott. "This was a ticketed event, and it sold out pretty quickly."
About half of her clients request food at their picnics, so Scott will often coordinate with grazing board companies. "Grazing boards lend themselves to picnics because they are easy to transport," she says. "I have also worked with chefs that have created custom menus at a client's home."
3. They're Intimate.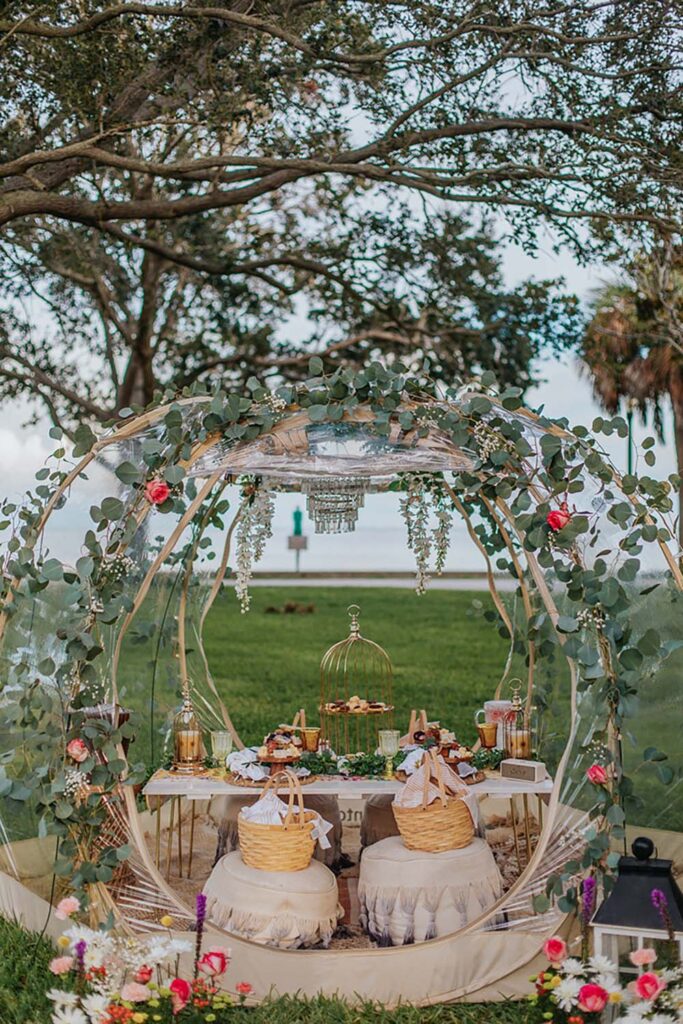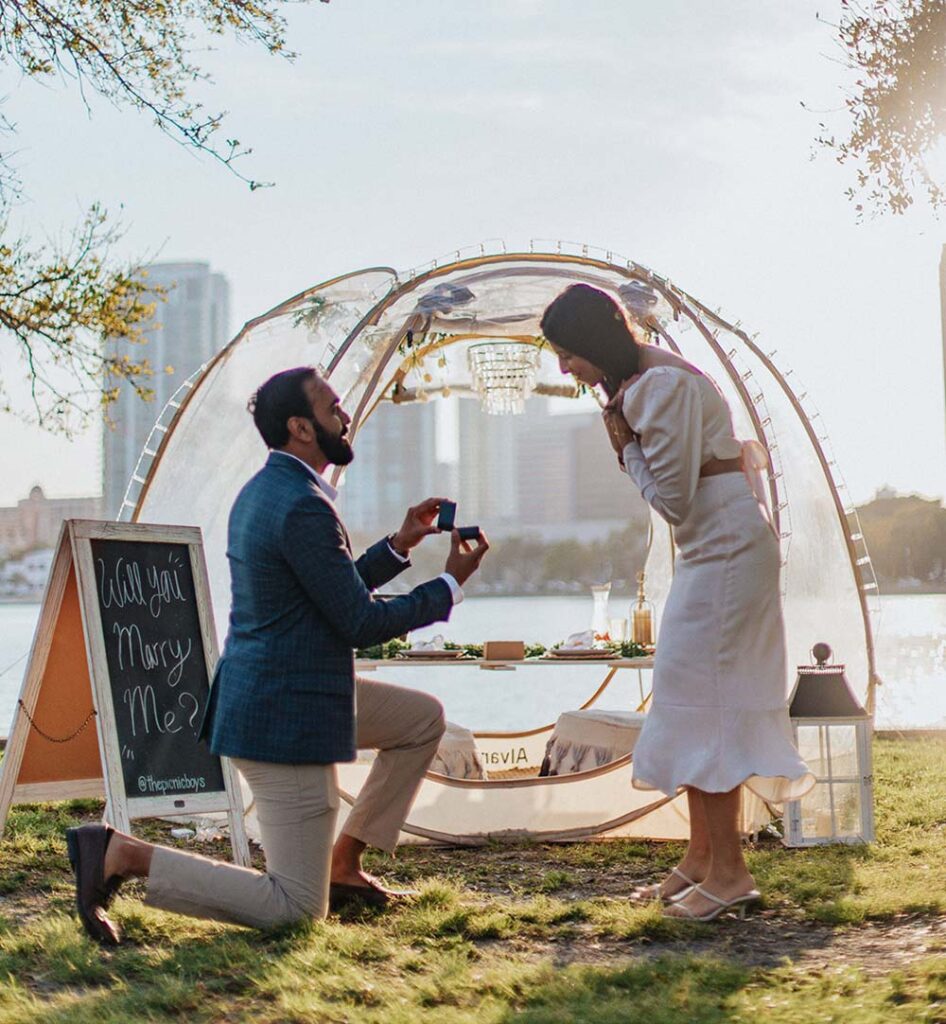 Picnics give guests the time and space to really talk—making them ideal for romantic proposals. "One of our most popular packages right now is our Proposal Package," says The Picnic Boys' Negron. "It offers everything a client needs to pop the important question—including the photography!"
For several of The Picnic Boys' packages—which clients book for celebrations including anniversaries, birthdays and even weddings—guests can choose from a list of themes, ranging from the tropical Tiki Kiki to the autumnal Pumpkin Spice to the whimsical Mad Hatter.
It's "quite a fun process" to design the picnics, says Negron: "We find an element that we really like, let's say a decorative napkin ring, and then build the whole theme around that piece. We'll scour the earth (usually HomeGoods) to find plates, table runners, decor and more to create a look. Some other themes are simply around because we are so passionate about them."
The Christmas theme, for example, reflects Winters' love of the holiday, while Negron—a self-described "Potterhead"—puts his fandom on display in the Potter Picnic.
The Tampa Bay area offers an array of picture-perfect backgrounds for the picnics, including St. Petersburg's waterfront Vinoy Park and Pass-a-Grille Beach. The Picnic Boys have even planned a picnic on the rooftop of a high-rise condo building. "We were so nervous because our igloo normally needs to be staked into the ground to keep it secure, and there was no telling what the winds would be like up on that rooftop," says Negron. "We figured it out, attaching sandbags to the igloo to weigh it down, and the clients absolutely loved it. A furry friend also got to stop by and enjoy the igloo picnic that evening."
Several of The Picnic Boys' most popular packages include charcuterie or desserts from such vendor partners as Gather and Graze, and The Dezzert Board. For larger gatherings, The Picnic Boys' go-to caterer is Debra Murray.
"The biggest picnic we've done was for about 40 people," says Negron. "It was a wedding rehearsal over at Madeira Beach with catered food. It was definitely a lot of work, but completely worth it. The clients and their guests loved everything and left the picnic with amazing memories. That's what it's all about for us!"
For More Information