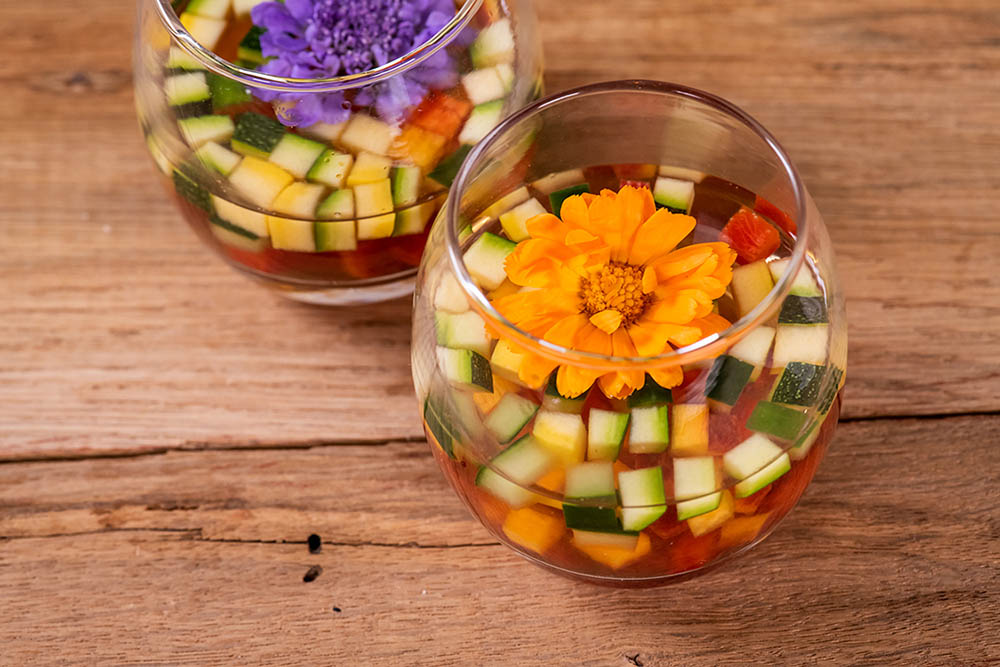 Vegetarian and vegan dishes are sprouting everywhere, and all-vegetable events are gaining ground
By Deanne Moskowitz
It wasn't only the Golden Globe recipients who got attention after last December's award ceremony. The event's dinner menu grabbed headlines, too. It was totally vegan, reportedly intended to build awareness concerning the effect of animal proteins on climate change.
While the menu may have surprised many, in the last several years caterers have been experiencing a surge in demand for vegetarian and vegan dishes, and totally vegetarian and vegan events are no longer uncommon.
After losing significant weight and lowering his elevated cholesterol by adopting a plant-based diet three-and-a-half years ago, Jonathan Mathias, chef/owner of A Dash of Salt Catering in Westport, Conn., opened a division specializing in vegan cuisine.
He hired Charlotte Simmons, now marketing and event coordinator, to help pull the menu together. Called A Splash of Green, the division still "plays a supporting role," but is growing, and every Dash of Salt event now has "some aspect of a Splash of Green to it."
Adam Jones, director of food and beverage at Rocky Top Catering in Raleigh, N.C., has seen a "massive" trend in vegetarian and vegan demand. Now 50 to 60 percent of event attendees may be vegan or vegetarian, whereas only a few years ago, there would only be one or two, he reports.
Melissa Johnson, vice president of Cameron Mitchell Premier Events and community relations for Cameron Mitchell Restaurants in Columbus, Ohio, says clients are putting more emphasis on vegetarian offerings, and most menus include vegan requests. Whereas previously clients only wanted to ensure there would be a vegetarian offering, now they are "more thoughtful and intentional" about those selections, she adds.
Vegetarian and vegan cooking has been "fundamental" to Bites & Bashes Café and Catering in Lomita, Calif., since its inception, according to Crystal Coser, co-owner with her mother, Julie; Coser reports an "exponential increase in demand for vegan menus," particularly from corporate clients.
The term "plant-based" is used interchangeably with "vegan" by these caterers, but defined more loosely elsewhere to mean mostly but not entirely free of meat or animal-derived products. As Johnson points out, "there can be variations in how people choose to eat," with some going "mostly" plant-based but encompassing some animal products, such as dairy, for example. Also in growing usage is the term "plant-forward," considered a "mega-trend" by the Culinary Institute of America and defined in its Menus of Change initiative (menusofchange.org) as a style of cooking and eating emphasizing and celebrating plant-based ingredients, but not limited to them, and reflecting evidence-based principles of health and sustainability.
The plant-based movement is being pollinated by clients of all ages, these caterers agree, although Mathias specifies that most are in their mid-to-late 30s to early 40s. Interest in eating more healthfully is the leading driver, they concur, although concerns for the planet and animal welfare motivate many, and Jones notes that the rise in immigrant populations is key in his area. Prompted by more practical purposes, businesses also are expanding these menus, as Ken Rubin, chief culinary officer at Rouxbe, explains in the sidebar, "Perpetuating Plant-Based."
Regardless of the factors feeding their requests for vegetarian cuisine, clients don't want to sacrifice taste. They expect upscale not garden-variety dishes. Thanks to a growing array of ingredient substitutions, chefs are complying, cultivating a vegetable cuisine so delicious that it tempts even carnivores.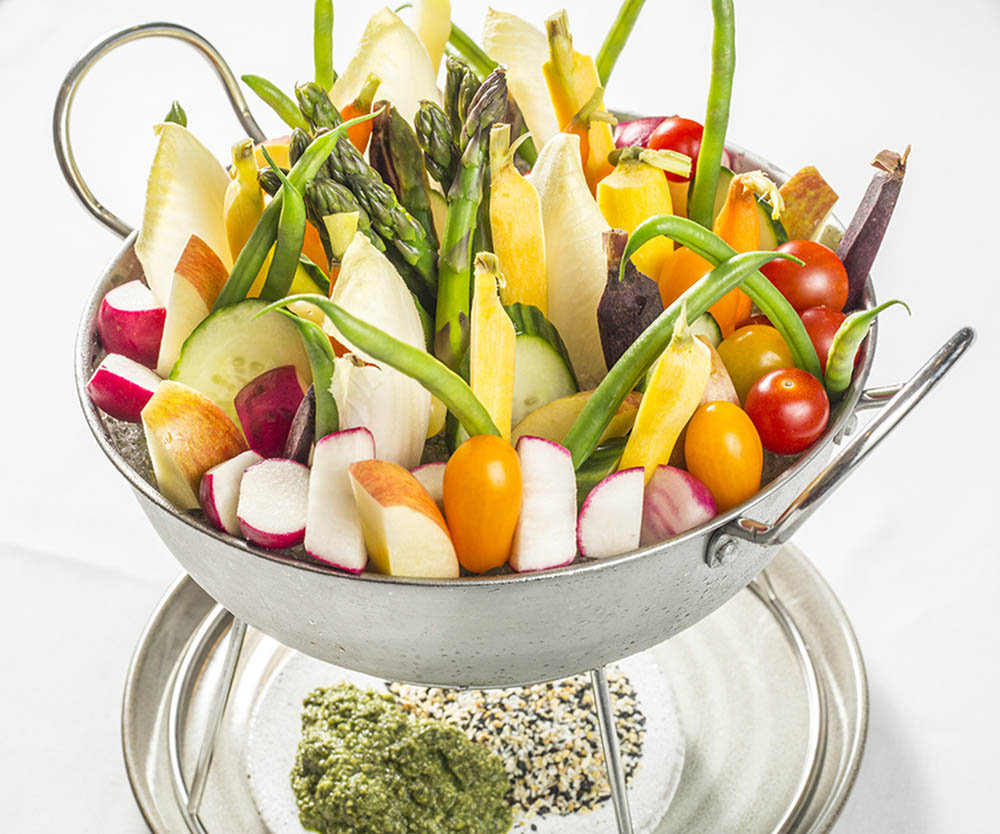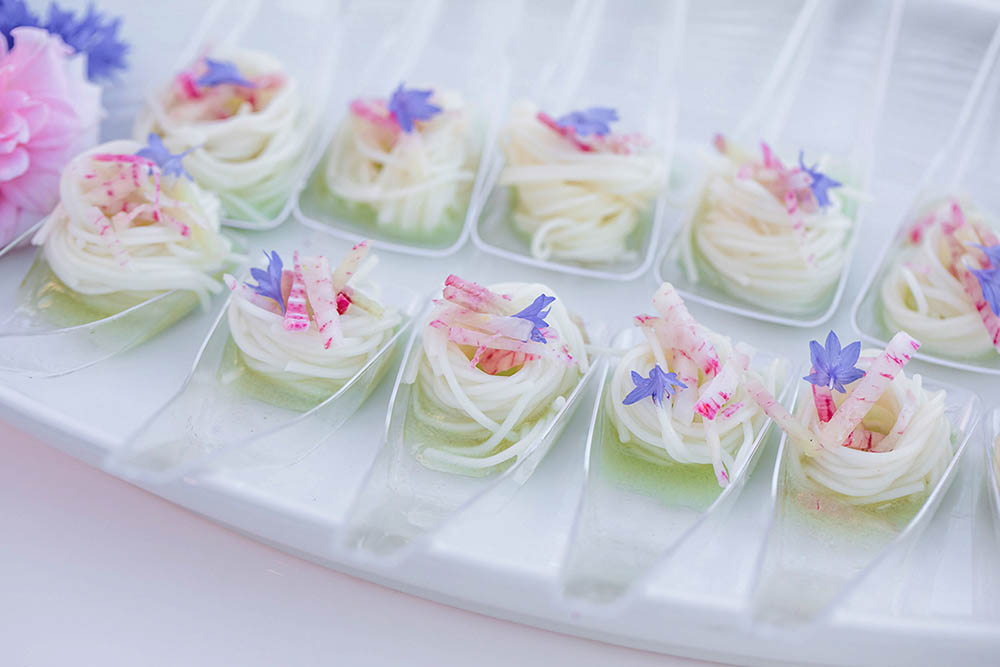 Popping Up Everywhere
Vegetarian and vegan dishes appear in every category now. From hors d'oeuvres to inspired station fare to entrée selections, they include simple preparations of seasonal produce, traditional ethnic recipes and vegetable interpretations of meat-based classics.
Bites & Bashes offers a dedicated menu of vegan hors d'oeuvres, a fully vegan menu and at least one plant-based item on every proposal. When beefing up vegan offerings, Coser discovered that many menu items were "serendipitously vegan," including signature Korean glass noodles (japchae); sweet corn tamale cakes; falafel sliders with beet hummus; and a taco bar, transformed into "an instant vegan hit" by removing the proteins and highlighting the fajita vegetables and tofu sofrito. Easily converted, filet mignon and peewee potato bites became braised cavolo nero sweet potato crostini; and mini Yucatan chicken sopes became black bean and sweet corn tostada bites with avocado puree.
Cameron Mitchell is "designing menus with more plant-based foods than ever" this year, proclaims Johnson, striving to offer healthful, delicious and visually satisfying solutions for not only vegan and vegetarian guests but those who choose plant-based items for their overall health benefits. Its broad, flexible menu includes such butlered hors d'oeuvres as artichoke skewers, mini guacamole tacos, Vietnamese spring rolls and black bean quinoa cakes. One elegant main dish is cauliflower steak with charred vegetables, balsamic portabella and Romanesco sauce, while BBQ pulled jackfruit sliders is a more casual selection.
Plant-based possibilities on the hors d'oeuvres and starters menu at A Dash of Salt include sweet potato latkes topped with dill, pickled shallot and cashew yogurt, and hummus "parfaits" with seasonal crudité. Mushrooms are meaty stand-ins on such international favorites as "oyster" scallops, bourguignon and ropa vieja.
Rocky Top replicates numerous international classics as vegan dishes. Bouillabaisse comprises carrots, cauliflower, peppers, chickpeas and lentils in a spicy tomato broth, with toasted baguette and almond rouille (made from roasted almonds and flavored with chile peppers, like the traditional one). Among sizzling hors d'oeuvre and station introductions is Korean parsnip, braised in barbecue sauce and served on a bahn mi steamed bun with cauliflower kimchi.
The plant-based trend has extended to the breakfast, snack, dessert and mixology categories, with oat milk, aquafaba, and coconut or nut butter playing major roles.
At Bites & Bashes, coconut cream replaces dairy in triple berry Eton mess, and aquafaba is the egg white substitute in cocktails. Coconut yogurt lets Cameron Mitchell keep beet hummus with yogurt drizzle and granola dairy-free.
Appreciated at Cameron Mitchell for its flavor, fiber and vitamin richness, oat milk lends creaminess on coffee bars, in ice cream and in savory dishes, as well as in breakfast favorites, such as oat-milk-soaked muesli with strawberry jam and bananas.
At Rocky Top, coconut butter and coconut milk provide essential fat for vegan chocolate cupcakes, and powdered protein puts the airiness and crunch into French macarons, available in seemingly limitless flavors.
Also a coconut milk fan, A Dash of Salt uses it in ice cream, for a cream topping with vegan blood orange olive oil cake, and to make risotto pudding, garnished with cinnamon sticks and candied ginger.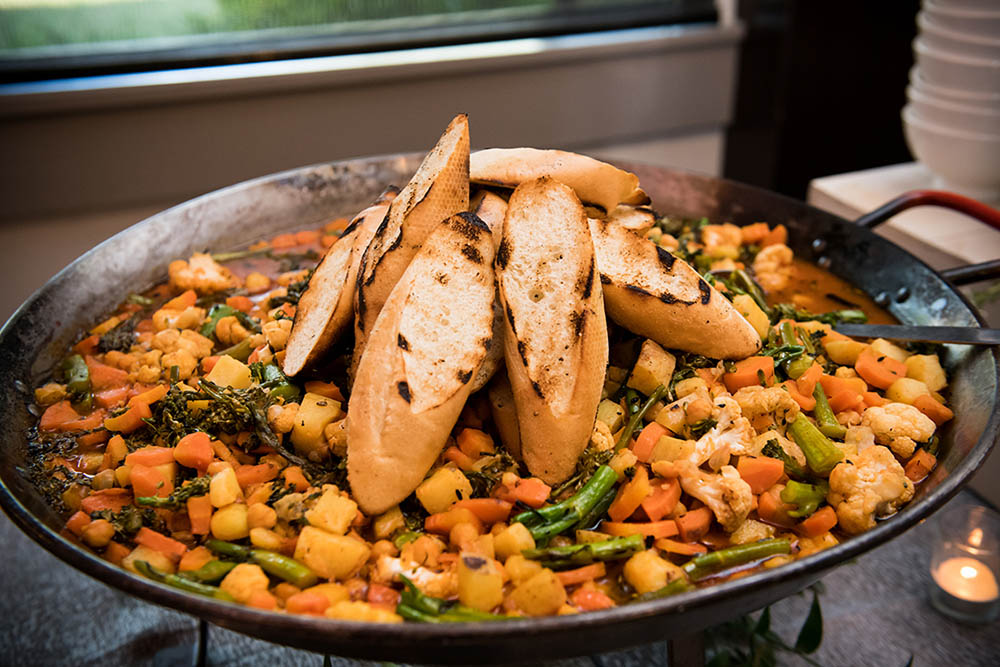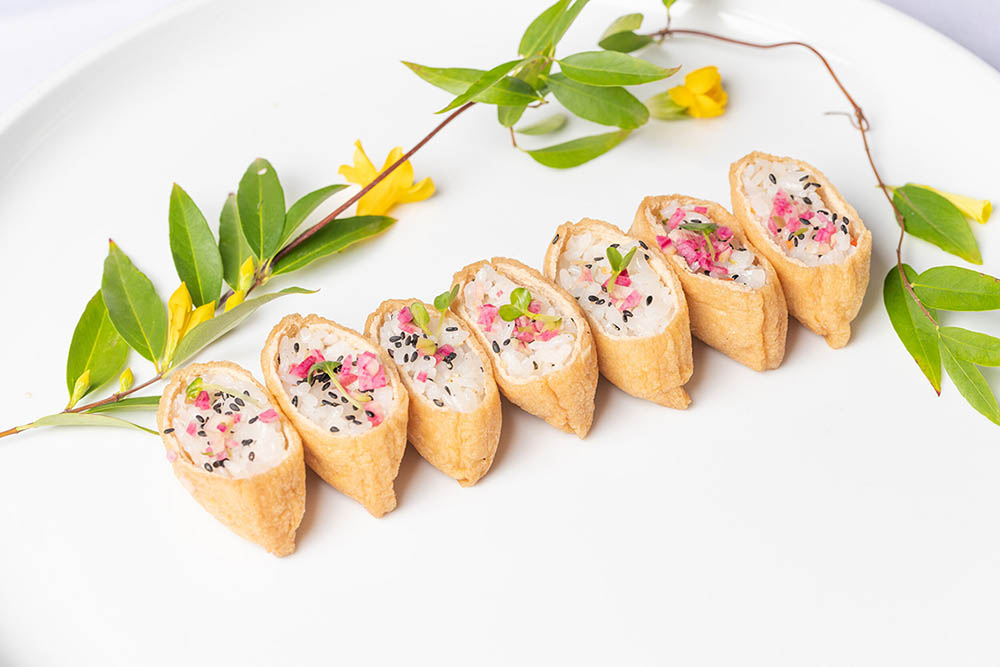 Planting Protein
Fast food lovers may be flipping over such meat alternatives as Beyond Meat and Impossible Burger, but caterers interviewed for this article are not enthusiasts. Some brands contain soy, which Jones and Mathias both avoid since it is an allergen for so many. Mathias dislikes processed products with long ingredient lists.
Cameron Mitchell only serves such meat alternatives at a client's request. The company's chef—who has used Beyond Meat for sliders and burgers, bratwurst and loose "meat" in Bolognese—thinks that they taste good but are distinguishable from meat.
Bites & Bashes has started incorporating plant-based meat substitutes for sliders at some children's events, reports Coser. But the company finds that in tastings, "often the natural products win out!"
Everyone prefers to make sliders and burgers from scratch. A Dash of Salt makes a chicken-like cannellini bean cutlet, served in a sandwich or as an entree. Bites & Bashes does chickpea falafel patties as sliders. Cameron Mitchell serves black bean quinoa cakes. And Rocky Top offers a black bean burger, and a quinoa and chickpea cake with roasted red pepper coulis.
Tempting Transplants
Oat milk is this year's trendiest dairy replacement, while aquafaba is the favorite for imitating butterfat. Along with flaxseed, aquafaba also is popular as a binder replacing eggs.
Especially critical is the job of emulating meat's texture and taste, and chefs have their favorite ingredients and go-to techniques. Mushrooms figure prominently on most menus, and Coser reveals that mushroom powder is a "secret ingredient" for adding "instant umami." Legumes, especially chickpeas, are ubiquitous, too. In addition, Cameron Mitchell finds hempseed, mung beans, avocado and beets useful protein swaps to avoid common allergens like soy and cashews.
Popular for replacing shredded poultry and meats because of its stringy texture, jackfruit is beloved by some caterers but spurned by others. Appreciated by Johnson because it's good for the planet, high in fiber and nutrition, and extremely adaptable, it replaces crab in jackfruit cakes, tops rice bowls and appears in jackfruit "non"-meatballs at Cameron Mitchell; and at Bites & Bashes, it's popular in pulled jackfruit sliders. While Mathias occasionally makes pulled jackfruit, he thinks that so much sweet sauce is required to mask its flavor, you might as well eat pork; and Jones can't find a sufficient supply for large groups.
To add umami or extra zest to vegetable dishes, chefs are turning to traditional techniques including curing, smoking and pickling. Avocado tomato on endive with carrot "bacon" strips is a tasty tidbit on Dash of Salt's hors d'oeuvre menu.
Rocky Top's mushroom bourguignon features cured carrot "lardons," and its vegetarian cornmeal crusted fried green tomato is served with smoked gouda grits and braised rainbow chard, with a chicory and tomato gravy inspired by red-eye but without the ham. Green beans, okra and peppers are among its favorite in-house pickled vegetables.
At Cameron Mitchell, pickled beet salad includes shaved pickled carrots and pickled turnip coins with Arcadian greens and avocado, in a lemon juice, golden balsamic and fresh-cracked pepper dressing.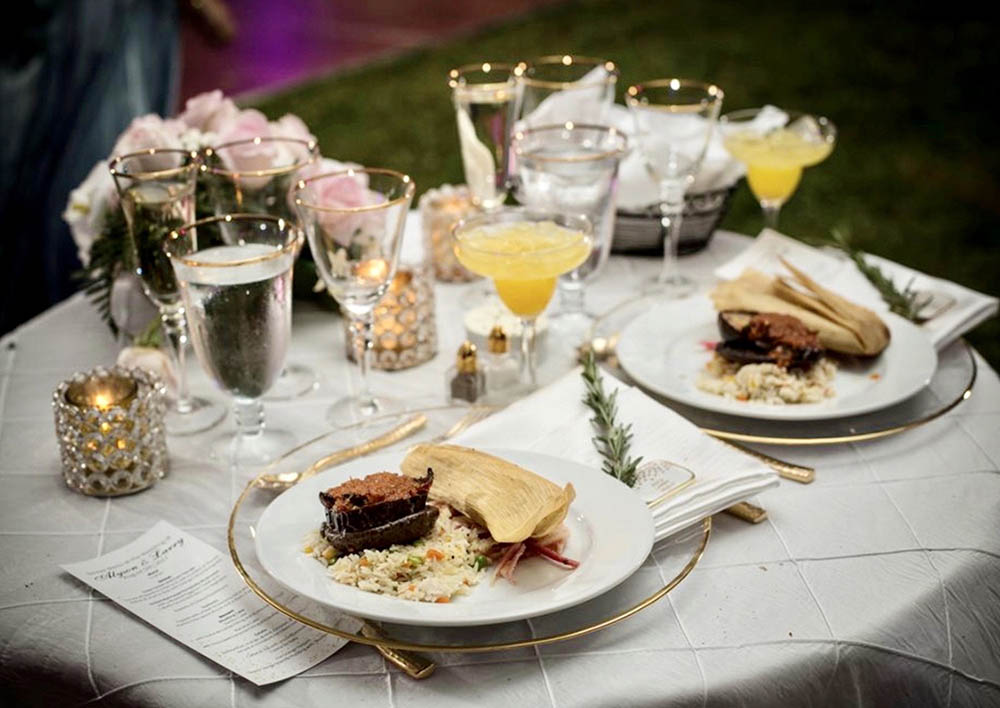 Events Are Flowering
As plant-based cuisine becomes more delicious and acceptable, the number of all-vegetable events grows.
Jones has seen an enormous increase in requests for entire menus to be vegan or vegetarian—or at least to have several options throughout the meal—and Johnson is seeing demand for fully or partially plant-based menus for large-scale corporate events and weddings, but less for typically more intimate social gatherings.
Skeptical about the totally vegan Splash of Green menu that his ex-wife ordered for their daughter's wedding, a longtime business acquaintance of Mathias jokingly begged him to sneak him a pork chop instead, but ever since he can't stop marveling at how amazing the meal was. The menu included butlered hors d'oeuvres such as arepas with vegetable accompaniments and caramelized onion, quince paste and jackfruit quesadillas; entrees including green onion and corn tamale wrapped in banana leaf on shaved radish and jicama slaw with orange citrus vinaigrette, or grilled marinated portobello with roasted eggplant steak in cabello sauce (made primarily from chopped tomatoes, capers, smoked paprika and smoked chili flakes); and butlered desserts including miniature ice cream cones filled with a variety of plant-milk gelatos.
"Clean beauty brands" that Bites & Bashes serves often request organic, vegan menus. A recent celebrity reception for BareMinerals included farmer's market vegetable nigiri, signature glass noodles in branded takeout boxes and one-bite falafel sliders with beet hummus and house-pickled vegetables. An interactive cocktail bar served sponsored True Nopal cactus water with a choice of flavor extracts.
Of course, staunch carnivores sometimes request substitutions, so often caterers list an alternative for them or bring one just in case. On the other hand, it isn't only vegans who are tempted by the delicious-looking plant-based options on non-vegan menus now.
Will the budding plant-based trend fade or flourish? It seems likely to last perennially, as restaurants continue to adopt meatless alternatives, the plant-based product category evolves, and culinary students are schooled in the wonders of plant-based cooking.
For More Information
Bites & Bashes Café and Catering
• bitesandbashes.com
Cameron Mitchell Premier Events
• cameronmitchellpremierevents.com
A Dash of Salt Catering
• adashofsaltcatering.com
Rocky Top Catering
• rockytopcatering.com
Rouxbe
• rouxbe.com
Perpetuating Plant-Based
If the plant-based movement is to continue thriving, chef education will be key. And while it might seem that anyone with a culinary degree possesses the necessary knowledge and skills in vegetarian and vegan cooking, that assumption is unfounded, according to Ken Rubin, chief culinary officer of Rouxbe, a global online culinary school founded in 2005.
Rubin, who previously ran degree programs at Cordon Bleu Schools North America and the Art Institute of Portland's culinary program, says professional culinary schools spent as much time teaching vegetables as lamb—that is to say, a chapter. But that chapter was about vegetables, not vegetarian cuisine, and it omitted techniques "implicit in plant-based cooking."
This gap and the rise in vegetarian interest that Rubin perceived even five years ago spurred dc him to introduce a professional certificate program for plant-based cooking. Today the course draws between 800 and 1,000 students from many countries and backgrounds annually.
The six-month, self-paced Rouxbe curriculum begins with such basics as knife skills, moist and dry heat cooking, and submersion and steaming, which Rubin admits will be "refreshers" for trained cooks, although there are subtle differences in those areas when working with vegetables. Divided into units, lessons and more than 400 tasks (such as the steps involved in cooking broccoli or making nut-based cheese), the course is highly interactive.
After engaging in most activities, students submit a series of photographs, accompanied by narratives explaining what has transpired, and upload them for evaluation by chef instructors. Typically within one to three days, the student receives an email evaluation including comments, suggested improvements and a grade.
Rouxbe also trains thousands of cooks at major organizations, such as Four Seasons, Hyatt, Marriott and Wegmans. The so-called Enterprise Program provides a tool that multinational hospitality companies can use, and which enables their managers to track the progress of thousands of employees.
While individuals may be motivated by their concern about health, the environment or animal welfare, businesses focus on reducing food costs, limiting waste and ensuring food safety. For example, they recognize that the food cost is much better on an $18 bowl of lentils than on a $21 chicken dish; that there is a lot less waste implicit in tossing a carrot top than a piece of beef; and that plant foods are less vulnerable to foodborne illness.
Rubin doesn't consider plant-based eating merely a trend. Rouxbe's program—which also includes two disease-reversal oriented courses, intended for health and wellness professionals to prescribe to their patients, and a vegan dessert course for both professionals and consumers—has grown "very, very strong" in the last five years, he observes. "It has really transformed our business in terms of revenue."