The recent Plant Based World Expo in New York shows the category is expanding and diversifying
By Deanne Moskowitz
When the Plant Based Foods Association proclaims that "The future is plant-based," it may sound self-aggrandizing. But the organization's second annual trade show, Plant Based World Expo North America—which returned to New York City's Javits Center on December 9 and 10, 2021, after a two-and-a-half-year absence—supported the claim. Space grew by 65 percent, showcasing thousands of products to a B2B audience of over 3,100, twice the attendance at the first show.
The pandemic increased awareness for the category, says Benjamin Davis, vice president of content, Plant Based World. Consumers became more educated about plant-based foods' impact on health and sustainability in an industry driven by those twin concerns (the former most interesting to the older generation, the latter to the younger one). The category emerged fertile for continued growth, mushrooming with product diversification and new participants, including Asian and European imports and even progressive animal and dairy producers.
Contemplating next steps, conference programs often focused on education and sampling, and cautioned audiences not to overlook the flourishing flexitarian market. Chefs (among them Rocco DiSpirito, preparing chicken "Thys" at a sneak preview from Singapore-import Tindle) pronounced the products perfect swaps and flaunted their deliciousness.
Davis sees chicken as a breakout trend (even Beyond Meat put their Beyond Chicken breaded tenders "front and center, not their burger," he observed) and alternative seafood making a splash. He pronounces items surrounding the center of the plate, such as condiments and cheeses, ripe for development.
Among more than a dozen chicken foodservice options taking off were Something Better Food's new Better Chew fried chicken and nuggets; Before the Butcher's Uncut brand chicken burgers; Chkn Not Chicken's shreds; Irish-based Plant-It's tenders, fillets and Southern-fried bites; PlantTerra Foods' Ozo brand True Bite Chicken Cutlets and Shreds; Longeve's crumbles; Simulate's nuggets and patties; and British import VFC's corn-flake-crusted fillets, nuggets and popcorn.
Among seafood choices surfacing were alt squid at California-based Jinka; plant-based crab and shrimp at Bangkok-based, real-seafood-producer Thai Union; and fish burgers from Sophie's Kitchen, where breaded shrimp is the bestseller. Tuna alternatives were making waves, too, including Jinka, Prefera Foods (Unfished PlanTuna), Thai Union and Worthington.
Debuting in the U.S., large Filipino animal and seafood producer Century Pacific Food introduced its Unmeat line, including chicken nuggets and tuna-style flakes. And Brazilian animal exporter Future Farm added "Chick'n" and "Tvna" to its plant-based meat line.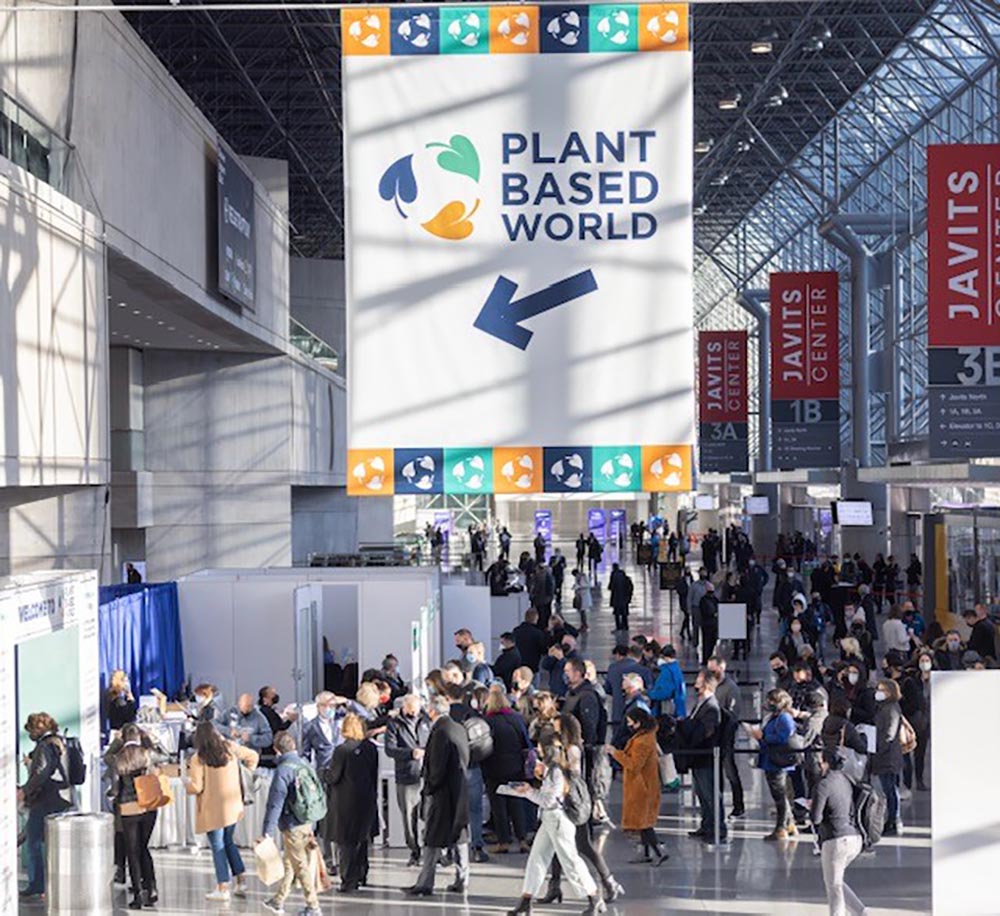 The non-dairy category was brimming with options, notably cheeses including blue, cheddar, feta, mozzarella and Parmesan in configurations from cubes and slices to shreds and spreads. They came from producers including Good Planet, also offering snacking wedges; Greenleaf Foods; Nuttin Ordinary; Pleese Foods; Vitalite; Greek-based Violife, adding halloumi and smoked gouda to its extensive line; and even from Wisconsin dairy cheese producer New Fields. Also noteworthy were dairy-like butter surrogates from Miyoko's Creamery and Wildbrine.
Whether based on pea or soy protein, like many of the chicken, seafood, beef and pork replacements; fresh vegetables (cauliflower wings at No Bones Beach Club and burgers at Actual Veggies); or nuts, oats or coconut oil in most non-dairy entries, there seemed to be no animal food that couldn't be replicated. There was oat-based sour cream (Seed to Spoon), jerky featuring shiitake stems (Vegky) and even "bacon" sizzling in several places (Hooray Foods and Umaro).
Of course, there are growing pains, but the Plant Based Foods Association—with its nonprofit sister organization, the Plant Based Foods Institute—is working to counter issues that could stymie the industry's potential. Serving as the membership and industry's voice and champion, according to Sabina Vyas, senior director of strategic initiatives and communications, the association has a major mission to help businesses drive a transformation to a plant-based food system, ending the longstanding, uneven playing field favoring animal agriculture.
The association is also committed to clarifying the meaning of "plant-based," which it defines as "foods made from plants that do not contain any animal ingredients." It is challenging various state bills that seek to prevent manufacturers from using descriptive qualifiers (such as "plant-based" or "dairy-free"), partnering with federal entities such as the USDA and FDA to build awareness, and readying an educational campaign. It has also introduced a certified plant-based seal, available to members.
Addressing the supply interruption resulting from the pandemic, the association is ramping up its Domestic Sourcing Initiative, which creates opportunities for farmers to grow needed ingredients and connects them with plant-based companies.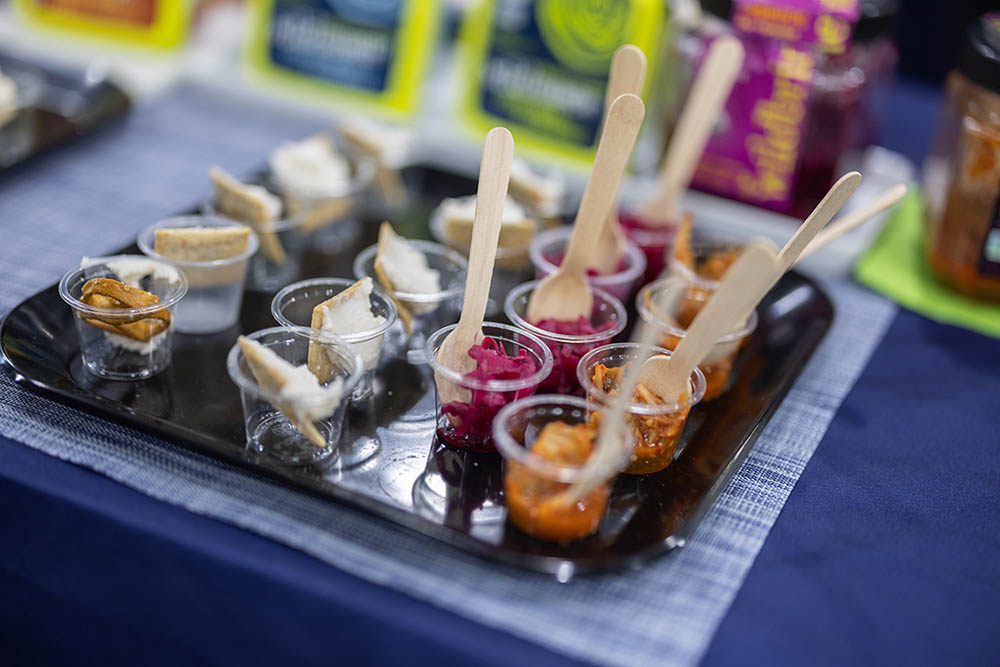 While many companies tout allergen-free, non-GMO ingredients, and affordability is a focus for some (Before the Butchers' new Mainstream brand, for one), concerns have arisen that plant-based products are more expensive than their animal counterparts and that they are not always as healthful as might be hoped. Insisting that there are options for everyone among the "wide spectrum" and emphasizing the health-promoting benefits of plant-based ingredients, Vyas notes that manufacturers are aware of the interest in nutrient-dense, cleaner foods, and predicts that we will continue to see more.
Observing that the cost differential varies by category and noting that some plant-based producers use more costly ingredients, Vyas says prices have dropped as the industry has scaled up and will continue to do so as the business grows.
The next Plant Based World Conference & Expo takes place September 8-9, 2022, at the Javits Center in New York. For more information, visit plantbasedworldexpo.com.