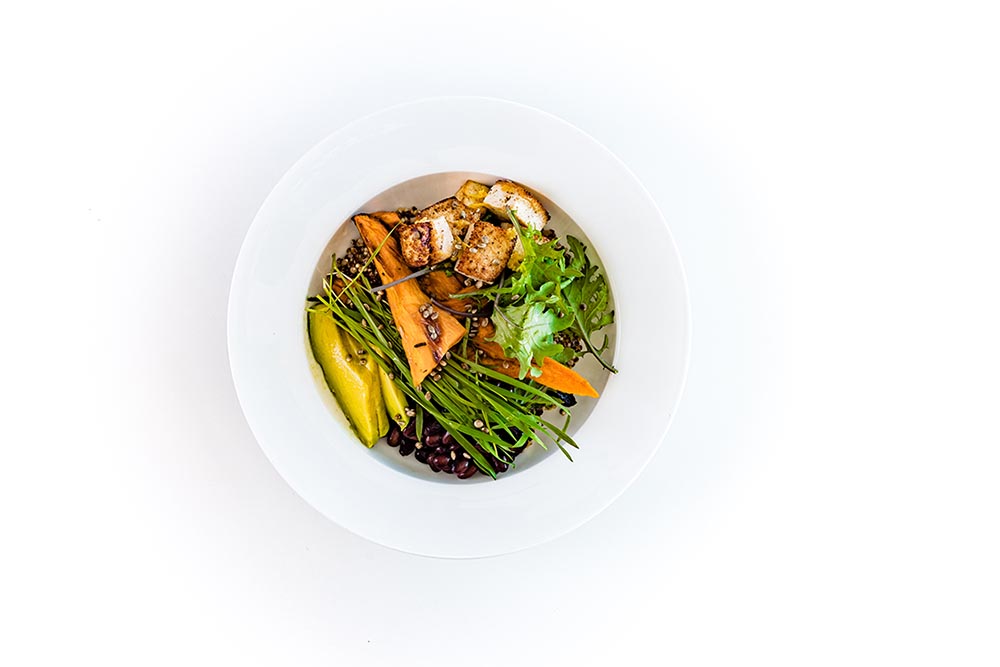 With flexitarian diets on the rise, caterers find investing in plant-based cuisine is good for business
By Connie Jeske Crane
Back in 2008, when Cristina Carolan launched Chef Veggie, her plant-based personal chef service in Austin, Texas, she admits, "It was a lot harder for me to find clients who would be happy with not having any animal products in their meals." Today, Carolan is putting the finishing touches on a plant-based cookbook and says attracting customers is easy. "There's just been a growing demand to where now I can turn people away. And I don't have to drive as far!"
It's hard to overstate just how quickly the plant-based trend has advanced in North America in the last few years. From the proliferation of high-end vegan restaurants in cities like New York, to the new McPlant burger at McDonald's, to supermarket shelves groaning under a dizzying array of plant-based dairy alternatives and entrées, the pace of consumer adoption is mind-boggling.
To be sure, only around 5 percent of Americans currently identify as vegetarian. But that figure doesn't capture the reality of rising "flexitarianism." The desire, often health-driven, among today's consumers to reduce their consumption of animal products is spawning lots of new plant-based flirtations—swirling oat milk into a latte, say, or chomping down on a meat-free burger at lunchtime. "There's just a great rise in people who call themselves 'flexitarian,'" says Carolan. "And so, they aren't completely free of animal products, but they want to reduce the amount of meat that they're feeding themselves and their kids."
Statistics bear it out. According to a 2020 Gallup survey, nearly one in four Americans reported eating less meat in the past year. Another 2020 survey by OnePoll and Eat Just, Inc. found 60 percent of Americans said they're transitioning to a flexitarian or less meat-centric diet.
For caterers, this is a shift to pay attention to. However, given the sophistication of today's diners, serving plant-based cuisine is not as simple as adding a few salads to your menu. So, how to proceed in a way that makes good business sense? We talked to four plant-loving caterers and discovered their strategies for success.
Kiss the Cook Catering
Toronto, Canada | kissthecookcatering.com
"Plant-based alternatives are requested on almost 90 percent of the orders we cater," says Fia Pagnello, founder and CEO of Kiss the Cook Catering, a full-service event caterer handling both corporate and social functions.
The rise in demand is most noticeable on the corporate level," says Pagnello. "Offices are increasingly focused on sustainability, and this is now starting to impact their purchasing when it comes to food." The perceived health benefits also factor in with corporate clients, she adds.
Pagnello's strategy is to devote equal energy to plant-based menus: "I think it's important to have a comparative plant-based alternative for every catering menu you offer. For example, if someone orders lasagna Bolognese and asks for a vegetarian alternative, we will offer our delicious veggie-layered lasagna Genovese."
Client expectations are high, Pagnello adds, meaning offerings must also reflect seasonality, global cuisines and choice. "We have corporate clients that order daily staff lunches with the expectation of highly diverse menus, so that it feels like dining at a different restaurant each day. Rather than offering a small handful of predictable plant-based menus on rotation, we make sure to plan the vegetable-forward meals just as diversely."
On its sample office lunch menu, the caterer's plant-based swap for Asian crispy beef is sweet-and-sour glazed tofu; in place of chicken Parmesan, it's eggplant Parmesan. Pagnello says top sellers this year "have been falafel shawarmas, Indian chana masala—chickpea curry—and ancho-roasted sweet potato and black bean enchiladas. We also have more plant-based Buddha bowls available, as healthy eating is in high demand."
With ingredients such as miso, kimchi, nutritional yeast and soya sauce, "We focus on dialing up the umami in our plant-based cooking," says Pagnello. "Since vegetables don't contain fat and have high water content, it's important to intensify flavor."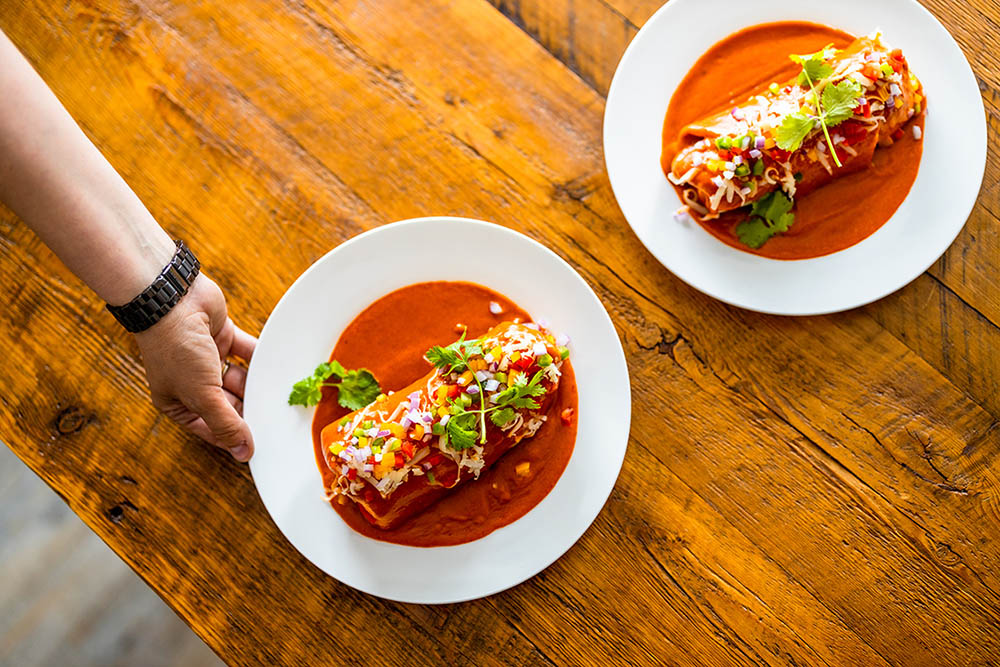 Red Lentil Vegetarian & Vegan Restaurant
Watertown, Massachusetts | theredlentil.com
Just outside of Boston, owner/chef Pankaj Pradhan has operated his award-winning vegetarian/vegan restaurant and catering operation since 2009. Speaking to the popularity of plant-based food, Pradhan says in the last five or six years it feels like "the world has changed." Currently busy planning a second Red Lentil location, Pradhan says demand is there. "Before they used to have a little hesitancy—'Oh, I don't know if I want to try this or not.' Now, I believe they have more confidence in trying the food."
Pradhan's approach is chef-driven and passionate. A lifelong vegetarian, Pradhan has completed culinary training in India and France. His catering menu is a celebration of his travels, love of global flavors and love of French cuisine. This variety appeals to today's customers, who, says Pradhan, "are open to trying anything."
Beyond standout flavors, Pradhan shares his other strategies. To engage newcomers, he says, "For me the first part of the process is to give them something with a similar texture. That is the primary thing." Then, beyond investments of time and money, with a plant-based menu, he feels passion, skill and a good business concept are key. And because plants are the star of the show, Pradhan says seasonal, quality ingredients are also crucial.
The Red Lentil catering menu reflects his sensibilities. The appetizer selection includes veggie pakora, roasted corn polenta cakes, and raw rolls combining collard greens, pumpkin seed pesto, sliced mango, avocado, jicama and drizzles of green chili oil.
Mains range from Tandoori-marinated tofu kebobs skewered with pineapple and vegetables to a tempeh Reuben sandwich (with vegan Russian dressing and organic sauerkraut) to African peanut soup. Interesting salads, house-made desserts and brunch options like tofu scramble and waffles round out the menu, while daily specials—based on seasonal produce—keep things interesting.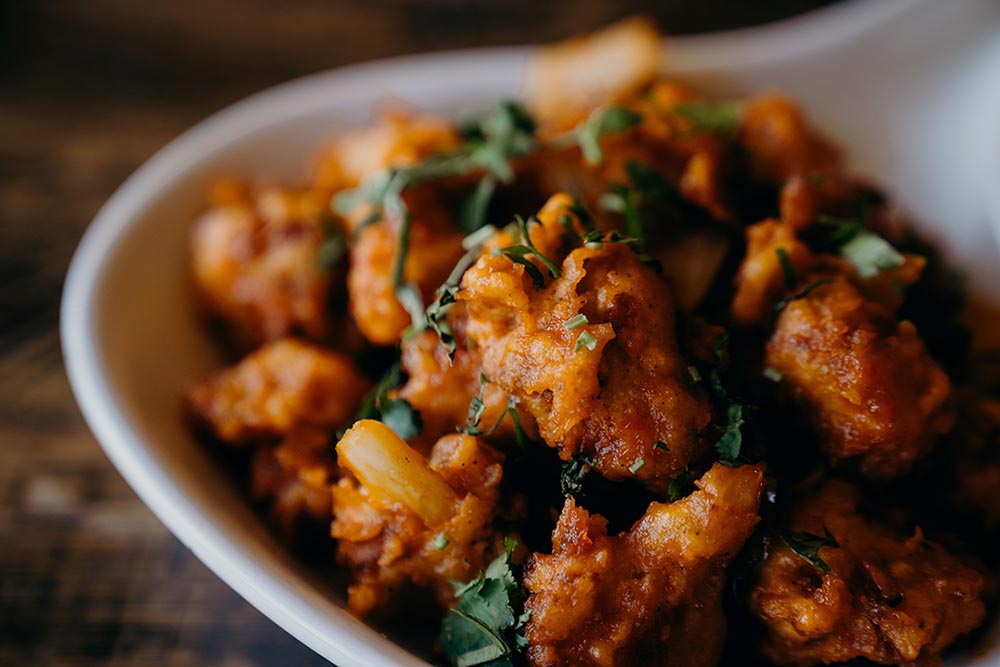 Food2You Healthy Daycare Catering
Chicago | food2youinc.com
In Chicago, Food2You caters to a decidedly different niche. Since 2005, the company has been catering to daycare centers, and as Food2You's president Greg Ingles explains, his food must do double duty: "What you need to do, constantly, is balance—keeping the kids happy and keeping their palates entertained, then keeping the parents happy with what their kids are eating."
With its menus, Food2You sources local, seasonal ingredients, enlists a registered dietitian to review everything, and follows requirements of the federal Child and Adult Care Food Program (CACFP). Plant-based foods and vegetarian days are not new for his company, says Ingles. Yet more recently, to highlight plant-based eating for kids, Food2You joined the Meatless Monday movement. "Parents were overwhelmingly on board," says Ingles.
So, what's the trick for getting kids to eat their veggies? Ingles shares a few strategies. First off, he says comfort and familiarity draw young eaters in. Kid favorites incorporate plant-based meat substitutes into familiar dishes like tacos, chili, burrito bowls, pizza and fajitas. "We find ourselves using some of the chicken substitutes. And then we use a few soy-based meatless crumbles," Ingles says, noting those products are selected based on nutritional value. "We have some very interested parents, and they want to know what's in it."
In addition, "Every single day we have fresh fruit and two different kinds of vegetables, in addition to whatever those proteins are that we're serving with the menu item," says Ingles. "So, if you were having meatless chili, you might also have vegetarian cornbread, and snap peas and yellow wax beans along with fresh honeydew melon."
Finally, to promote both healthy eating and community, Food2You passionately enlists a family-style format where kids and teachers eat together. "Family style is definitely done to promote awareness and to help kids understand, 'Wow, that looks good,'" says Ingles. "And that, you know, you don't just grab with your hands, you use serving utensils, and you wait till your friend next to you is done. There are a lot of different reasons that family style works best."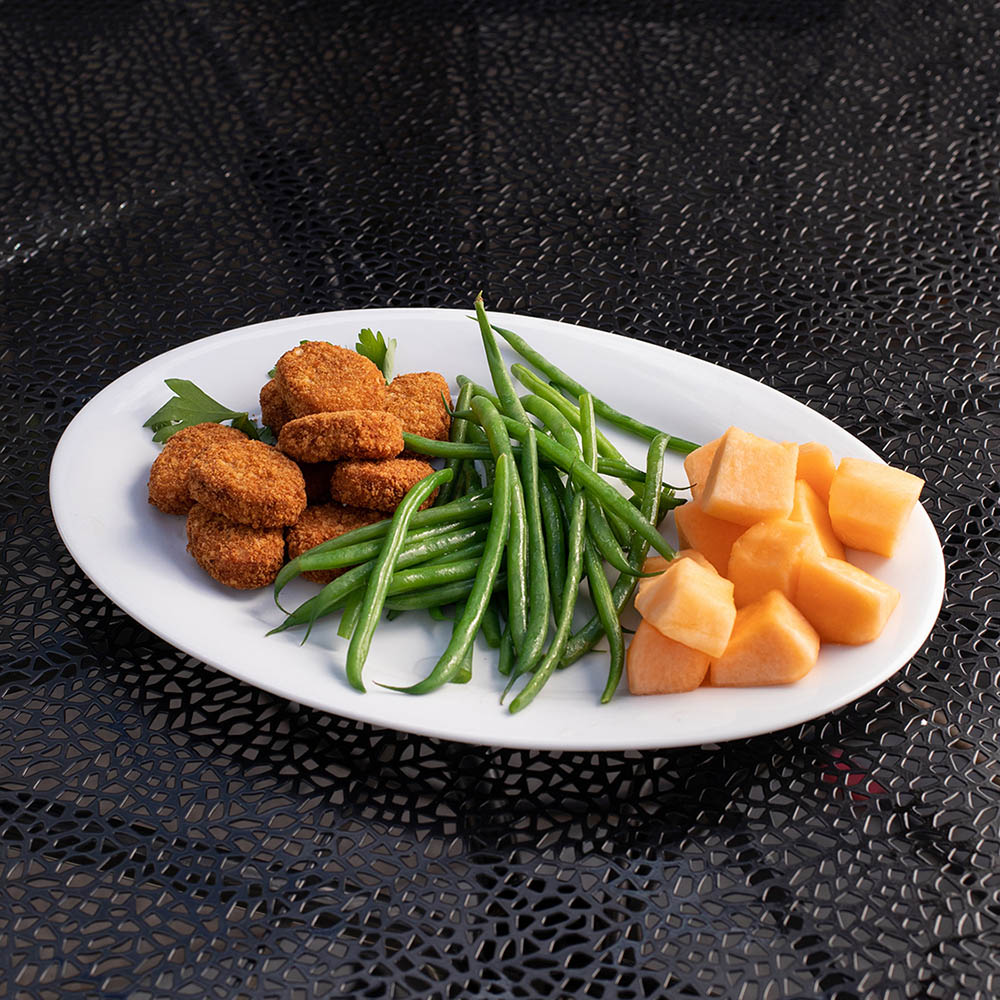 Chef Veggie
Austin, Texas | chefveggie.com
Families are also the prime demographic for Cristina Carolan. As an in-demand plant-based personal chef, she starts with grocery shopping for her client, incorporating local ingredients. "Then I'll come to your home with my equipment, prepare the meals, package and label them, leave them neatly in your fridge or freezer, and do the all the cleanup," she says.
Like other plant-based professionals, her strategy rests on big flavors. A chef who loves colorful, vibrant dishes with lots of vegetables, Carolan says, "I think a secret to it is that you have to have great sauces. Like if you're doing a barbecue tofu, I think the sauces make a really big difference." Especially for people who are not used to plant-based foods, she advises retaining fats whenever possible. "That is really going to bring out the flavor for a lot of food," she says. "If you make everything low fat—just use lemon juice on a salad, with no olive oil and no nuts—it could be really unsatisfying for people who are brand-new to this."
Carolan is currently working on a cookbook called Plant-Based Pacific. "It's going to feature plant-based recipes from Japan, Hawaii and the Philippines," she says. "My mom is from the Philippines, so that's part of my cultural heritage. And I lived in Japan for most of my childhood."
While her clients have different motivations, from animal welfare to sustainability to health, Carolan says convenience is also key: "Families enjoy having something that they can heat up really easily, like lasagna."
In addition, notes Carolan, "I think most families want comforting foods, but they also want their kids to eat vegetables. So, soups are great. Stews are great. A lot of families want to introduce their kids to food from different cultures… So usually when I create menus for families, I will include those types of dishes. And a lot of times they will be adventurous and try something for the week to see if maybe their kids would try it, and maybe they will like it. That always makes me feel excited!"