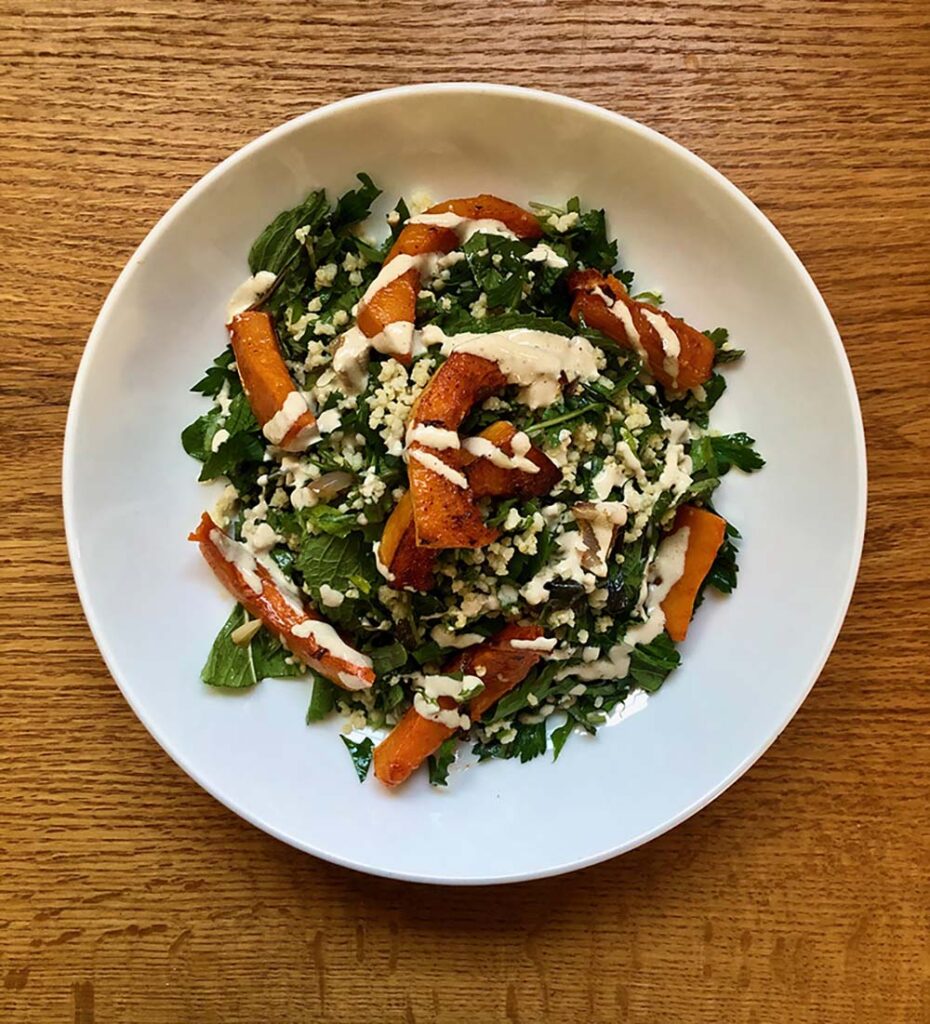 Caterers are cultivating inspired plant-based menus to satisfy the sprouting number of vegans and vegetarians
By Sara Perez Webber
Adherents of plant-based diets have more fast-food options than ever. Want a meat-free Whopper at Burger King? No problem—have it your way. Looking for dairy-free milk at Starbucks? You can choose from four varieties.
Many caterers are also making sure their vegan and vegetarian customers are satisfied—and those who take plant-based dining seriously are being rewarded with a loyal and flourishing customer base.
The growth of DC Vegan exemplifies the trend. When co-founders Leah Curran Moon and Michael Jantz Moon launched the business in 2015, they didn't have a vegan catering template they could follow. As the first dedicated, full-service, plant-based caterer in Washington, D.C. "We really had to invent it," says Leah Curran Moon, DC Vegan's CEO. "The research and development process has been really fun and interesting, but you're creating a lot from scratch. You couldn't look up other vegan catering menus."
Fast-forward eight years, and DC Vegan has sprouted from half a prep table rented in a commercial kitchen to a thriving catering company, deli, bar and restaurant in Washington's Dupont Circle. "Our catering business is just so busy; we've never even done sales since we started," says Leah Curran Moon, adding that the company now has close to 40 employees.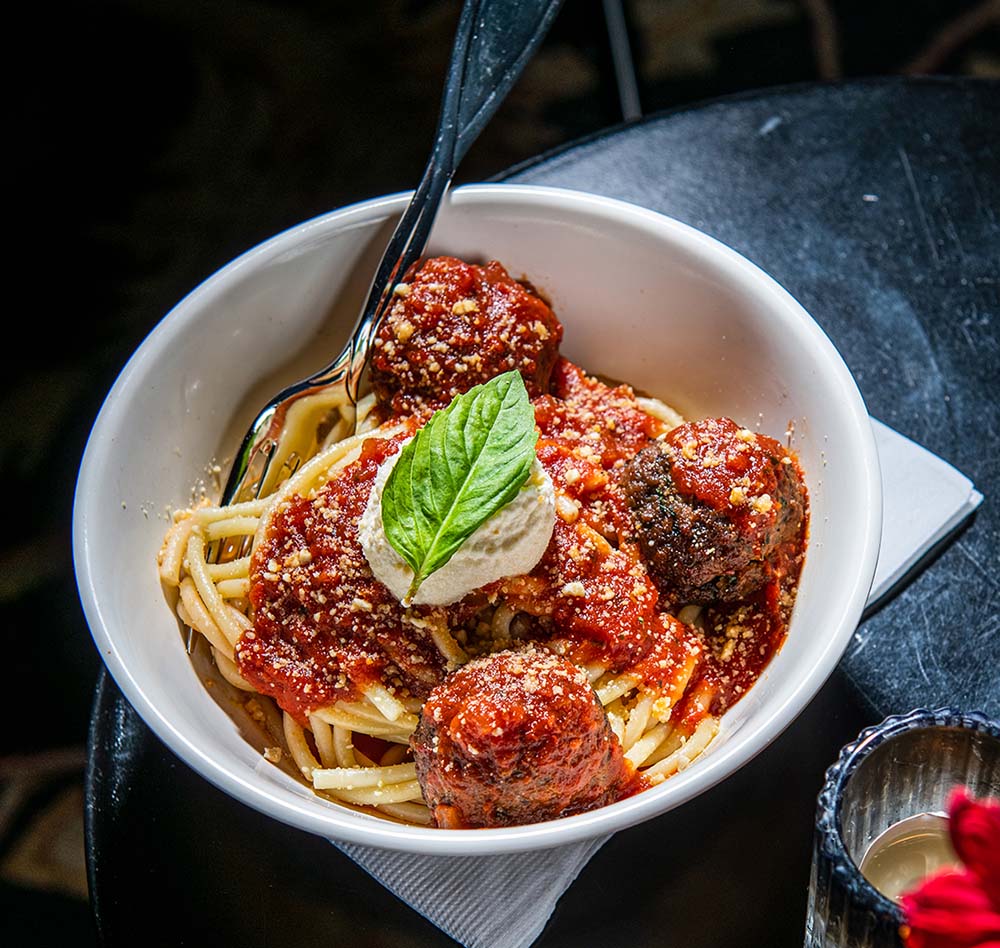 At DC Vegan's one-year-old Botanical Bar—a full-service Italian vegan restaurant serving cocktails inspired by nighttime gardens—lines can stretch out the door. Customers clamor for such dishes as King Trumpet Calamari, lightly fried mushroom rings with cashew parmesan, marinara sauce and lemon wedges; lasagna layered with pasta, Bolognese, almond ricotta, marinara and cashew parm; and BBQ or Buffalo Cauliflower Wings.
Most of the restaurant patrons "aren't plant-based exclusively," she notes. "People are incorporating plant-based food into their daily lives. It's not a big deal anymore to have a vegan lunch; it's not weird or different. It's just a great way to eat."
In fact, it's a way of eating that's being adopted by a mushrooming number of consumers, whether they're vegans, who eschew all animal products; vegetarians, who don't eat meat; or flexitarians, who mainly eat plant-based foods, with meat and dairy added in occasionally.
"More people are eating plant-based or flexitarian diets than ever," says Benjamin Davis, content chair and strategic advisor for Plant Based World Expo, the four-year-old foodservice trade show in New York that's expected to attract 4,000-plus attendees and 250 exhibitors this year. "Consumers have become more aware of the environmental, animal welfare and health benefits of a more plant-based diet."
According to Statista.com, the value of the global plant-based food market is projected to reach $77.8 billion by 2025—and double just five years later. "There are more options than ever to satisfy just about any appetite, and next-generation plant-based meat, egg and dairy products are becoming increasingly competitive with animal products on taste, price and accessibility," notes Davis. The growth of plant-based milk in the United States is particularly notable, he adds, with sales reaching nearly $2.3 billion last year.
Chefs and caterers across the country are meeting the growing demand for plant-based cuisine—and becoming more skilled in creating sophisticated plant-based dishes. Since the Auguste Escoffier School of Culinary Arts launched its Plant-Based Culinary Arts curriculum two-and-a-half years ago, "We've seen a beautiful growth," says Chef Stephanie Michalak White, a chef instructor who was integral in developing the program.
"We've had students who are vegans, and they've been waiting such a long time to be in a program that's fully plant-based," says White. "And then we have other students who have gone plant-based for health or environmental reasons, some vegetarians, and others who see getting [plant-based] training as something that is really going to fill that market need for some of their clients."
Escoffier's online Plant-Based Culinary Arts Diploma curriculum—in which no animal products are used—features classes covering such topics as the foundations of plant-based culinary skills, plant-based pastry, seasonal plant-based cuisine and plant-based approaches to wellness. Students must also complete a six-week externship, applying the skills they've learned in a real-world setting.
Among the students attracted to Escoffier's online plant-based program are those living in areas where there aren't a lot of plant-based options, who are hoping to bring such cuisine to their market. "It's always really exciting to see that and see it expand beyond coastal metropolitan areas," says White.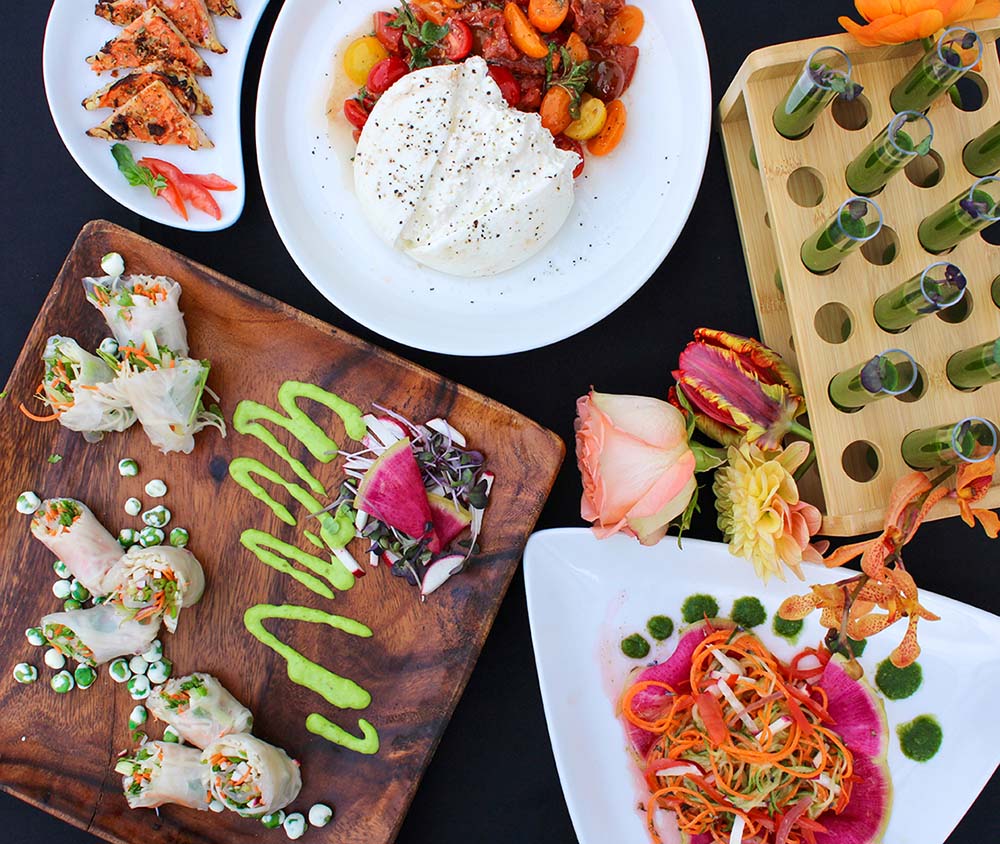 In St. Louis, catering company Culinary Canvas has found success with its vegan and vegetarian offerings, which it started marketing in 2019 after revamping its menus. "Not a lot of companies in St. Louis offer exclusively vegan menus if desired," says Rachael Soete, Culinary Canvas's managing director. "It's really blown up in the last couple of years."
Couples who want fully plant-based weddings are seeking out Culinary Canvas because of its expansive offerings. If the event is not fully plant-based, the Culinary Canvas sales team makes sure to inquire about offering vegan or vegetarian menu choices to guests who may want them. "When planning events, a lot of people overlook that," says Soete. "We'd rather ask and make sure everybody has a great experience with us."
Popular vegan options at Culinary Canvas include its Loaded Sweet Potato, a roasted sweet potato with wilted spinach, seasoned black beans, roasted tomatillo salsa verde and avocado; Stuffed Squash, with farro, celery root, arugula, sweet potatoes and herb pistachio gremolata; and Wild Mushroom Ragu, with braised forest mushrooms, garlic herbs, stone ground polenta and leafy greens. On the vegetarian side, guests rave about the Wild Mushroom Ravioli with Dijon cream sauce with wilted spinach and roasted seasonal vegetables.
To expand its plant-based offerings further, Culinary Canvas is working to develop relationships with area farms, so it can purchase seasonal produce directly. "It's a lot easier to talk directly with that farmer and see what they're harvesting and what's in season," says Soete.
Catered by Design—a Green Restaurant Association 2 Star Certified Green Caterer based in the Chicago suburb of Morton Grove, Illinois—has witnessed "a remarkable shift in demand over the last few years, with more clients specifically requesting vegetarian and vegan options," says Thomas Schabow, director of marketing. "Many events now seek numerous plant-based menu options to align with their guests' and their own values to promote a healthier and more sustainable lifestyle."
The share of plant-based menu items tends to be higher at the company's corporate events, where vegan and vegetarian options generally make up about 20 percent of the menu. Crowd-pleasing entrees include the Vegan Moroccan-Spiced Grilled Tofu with Moroccan Barley and Chickpea Salad; Vegan Tandoori Eggplant, featuring grilled Japanese eggplant, brown lentils and Tandoori sauce; and the vegetarian Stuffed Portobello Mushrooms, with caramelized onions, artichoke hearts, roasted red pepper, de Jonghe breadcrumbs, bed of spinach and red pepper coulis. That dish can also be prepared vegan and gluten-free, substituting vegan butter and quinoa for the breadcrumbs and red pepper coulis.
A top-selling appetizer is the Fresh Summer Roll (carrot, scallion, cucumber, red pepper, rice noodles, rice paper and sweet chili dipping sauce), and on the delivery menu, there's strong demand for the Vegan BBQ Jackfruit Slider, served on a vegan bun with apple cider coleslaw.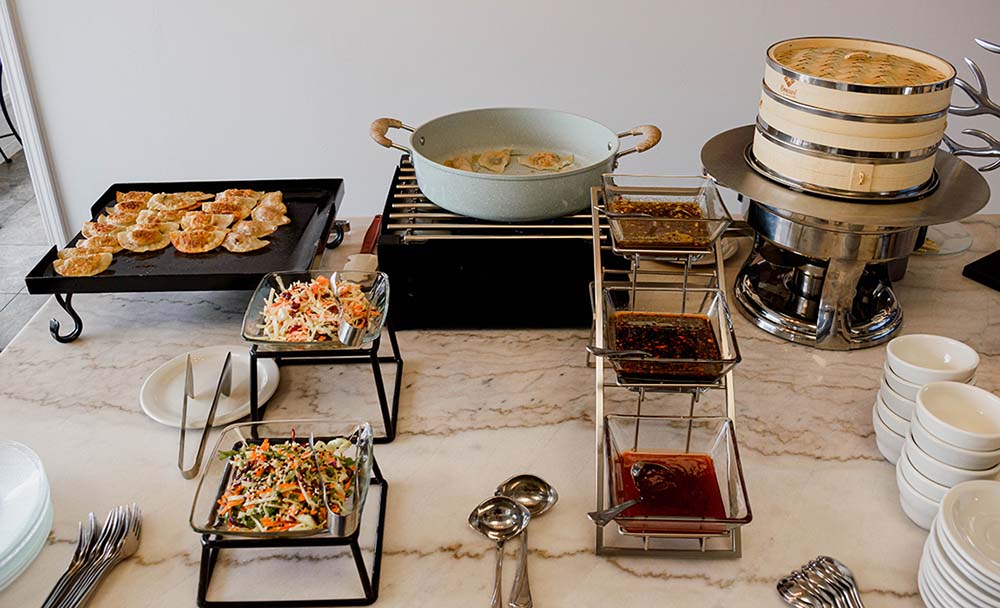 Catered by Design is also planning new stations with vegan options, including a dim sum station; a grilled cheese station, where one choice will be the jackfruit slider or a vegan grilled cheese on a crust made from hashbrowns; and a Caprese station, which can be modified with a vegan cheese recommended by the client.
"The key to anything we put on the menu is it must be delicious," says Tami Zimmerman-Henry, Catered by Design's operations manager. "We're not just throwing something on the menu to cover the vegan option."
Plant-based food has undergone an evolution in catering, notes Zimmerman-Henry. She remembers sitting next to a vegetarian at a wedding years ago and being shocked when the guest was only served a plate of steamed vegetables. "Before, very little thought was put into it," says Zimmerman-Henry. "Now, how we develop those dishes as food professionals follows the same ideology as if you were developing an animal protein dish—how does it look, how does it taste, how do all the components fit together so you get a very delicious dish."
DC Vegan's Leah Curran Moon says it's "been so cool to watch" veganism's progress over the last decade. "When we first started, animal welfare organizations were our early adopters—they were all in," she says. "As we've evolved, we've seen environmental organizations get fully on board; we've catered tons of environmental conferences. And private sector businesses have more awareness. They want to green their events, to reduce their carbon footprint. They also have more vegan employees now. So there's a greater demand and awareness. Last year we catered 10 weddings where the couples were not vegan. They just love great food and wanted to have a great event, and do something kind and compassionate for the animals. That's a huge change even from where we were nine years ago."
Another shift has been the quality of vegan food products available. "The vegan cheese world is really coming into its own," says Leah Curran Moon, noting that vegan cheese "used to be laughable." Yet she has curated a DC Vegan cheese shop—after sampling more than 100 vegan cheeses last summer—and the cheeses are flying off the shelves. She even worked for six months to bring in a parmesan block cheese from Tuscany made with chickpea flour and coconut oil.
"New products are coming out every day that are really great, and new people are getting turned onto it every day," says Leah Curran Moon. "People are aware now that plant-based food is approachable and delicious. It's such an exciting time to be operating in this space."
For More Information:
Auguste Escoffier School of Culinary Arts
escoffier.edu
Catered by Design
cateredbydesign.com
Culinary Canvas
culinarycanvasstl.com
DC Vegan
dc-vegan.com
Plant Based World Expo
plantbasedworldexpo.com