How caterers are adding precautionary protocols to their stations and buffets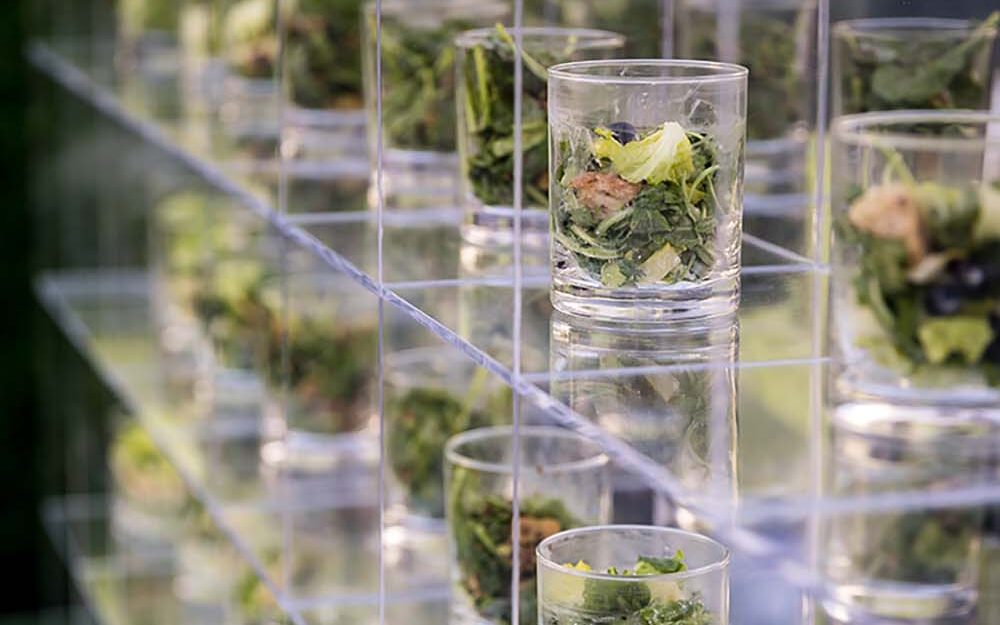 By Sara Perez Webber
Whither the buffet? Due to safety concerns, this easy method of serving lots of guests has taken a hit since the advent of COVID-19. Foodservice operators have eliminated self-serve and buffets, according to a recent study by The Food Group (thefoodgroup.com). Even cruise ships, that mainstay of buffet service, aren't immune. Cruise Critic reports that cruise lines—once their ships start sailing again—will likely have staff members serve all food and drink, replacing self-serve buffets.
While sit-down table service at events is preferred by many these days, caterers—including the three profiled here—are finding ways to make their buffet and station set-ups safe.
Touchless Service
Arthur's Creative Events & Catering
Arthur's Creative Events & Catering, outside Orlando in Altamonte Springs, Fla., has implemented "Touchless Service" at its stations and buffets, ensuring guests never come in contact with anything food-related that another guest has touched. A masked and gloved Arthur's team member assembles a plate for a guest behind a safety shield. The finished result, along with tableware, is placed on a "Landing Zone," so only the guest eating the meal touches it. The Landing Zone is regularly sanitized throughout the event.
The company has successfully implemented Touchless Service at such stations as Mexican Street Corn, Savannah Shrimp & Grits, and Korean BBQ Rice Bowl, as well as its avocado bar. "Our clients are responding very well to all of our new measures," says Shantel Campbell, public relations and digital marketing specialist at Arthur's. "One client sent in this kind note: 'The way Arthur's was ahead in creating safety protocols during COVID made us SO thankful that we had chosen them to serve our guests. Everyone felt safe and was able to enjoy themselves.'"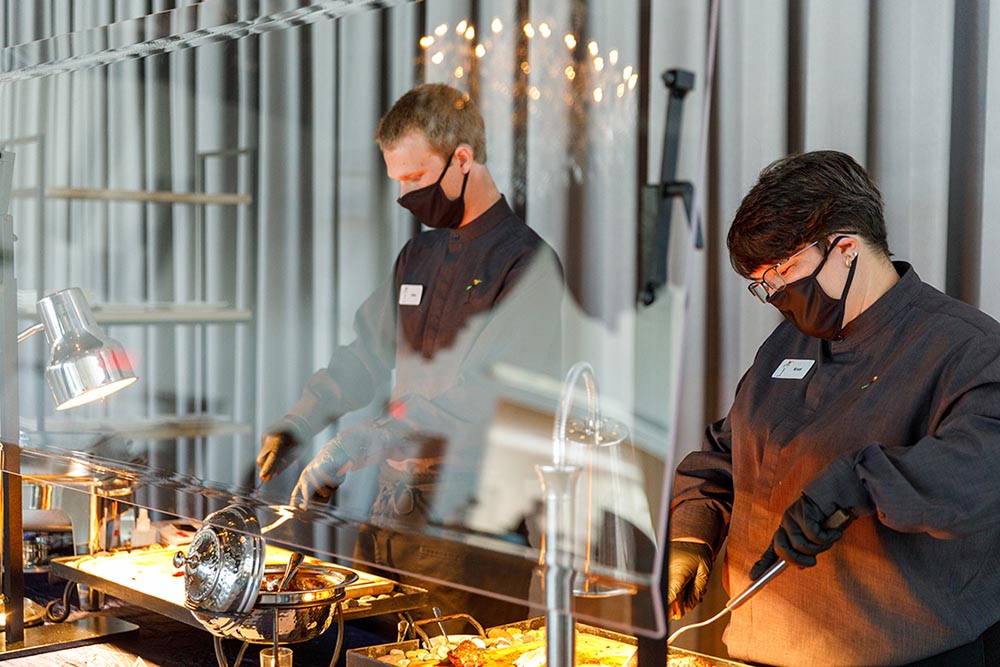 Domed Service
Savoury's Catering
Brad Toles—CEO and executive chef of Savoury's Catering, the exclusive caterer to the Palm Springs (Calif.) Convention Center—began serving food under glass domes in 1999, to please a client who disliked people walking past her food, potentially spreading germs.
Toles found the method both aesthetically pleasing and ideal for Palm Springs' desert climate. Dry air would immediately wilt plated salads, for example, but an acrylic dome over the salad plate would trap in the moisture. "You can plate a salad the day before [with a dome], and it's fresher than trying to plate it right before it goes out," says Toles.
While domed meals have been a Toles trademark for 20-plus years, he's now highlighting the serving method as providing a higher level of protection for guests—and has created the "shielded dome station" to replace buffet-style service. With a shield separating them, guests request ingredients from the chef, who assembles the plate, covers it with a dome and places it on a table. The guest then picks up the meal and removes the cover once seated.
Toles and his team created a video to explain the safety measures to potential clients (visitpalmsprings.com/palm-springs-convention-center/plan-your-event/facilities-information/catering). "When you see it, you'll clearly understand that we are aware of the dangers and issues of COVID, and this is our solution for you," says Toles.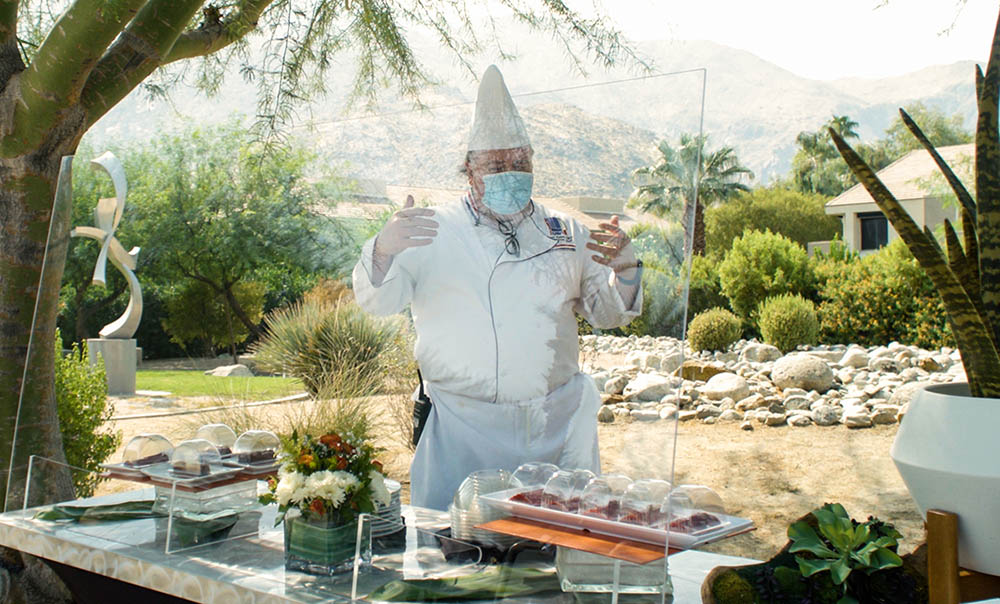 Individual Servings
Good Gracious! Events
In Los Angeles, Good Gracious! Events didn't use conventional tables at most of its events pre-COVID. Now the company continues to utilize its striking station set-ups, all featuring individual servings, at small events for up to 20. Guests—allowed to approach two at a time—can choose a salad or cupcake from a Lucite wall, pick up a Chinese takeout container of sushi from a mirrored wall, or select a plate from a conveyor belt, among other clever serving methods.
Guests love the eye-catching stations, says Pauline Parry, founder and CEO of Good Gracious! Events. The company is also serving guests via butler-style service, notes Parry, with attendants roaming through an event with carts.