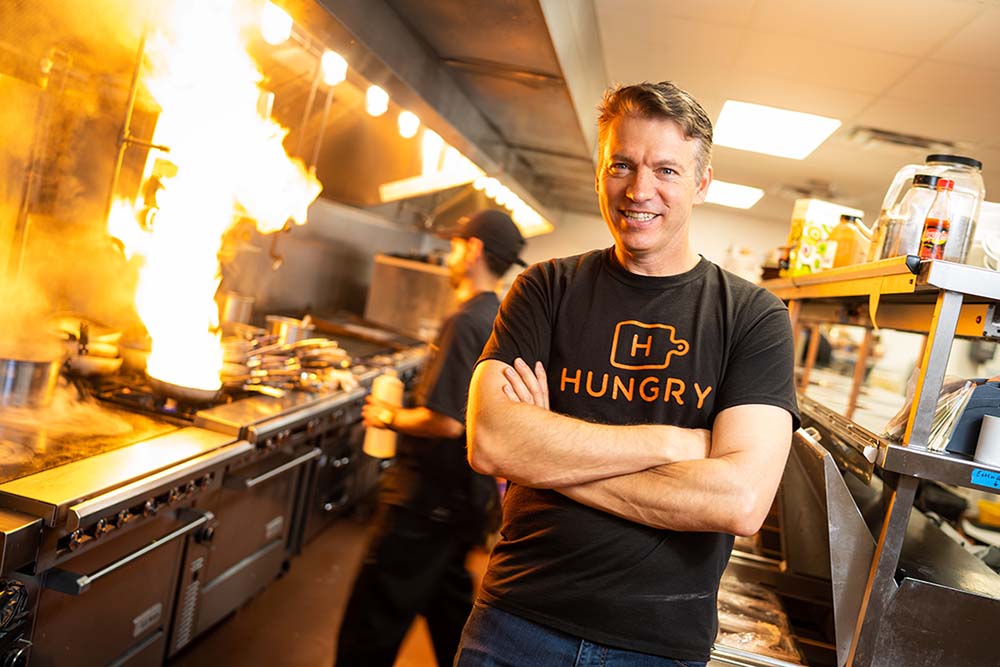 Jeff Grass, CEO and co-founder of HUNGRY, explains how his company is adjusting its offerings as more employees return to the office
By Sara Perez Webber
American workers are trickling back into the office.
According to an article in the Wall Street Journal, citing research by Kastle Systems, in January the average office occupancy rates in 10 major U.S. cities surpassed 50% for the first time since the start of the COVID-19 pandemic.
And while not all companies are requiring their workers to report in person, 77 percent of the Fortune 100 operated on a hybrid work schedule as of February, according to Buildremote—with employees working some days at home and some days at the office.
As workers' physical locations change, so must the business plans of the companies that cater to them. To learn how Arlington, Virginia-based HUNGRY—a national tech platform connecting corporate America with chefs, caterers and restaurants—continues to tailor its offerings to better serve a changing marketplace, CFE recently caught up with Jeff Grass, HUNGRY's CEO and co-founder.
CFE: How have HUNGRY's offerings changed to accommodate companies having more work-from-home and hybrid employees?
Grass: Prior to COVID, HUNGRY's specialty was in-office buffet-style catering and live events. While we are still amazing at both, we also now offer world-class Virtual Xperiences with celebrity talent that provides incredible employee and client engagement, and we have direct-to-home employee and gift snack solutions for work-from-anywhere audiences.
For hybrid workplaces, we also now have an industry-leading Group Order solution, where team members coming to the office that day can order their individual meal in the morning, and we have in-office snack and pantry solutions, so companies can ensure they always have great snacks and drinks on hand for team members in the office. HUNGRY is now a comprehensive platform for all of an organization's food and engagement needs.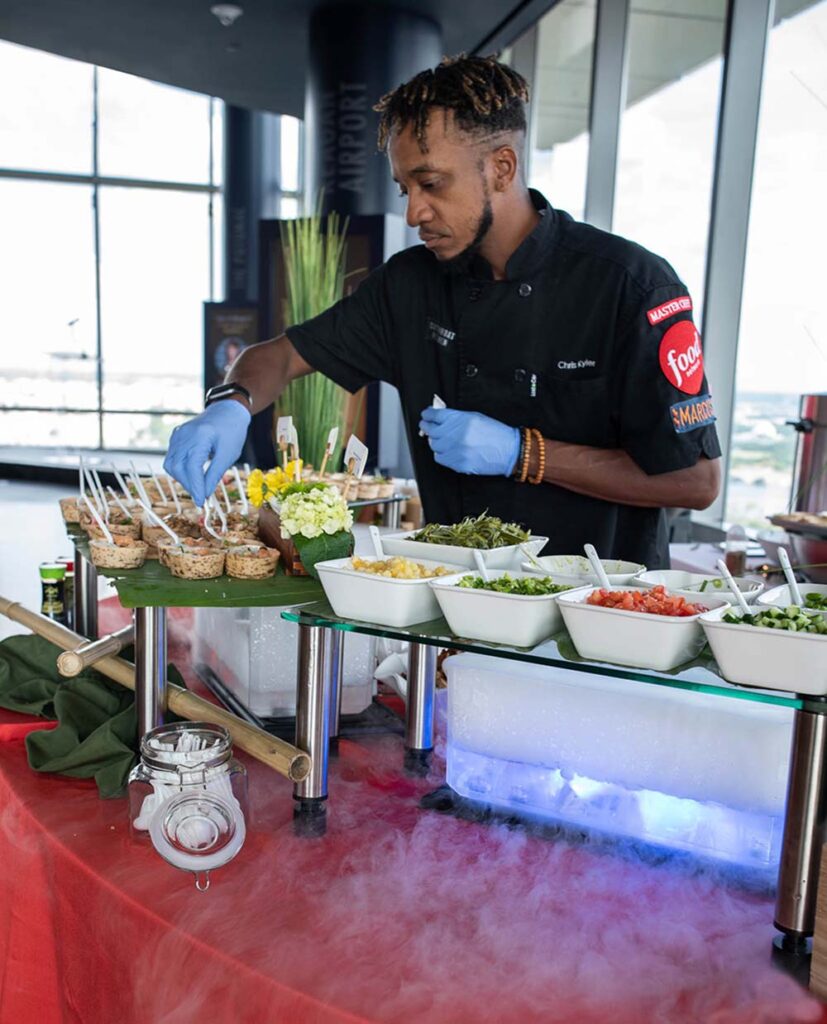 CFE: Are you seeing more of your customers returning to having their employees fully back in the office? Are companies offering more attractive meal benefits as an incentive to attract in-person employees?
Grass: We are seeing a steady, if not accelerating, increase in return-to-office. You are seeing in the news how the larger employers like Goldman Sachs, Google, Disney and Amazon are all shifting back to an in-office workplace, and the same is true for small and medium-sized organizations.
It's been too long since teams have been together in person, and the costs in culture, communication, creativity, shared learning and mentorship have become quite high. The challenge is many people are still somewhat reluctant to return to the office, but a free meal in the office is one of the most cost-effective ways to bring people into the office and to enhance culture and communication. We are also seeing a wider range of companies now investing in food on a regular basis than what we saw pre-COVID.
CFE: Of HUNGRY's various options for clients—office catering, live chef demonstrations, corporate café setups, food truck events for companies, pop-ups and restaurant delivery options—are some growing more than others?
Grass: Our office catering, Group Order, live events and snack services lines are all growing at triple-digit rates. The service lines with slower growth are pop-ups, food trucks and virtual events. Those solutions which require either a large number of people to achieve critical mass or that focused more on social distancing and remote employees are seeing less focus now.
CFE: How many chefs and caterers do you work with, and what are the benefits for chefs/caterers who work with HUNGRY?
Grass: We now have over 300 HUNGRY chefs and caterers. The benefits are substantial. We enable them to become entrepreneurs and start their own business with basically no capital investment. They can make way more income than a traditional chef career path—two to five times as much.
HUNGRY is far more lifestyle-friendly, as they can decide when to work and when not to, plus most of HUNGRY's business is daytime, so no need for long nights and weekends, which are tough. We also feature the chef to help them build a brand and a following within our clients, and they get to cook their own recipes. There are other advantages but those are the biggest. We just love being a platform that empowers chefs and fosters entrepreneurship.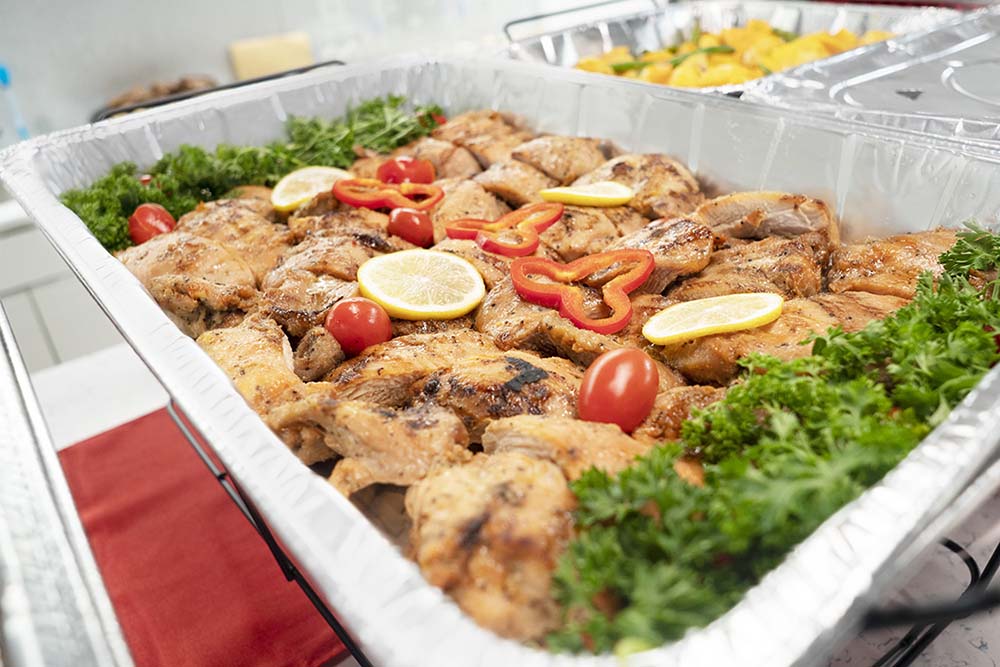 CFE: What trends are you seeing in the types of cuisine customers are requesting most often?
Grass: The types of cuisine vary a lot by which part of the country you are in, but we are seeing a rapid shift away from individually packaged meals (which are terrible for the environment) and toward more family/buffet-style meals. There continues to be a trend toward healthy, but variety is key for all of our clients—food that tastes great, is good for you and that isn't boring. I'd also say there is more desire to know about the food, the ingredients, where they are from, etc., than ever before.
CFE: How many markets are you in, and are you expanding?
Grass: We are now in 13 major markets around the country—Boston, New York, Philadelphia, Atlanta, Austin, Dallas, Chicago, Salt Lake City, San Francisco, Oakland, San Jose, Los Angeles, and Washington, D.C. We plan to add three to six markets this year.
CFE: What will HUNGRY focus on the most in the coming year?
Grass: We are 100% focused on providing our clients a managed food solution that provides amazing food from the best local chefs and restaurants, delivered always on time and with VIP-level service. We love saving our clients huge amounts of time and the hassles and headaches that typically come with bringing in food to an office.
For more information, visit tryhungry.com.