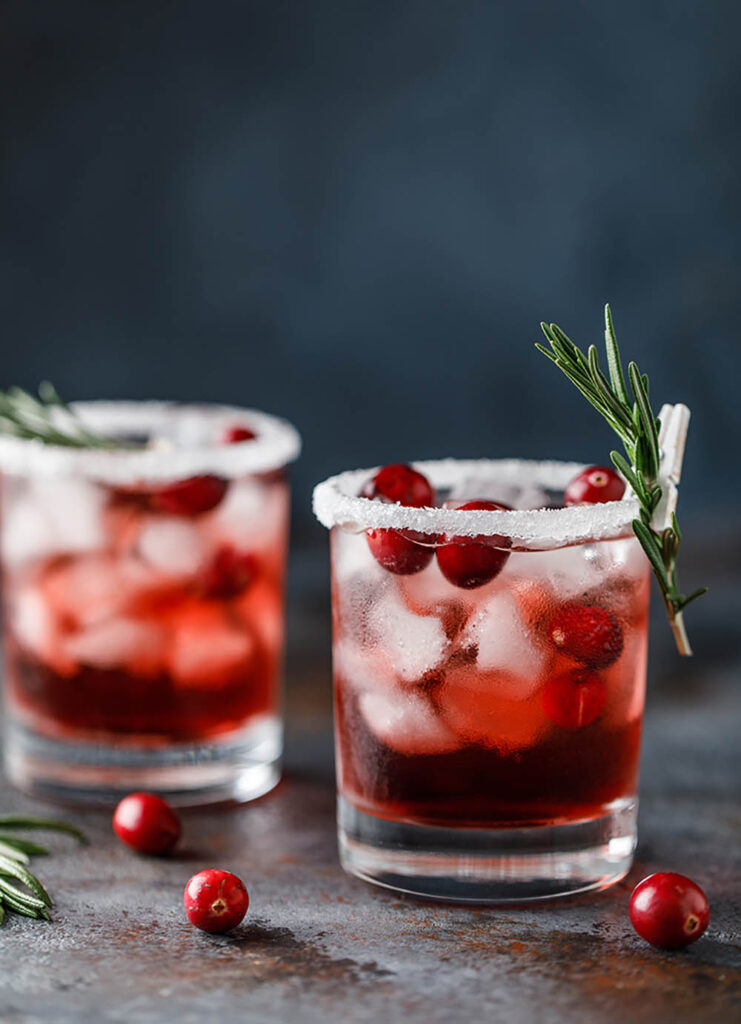 Beverage caterers share post-COVID business strategies, bar trends and favorite holiday cocktails
By Sara Perez Webber
The holidays may look a bit different this year, but there will always be reason to eat, drink, and be merry. Like their food counterparts, bar caterers have had to adjust their businesses in the post-COVID world. Here we profile four from across the country, who share how they're adapting, what drinks are trending and a favorite cocktail recipe they serve during the holiday season. Plus we round up product ideas and wine suggestions for elevating your own bar offerings. Cheers!
Snake Oil Cocktail Co.
San Diego • snakeoilcocktail.com
Last year, Snake Oil Cocktail Co. celebrated its 10th anniversary by executing more than 950 events and opening a 500-person venue in San Diego, JULEP (julepvenue.com). "We started the company to help elevate the craft of cocktails at events, and until COVID hit, we were growing steadily at over 15% a year, employing more than 100 staff," says Michael Esposito, co-founder and CEO.
Initially, Snake Oil's business was split between consulting for bars and restaurants, and catering for events. In its early years, the company designed craft cocktail programs for Yankee Stadium and the restaurants of Top Chef's Brian Malarkey.
Inspired by their fast pace, Snake Oil eventually turned its focus to marquee event experiences. It's frequently hired for fundraising galas and corporate events, ranging from 250 to 600 guests. "We take pride in our bar display, which typically includes an array of fresh seasonal California produce, herbs and florals," says Esposito. Under partner and director of mixology Frankie Thaheld, Snake Oil also runs the beverage program for the San Diego Symphony, and several festivals that range from 2,000 to 10,000 people.
"We are mostly hired by companies looking to differentiate themselves on a serious level," says Esposito. At San Diego Comic-Con, for example, Snake Oil made a splash with Batman artwork on top of craft cocktails through its Cocktail Graffiti, in which clients provide images—including on-the-spot digital photos—that are transformed into edible cocktail toppers.
POST-COVID PIVOT
While Snake Oil was executing 75 to 125 events a month in 2019, the impact of COVID-19 has brought that number down to a handful. To help compensate, the company quickly pivoted to bottling some of its most popular craft cocktail mixes. It also created the Virtual Barstool program, "where we assemble and ship custom cocktail kits with all the fresh ingredients and tools needed for participants to take part in an interactive team-building experience" via Zoom, says Esposito. The company has conducted about 100 of these experiences in the last four months to "rave reviews," notes Esposito.
MOST POPULAR COCKTAIL
"Our most popular cocktail right now is called Eye of the Tiger, which consists of tequila, pressed dragon fruit, muddled basil, lime and a hint of black pepper," says Esposito. "The cocktail really pops because of the natural bright fuchsia color contrasted with a bright green basil leaf and beautiful pink basil blossom for garnish."
TRENDS
"The trend for liquor-heavy cocktails has come and gone," notes Esposito. "The trend is moving away from Prohibition-era cocktails, which have been popular the last few years, and moving toward culinary cocktails with chef-driven ingredients and bright flavors."
HOLIDAY COCKTAIL SUGGESTION:
Holiday in Britannia
YIELD: 1 cocktail
INGREDIENTS
2 ounces Old Raj gin
1 ounce applewood-infused simple syrup
¾ ounce lemon juice
½ ounce coconut milk
½ teaspoon fresh ginger juice
Club soda
Two cranberries and rosemary stem for garnish
METHOD
Add all ingredients, save soda, to a mixing tin and shake with ice. Strain over fresh ice in a Collins glass, and top with a good splash of soda. Garnish with two cranberries on a pick and a rosemary stem that has been lit aflame and then extinguished, producing a fine smoke.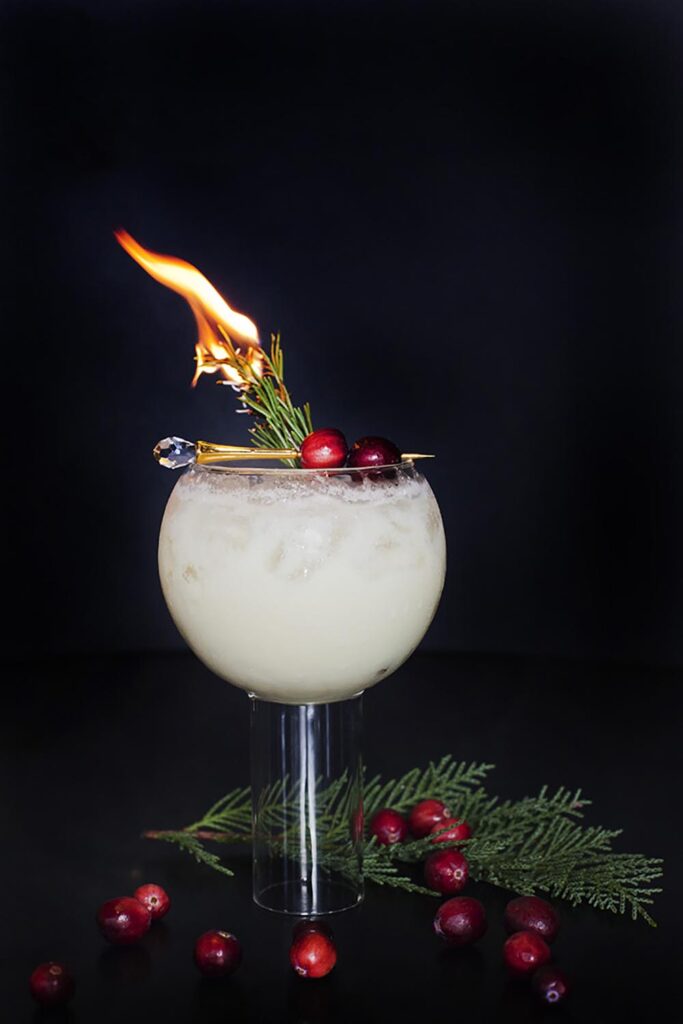 ---
Twist Cocktail Catering Co.
Bend, Ore. • twistcocktails.com
In 12 years, Twist Cocktail Catering Co. has grown from a garage operation servicing one event at a time, to a business that's capable of serving multiple events simultaneously throughout the Pacific Northwest. Offering hosted bar, no-host bar and mixologist-only services, Twist recruits top bartenders and servers to work the approximately 300 events it caters annually.
The majority of Twist's business is weddings, though it also caters for fundraisers, concerts, and private and corporate events, with a client roster that includes such names as Nike, NASA and Oregon State University. Not only does Twist supply the bar, it also offers food catering. "We have an amazing food menu and love building a food and bar menu for clients' events," says Aisha Ali, Twist Cocktail Catering's event director. "We offer everything from appetizers to high-end dinner options."
Ali says Twist's clients hire the company because they don't want to worry about anything bar-related. "When you hire Twist, we take care of all of the little details that go into creating the perfect bar set-up for an event, even stuff you didn't know you needed," she explains. "That includes the alcohol, mixers, garnishes, product, the bar itself, all bar tools and supplies, plus liquor liability insurance and the necessary permits required to serve alcohol in Oregon."
POST-COVID PIVOT
In the wake of events drying up due to the pandemic, Twist created an online wine club called Fundraising by the Barrel (fundraisingbythebarrel.com) that helps both Twist and its nonprofit clients whose annual fundraisers have been canceled or postponed. When someone purchases a wine subscription through Fundraising by the Barrel, 50% of the proceeds go directly to a participating nonprofit for the lifetime of the membership. Twist is also working with clients to schedule 2021 events.
MOST POPULAR COCKTAILS
"Clients love margaritas," says Ali. "We love doing a margarita as a signature cocktail and offering really delicious flavor options like tamarind, mango, prickly pear or something spicy, like muddled jalapeño. Of course, all of the flavor options are fresh and not store-bought!"
TRENDS
"The signature cocktail trend for weddings is still going strong," notes Ali. "We love working with couples on creating the perfect signature cocktails for their wedding."
HOLIDAY COCKTAIL SUGGESTION:
10 Seconds to Midnight
We came up with this cocktail for a bartending competition, and it won! It's inspired by New Year's Eve and uses activated charcoal to achieve a "midnight" color. Activated charcoal is great because it does not stain your teeth, but you still get that cool pitch-black effect. –Aisha Ali
YIELD: 1 cocktail
INGREDIENTS
2 ounces macadamia nut milk
1 ounce vodka
½ ounce (house-made) vanilla maple syrup=
3-4 dashes of walnut bitters
Activated charcoal "to taste" (to achieve the desired darkness of the drink)
Orange slice (garnish)
METHOD
Fill a cocktail shaker with ice, and shake all ingredients. Pour into rocks glass, and garnish with an orange slice.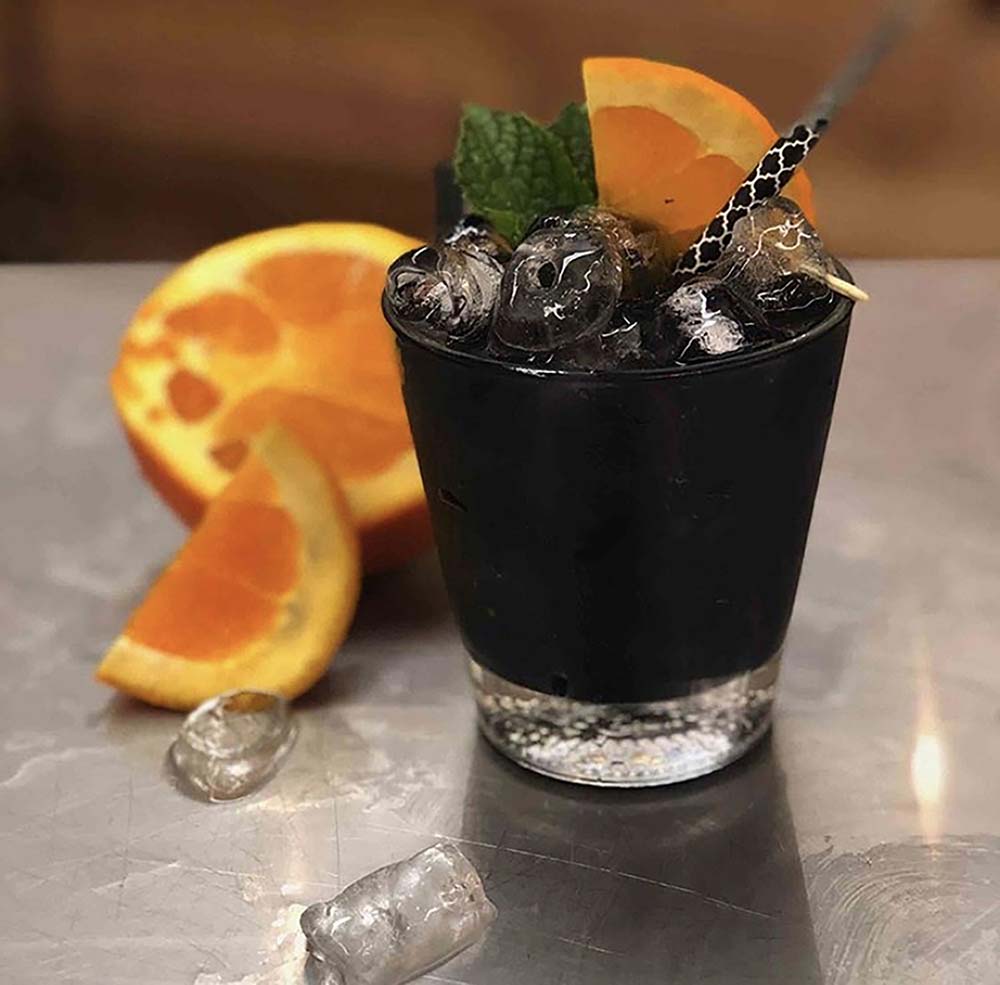 ---
Open Bar Hospitality
New York • openbarhospitality.com
In 2006, Open Bar Hospitality (OB), an off-premise bar catering company, opened in New York City. "We saw the void in the marketplace for a company like Open Bar that clients could call on for high-quality signature cocktails, bar set-up, professional bartenders and mixologists," says Lisa Lindo Duval, owner, who previously worked as an event planner in the fashion and entertainment industries. Co-owner George Duval, her husband, is a mixologist.
Known for its fresh and seasonal crafted cocktails, OB will work with clients to create one-of-a-kind drinks. "We pay extra attention to glassware and garnishes, as those items help with the 'wow' factor for a guest experience at the bar," says Lisa. Catering for events of all types and sizes, OB typically averages about 10 to 15 events per month, with more during the fall and holiday season. Big-name corporate clients have included Facebook, Oracle, H&M and Samsung, while its celebrity client list boasts such names as Beyoncé, Justin Bieber, Rick Ross and Wiz Khalifa.
Since its founding, OB's services have expanded to include cocktail creations for liquor brands, new restaurant consultation, and staff training for lounges and bars. It sells a line of organic simple syrups, and offers its own experiences for clients, including mixology classes, Mom's Nights Out, and Rum & Rhythm, a mixology class it offers in Jamaica during July and August. The OB Mixology Box Set, launching in the fall, will include bar tools, recipe cards, and OB-brand ginger and jalapeño simple syrups.
POST-COVID PIVOT
With COVID-19 hitting New York City hard in March and April, OB started offering virtual mixology classes and virtual consultations, and has hosted live cocktail demonstrations on Instagram, to stay connected with clients and followers. The company now offers two options for serving—pre-batched cocktails that are passed, to reduce the number of guests at the bar; and a traditional bar set-up with social distancing requirements for guests. OB staff members, who are tested frequently, wear PPE (clients have the option to provide branded PPE), use hand sanitizer and have their temperatures checked before each event.
MOST POPULAR COCKTAILS
OB's customer favorites include the Guava Cosmo, Moscow Mule (made with OB's fresh ginger simple syrup), Sweet Pepper Moonshine cocktail, Cranberry Mule and Blueberry Whiskey Sour.
TRENDS
Interest has spiked in spirit-free cocktails; grilled, roasted or fire-blasted garnishes on cocktails; and tea-infused spirits and syrups, says Lisa. "We have clients that have requested kegged cocktails that are quick and easy to serve at the bar," she adds. "Clients are still requesting small crafted beers, and we have quite a few clients that are requesting more natural organic wines."
HOLIDAY COCKTAIL SUGGESTION:
Cranberry Mule
YIELD: 1 cocktail
INGREDIENTS
1 ¾ ounces vodka
½ ounce lime juice
½ ounce ginger simple syrup
6 frozen cranberries
Ginger beer to top off
METHOD
In shaker, muddle frozen cranberries, releasing their sweet tart flavor and signature red color. Then add all other ingredients, except for ginger beer. Add ice and shake vigorously, bringing all the flavors together. Strain over fresh ice in a highball glass, and top off with carbonated ginger beer. Garnish with a sugared ginger candy.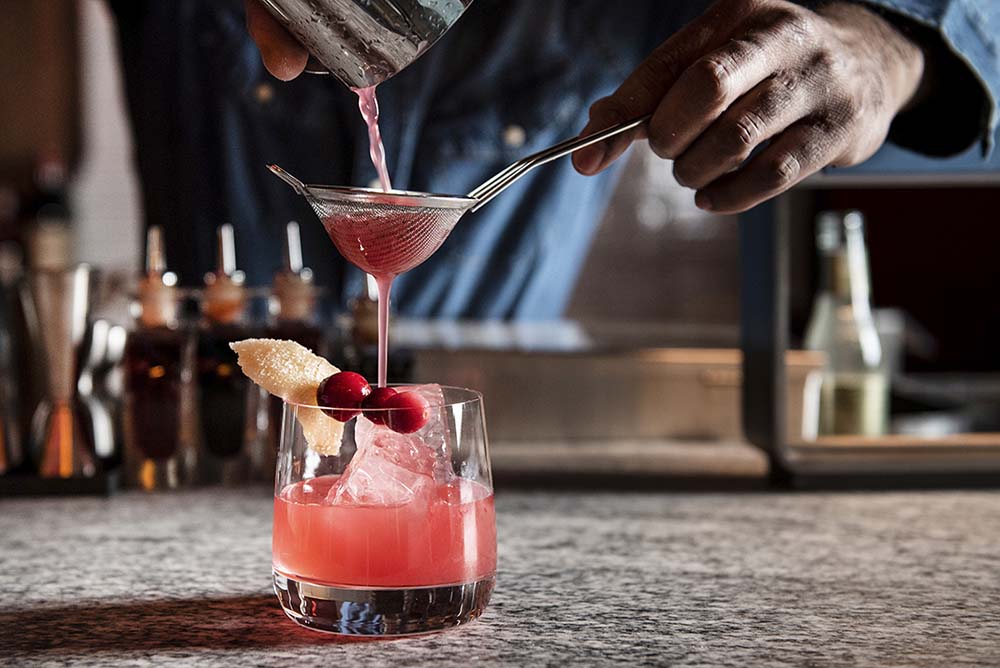 ---
Liquid Catering
Greenville, S.C. • liquid-catering.com
Nearly a decade ago, Tammy Johnson started Liquid Catering as a one-woman shop out of her garage, hiring staffers through Craigslist as she booked events. Today Liquid Catering employs eight administrative staff members and more than 50 full-time and part-time bartenders. As president and CEO of High Spirits Hospitality, Johnson now oversees four additional businesses—an events company, venues and an event security firm.
Liquid Catering has made its mark through exemplary customer service, says Johnson. "Our team has years of experience with creating beverage menus, communicating with distributors and acquiring the necessary licenses for serving alcoholic beverages," she says. "When we travel to event venues, we come prepared with everything from uniformed staff to bar signage to linens."
Prior to COVID-19, Liquid Catering was involved with at least two or three events every weekend, plus local food and wine festivals. It's catered events of all sizes, from intimate weddings to large concerts, with a client list that includes nonprofits, museum and event venues, universities, major corporate brands and healthcare groups.
POST-COVID PIVOT
With city-wide events canceled and declining demand for beverage catering due to the pandemic, Liquid Catering partnered with a High Spirits Hospitality venue—The Old Cigar Warehouse—to host drive-up libation sales, with customers purchasing beer and wine directly. While Liquid Catering would normally start to book holiday parties this time of year, the company expects businesses to host holiday happy hours on site, for employees only, to limit interaction and exposure. In addition, "since we don't anticipate fans being able to attend college football games, we plan to market tailgating packages to individuals, neighborhoods and alumni groups," says Johnson.
While catering events, Liquid Catering now requires bartenders to wear masks and gloves at all times; marks 6-foot increments for the bar line; and, when possible, installs a plexiglass shield on the bars. It no longer reuses glassware or offers any self-serve beverage stations.
MOST POPULAR COCKTAILS AND PACKAGES
Two of the most-requested cocktails served by Liquid Catering include its bourbon-based Blackberry Smash, with peach schnapps, sweet vermouth, real blackberry puree and homemade sweet tea simple syrup, topped with ginger ale and fresh blackberries; and the vodka-based Cucumber Spritz, with fresh cucumber juice, homemade simple syrup and sour mix, topped with club soda and garnished with thin cucumber slices. A popular wine-based option is Strawberry-Ginger Sparkling Punch.
"Our most popular full-service package is the Southern Spirits package, including beer, wine and hand-crafted spirits that are made right here in the Carolinas!" says Johnson. "Those not looking to include spirits in their event usually opt for the Everything Local package, which features products from regional and local wineries and breweries."
TRENDS
This spring and summer, Liquid Catering noted an increasing interest in seltzers and in rosé as a wine option.
HOLIDAY COCKTAIL SUGGESTION:
Merry Margarita
YIELD: 1 cocktail
INGREDIENTS
1 ¼ ounces Lunazul Tequila
1 ¼ ounces fresh orange juice
1 ¼ ounces cranberry juice
½ ounce triple sec
Sugar-dipped cherries and orange slice for garnish
METHOD
Shake ingredients with ice in a cocktail shaker, then strain into a rocks glass with ice. Garnish with sugar-dipped cherries and an orange slice.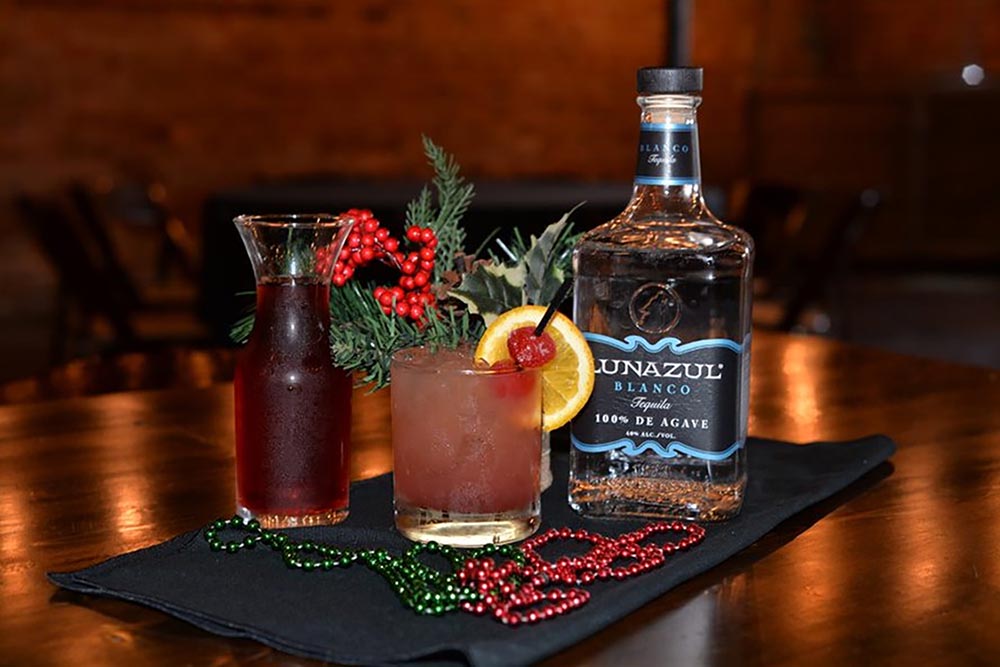 Click here to read Raising the Bar – Ideas for elevating your wine and cocktail offerings…