With his award-winning "Behind The Veil" podcast and YouTube show, event planner Keith Willard encourages others in the industry to forge ahead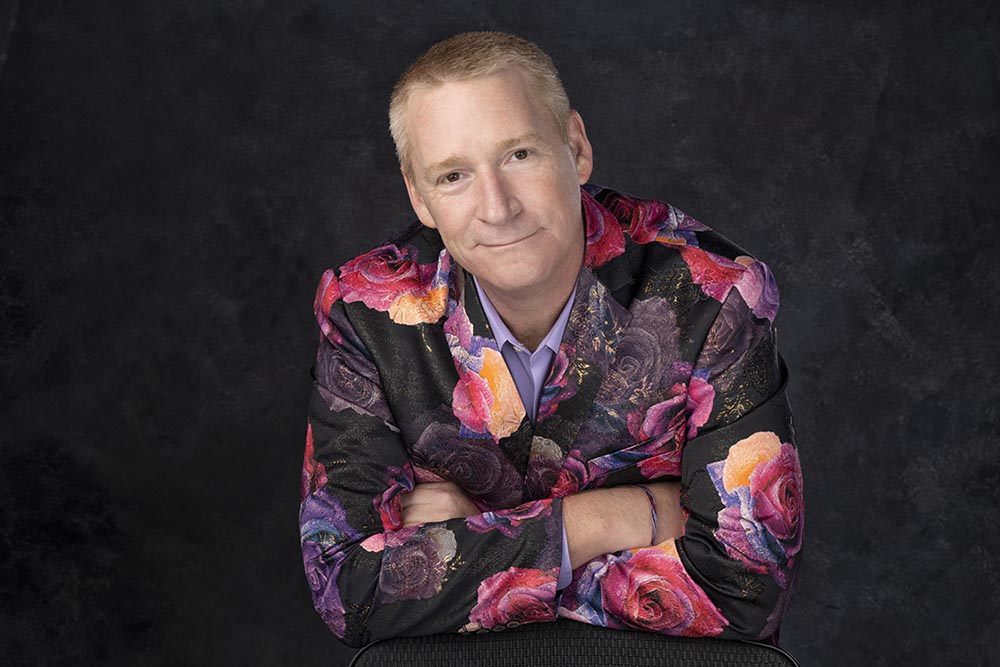 By Sara Perez Webber
If you were looking for advice about what to do after the catering-and-events industry came crashing down in 2019, perhaps you tuned into "Behind The Veil."
Event planner Keith Willard launched the weekly podcast and YouTube show—which began as a Zoom call—in spring 2019 as he pondered the future of his own business, Keith Willard Events in Fort Lauderdale, Florida, in the wake of the COVID pandemic. "I thought, I can't be the only one facing these fears, and maybe someone else has answers that I don't," says Willard.
The show first focused on different segments of the event world, with guests such as floral designers and entertainment company owners. Then Willard—who also serves as president of the South Florida NACE chapter—started inviting guests from outside of hospitality: a psychologist to talk about mental health and wedding planning during COVID; lawyers, who spoke about estate planning and why it was important if you had to push off your wedding; and public relations expert Meghan Ely from OFD, who discussed how to get publicity with little or no money, to ensure small companies continued to be visible.
As the audience grew, Willard moved the show from Zoom to StreamYard live-streaming, enabling him to broadcast to YouTube, Facebook and LinkedIn at the same time, and create a podcast version of the show. Behind The Veil even won a 2021 Telly Award—which honors excellence in video and television, across all screens—for best unscripted online series.
Willard's efforts to help fellow industry members through a tumultuous time also earned him a NACE One award. At the association's annual Experience conference in August 2021, Willard was named the 2020 Innovator of the Year.
"That was just amazing," says Willard. "It meant that my hard work, and the work of my co-hosts, was making a difference, that what I had created and what they helped form was of value and needed in our community. We are going to continue the show, if people still want to watch us, and be as real, and as human, as possible."
CFE recently caught up with Willard, who worked as an event planner in Dallas before relocating to Florida. He filled us in on the trends he's seeing in events, explained why he went into business for himself, and gave us a peek behind the scenes of Behind The Veil.
CFE: How did you end up opening your own event planning company in South Florida?
Willard: I moved to Fort Lauderdale and got involved with the local gay and lesbian community. It didn't take long before my experience as an event planner led to me donating my time putting on events. One event was at the Hyatt Regency in Fort Lauderdale, and the director of catering, Scott Schaefer, came up to me after the event and offered me a job as an entry-level catering salesperson for the hotel. I was new in town, and I had never worked for a hotel, so I thought, why not? I broke my first-quarter sales goal by 400%.
Anyway, over the next five years, I worked my way up from entry-level catering to senior catering sales to director of catering for The Ritz-Carlton, Bal Harbour. It was then that I needed to go back into business for myself. Too many of my clients wanted me to follow them over the years to other hotels. Companies that had never repeated a hotel ever found themselves coming back to me—not because of the hotel but because of how easy I made it for them. It was also during this time that I found my true passion—weddings! There is nothing like a bride seeing her dinner space for the first time. It's truly magical.
I started Keith Willard Events. Five years, hundreds of events and a pandemic later, here we are.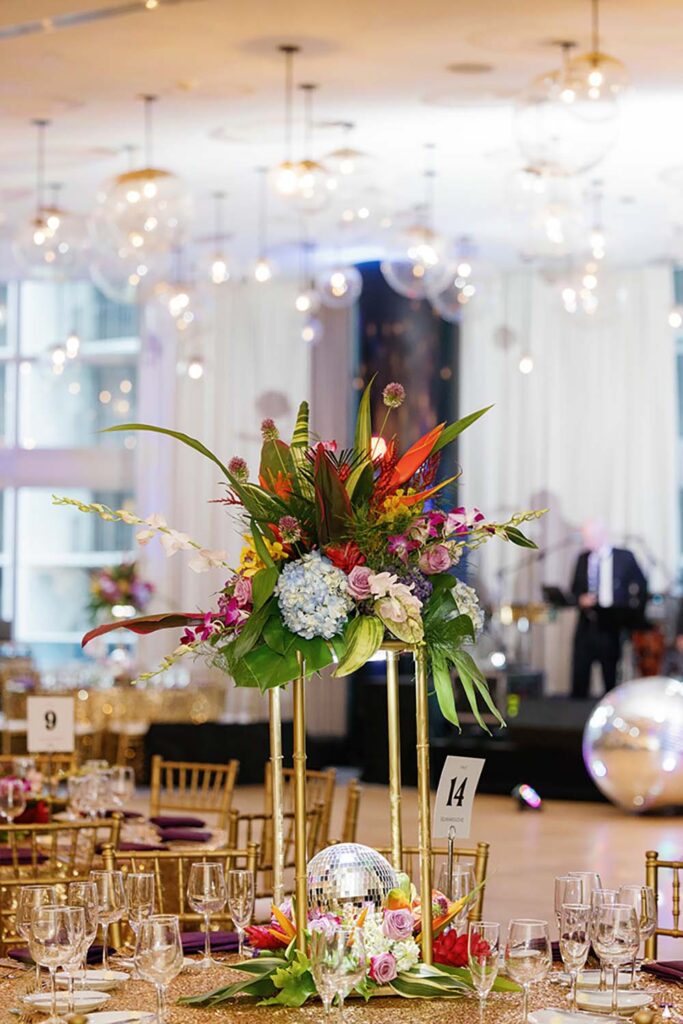 CFE: What are the biggest changes you've seen in the event planning industry during your career?
Willard: Technology! I remember when I would need to rent multiple generators just to handle lighting! Now everything is LED- and battery-powered—what a difference. The pandemic pushed us like no other time when it comes to finding new ways to communicate. The use of FaceTime, Zoom and online resources have become part of our daily lives—and it's made me more efficient.
More and more, I find that logistics are the true basis for a successful event. You can have the most amazing décor, but if your logistics aren't solid, then no one is going to truly appreciate the other pieces.
CFE: What are the top event design trends you're seeing for 2022?
Willard: I'm seeing a take on nostalgia. I have had so many requests for a 1970s "Mamma Mia" disco-vibe wedding. Something chic, but super-colorful, but also fun, while keeping a bit of the formal side.
Post-pandemic, couples are vying for visuals and experiences that show off their personal side. It's almost like the pandemic finally gave couples the power to choose something interesting and ignore the naysayers! Deep greens, deep purples, bright reds…vibrant colors that show off all the options nature has to offer, but not always using tropical flowers. Couples are looking at unique florals that are paired with a variety of interesting vases—small glass vases in a variety of shapes, sizes and color, and each one holding one, two or three perfect flowers that are big and rich and full of texture.
I'm seeing a nod to over-the-top visuals, and a lot more live musicians! It's not just enough to have a DJ now. At minimum guests want the amazing DJ, but also a couple of live instruments to play with the DJ to provide that live experience.
Couples are opting for personalized experiences, not just with the décor but with everything. Guest books are a thing of the past. Every single couple I have worked with over the last six months (roughly 25 couples) have all opted out of the traditional guest book and opted in for something unique and totally them. For example, guests signed a blue French horn because one couple were huge "How I Met Your Mother" fans. For another wedding, guests signed an electric guitar, which the groom had restrung, and he now plays it in his band at home. Sometimes it's a magnum of the couple's favorite champagne that guests sign using paint pens—but no matter what, it's something that the couple likes and will display in their home.
And one last trend I'm seeing—not being politically correct when asking guests to be vaccinated or tested within 72 hours of the event. For a year, guests would send a note with the invitation that basically read, "In the hopes of ensuring the safety of all of our guests, especially those that are at higher risk, we are asking that everyone be vaccinated." It's an ask versus a command. Now there is zero hesitancy in stating that if you are coming to the wedding, you must be vaccinated.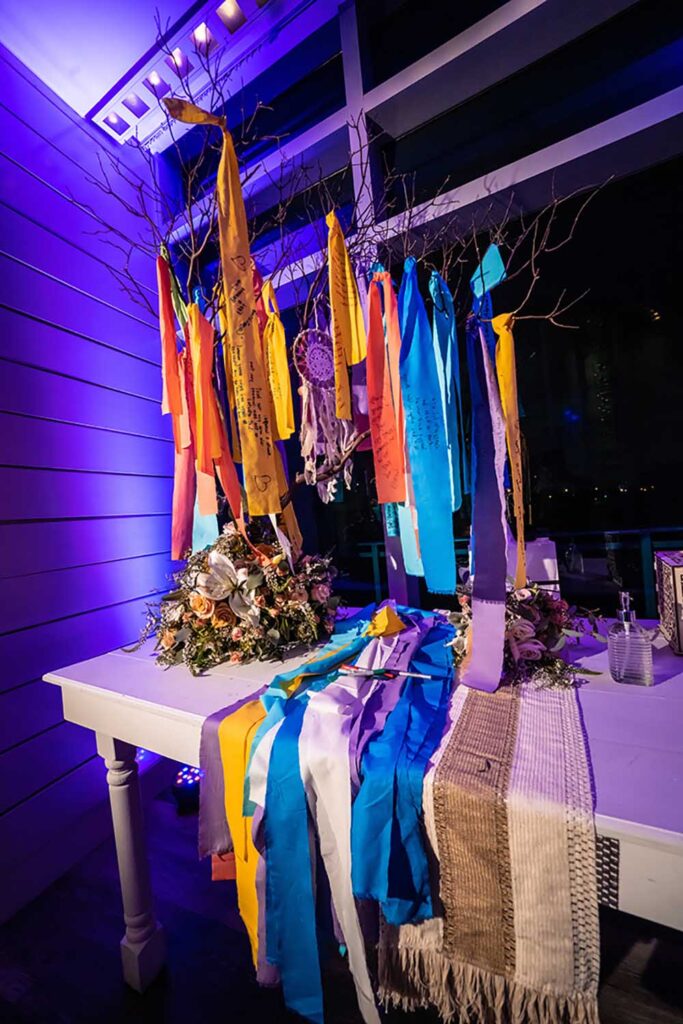 CFE: How did the Behind The Veil podcast and video come about?
Willard: On March 13th of 2019, all event business in South Florida came to a screeching halt. It wasn't over a couple of days or weeks, but literally on that day, everything stopped…. Then the phone calls and emails started pouring in. I was president of our local NACE chapter, so not only were my clients calling me panicked, so were many other businesses. Questions like, "What have you heard? What are the hotels doing? How long is this going to last? What do we do?"
That's when the idea of putting together a Zoom call first came to mind. The premise was simple: Invite five or six other local event planners on a call, put out a request for questions, and answer them live while pushing out to Facebook simultaneously. That first call went for two hours, and we didn't get to even half of the questions. Most were about what to do regarding contracts, deposits and force majeure. So, I scheduled a second Zoom call with hotel leaders—directors of catering from the Conrad, the Westin Beach Resort and The Ritz-Carlton. This way viewers could hear directly from them about what was happening internally.
Then my husband said, "You need to title it…what about 'Behind The Veil'?" It was catchy, and it summed up what we were starting to do. So, every Tuesday at 2 pm we would do a live Q&A called "Behind The Veil—Providing insights into the world of weddings and events."
That's also about the time I knew that I couldn't be the only host. I invited Marci Guttenberg, who owns an invitation company called An Affair To Remember By Marci, who is also a past president of NACE. The other was my assistant Brooke Logan Stoner. She had only just started working for me about six months prior, so she had a fresh point of view and would ask questions that I would overlook. As a pro in this field, sometimes we forget not everyone understands the lingo. So, if we said "RFP," Brooke would be the one to say, "Wait, what's an RFP?"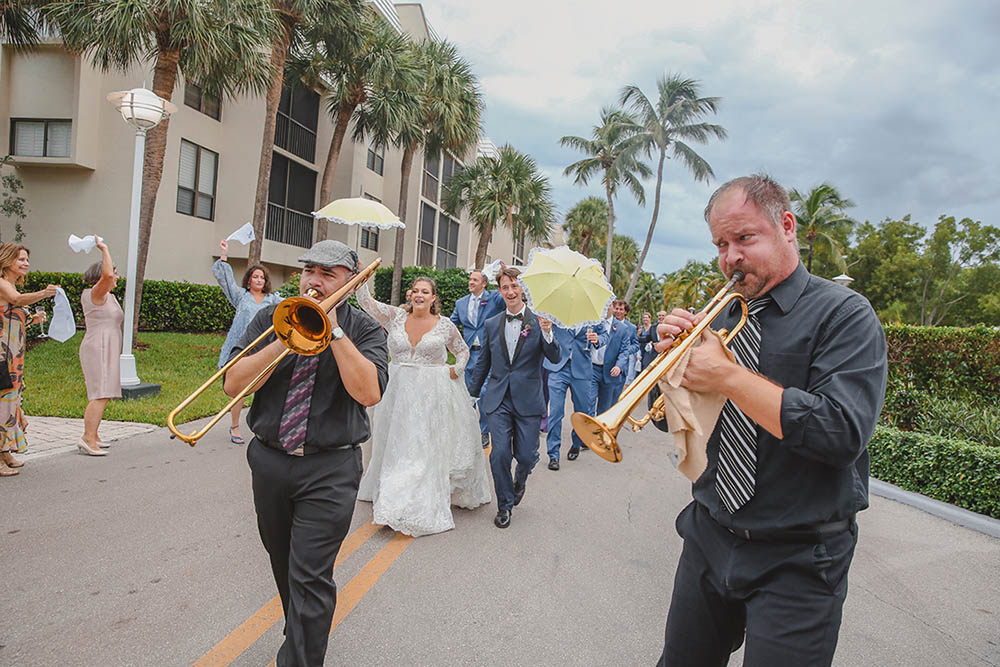 CFE: How's the show doing now?
Willard: We've hit 21,000 viewers via YouTube multiple times, several thousand listeners on the podcast every week, and who know how many more via Facebook and LinkedIn, since those two platforms don't give truly accurate counts. And I have held true to the original premise of the show—always live, always unedited and always real.
Sometimes we have cried, many times we have laughed, other times we've gotten very serious. [Recently] I went on live to talk about the demons that I had been dealing with, and how COVID was affecting me personally long-term, and that watching my own performance was a wake-up call to make changes—all in the hopes that someone else will see this and know that they are not alone, that everyone has issues, and that it's OK to be human. •
For More Information
Behind The Veil podcast:
iheart.com/podcast/269-behind-the-veil-73784964
Behind The Veil video:
www.youtube.com/c/keithwillardevents
Keith Willard Events: