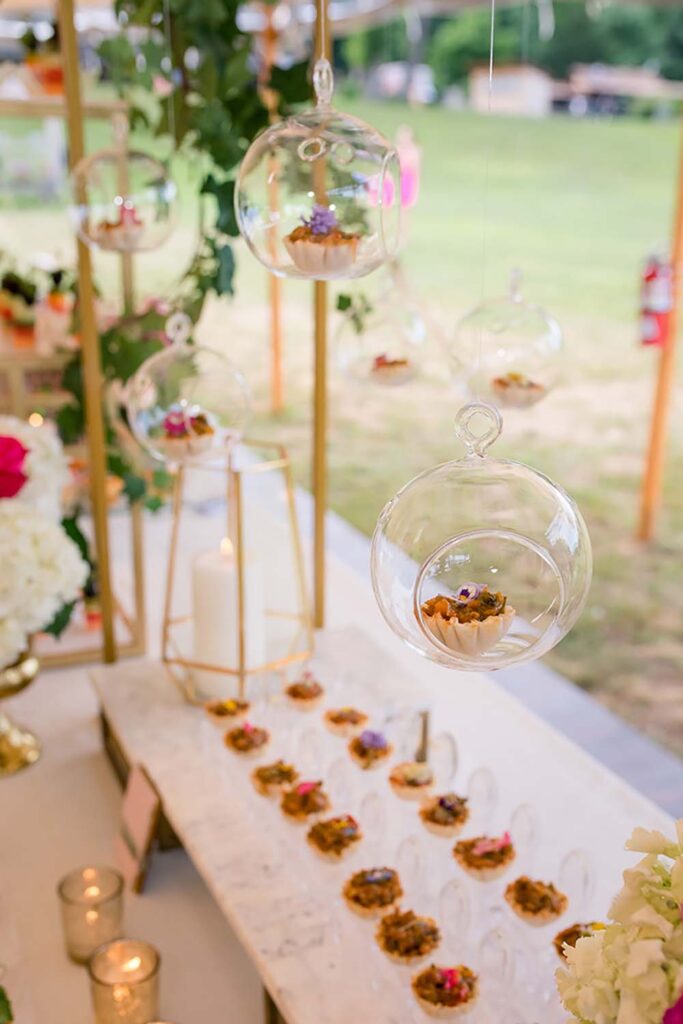 Offering tempting dishes and creative themes, caterers serve up their best with guest-pleasing stations
By Sara Perez Webber
The sky's the limit when it comes to food station variety. But which ones are most popular with clients and guests? CFE asked six caterers to share details of noteworthy station and buffet offerings. Their answers reflect the trends driving event station set-ups—and may inspire your own station creation.
Attention-Getting
A station with pizzazz can become the focal point of an event. At the Flaming S'mores station from Arthur's Catering in Orlando, for example, an attendant picks up a skewered marshmallow from a tower, torches it, then extinguishes it in micro chocolate chips and crushed graham crackers. "The tower of marshmallows really catches the attention of our guests," says Jess Mack, marketing manager. "Guests can grab and go and get back to mingling."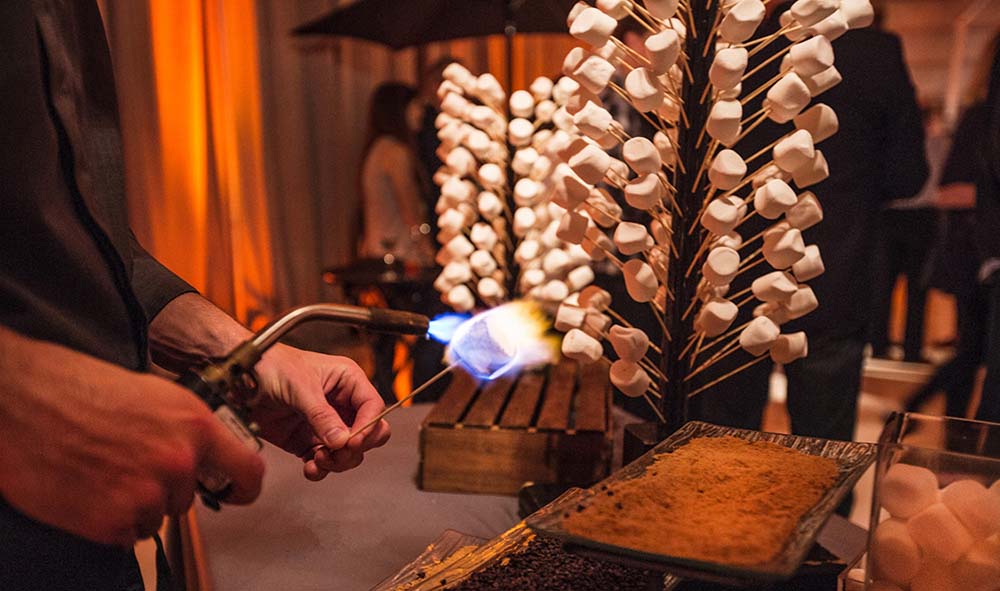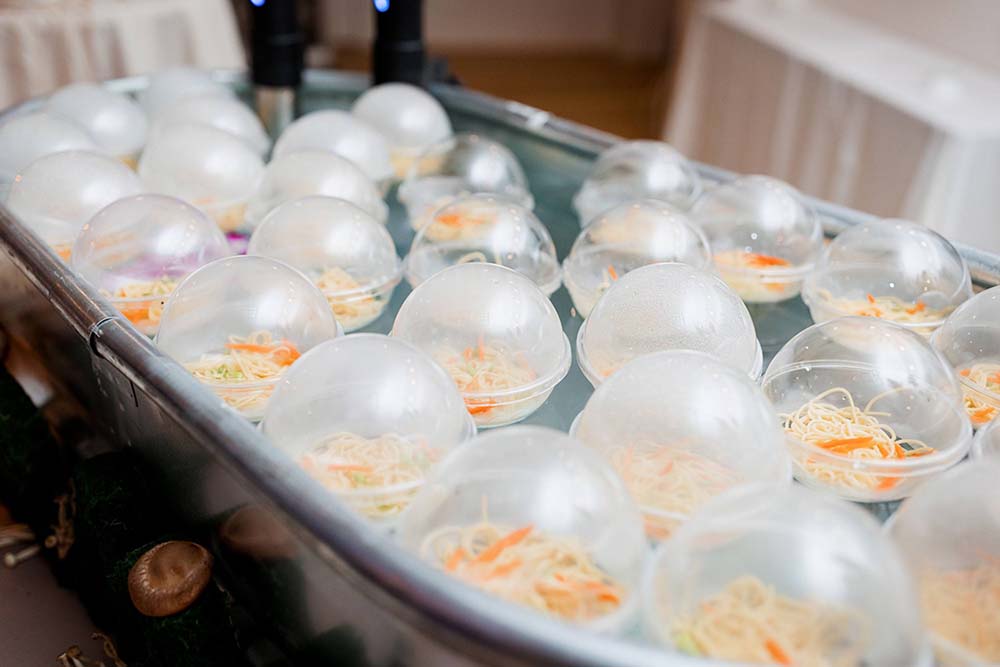 Atlanta's Proof of the Pudding pairs two party favorites—champagne and oysters—in its Bubbles & Bites station, featuring a variety of fresh oysters for guests to choose from. With balloon and flower accents, as well as hanging flower orbs, the station is custom-designed to coordinate with each event's theme and colors.
For a "Land and Sea" wedding dinner for an outdoors-loving couple, Partyman Catering in Avon, N.Y., created a Sea Station with an imaginative twist—guests fished a "Ramen Bobbin" out of a galvanized tub. They could then customize their ramen noodles with a variety of toppings, including duck, shrimp and assorted vegetables. The station also featured ahi tuna poke bowls, Chilean sea bass ceviche cups, spring rolls with sweet chili sauce and lotus chips. "The Ramen Bobbin was quite the 'wow' factor for guests, both for its ingenuity in design and execution, and for the amazing flavors each person could explore," says Beth Hiler, Partyman's marketing and graphic design coordinator.
Something for Everyone
Because "menu limits shouldn't limit the experience," Partyman Catering offers the Vegan Market Station. Designed like a grange display at a farmer's market or state fair, with abundant decorative produce, the station serves a vegetable ribbon tart, heirloom tomato and beet salad, kale salad with fresh vegetables lightly tossed in a vinaigrette, and a wild mushroom with lemon and lentils salad. "With the increased popularity of vegan options, it is important to present these meals with the same air of indulgence and extravagance you would see with any other station," says Partyman's Hiler. "The sheer size and immensity of this market display let the guests feel excited about what they are about to enjoy and feel satiated with all the scrumptious offerings."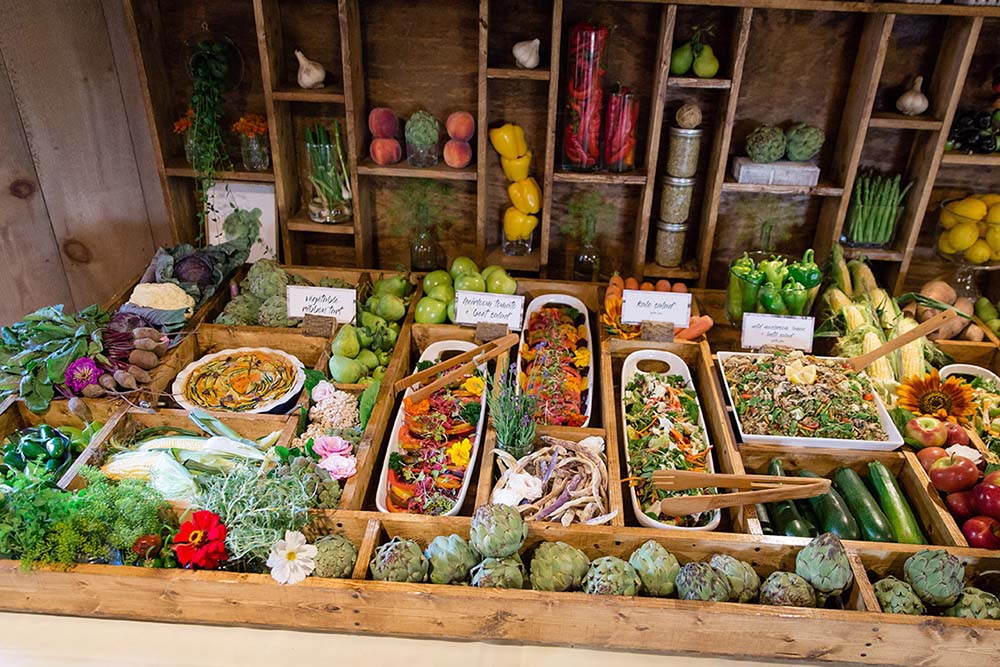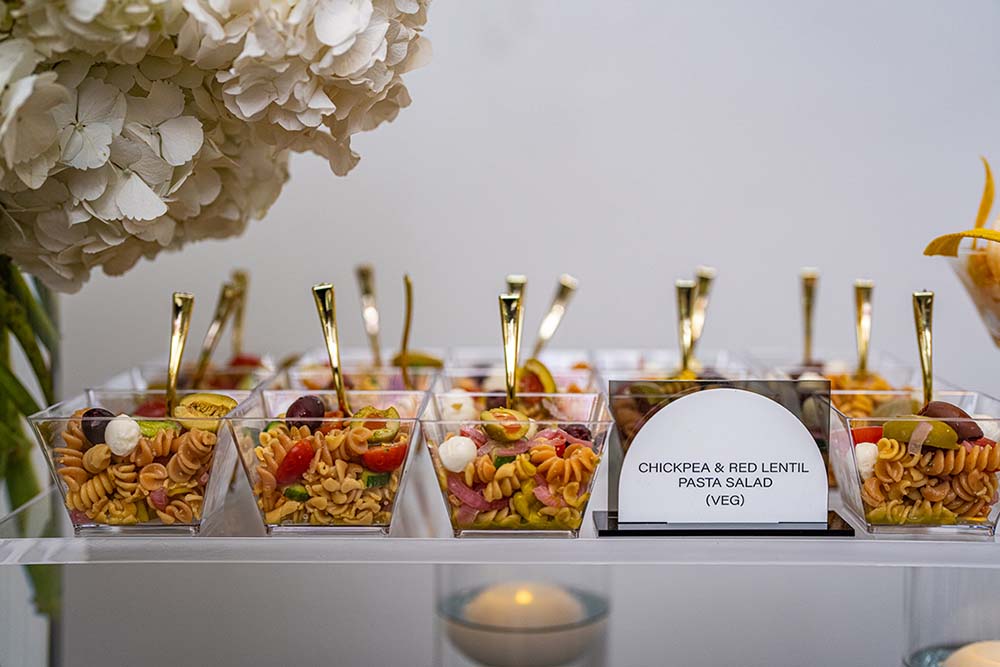 Whatever guests' dietary restrictions or preferences, a well-thought-out station can satisfy them. Delivering Experiences in Clifton, N.J., offers The Tasting Station and Only Fork station, both designed "for every taste or food restriction," says Juan Hernandez, chef and owner. "We include gluten-free, dairy-free, vegan and other types of food items to ensure everyone will find something to pick." Each individual vessel in the Only Fork station features a small bite with a fork.
Local Specialties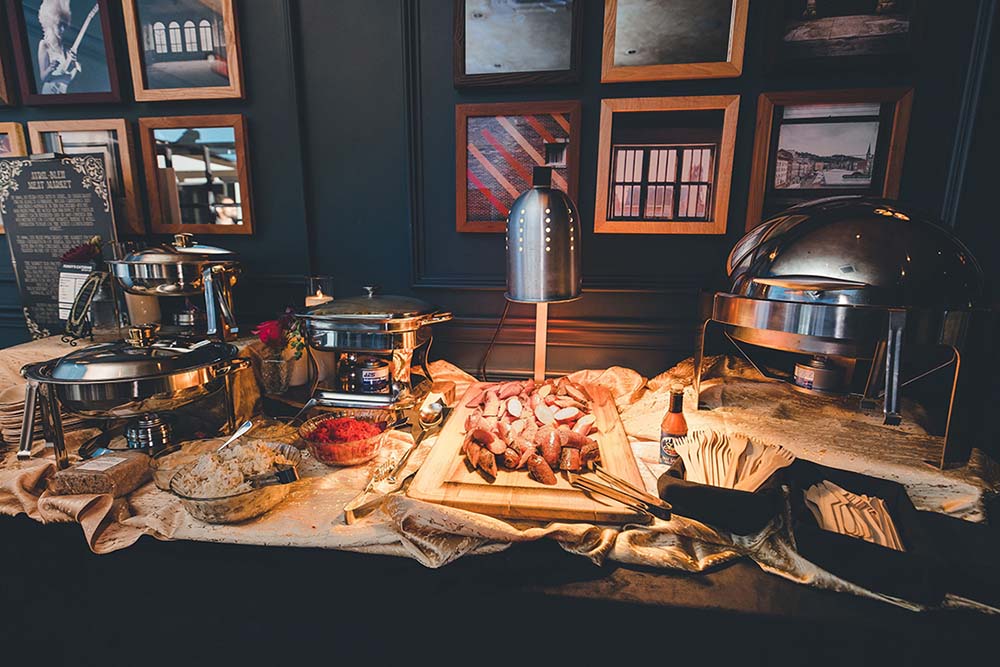 Stations provide a perfect opportunity for showcasing the food that your area is known for. Cincinnati-based Funky's Catering – A DelightMore Company celebrates a legendary local supplier with its Avril Bleh's Sausage Station. Founded more than 125 years ago, Avril-Bleh is a Cincinnati institution, offering more than 30 types of meats and sausages. Funky's Sausage Station features a housemade sausage board, with Greek chicken and Israeli wild boar sausages; sauerkraut balls; goetta balls, made with a local specialty breakfast sausage; apple-braised cabbage, carrots and Brussels sprouts; and Cincinnati mini cheese Coneys.
To underscore the local theme, Funky's has paired the sausage station with its Kentucky Bourbon Station, serving up varieties from the nearby Kentucky Bourbon Trail. "Whether you are from the area or not, it's fun to learn a little history and know that you are enjoying local fare," says Jerin Dunham, Funky's owner and COO.
Customizable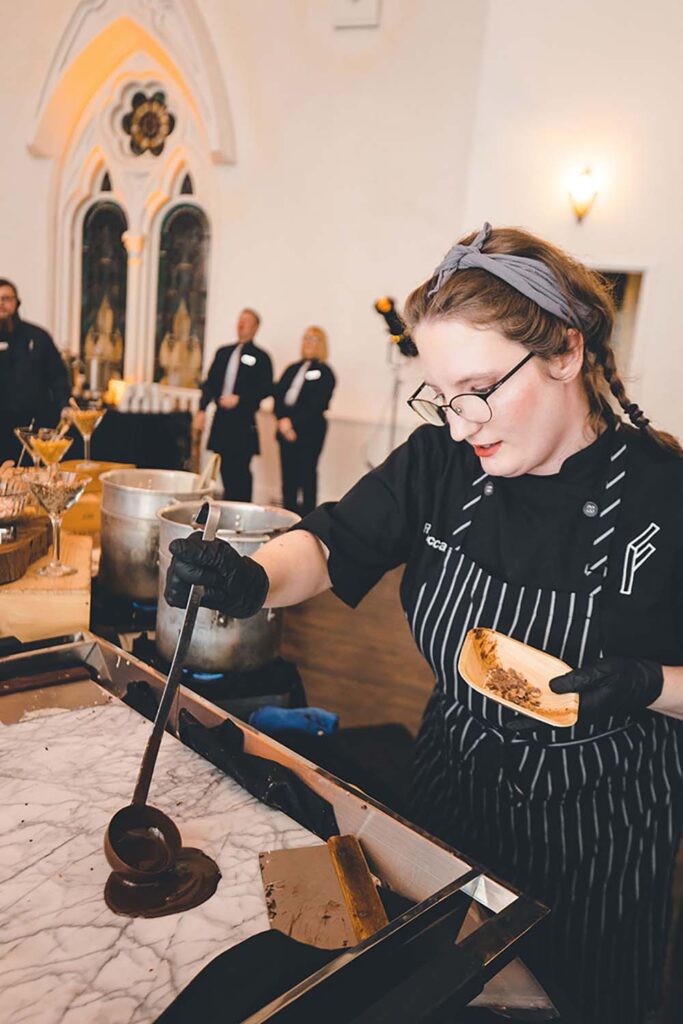 "Any time you can create items in front of guests, they love getting to be part of the experience," says Funky's Catering's Dunham. With the Made-to-Order Chocolate Bark Station from Funky's, guests get a customized treat, choosing from toppings displayed in glass vessels—including Heath bar, potato chips, crushed peppermint, dried cherries, sprinkles, fudge, gourmet chocolate and roasted cashews. An attendant mixes the choices with a chocolate base, creating a bark with the guest's favorite flavors.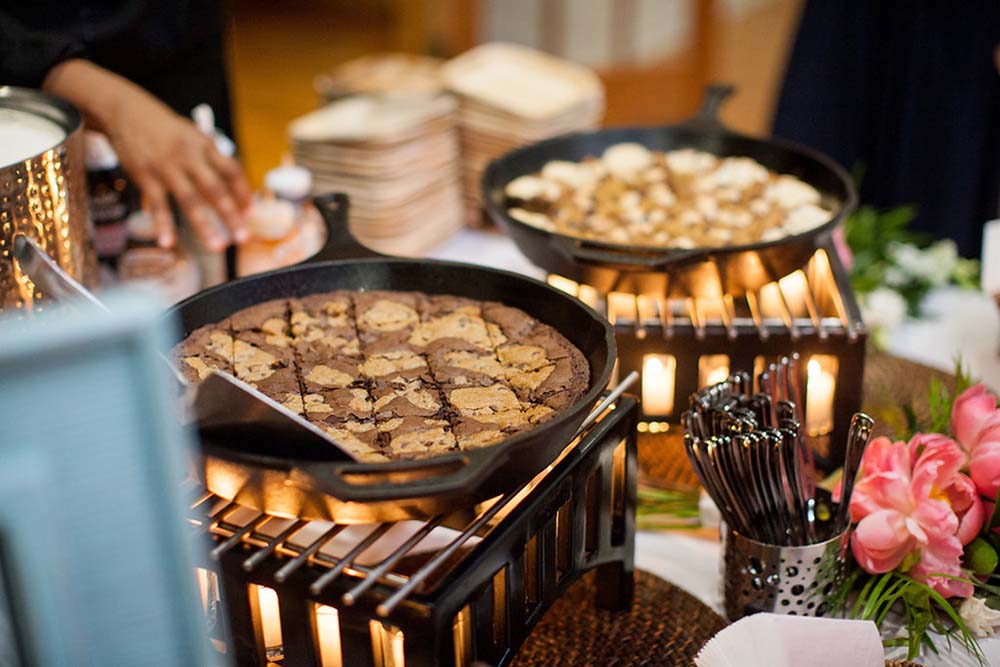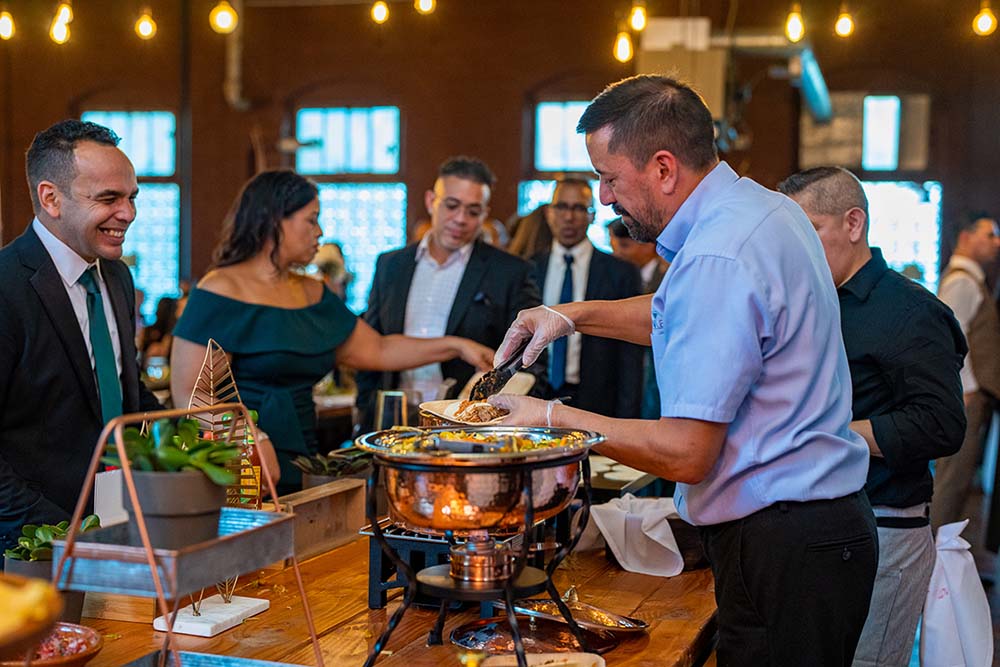 Guests love the Campfire Cookies from Arthur's Catering. They can choose from three varieties displayed in cast-iron skillets—chocolate chip brownie, apple butterscotch oatmeal or pretzel peanut butter—along with vanilla ice cream, whipped cream, chocolate sauce or caramel sauce. The cookies "are kept crunchy on the outside, warm and delicious on the inside!" says Arthur's Catering's Mack. "It's an elevated way to serve the classic cookie at events, allowing guests to either have the cookie by itself or add the toppings of their choosing."
Inspired by street tacos, the Taco Station from Delivering Experiences is a customer favorite. "People love tacos, it is something casual, and guests can eat at their pace," says Chef Hernandez. The station offers three fillings, which the client chooses from seven options—Baja fish, shredded beef, carnitas, chicken tinga, grilled skirt steak, garlic sauteed shrimp or sliced chorizo. Guests then build their tacos, served on warm tortillas, with the help of an attendant. The many toppings on offer range from pickled red cabbage to chipotle cream sauce.
Small Plates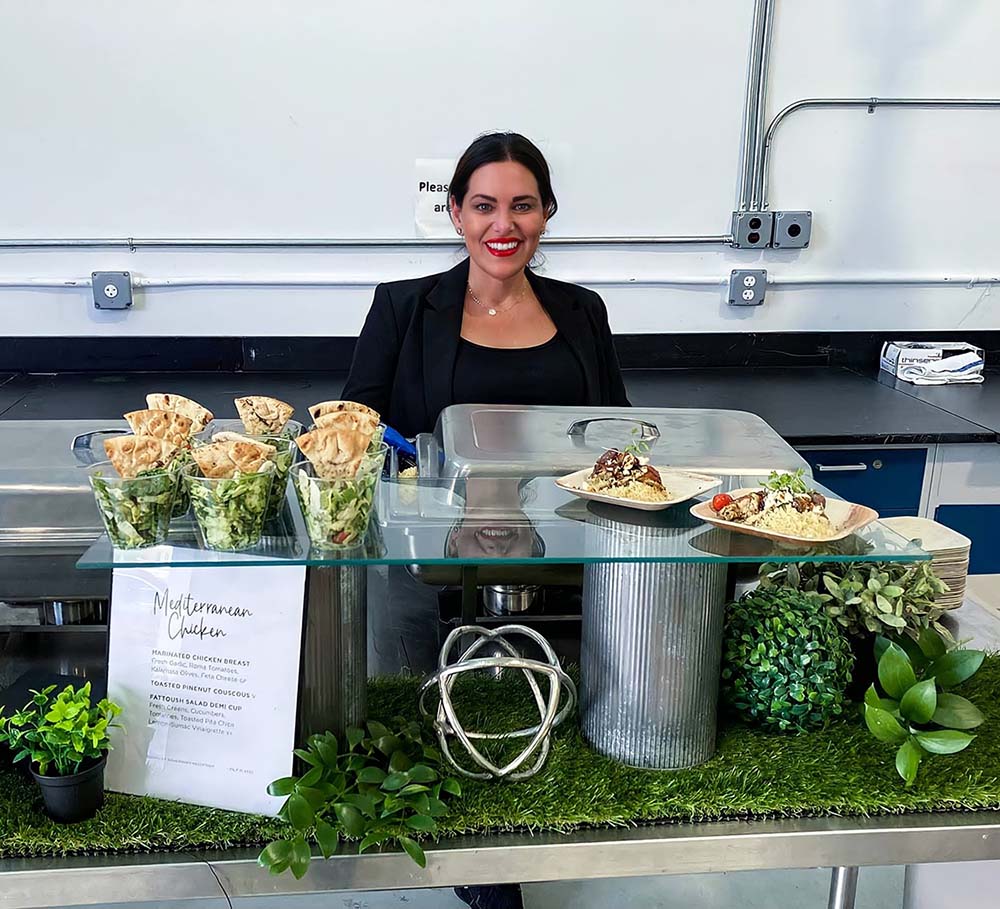 Big taste often comes in small packages. "Gone are the days of the typical carving station with two meats and accoutrements or a pasta station with active sauteing and heating," says Liz Bakunovich, business manager at Kristina's Catering in Shelby Township, Mich. "Our stations are mini versions of composed restaurant-style entrees built for speed of service."
Kristina's Mediterranean Chicken Station, for example, serves up small plates featuring marinated chicken breast with fresh garlic, Roma tomatoes, Kalamata olives and feta cheese, with a fattoush salad demi cup. Kristina's T-shaped stations are designed for easy staff movement, with minimal twisting back and forth.
Something Different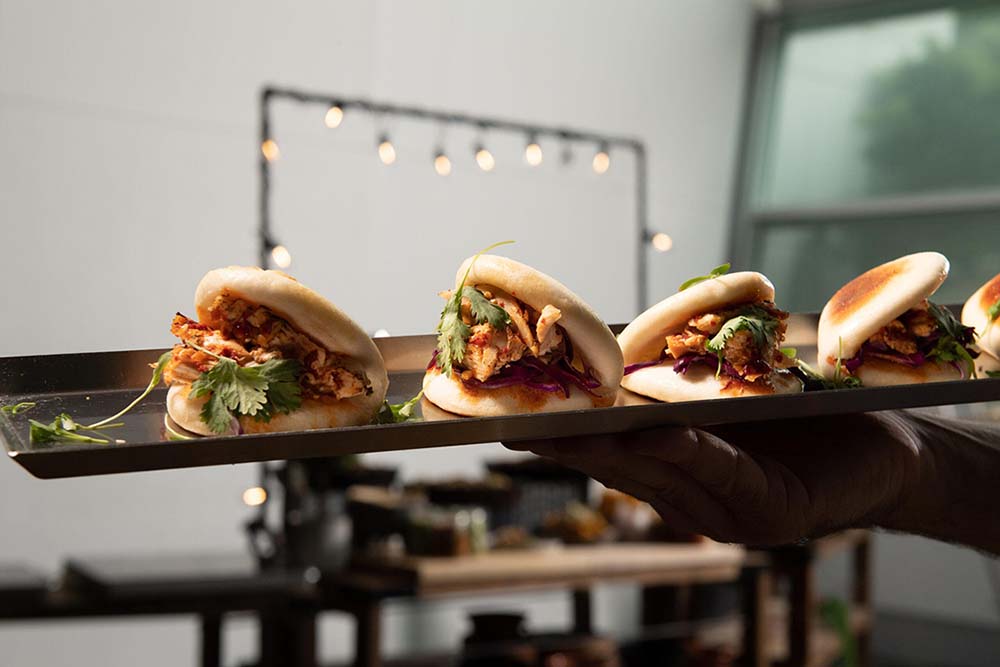 Creative stations surprise guests with food or serving methods they may not expect, resulting in memorable experiences. Clients of Proof of the Pudding love its "delicious and unique" Fusion Bao Station, says Dina Iglesias, vice president of sales and marketing. Either with an attendant or self-serve, the station offers three options for guests to pair with their bao buns: Tandoori Chicken with Crema and Micro Cilantro, Tempura Cauliflower with Yellow Curry Aioli, or Paneer Tikka with Coriander and Mint Chutney. "The décor and equipment used with this station brings a pop of color and individuality to an event," notes Iglesias.
Variations on a Theme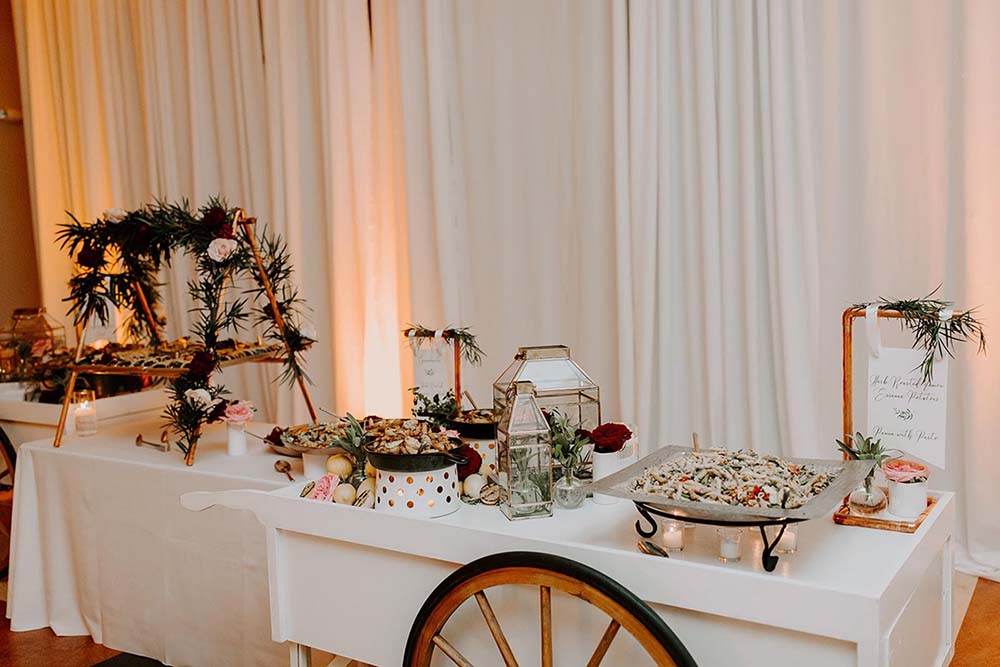 Stations and buffets provide a perfect platform for showcasing a style of cuisine. The Mediterranean Style Buffet from Partyman Catering, for example, is inspired by the caterer's Greek menu. Rolling white food carts feature such options as chicken souvlaki with peppers, onions, tomatoes and tzatziki; herb-roasted potatoes with lemon essence; spanakopita rolls; a roasted vegetable medley; and warm penne with pesto and summer vegetables. A chef freshly carves marinated grilled flank steak on a wide wooden butcher's block. "The Mediterranean flavors for this main course are powerful, with bright notes of citrus and fresh herbs alongside the rich, savory tastes of marinated meats and summer vegetables in olive oil," says Partyman's Hiler.