Subscribe to Catering, Foodservice & Events Magazine
---
It's FREE for Industry Professionals

Rate for Non-Industry Professionals and Organizations: $125.00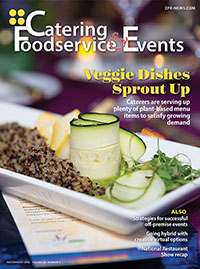 ---
A CHANGING PUBLISHING INDUSTRY IS CHANGING Catering, Foodservice & Events MAGAZINE
More coverage
More reports
More detailed analyses
Delivered in print or digital
CFE is published six times a year-in February, April, June, August, October and December.
Complimentary subscriptions are available to qualified industry personnel. Free subscriptions delivered outside the USA are sent surface mail. Allow six to eight weeks for delivery. For international subscribers wishing to receive the magazine via air mail, the cost is $125 a year.
For first time subscriptions, or renewal of your subscription, you must complete the form below.
Note, all questions must be answered completely. The Publisher reserves the right to limit the number of free subscriptions. Don't forget to "submit" your application upon completion.
As a professional in the industry we will send your free subscription, or continue your subscription, for two years. However, in order to make sure all our information is up to date and to certify, or re-certify, your subscription we need you to enter your information below and submit to us.
Please take a few minutes and enter all your information below and then press "submit" so we will start, or re-instate, your subscription and send your free copies of Catering, Foodservice & Events Magazine.