A Timely Message From Feeding America on Helping People in Need
From Justin Block, managing director of retail information services at Feeding America:
The Feeding America network of food banks is working round-the-clock to provide food to people across the country during this difficult time. With school closures, job disruptions and health risks, millions of Americans will turn to food banks for much-needed support. The most vulnerable people in communities nationwide need our network now more than ever, and we are taking several steps to respond to this challenge. This includes safely continuing distribution of food and non-food and household items, like cleaning supplies, diapers and personal care products, to people in need.
Catering Magazine readers can help by contacting their local food bank to see if they have a MealConnect process in place to distribute food (feedingamerica.org/find-your-local-foodbank) or by donating online at COVID-19 Response Fund (feedingamerica.org/take-action/coronavirus).
---
Feeding America's MealConnect makes it easy to donate excess food to people in need
By Sara Perez Webber
If you're in the foodservice industry, chances are you've faced the dilemma of what to do with excess food. About 40 percent of food in the United States goes to waste every year, according to the Natural Resources Defense Council. What's more, ReFED estimates that 52 billion pounds of food from manufacturers, grocery stores and restaurants ends up in landfills (refed.com). You don't want to be part of the problem, but how can you be part of the solution?
Turns out, there's an app for that. MealConnect, a free platform, was launched in 2017 by Feeding America, the largest hunger relief organization in the U.S. From any smartphone, tablet or computer, MealConnect allows businesses—such as caterers, restaurants and grocery stores—to post details about food that otherwise would go to waste, including prepared food that has never left the kitchen, bulk-packaged ingredients or produce. The food is then matched to a food pantry or meal program affiliated with one of Feeding America's 200 food banks. The Feeding America network of food banks and their partner agencies serves more than 40 million people each year. All the affiliated nonprofits are vetted and audited, ensuring they adhere to industry-standard food safe handling guidelines.
Last year MealConnect added a program in which volunteer drivers are on call to pick up and deliver the donated food, which increased the number of food banks able to participate; previously the organization accepting the donation would need to send someone to get it. The volunteer driver receives safety training and necessary materials, such as a thermal bag, thermometer and badge. If the driver is on call and a food donation is posted, he or she will get a notification that a pick-up is needed.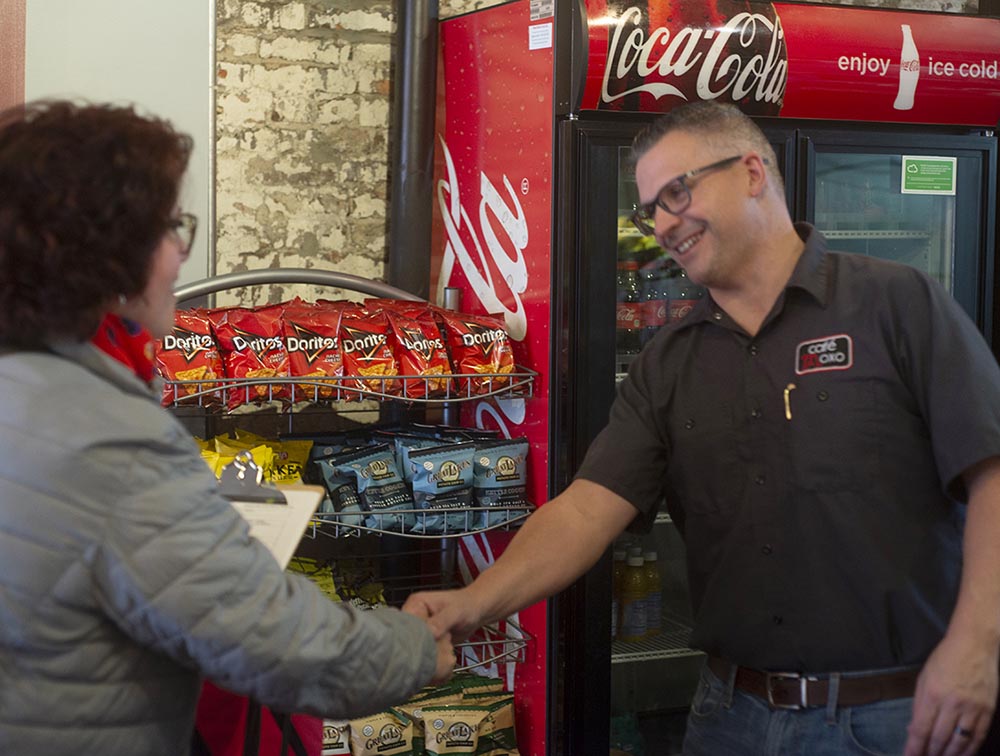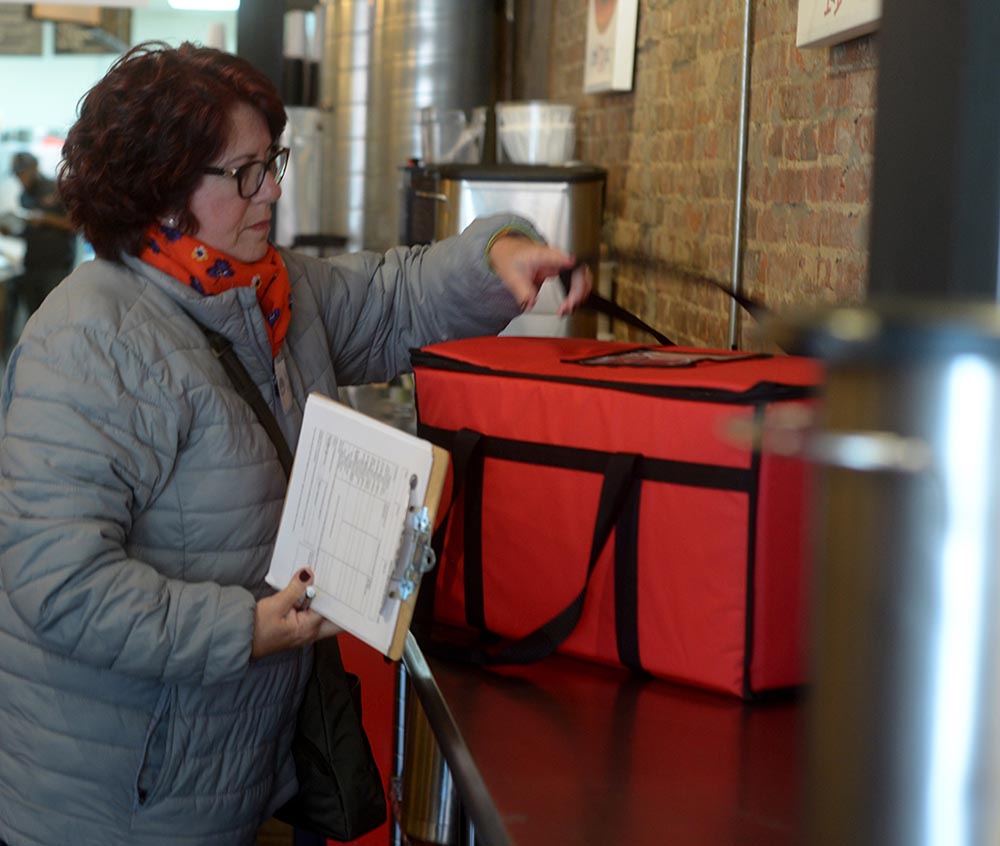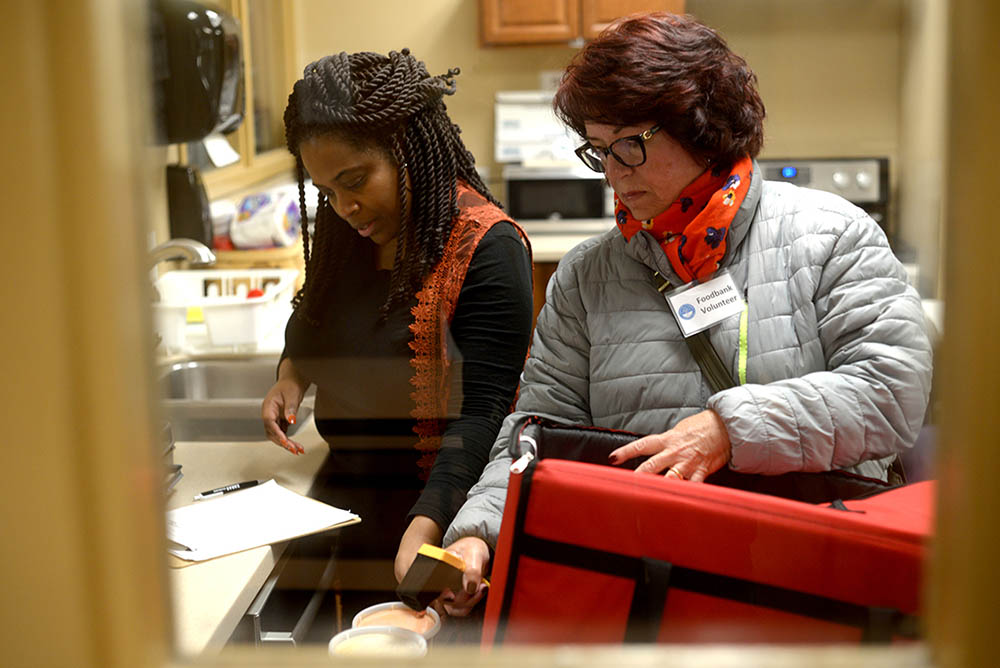 The availability of volunteer drivers is good news for caterers who wish to donate excess food through MealConnect, according to Justin Block, managing director of retail information services at Feeding America. "One of the great things about this feature is it makes it so much easier for us to react to prepared food donations," says Block. "It gets delivered to a partner agency, and it gets served that very day."
About 20 caterers across the country now post excess food to MealConnect. "The feedback we get from agencies [about the caterer donations] is so positive," says Block. Food that's been offered to a customer isn't accepted. "As long as the food has not left the kitchen, it can be turned around and donated," he adds. MealConnect's resources for businesses include donation guidelines, a tax benefit calculator and recording receipts for any type of donation. MealConnect is free to both donors and recipients, thanks to support from such companies as Google, General Mills, Cargill, Walmart and Shipt.
Currently MealConnect is available in 20 cities across the U.S. (see sidebar), with two more possibly joining soon (Denver and Las Vegas, which now have test accounts). To become a donor, visit mealconnect.org and enter your zip code. If you're located in a service area, you'll be asked to enter more information, and your local food bank will be notified. The food bank may approve your business immediately for donations or reach out for more information.
Even if you're not in one of the areas listed, entering your zip code will let MealConnect know that there's interest in your area. If you provide your email address, you'll be notified when the service becomes available near you. Downloading the MealConnect app from the Apple store or Google Play also helps the organization gauge interest.
Since Feeding America has 200 member food banks across the country, working with more than 60,000 food pantries and meal programs, MealConnect will likely become available in many more cities. "The word is starting to get out," says Block. Feeding America collected and distributed more than 4.9 billion pounds of surplus food last year, reducing waste and helping to feed those who need it. As MealConnect grows, so will the opportunities to serve the greater good.
For more information, visit mealconnect.org.
Cities Where MealConnect Is Available:
Austin, Texas
Baltimore
Bentonville, Ark.
Bloomfield, Conn.
Detroit
Flint, Mich.
Ft. Pierce, Fla.
Kingsport, Tenn.
Lexington, Ky.
Madison, Wis.
Memphis, Tenn.
Miami
Minneapolis
New Orleans
Phoenix
Raleigh, N.C.
Reno, Nev.
San Antonio
San Diego
Springfield, Ill.