How seasoned caterers are facing the COVID-19 crisis
By Sara Perez Webber
2020 wasn't supposed to be this way. The COVID-19 crisis and the resulting devastation in the industry have waylaid all the plans catering companies may have had for the year.
Yet even while they've had to make tough, emotional decisions, caterers are responding to the times with characteristic grit and optimism. Catering Magazine interviewed the following longtime caterers in late April. They shared how their businesses are coping with the crisis, their advice to others in the industry, and how they're planning for the new normal.
Geppetto Catering
Riverdale, Md. • geppettocatering.com
Seeing the writing on the wall in February, Josh Carin, owner of Geppetto Catering, stopped his own compensation. A month-and-a-half into the crisis, the company changed its pay structure, so that all positions—even management—are now being paid at the same hourly rate. "This allows us to ensure no one has to be laid off or let go," says Carin. "We've had no cut in benefits."
With a full staff onboard, Geppetto is offering a variety of Stay at Home delivery packages. Two of the most popular include Pizza Kit at Home, with all the fixings to make a pie at home, Caesar salad, and either beer or soda; and Stay In and Wine Down, including an artisan cheese and charcuterie platter, a choice of two hors d'oeuvres, and a bottle of wine. The Blue Plate Specials change weekly, with recent selections including country-fried chicken and spinach lasagna.
Customers can order from Geppetto's "Farm to Fridge" grocery delivery program, which offers meats, eggs, milk and produce from Central Farm Markets purveyors. The program has been "a huge success," says Carin, noting there's been an uptick in prepared food and alcohol sales.
To help couples that had planned to get married before the pandemic hit, Geppetto is offering an elopement-style wedding experience with events venue Tusculum Farm. The company has also partnered with top wedding vendors in Love Gone Viral, in which an engaged couple affected by the pandemic will be chosen to win a dream wedding, to take place in March 2021.
Geppetto is working with a variety of organizations to provide free meals to the needy, including World Central Kitchen and Riverdale Cares. Through the company's partnerships with the United Way, Jubilee Housing and Goodwill of Greater Washington, the "Give a Meal" program allows Geppetto customers to order reduced-price meals for those in need, which the company will deliver for free. "We have fed hundreds of people in D.C., Maryland and Virginia," says Carin.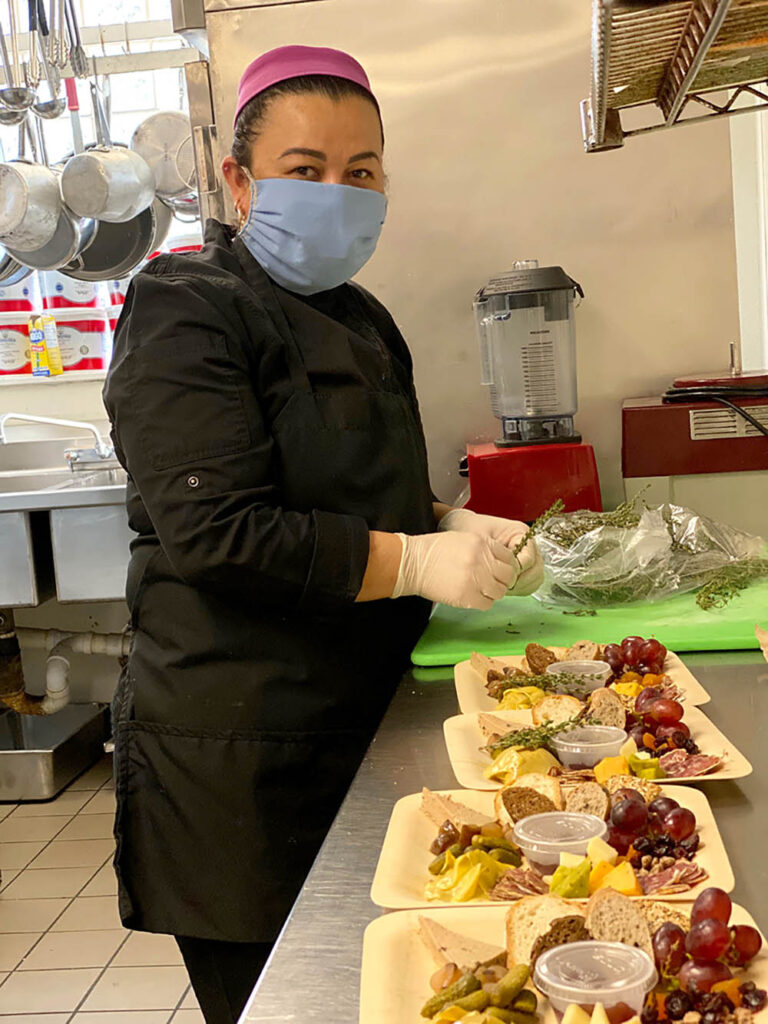 Advice from Josh Carin:
You need to pivot. Throw anything on the wall and try it. Tweak it as you go till you find the correct mix. Also, start to plan what the other side of this looks like. We are not going back to business as usual, and we all need to work together to rebuild our industry. Share ideas!
Katherine's Catering
Ann Arbor, Mich. • katherines.com
When Katherine Hilboldt Farrell, president and owner of Katherine's Catering, realized in March that all the company's events would be canceled as a result of stay-at-home orders, she and her staff came up with "The Heart of Your Home." The family-style lunch and dinner menu, available for delivery and pick-up, started on March 25, utilizing the same online ordering system the company employed for its Thanksgiving package.
The response has been "great," says Farrell, noting "The Heart of Your Home" has had repeat customers ordering every week. "The most touching part is that people are using this to gift to others," she says. In fact, in early May, Katherine's was about to launch an expanded menu—emphasizing smaller sized dishes—and was working to continue growing that side of the business.
For the menu, Katherine's chose comfort food over "gourmet," says Farrell, so it would appeal to families with children. "We avoided offering junkie 'kids' food because we figured that is more available for carry-out (or from the grocery store freezer aisle), and we wanted to keep our menu fresh, healthy and colorful," she says. "So far, the biggest sellers are beef tips and mashed potatoes—and almost everyone has ordered rolls and desserts, which are great margins for us. Also, we equalized the pricing so guests are not choosing based on price but rather on what sounds good."
Challenges included making sure heating instructions were precise (to account for customers' varied ovens), and ensuring production was reasonable and efficient. "We only kept a handful of culinary team members, who are also washing dishes, prepping, packaging and keeping up with their other responsibilities," says Farrell.
The company had to lay off 90 percent of its staff on March 11 and 12. "We wanted to be sure we cut payroll (our single biggest expense) right away, and that our team could collect unemployment/under employment as soon as possible," she says. "We also sent a letter proactively to every client outlining our cancellation policy to encourage people to make decisions sooner rather than later. This avoided a lot of last-minute changes, and we held to our cancellation policies in order to save us financially." Farrell says the income from the "Home" dinners has been the company's lifeline.
To assist with specific projects and initiatives, Katherine's has been able to slowly bring back team members. "We want to emerge from this time stronger, more directed and ready to work," says Farrell.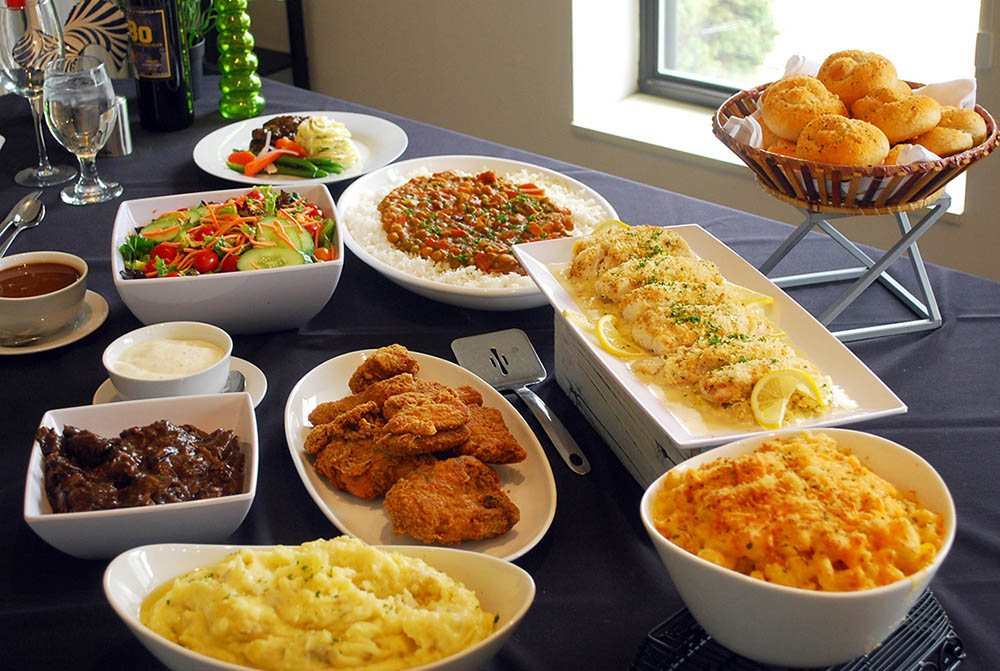 Advice from Katherine Farrell:
Seize the moment! We always have project lists, so the agenda at the first "virtual" meeting with our core team was about what we were going to accomplish during the slow time (for example, departmental integration, new 2020 menus, sales SOPs, online ordering, inventory changes, reformatting our software, financial consolidation). We also chose the most versatile and essential team members to stay working. They are more expensive, but they can make the biggest contributions and impact our success.
Marcia Selden Catering & Event Planning
Stamford, Conn. • marciaselden.com
Marcia Selden Catering has been delivering meals weekly to multiple hospitals in the Stamford area as part of a program called "Food For the Front Lines." The donor-funded program arranges for caterers and restaurants in Fairfield County to deliver high-quality meals to hospitals and first responders on the front lines of battling the devastating impact of the coronavirus. "What's incredible here is that not only is this making the days of our hospitals' nurses and doctors, but it is also helping to support the local restaurants and caterers that are trying desperately to keep their doors open and people employed," says Robin Selden, managing partner and executive chef.
As of late April, the fundraiser had collected more than $90,000, and Selden says clients, friends and even family from across the country have donated to the cause. "We go above and beyond to embellish and make the meals extra-special to show our appreciation" to the hospital workers, says Robin, who personally helps deliver the meals alongside her brother, Jeffrey, managing partner at Marcia Selden. "It's important for us to be there for them."
Marcia Selden Catering (MSC) has also been selling pre-packaged meals, sealed in tamper-proof bags, that have been "getting rave reviews" from clients, says Robin. "All of our team involved are wearing masks and gloves and are only working a three-day week to ensure social distancing and to create more space in our commissary just for that," she says.
Clever concepts the company has devised include Party in a Box, featuring a variety of hors d'oeuvres, mixers, sodas, waters, beer, liquor and bar fruit. "We designed Party in a Box for our clients to be able to have their own virtual cocktail parties at home with their favorite MSC hors d'oeuvres, snacks and drinks to help make those moments memorable!" says Robin.
The company recently catered a virtual birthday party, in which the same food was delivered to different homes, and MSC coordinated a virtual karaoke night for the attendees. They also arranged a virtual gala for a nonprofit client. Each guest received a box, either delivered (contact-free) to their homes or mailed, including treats and desserts packaged creatively with the nonprofit's branding. Deliveries included a bottle of wine and signature cocktail. "We continue to pivot our business based on the needs of our clients," says Robin.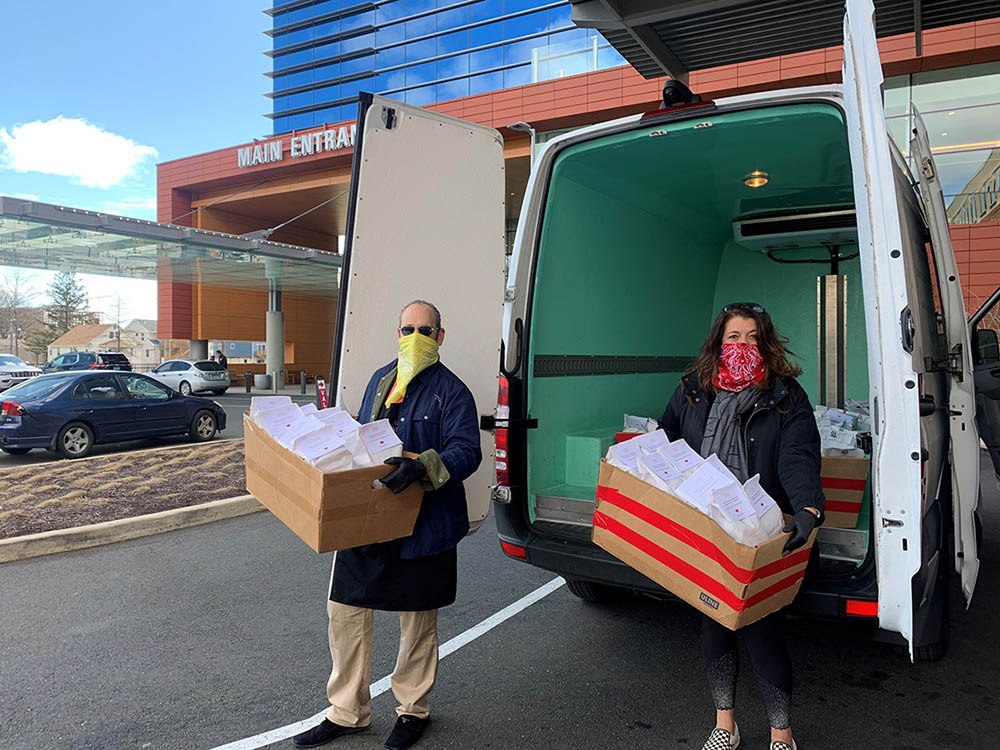 Advice from Robin Selden:
Stay in communication with your teams and clients by phone or Zoom, not by email. 84% of business comes to us through referrals, so keeping the relationships strong and engaged in a genuine way is monumental. A mentor of ours, Cindy Novotny, said, "Relationships are the currency of our industry," and I could not agree more!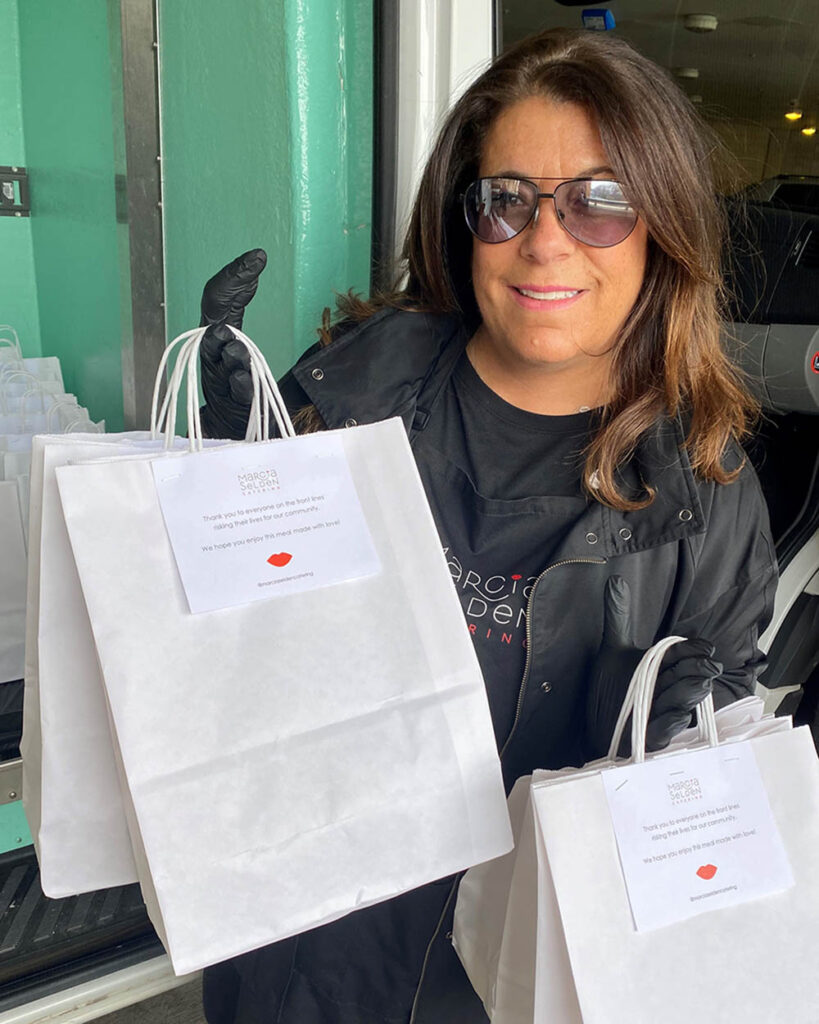 Part I of this article can be found here….