Growing in popularity, the fresh, flavorful cuisines of the Mediterranean Rim offer up the perfect foods for outdoor gatherings
By Sara Perez Webber
The outdoors is "in" these days, as open-air spaces allow for social distancing, not to mention a healthy dose of sunshine and fresh air.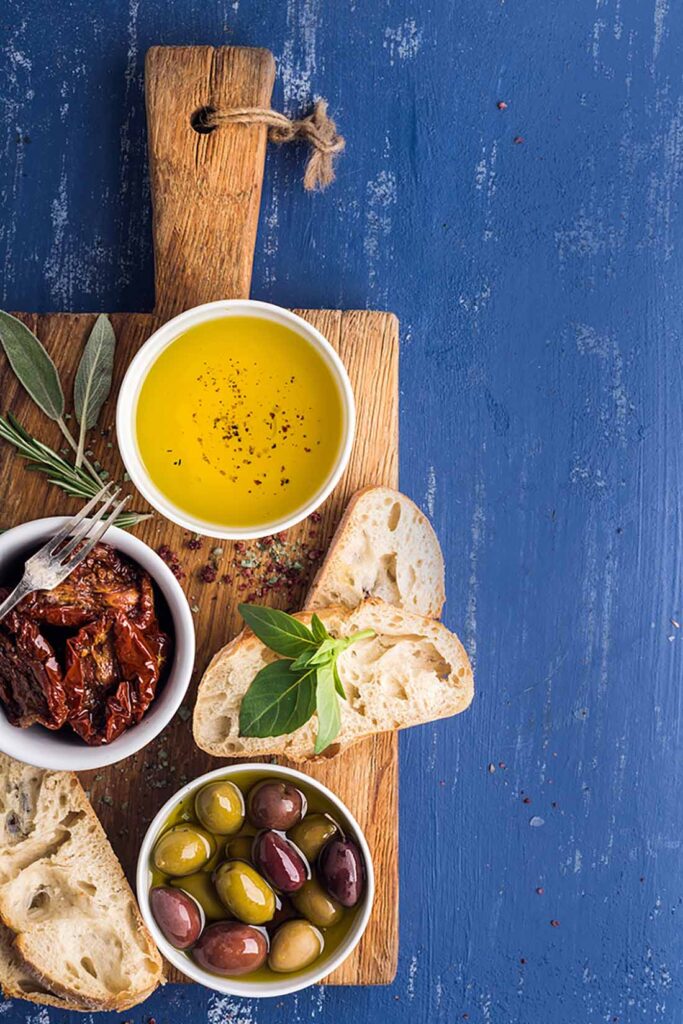 While not all cuisines mesh well with this more casual, often on-the-go type of dining, there's one broad category that does—Mediterranean. In fact, the foods and flavors from countries on the Mediterranean Rim—including Greece, Spain, southern France and Italy, the Middle East and North Africa—are growing in popularity for more reasons than one.
The Mediterranean category "is on fire," says Dean Small, founder and managing partner of Synergy Restaurant Consultants (synergyconsultants.com), a team that specializes in launching restaurants and jump-starting struggling brands. Several growing restaurant brands feature Mediterranean cuisine, notes Small, including Roti, Cava Grill, Luna Grill and Garbanzo Med Fresh.
Boosting the cuisine's popularity is its "healthy halo," says Small. A recent Synergy blog post notes that the Mediterranean Diet—known for fresh fruits and vegetables, whole grains, healthy fats like olive oil, and fish and poultry rather than red meat—appeals to the increasingly influential Millennial and Generation Z demographics, including those who follow plant-based, vegetarian and vegan diets. Mediterranean specialties that have achieved "breakout status" in recent years, according to Synergy, include hummus, pesto, tabbouleh, flatbreads, falafel, marinated olives, kebabs, Greek and Niçoise salads, and—of course—Greek yogurt.
"Spanish food is very hot right now and growing in popularity, because it's fun, exciting, and people like the idea of eating tapas-style," says Small. "I also think Greek food is getting a lot of traction, because of the familiar ingredients, and growth of gyros and pita-type sandwiches."
Middle Eastern food is "on trend and extremely popular" among a broad range of age groups and demographics, adds Small. "Some essential ingredients that are driving Middle Eastern flavor trends include spices like za'atar and sumac, proteins like lamb and goat, as well as grape leaves, olives, yogurt and chickpeas."
Many of the sandwiches, salads and appetizers associated with Mediterranean cuisines "lend themselves to catering," says Small, because they're portable and can offer value to the consumer—an especially important consideration in today's climate. "A lot of people are nervous about cash flow right now, yet they still have to eat, to cook or find a healthy alternative that fits within their budget, that still tastes really good," he says. "Mediterranean food in general does that."
The caterers contacted for this article serve menus inspired by Italy, Greece, Spain, Morocco and Jordan. Via food trucks and open-air events—that feature safe serving methods and social distancing—as well as contactless delivery, they're bringing a taste of the Mediterranean to a public that's had to stay close to home in recent months.
"At the heart of so many Mediterranean dishes is great flavor, large portions, and a presentation that lacks pretense and fosters fellowship with friends and family," says Stelios Peterson, owner of Greek's Catering & Events in Pensacola, Fla. "This translates to all dining atmospheres, but outdoor dining especially. There isn't much more you can ask for.
Pompeii Wood Fired Pizza
Seattle •pompeiipizza.com
Dawnelle Dutcher launched Pompeii Wood Fired Pizza over 10 years ago, selling pizza at a farmer's market with one oven. As the company grew, three additional ovens were added, with Pompeii vending at five farmers' markets, concerts, fairs, festivals and sporting events. "Out of these public events, we were able to build a great catering brand without having to ever advertise," says Dutcher.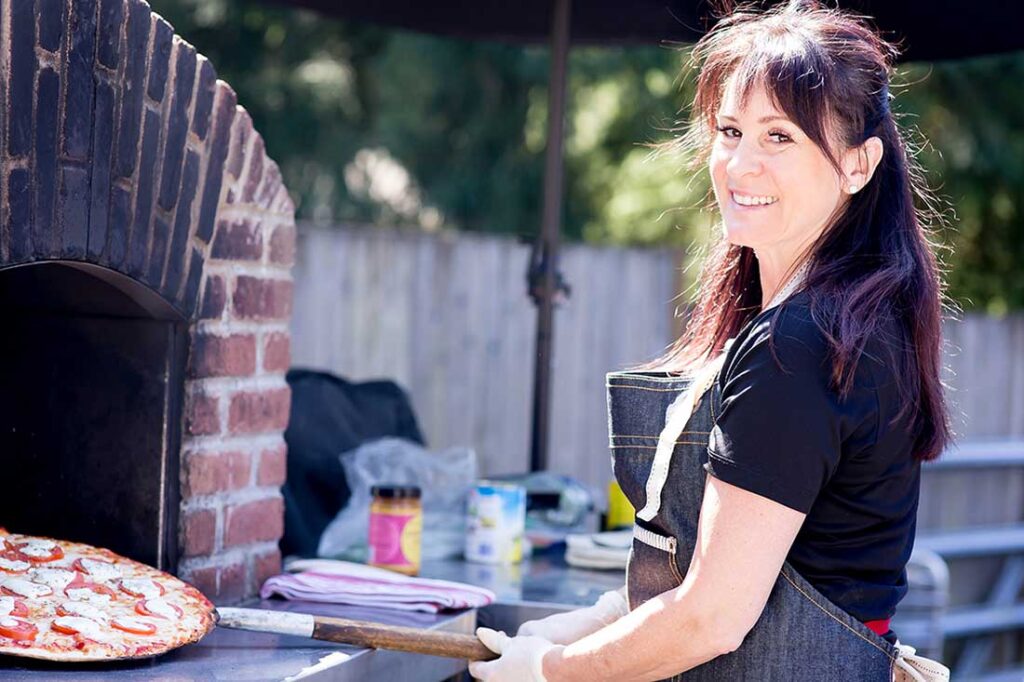 Until the COVID-19 crisis hit, that is. Previously Pompeii had a motto of "let's go where the customers are." With the canceling of public gatherings, however, they pivoted to "let the customers come to us."
"This required a total rehaul of our website and POS system, moving from in-person orders to all online ordering, with a no-contact curbside pickup," says Dutcher. The company created the Pompeii Pizza App, launched a loyalty program and even partnered with a delivery service. "We also had to start advertising for the first time," she notes.
Pompeii's food truck now serves its thin-crust, wood-fired, artisan pizza from a permanent location in Bothell four days a week. Prepared with dough handmade every morning, the pizzas cook in less than 90 seconds in 900-degree ovens.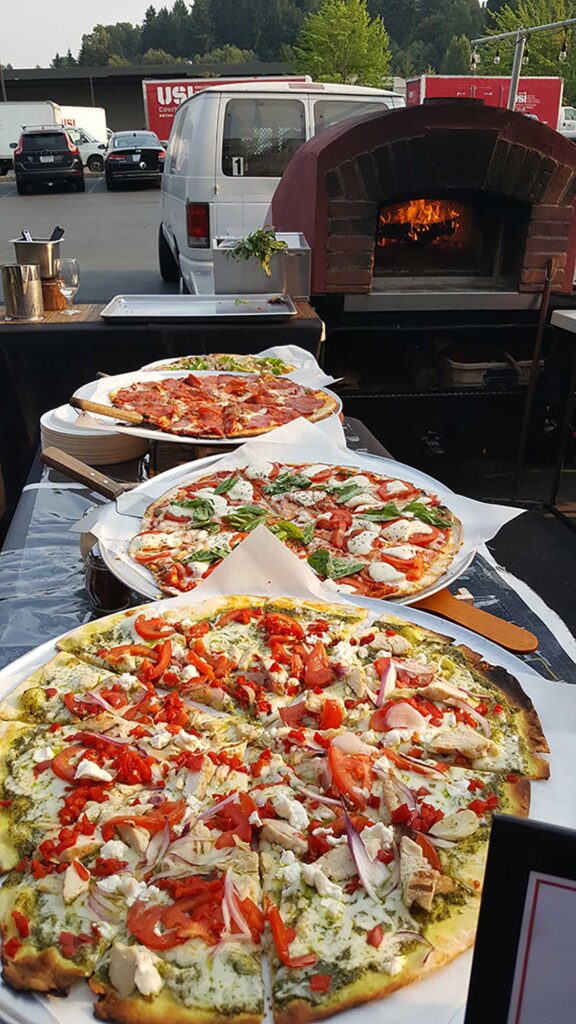 A trip to Naples and Pompeii inspired the concept and name of Dutcher's business. While traveling in Southern Italy, "I fell in love with Italian flatbread pizza and the concept of cooking with an all-natural resource," she says. Dutcher created Pompeii's menu with her brother, Daniel Dutcher, focusing on traditional Italian pizzas—such as the margherita—as well as internationally themed ones. Pompeii's signature pizza—the Mt. Vesuvius (Three Meat Special)—features Italian pepperoni, sausage, salami, onions, olives and mushrooms.
Favorite international pizzas include the Mediterranean Gyro, with seasoned gyro meat, homemade tzatziki, diced tomato, onions, feta, fresh parsley and lemons; the Greek Feta, with sun-dried tomatoes, Kalamata olives, artichoke hearts, onions, spinach and feta on an olive oil base; as well as versions inspired by India (the Tandoori Pizza), Thailand (the Spice Thai Chicken Pizza) and even Norway (the Wild Lingonberry Pizza).
Dutcher's goal for 2020 had been a business model of 85 percent catering (it caters events for up to 4,000), and 15 percent food truck vending. But after weddings and large events canceled or postponed post COVID, Pompeii's ability to set up outdoors has led to new opportunities.
"We recently started getting calls from companies that want us to cater employee appreciation parties, mostly in shifts of groups rather than large groups all at once," says Dutcher. "Also, neighborhood dinner drive-ups are becoming a popular thing. We've even catered drive-by graduation events, cooking pizza and boxing them up for carloads of guests. But the real surprise is outdoor drive-in movies!"
Microsoft, for example, recently booked Pompeii—along with National Event Pros, an event host company—to cater a drive-in movie for up to 600 employees and their families. The guests order from their cars using the Pompeii Pizza App, then receive a text when their pizza is ready for pickup at a safe spot.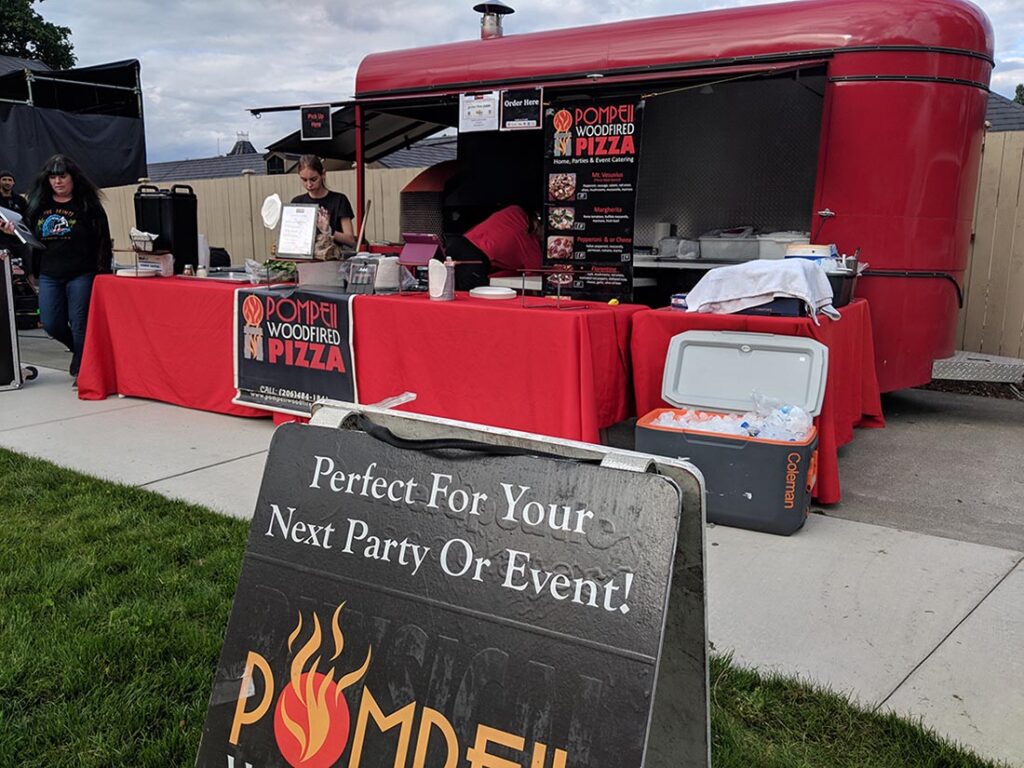 "We have such a great following and many repeat customers and referrals," says Dutcher. "People love our pizza and get so excited to try the different flavored pizzas we offer."
Rockin Moroccan Food Truck
Greensboro, N.C. •rockinmoroccanfood.com
The Rockin Moroccan food truck's clever name may draw hungry diners' attention, but it's the food that keeps them coming back for more.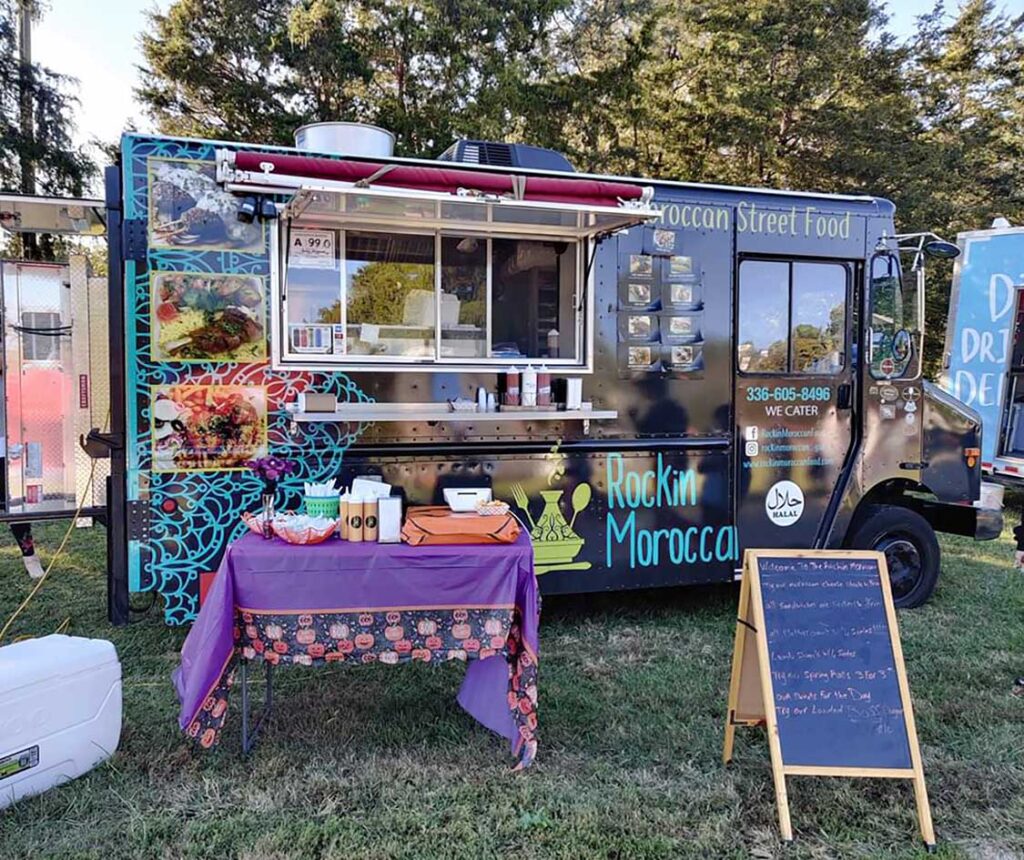 "We're known for turning high-end Moroccan dishes into street-food-friendly dishes," says Mike Neel, who owns the truck with his wife Amina Guennoun, a chef and native of Morocco. "We've never seen a truck send out lamb shank on a bone, saffron-infused chicken or a lamb/beef cheesesteak."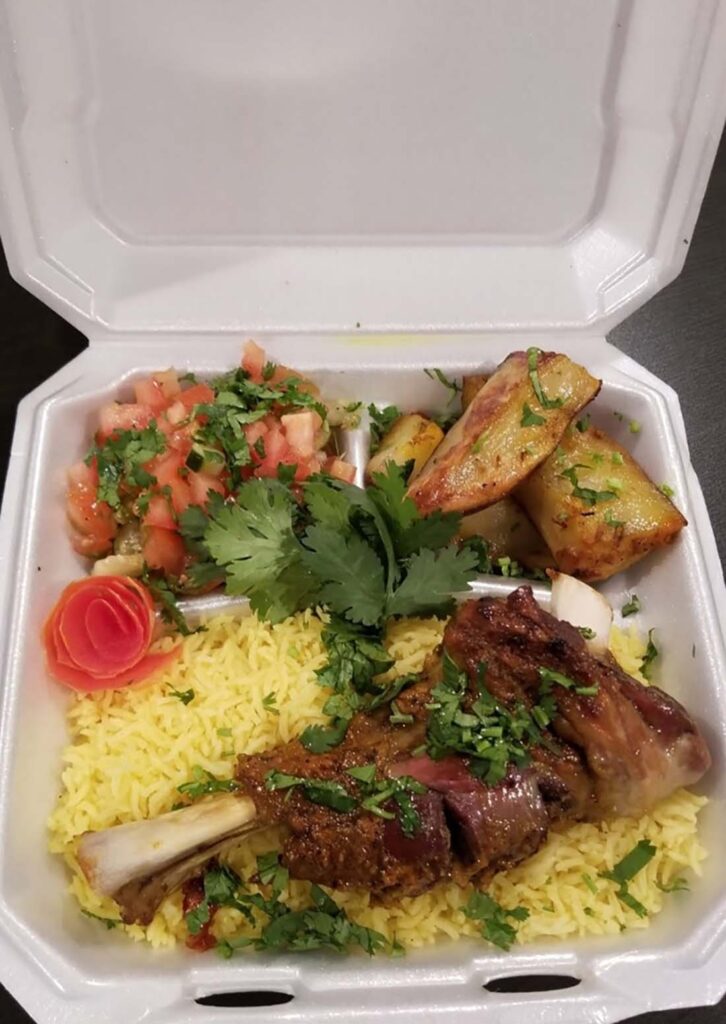 It's a successful formula for the business, which debuted in July 2019 and was recently voted third-best food truck in the state in a poll by Strange Carolinas, an online travelogue profiling the offbeat and interesting in North and South Carolina. "We felt that this would be an amazing adventure, because no one has a Moroccan truck in the entire state," says Neel.
Prior to the COVID-19 pandemic, the Rockin Moroccan was booked for the year, says Neel. Once businesses started closing, however, the truck shut down for three months.
Reopening the first week of June, "it's like we didn't miss a beat!" says Neel. "We were slammed as always, and sold out each day." The biggest chunk of the Rockin Moroccan's business right now comes from parking at breweries, and it's also making appearances at neighborhood food truck nights, corporate office lunches and private events.
In addition to the crowd favorites of lamb shank platter, saffron chicken platter and the Moroccan cheesesteak, served with fries, the menu includes such options as gyro wraps, kefta (beef kebobs), falafel and stuffed grape leaves. Guennoun adds some Asian and European fusion touches in such dishes as the Moroc'n'Roll—a Moroccan spiced spring roll—and Fez fries, crispy fries topped with raw onions and a special sauce, inspired by Dutch street fries. And the truck's mousse cakes—in strawberry and chocolate caramel—always sell out quickly.
"The majority of trucks put out the same food, and of course it tastes good, but it gets redundant," says Neel. "We wanted to bring something that is unique, tasty and sends your palate on a journey."
Saffron Pig
Scottsdale, Ariz. •saffronpig.com
Nearly three years ago, JJ Sullivan launched Saffron Pig, a catering business that only serves paella, tapas and sangria. A culinary school grad that had worked as a banquet chef in high-end resorts for 15 years, Sullivan trained with a chef who specializes in Spanish cuisine in Melbourne, Australia.
At the time, paella was "extremely popular in Australia, so I decided to bring it back [to Scottsdale]," she says. "I couldn't believe how popular it was—we didn't have to advertise."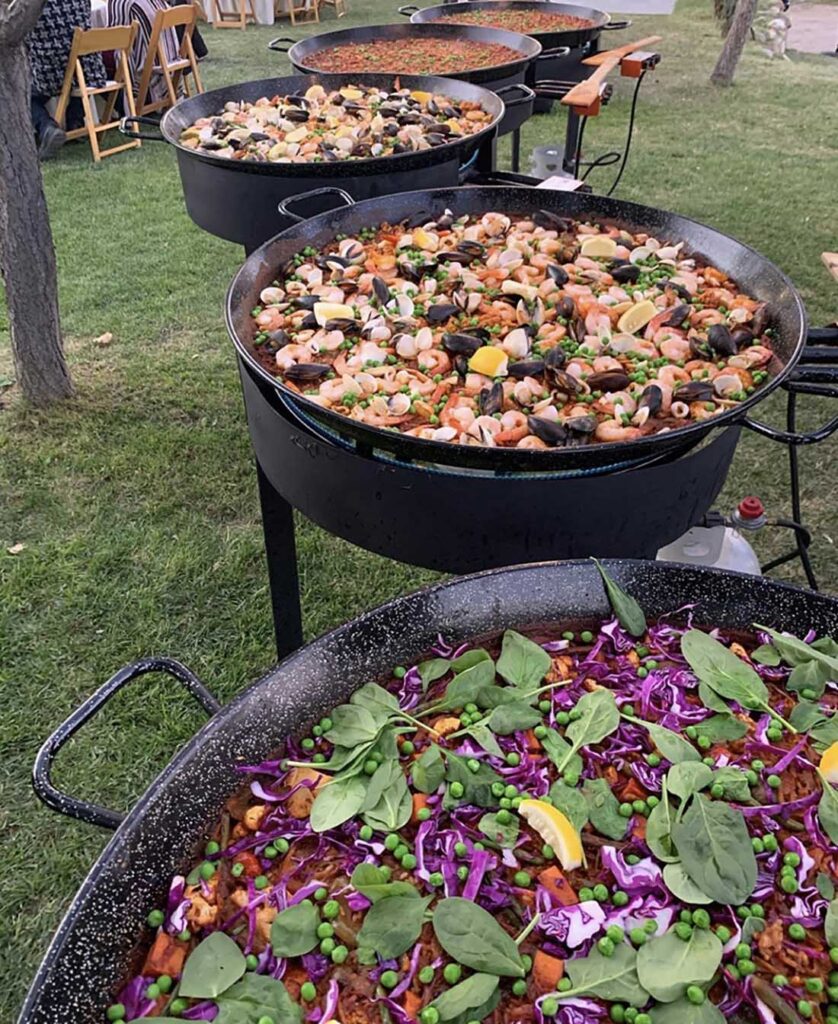 Sullivan and her team always set up their paella cooking station outdoors, and 90 percent of their events are served outdoors as well. (Saffron Pig doesn't book events from July through September, when it's too hot in Arizona for outdoor events.) While the paella cooks, the Saffron Pig team serves Spanish tapas and chilled sangria. "Our team then serves the paella, directly from our traditional pans, creating a real-time culinary experience that leaves guests talking for days," says Sullivan.
Saffron Pig's most popular paellas are chicken and Spanish chorizo, as well as seafood. As for tapas, top customer choices include patata bravas with garlic aioli and romesco sauce; bacon-wrapped dates; and albondigas (Spanish meatballs in a smoky tomato sauce).
While—like caterers across the country—all Saffron Pig events were canceled as COVID-19 started to spread, many of Sullivan's clients have rescheduled for October and November.
"Here in Arizona, we have the most beautiful weather for nine months out of the year, and it almost never rains," says Sullivan. "There's something about eating outside in the beautiful weather, the right lighting, the perfect selection of music and, of course, delicious food with family and friends that creates the perfect atmosphere."
Part 1 of this article can be found here…