Growing in popularity, the fresh, flavorful cuisines of the Mediterranean Rim offer up the perfect foods for outdoor gatherings
By Sara Perez Webber
The outdoors is "in" these days, as open-air spaces allow for social distancing, not to mention a healthy dose of sunshine and fresh air.
While not all cuisines mesh well with this more casual, often on-the-go type of dining, there's one broad category that does—Mediterranean. In fact, the foods and flavors from countries on the Mediterranean Rim—including Greece, Spain, southern France and Italy, the Middle East and North Africa—are growing in popularity for more reasons than one.
The Mediterranean category "is on fire," says Dean Small, founder and managing partner of Synergy Restaurant Consultants (synergyconsultants.com), a team that specializes in launching restaurants and jump-starting struggling brands. Several growing restaurant brands feature Mediterranean cuisine, notes Small, including Roti, Cava Grill, Luna Grill and Garbanzo Med Fresh.
Boosting the cuisine's popularity is its "healthy halo," says Small. A recent Synergy blog post notes that the Mediterranean Diet—known for fresh fruits and vegetables, whole grains, healthy fats like olive oil, and fish and poultry rather than red meat—appeals to the increasingly influential Millennial and Generation Z demographics, including those who follow plant-based, vegetarian and vegan diets. Mediterranean specialties that have achieved "breakout status" in recent years, according to Synergy, include hummus, pesto, tabbouleh, flatbreads, falafel, marinated olives, kebabs, Greek and Niçoise salads, and—of course—Greek yogurt.
"Spanish food is very hot right now and growing in popularity, because it's fun, exciting, and people like the idea of eating tapas-style," says Small. "I also think Greek food is getting a lot of traction, because of the familiar ingredients, and growth of gyros and pita-type sandwiches."
Middle Eastern food is "on trend and extremely popular" among a broad range of age groups and demographics, adds Small. "Some essential ingredients that are driving Middle Eastern flavor trends include spices like za'atar and sumac, proteins like lamb and goat, as well as grape leaves, olives, yogurt and chickpeas."
Many of the sandwiches, salads and appetizers associated with Mediterranean cuisines "lend themselves to catering," says Small, because they're portable and can offer value to the consumer—an especially important consideration in today's climate. "A lot of people are nervous about cash flow right now, yet they still have to eat, to cook or find a healthy alternative that fits within their budget, that still tastes really good," he says. "Mediterranean food in general does that."
The caterers contacted for this article serve menus inspired by Italy, Greece, Spain, Morocco and Jordan. Via food trucks and open-air events—that feature safe serving methods and social distancing—as well as contactless delivery, they're bringing a taste of the Mediterranean to a public that's had to stay close to home in recent months.
"At the heart of so many Mediterranean dishes is great flavor, large portions, and a presentation that lacks pretense and fosters fellowship with friends and family," says Stelios Peterson, owner of Greek's Catering & Events in Pensacola, Fla. "This translates to all dining atmospheres, but outdoor dining especially. There isn't much more you can ask for."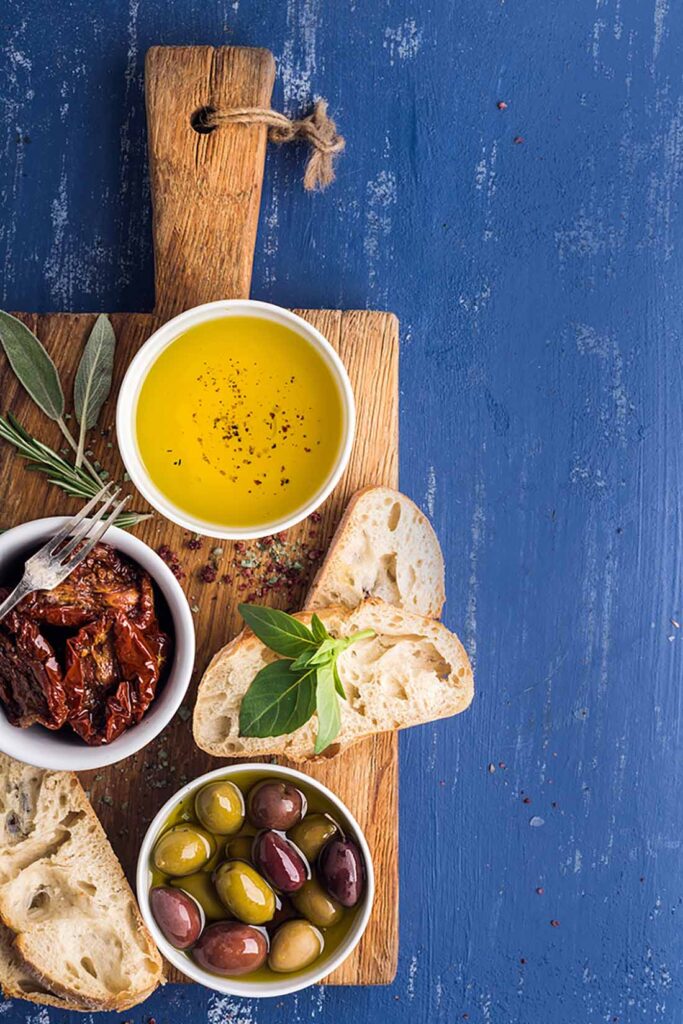 Greek's Catering & Events
Pensacola, Fla. • greekscateringevents.com
In a normal year, Greek's Catering & Events manages youth athletic concessions in four cities, including its home base of Pensacola, and caters for large outdoor events such as arts and food festivals—in addition to operating a food truck and catering for events.
2020, however, is anything but normal, with youth sports curtailed, festivals canceled and catered events postponed. So Stelios Peterson, who founded Greek's in 2015 with his wife Cristin, has focused the company's efforts on its food truck—even launching a second, state-of-the-art truck at the end of June.
"Because we have more than one route of serving our customers, we have been able to continue to operate our food truck since the beginning of the onset of the virus," says Peterson.
Forging an agreement with a local church, Greek's serves at that location from the truck six days a week. "We are looking to add Sundays as well, once the church is open to parishioners," says Peterson. The Greek's team plays Greek music from a portable speaker while there. After noticing people eating on blankets under shade trees, Peterson purchased picnic tables to set up at the location—accommodating families while still allowing for social distancing.
Customer demand has also led to Greek's going into neighborhoods, where residents receive curbside service after ordering online. "It helps ease customers' minds while trying to limit exposure in any way possible," says Peterson. The truck is booked for Food Truck Friday events at a local hospital, and Peterson notes an increasing number of breweries partnering with trucks, so customers can pair their beer with good food.
The great-grandson of Greek immigrants, Peterson learned how to cook from his grandmother. "She taught me how to properly season and cook many of the traditional Greek dishes the old-school way," he says.
The company's best-selling menu item is the lamb gyro—served on a grilled pita with lamb shaved off the cone and topped with lettuce, tomato, tzatziki and feta. "But we also have a lot of requests for our chicken kebobs, Greek salads, hummus platters and the loaded feta fries [French fries topped with feta, oregano, parsley, tzatziki and Stelios' Greek vinaigrette]," says Peterson. "Our homemade Greek vinaigrette and tzatziki sauce are always fan favorites."
Greek's recently debuted a grilled shrimp pita that quickly caught on, and plans to introduce two of its popular catering menu items—the crab cake dinner, and the sautéed grouper with a lobster and crab meat sauce—to the new food truck. "We sell quite a bit of baklava as well and can offer this as a great Grecian sundae dessert option for catering," adds Peterson.
While other business is slowly coming back—Greek's has booked a few small weddings for July and youth baseball tournaments have started up again, along with the concession stands—the company plans to continue its food truck focus.
"2020 has been a pivotal year for the food industry, and we decided to make a large investment in this area since we still do not know what the catering landscape will look like related to the virus," says Peterson. "We have booked the food truck for a few weddings in 2021, so this may be another way to still provide a more extensive catering selection but through a different serving style."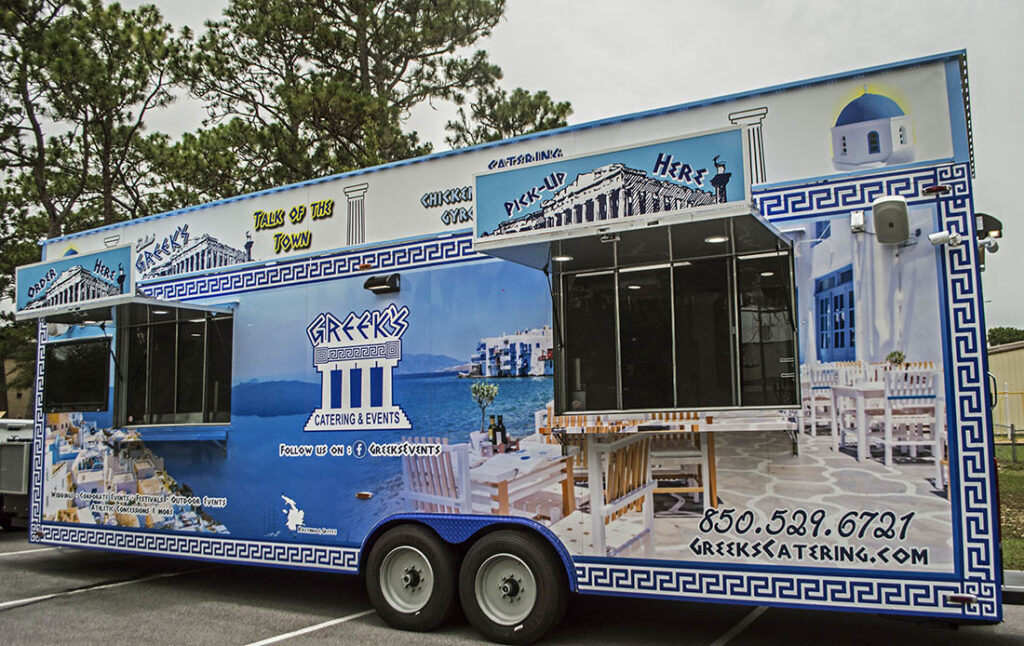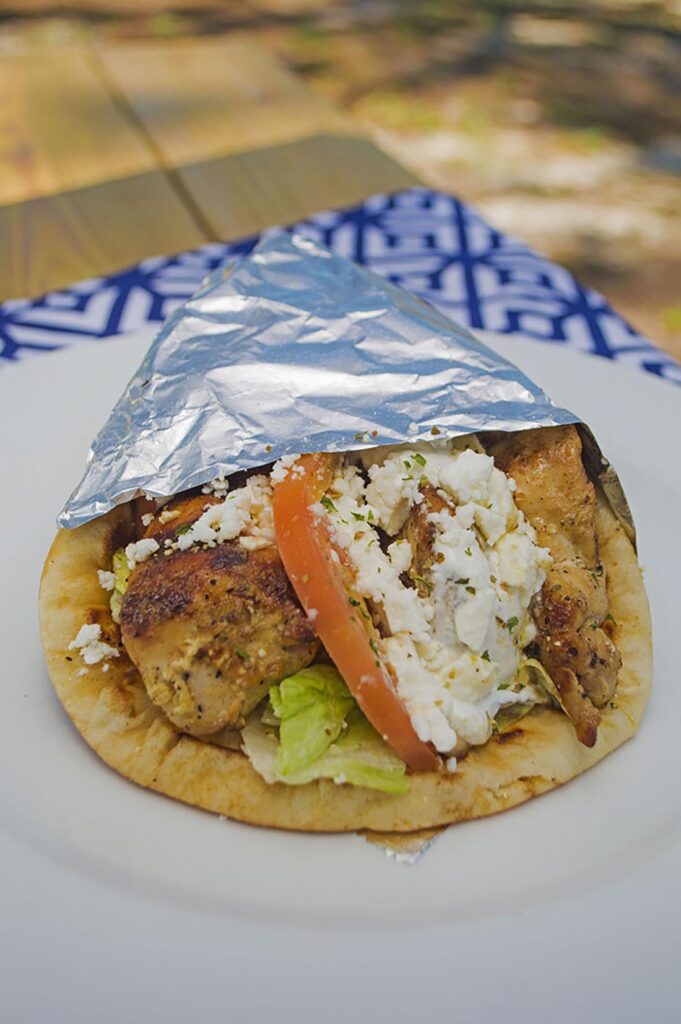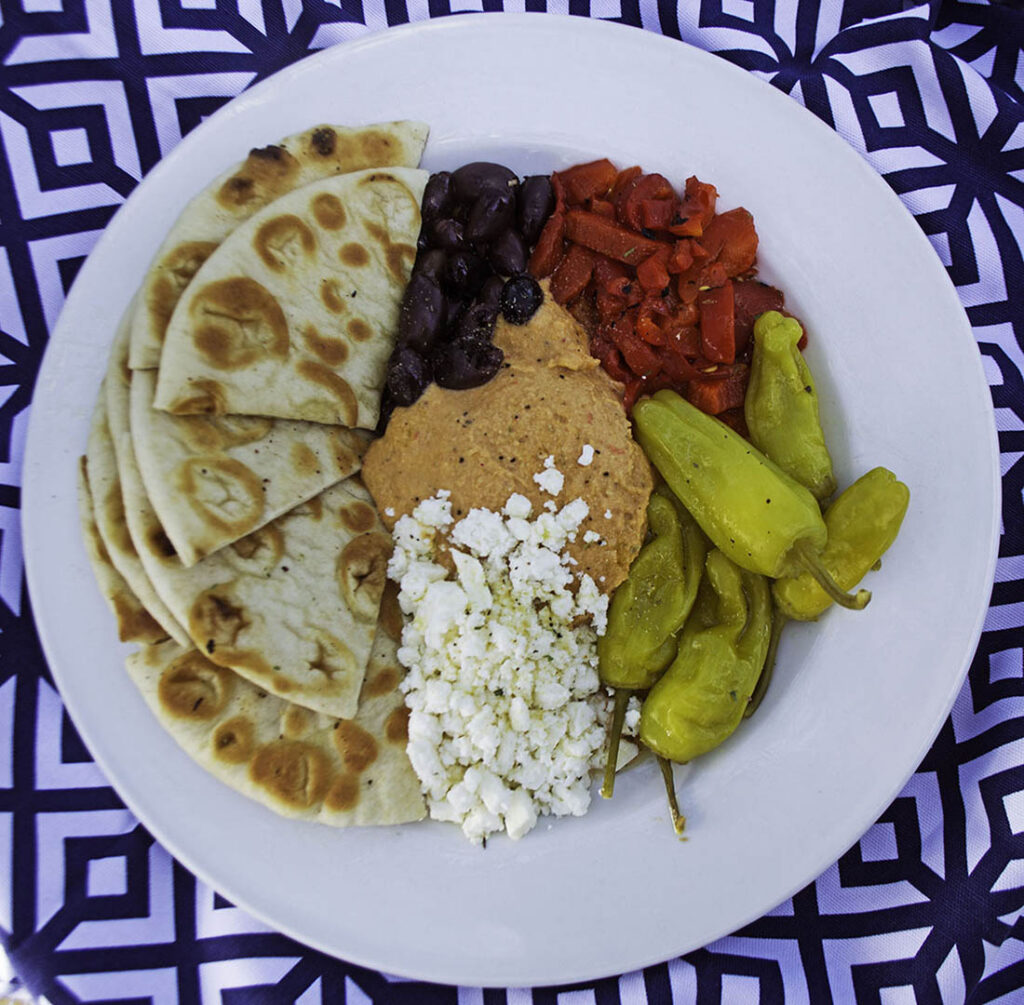 Zacchi Food Truck
St. Louis • facebook.com/zacchifoodtruck
Husband-and-wife team Murad and Kelly Yacoub made a dream come true by launching the Zacchi food truck on Feb. 28. "Serving food that I cook is something I've loved doing for years," says Murad, who grew up in Jordan and credits his mother and grandfather for his talent in the kitchen. "Food was an excitement from the beginning to the end. From planning it, to making it, to gathering together with others to enjoy it."
The Yacoubs outfitted their vehicle—custom-built by United Food Truck in Miami—with a falafel machine sent by Murad's brother in Jordan and doner spits for the shawarma. But the Zacchi food truck was able to serve hungry St. Louis residents for only a couple of weeks before having to shut down due to COVID-19.
By mid-May they were back in business, setting up—among other locations—at apartment complexes that were arranging for food trucks to come serve their residents. "We've been swamped since opening back up," says Murad.
Zacchi's most popular menu items include its regular and "monster"-sized lamb shawarma sandwiches—thinly sliced lamb topped with tahini salad, onions and garlic sauce, and served in a pita or gluten-free wrap; and the shawarma fries—hand-cut fries topped with thinly sliced chicken or lamb shawarma, with onions, cucumber and tomato salad, garlic sauce and tahini.
And then there are the shakes—an idea Kelly came up with. "She didn't want to sell just baklava," says Murad. "She thought about how awesome it could taste with ice cream." Not only does Zacchi offer the customer-favorite baklava shake—vanilla ice cream with housemade baklava mixed in—it serves up pistachio-topped shakes flavored with dates, cinnamon and cloves; halawa (tahini, honey and sugar); and Turkish delight (made with rosewater, starch and sugar).
While Zacchi had a slow start due to the COVID-19 shutdown, it's doing well now in part because Jordanian food is ideal for outdoor dining, says Murad. "When you go to Jordan, you'll find shawarma stands on the sidewalks like you find hot dog stands in New York," he says. "It's the best! We didn't grow up going out to eat and sitting at a restaurant; we went to street vendors to get shawarma, falafel, hummus… Outdoor dining and street food are the Jordanian way!"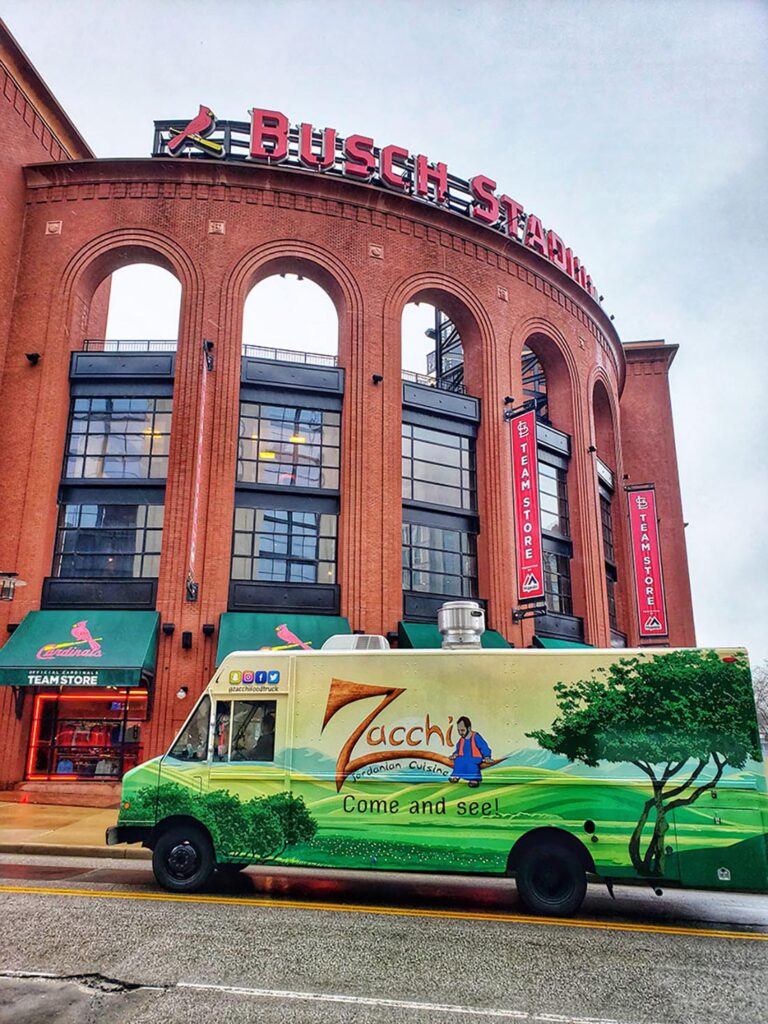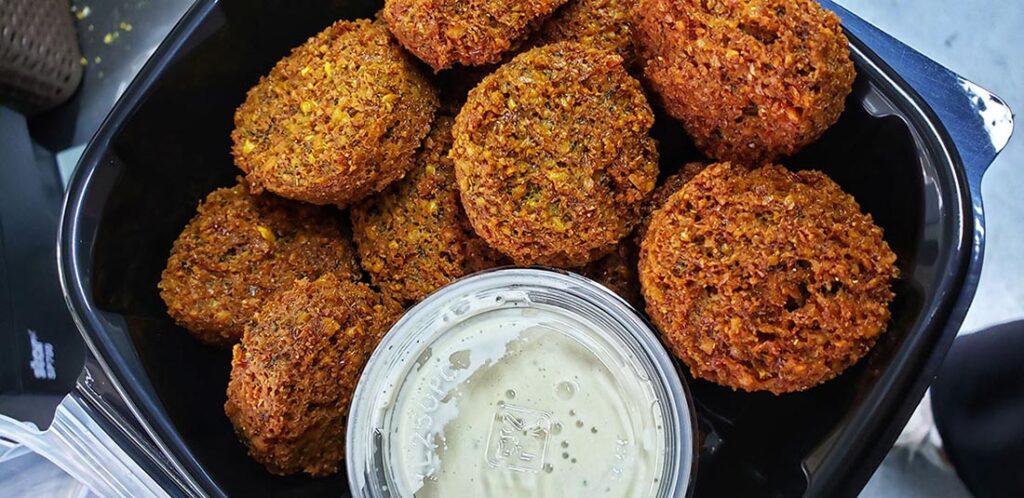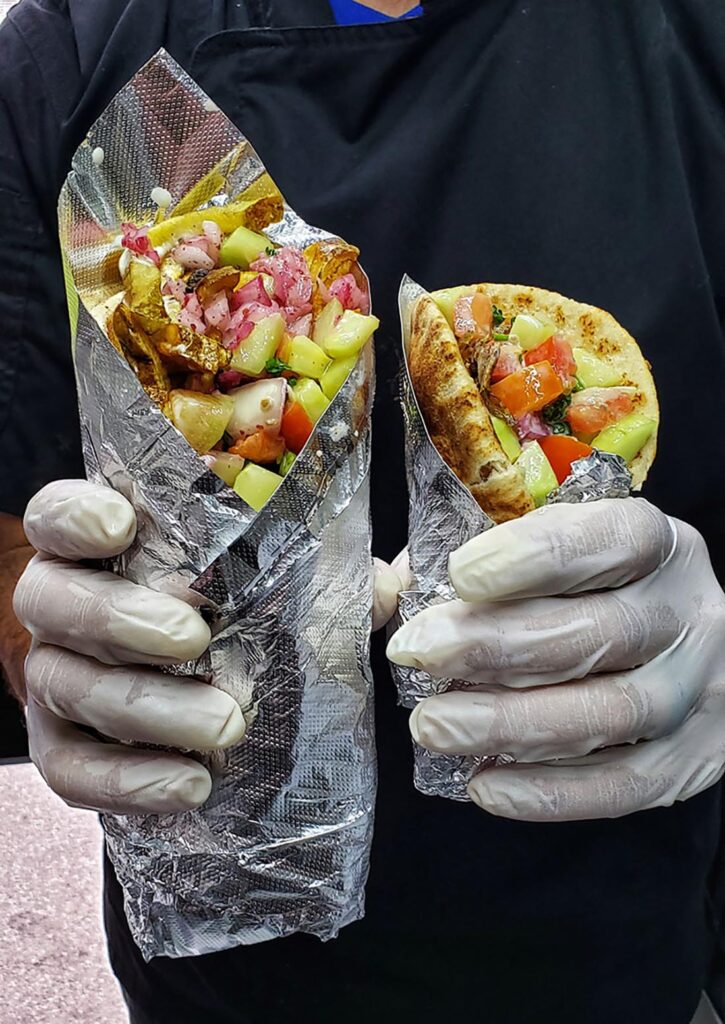 Tapas & Fun
Sarasota, Fla. • tapasandfun.com
A native of Tenerife, Spain, Fatima Soriano worked in retail after relocating to Florida in 2004. But after friends raved about her Spanish cooking—and tapas and paella grew in popularity in the States—Soriano "started to think of offering something so that Americans could really taste the authentic flavors of Spain."
She started out giving Spanish tapa parties—complete with a cooking lesson—and launched her catering business in 2008. "Guests enjoy watching me make the paella in front of them," says Soriano, who mostly caters home-based parties outdoors; customers can even book a flamenco dinner party, complete with dancers and live music. "I've noticed much more interest in the food from Spain; many of my customers have traveled to Spain or know more about our food and wanted to try it here."
The youngest in a family of 12, Soriano learned to cook from her mother and grandmother. She emphasizes authentic recipes from her homeland, making small tweaks to accommodate American tastes (she's noticed her clients prefer paella with less rice and more veggies than is traditional in Spain, for example). "My intention has always been to show the real Spanish flavors," says Soriano, who also offers cooking tutorials on her YouTube channel, Fatima's Spanish Kitchen.
Tapas & Fun's paella mixta is a customer favorite, with mussels, clams and shrimp; pork, chicken and Spanish chorizo; and vegetables including zucchini, eggplant, peas and mushrooms, all cooked in a Spanish sofrito in a saffron-shellfish stock. Top-selling tapas include Spanish tortilla, empanada Gallega (with tuna, meat or vegetable filling) and garlic shrimp. Six months ago, Soriano added Tarta de Santiago—a traditional almond cake from Galicia decorated with the St. James cross— to the menu. "People love it!" she says.
Soriano includes the popular almond cake in Tapas & Fun's zero-contact paella delivery menu (launched post-COVID, with free drop-off in the city of Sarasota), which also comes with a Mediterranean salad. She says people are ordering the drop-off catering for small family gatherings—and while full-service events are on hold for now, she expects that even when they resume, people will remain somewhat cautious and be more likely to entertain at home.
"I want people to be safe, and to eat good quality food at a good price," she says. "If you start with good quality ingredients and make everything from scratch, you get good results. If you add a touch of love while you're doing it, that's even better."